What is a Content Management System (CMS)?
In simple terms, a content management system (CMS) is an application that's used to create, edit, and publish digital content including web pages, landing pages, blog posts, etc. CMS software has evolved over the years and is now used to not only publish digital content, but also develop programs without the need to code.
A CMS helps you write and upload content, and add images, meta descriptions, headlines, and other SEO features. In an ever-evolving digital marketing space, CMS software makes it easy to offer superior customer experiences.
Content Management System Table of contents
What are the key features of a content management system?
Thanks to technology advancements, there are many different content management systems to choose from. While they have different functionalities, they also share key features. But before we jump into the key features, you should know that a content management system is made up of two main parts: the frontend and backend. 
The frontend is the content management application. It enables writers, editors, and project managers to work seamlessly without the need to code. The backend is the content delivery application, which is used for publishing and displaying the content in various formats based on the CMS.
Now, let's explore the key features your CMS should include.
It's impossible to think about a CMS without its dashboard. A good CMS should have a user-friendly and intuitive dashboard that allows users to write, format, and publish content. It should also allow website customization.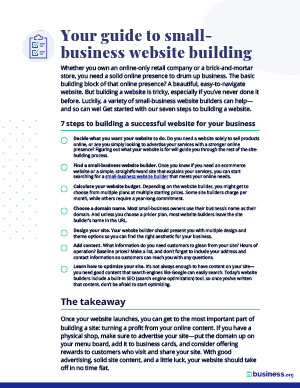 Grow Your Business's Online Presence
Build a beautiful website and start attracting more customers ASAP. Enter your email for a copy of our website building checklist.
There are many security risks that threaten your data's integrity. It's important to perform your due diligence and not just choose the first CMS that you come across. Some of the things to look out for when it comes to security include the latest security patches, automatic and regular updates, and two-factor authentication.
Multilingual functionality
If you're looking to reach customers across the globe, you must have a translation feature on your website. A good CMS software should be able to perform the following multilingual capabilities:
Identify when users might need need language translation
Allow the importation and export of standard text
Support languages that require characters, such as Japanese
Having a user-friendly and intuitive CMS can increase productivity by allowing tasks to be performed within a shorter time frame. A user-friendly CMS makes it easy to upload, adjust, and publish content.
Testing and experimentation
A CMS should allow you to monitor the results of your marketing campaigns from a centralized location. This enables you to identify the areas that need improvement and what areas you should give up on based entirely on the results.
When searching for CMS software, you should consider looking out for built-in experimentation capabilities to manipulate the content. You should also be able to test user experiences across all types of internet devices, including mobile phones and computers.
There's stiff competition regardless of the industry that you're in. You don't want to have a website that's similar to your competitors'. CMS software should allow you to customize certain aspects of your website, such as design and color, to allow you to have an edge over your competition.
Using a content management system with analytics capabilities helps users identify areas of improvement and create better experiences, which can increase the average time that users spend on a website or even lead to more traffic. It can be especially helpful if the data is provided per person, which enables personalization of content which can increase conversion rates.
CMS software makes it easy to reach a global audience faster. With a strong CMS, you can easily perform updates, publish content, and monitor the efforts to provide better customer experiences to website visitors.
Best Website Builders for Small Business
Round-the-clock or fast customer support creates customer satisfaction. One of the best ways to identify whether a company has excellent customer support is by reading reviews before making the final purchasing decision.
Most programs easily integrate with other systems, which enhances collaboration and increases productivity. By having a CMS that easily integrates with other systems, it can enhance division of labor and specialization in organizations because it allows individuals to complete tasks they are most familiar with. This, in turn, can increase an organization's revenue.
What are the different types of CMS?
There is a need now more than ever to provide tailor-made content marketing campaigns. Customers are aware of what they are looking for thanks to the availability of information on the internet. As such, there has been an emergence of new content management systems, and we're bound to see more innovations in the future. Let's explore some of the common types of CMS.
A traditional CMS links the backend to the frontend. Once the content is written on the frontend, it's stored in a database which is also located at the backend. The content is stored alongside the website's code.
This is the opposite of a coupled CMS. One of the major benefits is that the program code is separated from the content, which makes it easy to create and publish content without worrying about deploying the code.
A decoupled CMS has many functionalities and is appealing to content marketers and developers.
A decoupled and headless CMS have a similar architecture that separates the frontend and backend tools. Unlike its counterpart, a headless CMS does not have a designated frontend for displaying the content. Information is delivered courtesy of an application programming interface (API). The API is an application that acts as a link for different applications to talk to each other.
What are the benefits of using a CMS for your website?
A CMS system enables you to write content, add SEO attributes (such as subheadings and meta descriptions), and format the content. A good CMS system can also help you manage other aspects of your website such as:
Extensibility. This makes it easy to add more functionalities to a website without the need to deploy code.
User management and access permissions. Makes it easier to define who can access your website and the privileges that they have.
Media management. Enables users to add images or embed videos, which can increase the average time that users spend on a website.
Website management. Helps you monitor the features that have changed on your website and any edits that you have performed.
Seamless publishing. You don't need specialized skills to publish content on a CMS.
Content scheduling. Enables you to save drafts that you can publish at a later date or even schedule posts to align with calendar deadlines.
Suitable for any size of business. It doesn't matter whether you're a startup, a small business, or a multinational, CMS software can take your marketing efforts to the next level.
Affordable and easy to monitor. There are many CMS software to choose from. Some are free to use while others charge a monthly fee (which is often subsidized when you subscribe for a yearly plan).
With so many CMS companies to choose from, it may be a daunting task to find which one works best for you. How do you choose CMS software?
Decide on the purpose of the CMS. One of the most important considerations is what the purpose of the CMS is. You should then identify where your small business stands, where you want your business to go, and what it needs to get there. Knowing your business's goals will inform your final decision.
Familiarize yourself with the different CMS features. There's a lot of information on the internet about the best CMS software, including in-depth reviews on their features. Familiarizing yourself with what each of the CMS you're considering and what your current needs are will help you choose the one that works best for you.
Look at the cost. This is arguably one of the most important factors to consider. It's important to understand not only what the initial cost of the CMS is, but also other costs that you'll incur down the road.
Identify your return on investment. Purchasing a CMS software is an investment like any other. If the expenses outweigh the benefits, then it makes no business sense to buy it. However, you should not only look at the here and now but also consider if investing in the CMS will bring future profit or not.
Determine your budget. If you've reached this final stage, then it means that you have decided to invest in CMS software. Your budget should be determined by your estimated returns.
Here are a few additional guidelines on choosing the best CMS:
Consult with your business's employees and leaders
Access future business needs
Familiarize yourself with different software companies
Research the customer support of your preferred vendor
Determine the number of users that will be accessing the CMS
Content management system FAQ
How does content management software work?
Most CMS platforms are simple. They're so simple, in fact, that users can easily write content, just like you would in Microsoft Word without any special training. A solid CMS also allows you to format your content, include aspects of SEO (such as keywords and meta descriptions), and add images.
What are the components of a CMS?
Typically, a CMS software is comprised of two parts:
A content management application that enables content writers and editors to upload content, format and add images, schedule content, and publish.
A content delivery application that manages the backend of the CMS and is used by developers to maintain the website.
How many types of CMS are there?
There are three broad categories of CMS: open source, proprietary, and software-as-a-service.
Why use a content management system?
By separating the frontend and backend of a website, employees can focus on what they are good at. This results in high-quality content and intuitive websites.
What are the common content management system features?
CMS software have different functionalities, but they also share some similarities including:
A user-friendly interface
Control features
SEO tools
Multilingual support
Scalability
It's almost impossible to think about any organization that's not using CMS software for either website development or to publish content—failure to do so could mean being trampled by the competition. 
When used properly, CMS systems can improve productivity by encouraging the division of labor and specialization. With so many choices to choose from, it's important to conduct extensive research to identify your current and future needs before making the final decision on which CMS software to choose. 
Do you need a website for your small business? Learn how to get started with our Best Free Website Builders guide.
Learn more about The 5 Content Management Systems Small-Business Owners Love.
Disclaimer
At Business.org, our research is meant to offer general product and service recommendations. We don't guarantee that our suggestions will work best for each individual or business, so consider your unique needs when choosing products and services.