We looked into the pricing, features, and flexibility to help you figure out if Google Voice is the right VoIP service for you.
Data as of 12/19/22. Offers and availability may vary by location and are subject to change.
Google Voice is a Voice over Internet Protocol (VoIP) solution that can be used as a business phone service to protect your personal information and streamline company communication.
As a small-business owner, communication is a huge part of your day-to-day. When creating contact information for your business, you have a few options, and VoIP is one of them. Google Voice has proven to be a reliable VoIP since 2009, but it may or may not be a good fit for your small business. We'll take a look at Google Voice capabilities, limitations, and alternatives for small-business owners.  
Google Voice review table of contents
Google Voice was created in 2009 as a way to make and receive phone calls and text messages with an alternate phone number. Small-business owners use Google Voice as a way to route phone calls and messages to their personal phone number without disclosing their personal information to the public. Businesses can also use Google Voice for multiple employees, allowing more than one person to answer business calls. 
Free for personal use
Compatible with Google Workspace
Compatible with Polycom hardware
Up to $30.00/mo. for unlimited business use
Requires an internet connection
Texts forward to email or app only
Compare Google Voice plans and pricing
| | | | |
| --- | --- | --- | --- |
| Plans | Monthly price per user | Features | Learn more |
| Starter | | Up to 10 users, up to 10 domestic locations, unlimited calling and SMS in US, voicemail transcription, and Google Workspace integration | View Plan |
| Standard | | Unlimited number of users and domestic locations, multi-level auto attendant, ring groups, desk phone support | View Plan |
| Premier | | Unlimited international locations and advanced reporting | View Plan |
Data as of 12/19/22. Offers and availability may vary by location and are subject to change.
Google Voice offers a variety of capabilities to both individuals and businesses:
Alternate phone number for call forwarding—This is the most basic function of Google Voice, and it's free to individuals. Using an alternate phone number for your business is great for protecting your personal information and keeping work separate from your personal life. 
Free calls within the US and Canada—All Google Voice plans feature free inbound and outbound domestic calling.
Free unlimited domestic texting—Receive texts to your alternate phone number through your Google Voice app. 
Transcribed voicemails—High-quality AI transcribes your incoming voicemails so you can read them like a message when you don't have time to listen.
Custom voicemail box—Set up a unique voicemail greeting for your business in the Google Voice app. 
Do Not Disturb—When you are done with work for the day, or simply need a break, Google Voice's Do Not Disturb feature will send all incoming calls and messages to voicemail.
Auto-block spam calls—Google Voice identifies spam messages and calls and will automatically block these numbers.
Added features for business plans—Paid plans include additional features, like ring groups, automated phone menus, and desk phone support.
With so many great features, what are the drawbacks of Google Voice? As a small-business owner, if you plan on using this VoIP service internationally, fees are likely to add up quickly.
Also, you will need to pay a monthly fee of $10, $20, or $30 per month for services across your business. Here are some other common complaints:
Pricey international calls

—

International calls placed within the US charge

international rates

ranging anywhere from $0.01 to $2.71 per minute, which can add up quickly.

Limited customer support

—

Inquiries and complaints with Google Voice support must be filed online, and they can take 10 business days for a response.

Incoming calls do not include caller ID

—

Unless you have saved a contact in Google Contacts, all incoming calls will be listed as a phone number with no picture attached, making it hard to identify callers.

No virtual assistant

—

Unlike other VoIP solutions, Google Voice does not offer a virtual assistant to manage calls.

Weak security

—

Google Voice phone numbers are typically susceptible to being purchased and sold online, making it more common to receive spam calls or have your number used incorrectly. 

No desktop app

—

This is a big drawback to Google Voice for many users. To receive calls and messages while on your computer, you must have a Google Voice tab open and logged in on Google Chrome.

Clunky texting functionality—SMS is no longer supported directly to your phone, and it must be received in the Google Voice app or forwarded to your email. MMS (multimedia messages) are also often low quality.
Best Business VoIP Providers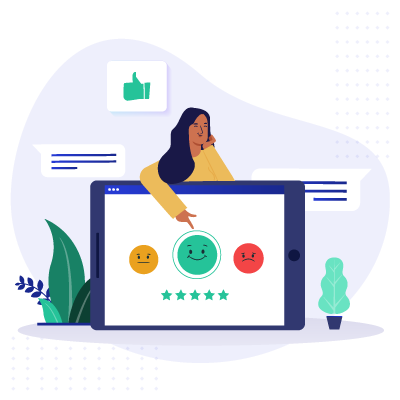 Expert Advice, Straight to Your Inbox
Gain confidence in your business future with our weekly simple solutions newsletter.
Compare Google Voice to other VoIP providers
Data as of 12/19/22. Offers and availability may vary by location and are subject to change.
If you're a small-business owner looking for a free alternative phone number, Google Voice is a reliable VoIP for basic call forwarding and messaging. For businesses with multiple employees who need VoIP services, Google Voice also offers paid monthly plans with added features like ring groups, automated phone menus, and desk phone support.

However, there are some drawbacks, like the lack of a desktop app, clunky texting features, and limited customer support. If you find yourself looking for more in a VoIP, alternatives like Phone.com and Grasshopper are a great place to start.
Want to learn more about phone systems and VoIP for small businesses?
While Google Voice can be a great free resource for small-business owners, some common complaints from Google Voice users include poor customer support, limited text functionality, and no desktop app.
Google Voice is free for individuals but requires a monthly plan of $10, $20, or $30 when used for your business.
Is there anything better than Google Voice?
If you're looking for a free business phone number for simple call forwarding, Google Voice is probably the best option out there. If your small business is expanding, there are several more robust VoIP options like RingCentral, Phone.com, and Grasshopper that would better fit your needs.
We examined a variety of factors to be able to accurately compare Google Voice to its other VoIP competitors, including pricing, available features, add-on features, customer service reviews, user experience with the website and apps, user types, and many other factors. Then we compared what we found to our up-to-date research on other VoIP service providers in order to see where Google Voice stands.
To learn more about our other top picks, be sure to check out our overview on the 13 Best Business VoIP Providers!
Disclaimer
At Business.org, our research is meant to offer general product and service recommendations. We don't guarantee that our suggestions will work best for each individual or business, so consider your unique needs when choosing products and services.