If you're a small-business owner shopping for a VoIP system, you've probably heard about Phone.com. Many business owners choose this cloud-based solution for its affordability and intuitive interface. But does it live up to its reputation?
Data as of 12/19/22. Offers and availability may vary by location and are subject to change.
Bottom line: Phone.com is a great option for businesses with only a few employees who need a variety of types of access to a VoIP provider. It has great reviews and offers more flexibility than some other VoIP providers. But you get what you pay for: a cheaper service comes with limited minutes, messaging, and video conference participants.
In this Phone.com review, we'll weigh all of the pros and cons so you can determine whether or not it's the right option for your business needs.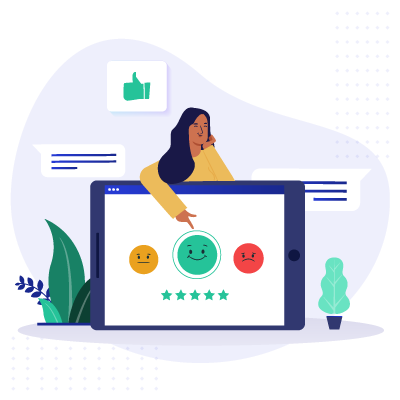 Expert Advice, Straight to Your Inbox
Gain confidence in your business future with our weekly simple solutions newsletter.
Phone.com was specifically designed to provide the features that small-business owners and entrepreneurs want at a price they can afford. It has been in business for over 10 years now and has a swath of positive customer reviews.
Though there are many VoIP options available today, Phone.com is popular for small-business owners because of its affordability, reliability, and ease of use. Business owners can use Phone.com for basic features like cloud-based calling, video chat, SMS, MMS, and fax. The system also manages phone greetings, voicemail, menus, call routing, and more.
Affordable pricing
Good customer service
Customizable user types
30-day free trial
24/7 bilingual support
Limited features with base plan
Limited CRM integration
Limited video conferencing
Compare Phone.com plans and pricing
| | | | |
| --- | --- | --- | --- |
| Plans | Monthly price per user | Features | |
| Basic | $11.99 | 500 pooled minutes, 1 business phone number per account, 1,000 pooled text segments, video meetings with 10 participants, call routing, and voicemail to email | See Plan |
| Plus | $15.99 | Unlimited minutes, 1 business number per user, unlimited text messaging, video meetings with 25 participants, and voicemail transcription | See Plan |
| Pro | $23.99 | Call recording, call analytics, CRM integration, and video conferencing with 100 participants | See Plan |
Data as of 12/19/22. Offers and availability may vary by location and are subject to change.
Phone.com offers a wide range of features for the base plan, so even business owners on a tight budget can enjoy most of the perks of the business phone service. All of Phone.com's core features like a business phone number, text messaging, video conferencing, faxing, 24/7 support, online account administration, and voicemail to email are available to every user, no matter the pricing plan they are signed up for. All plans also include voice features like call forwarding, routing, screening, queuing, and many others.
During the COVID-19 pandemic, a lot of businesses switched to virtual or hybrid systems. Phone.com in particular has seen a large increase in mental health counseling or other small health practices that need HIPAA-compliant video in order to serve their customers via telehealth. This compliance is only available with the Plus or Pro plans. Phone.com offers HIPAA-compliant audio conferencing at all plan levels.
Phone.com offers limited third-party integrations for CRM systems like Zoho, Zapier, Comm100, Chrometa, PieSync, and AllProWebTools. Although this doesn't include a wide variety of CRM integrations, it is not common for VoIP providers to have this kind of integration at all. There is also the option of integrating using an API or an extension for other CRM systems.
The basic plan is $11.99 per user per month, which is within the budget of most small businesses with a small number of employees who will need to use the service. The pricing scales up to about $29.99 per user per month for the Pro membership, which can get a bit pricey if there are a large number of users. However, remember that you can mix and match user types, so if you want five users with a Basic plan, one with a Plus plan, and one with a Pro plan, that's an option. That flexibility isn't common across VoIP services.
Compare Phone.com to competitors
| | | | | | |
| --- | --- | --- | --- | --- | --- |
| Phone.com and competitors | Best for | Starting price (per month per user) | Unlimited calling | Other features | Learn more |
| Phone.com | Cheapest plans | $11.99 | No | Voicemail to email, 300 min./mo., call queuing | View Plans |
| RingCentral | Best full-service VoIP | $19.99 | Yes | Team messaging, document sharing, voicemail to text | View Plans |
| Nextiva | Best inexpensive VoIP provider | $18.95 | Yes | Voicemail to email, free number porting | View Plans |
| Ooma | Best VoIP for small businesses (fewer than five employees) | $19.95 | Yes | 3-way conferencing | View Plans |
| Grasshopper | Best for mobile businesses | $26.00 | No | Voicemail to email, virtual fax, up to 3 extensions | View Plans |
Data as of 12/19/22. Offers and availability may vary by location and are subject to change.
Despite the many benefits of Phone.com, there are a few downsides to be aware of too:
Limited features with base plan
The base plan is a great place to start with access to all Phone.com's core features. However, for businesses that are growing and expanding quickly, it might be too limited. The Plus and Pro plans offer more extensive services, like unlimited minutes, unlimited text messages, and voicemail transcription. There are many VoIP services that provide these kinds of features either for free or in their base plan.
Video conferencing restrictions
This is one of the biggest drawbacks. If you want video conferencing as part of your VoIP service, no plan here will get you an unlimited number of participants. Basic users are limited to 10, Plus to 25, and Pro to 100.
Limited third-party integration
We're putting this one as a pro and a con. Although Phone.com is one of a small few VoIP service providers that has third-party integrations, it is limited to a very small number of CRMs.
Phone.com additional considerations
It's easy to see why Phone.com is a popular option for small and midsize businesses, since it was designed specifically with those businesses in mind. The VoIP service offers an array of 50+ appealing features at a reasonable price. Instead of picking a one-size-fits-all plan with specific, inflexible user types, business owners can choose the number and type of users they need for their small business.
The site, app, dashboard, and web-based administration panel are all easy to access with an internet connection and easy to use, even for those with little to no experience with VoIP services. Phone.com offers 24/7 support in both English and Spanish, and most customer reviews have only good things to say about the customer service.
Don't love Phone.com? The VoIP system offers a full refund through a 30-day money-back guarantee if you find that it's not a good fit for you.
Overall, Phone.com is a reliable, affordable VoIP service that's flexible and easy to set up. Those seeking features like call recording or unlimited minutes will have to pay a bit more, which can get a little expensive depending on how many users your business requires. Small-business owners can use Phone.com to gain credibility with their customers by using features like call routing, audio conferencing, hold music, and more.
Would you like to learn more about phones for small business owners? Check out The Best Small-Business Phone Systems.
Is Phone.com a good company?
Many small-business owners consider Phone.com an inexpensive, practical option when looking for an affordable VoIP solution. It's intuitive, flexible, and allows even the smallest businesses to appear professional and credible.
How do you use Phone.com?
Phone.com is easy to use and set up. Simply download the Phone.com mobile app to make business phone calls through a personal cell phone connection. The platform also offers web calling, which can be done via web browser—no mobile app required.
Nextiva is a highly-rated business VoIP phone service, comparable to competitors like RingCentral Office, Ooma Office, and Dialpad. Many small-business owners prefer Nextiva for its flexibility and ability to scale as a company grows.
Grasshopper is a reliable, affordable phone system designed for small to midsize businesses. It offers a range of features, mobile support, and a competitive price point. The virtual phone system includes a variety of call-forwarding options and toll-free calling in the US and Canada.
How do I get a VoIP number?
Small-business owners can get a VoIP number by signing up for a VoIP service plan such as Phone.com, Nextiva, or Grasshopper. Once the service plan is set up, business customers can purchase VoIP numbers and configure the numbers to VoIP devices in order to make and receive business calls.
We examined a variety of factors to be able to accurately compare Phone.com to its other VoIP competitors, including pricing, available features, add-on features, customer service reviews, user experience with the website and apps, user types, and many other factors. Then we compared what we found to our up-to-date research on other VoIP service providers in order to see where Phone.com stands.
Disclaimer
At Business.org, our research is meant to offer general product and service recommendations. We don't guarantee that our suggestions will work best for each individual or business, so consider your unique needs when choosing products and services.