VoIP Phone Systems Explained: What to Know about Voice over Internet Protocol
Your small business could save up to 50% with a VoIP phone system—but what is it? Business.org explores the advantages (and some disadvantages) of VoIP.
So, what is VoIP? VoIP, which stands for Voice over Internet Protocol, lets you make and receive phone calls using the power of the internet. That might not sound significant, but VoIP's internet-powered system can save your business money, give you more flexibility, and add lots of neat features. 
Voice Over Internet Protocol (VoIP) is a phone system that enables users to make and receive calls using the internet. This makes it possible for employees — remote and in-office — to use the same system to make phone calls from the same number. 
Because VoIP uses the internet rather than landline wires, you may also see a VoIP business phone system called a cloud phone system, cloud telephony, or a digital phone system.
VoIP simply allows you to use the internet to make phone calls instead of traditional phone lines. You can use your VoIP system to call other VoIP numbers or regular phone numbers. No one will know the difference.
If you are calling a regular phone number, your voice is converted from a digital signal to a telephone signal upon arriving at its destination. VoIP is a one-stop shop that makes communication easier and simpler for your business.
Most VoIP service providers (and there are many; you'll find far more choices than traditional PSTN phone companies) offer the following features in their business plans:
Web-based system administration
Mobile management (Android/iOS)
Auto attendant
Hold music
Call forwarding
Conference bridging
Caller ID
Call blocking
Call waiting
Call transferring
E911 registration
Find Me/Follow Me
Ring groups
One-line sharing on multiple phones/devices
Video conferencing
Voicemail to email (as audio file)
Voicemail to text
Fax to text (as PDF)
In other words, VoIP can give you way more than basic voice communication.
Best Business VoIP Providers
Virtual phone numbers: VoIP users can choose a phone number with any area code (limited with some providers), as VoIP numbers aren't attached to any location. If your company sends most of its over-the-phone business to Florida, but your office is in Texas (let's say you're an alligator cowboy boot enterprise), you could assign yourself a Florida area code and the calls would be charged as local, avoiding long-distance charges.
Number portability: Anyone who's been in business for an extended period of time knows the pain of negotiating with a legacy phone company to keep their established number during a move or having to change phone numbers completely (and in the process, every last piece of marketing material). VoIP numbers aren't attached to copper lines and destinations, so they can easily move with your business.
Multiple device ring: As mentioned previously, VoIP calls can be placed from IP phones, computers, tablets, and mobile phones—and it works both ways. Incoming VoIP calls can be set to ring multiple devices simultaneously or in a specific order, one after the other. No matter where you are or which device you're using, you won't miss a call (unless you'd rather miss the call, in which case there's still voicemail).
UCaaS: Rather than utilizing isolated systems for voice calls, email, instant messaging, video conferencing, and software and app access, UCaaS (unified communications as a software) combines all forms of in-house and outbound communications, usually for an additional subscription fee. With a SIP (Session Internet Protocol) trunk, which replaces the PSTN and integrates an office's internet and PBX, a VoIP network and all other multimedia comms are streamlined into a single system.
It's one thing to say VoIP uses the internet for calls. But how does that actually happen?
VoIP converts a voice call into a digital signal and sends it via the internet; to reach a non-VoIP number, it's transformed into a standard analog telephone signal. VoIP phone calls can be made directly from a computer, a VoIP phone, or a standard phone connected to a VoIP adapter. 
The voice signal is broken up into data packets as an IP call, spread over the internet, and reassembled at its destination. If it helps, you can think of VoIP kind of like a Star Trek transporter. But with phone calls instead of people.
In contrast, a PSTN (public switched telephone network, or a fancy way to say traditional landlines) uses copper wires to send voice calls. And rather than breaking up the call into little data packets like VoIP does, a PSTN just ties up the copper wires with voice calls.
VoIP vs. Traditional Phone Systems
| | | |
| --- | --- | --- |
| Factor | VoIP | Landlines |
| Cost | | |
| Requires internet | | |
| Requires power | | |
| Compatible devices | IP phones, computers, mobile devices | |
| Location-specific | | |
Let's start with the good things. 
VoIP service often ends up being cheaper than landline phone service. VoIP also works on quite a few different devices, so you can make calls from your computer, your cell phone, your tablet, or, yes, a desk phone. And because VoIP uses the internet rather than wires, you can use your VoIP phone service just about anywhere you have an internet connection. (We'll talk more about all this in a bit.)
In contrast, PSTN landlines usually cost more, work only at one specific location, and require desk phones (or a wireless headset, if you're feeling fancy) to work.
That said, PSTN does have a couple advantages over VoIP. VoIP requires an internet connection to work. If your internet goes down, so do your phones. Likewise, VoIP requires power. So if you get hit by a blackout, there go your phones. PSTN phones, on the other hand, can operate without internet or power.
With all that on the table, it's time to ask the big question: Should you make the switch to VoIP?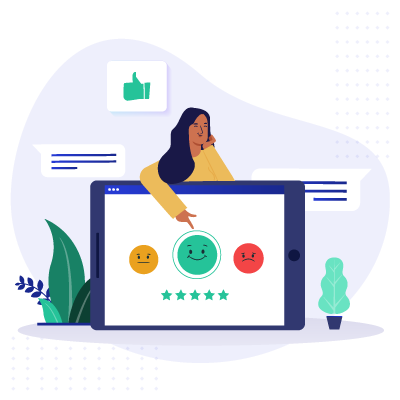 Expert Advice, Straight to Your Inbox
Gain confidence in your business future with our weekly simple solutions newsletter.
Is VoIP Right for Your Business?
To see if VoIP could help your business, we suggest you consider a few key factors.
PSTN phase out
Preferences aside, you may not have the choice of sticking with a PSTN much longer. PSTN is getting phased out, with an expiration date of 2030 (at most).
Do you have any remote workers? Does anyone ever work from home? Is travel a key part of your business? Have you ever worried about missing a call to the office when you're on a Starbucks run? Then you'll love the flexibility VoIP offers.
As we mentioned earlier, VoIP isn't tied to a physical location like a PSTN phone system is. As long as you've got an internet connection and an appropriate device, you can use your VoIP phone system―no matter where you are.
Remember, you can VoIP through computers (both desktops and laptops), tablets, and cell phones. It also works through special internet-connected desk phones, called IP phones.
So if everyone is taking a work-from-home day, they can keep using your office phone system as usual―but from home. (Heck, they can even take their office IP phones home with them.) If you've got a team member travelling to a client meeting, they can keep taking calls to their extension from their cell phone. If you're opening a second office across the country, that office can use the same phone number and system as your primary office.
Like we said above, VoIP usually ends up costing less than a comparable PSTN phone system. (As you'll see on our guide to the cheapest VoIP phone service for business, you can get started with VoIP for less than $10 per month.)
Yes, you'll have to pay for both VoIP service and an internet connection. But since you probably already pay for business internet, that shouldn't be a big deal.
And if you're worried about setup and installation costs, don't be. Even if you want to bring in a fancy IP phone system, you should be able to easily set up your new phones yourself. (And if you need help, most VoIP providers offer 24/7 customer support.)
Of course, you don't necessarily need to buy a single IP phone if you don't want to. After all, VoIP works on computers and mobile phones. That means you can use the equipment you already have―or you can create a BYOD policy for your business and let employees use their own devices with your new system.
As an added bonus, VoIP can improve your entire phone call experience.
VoIP can often get you better call sound quality than you'd get with an analog phone system (not surprising, since your traditional phone line was probably installed decades ago).
More importantly, VoIP gets you a whole lot of extra features that you'd have a hard time getting from a traditional business phone system. In fact, let's dive a little deeper into those features.
So should you switch your old business telephone system to a virtual phone system with VoIP?
While you'll have to make the final call yourself, the answer is probably yes (at least, as long as you have a stable internet connection). VoIP can save you money on your phone bill, offer way more flexibility for where and how you take calls, and give you lots of extra features that make business easier. (Plus, landlines are soon to be extinct anyway.)
So while VoIP may not work for every single company out there, there's a good chance it's a better option than your current business phone service.
Think VoIP sounds right for your business? Compare the best business VoIP providers to find the right service for you.
Disclaimer
At Business.org, our research is meant to offer general product and service recommendations. We don't guarantee that our suggestions will work best for each individual or business, so consider your unique needs when choosing products and services.
VoIP phones use the internet to make calls, rather than a landline or cellular connection.
If you're using a computer, tablet, or cell phone, you just have to download your provider's app or software (sometimes called a softphone). From there, you should see a normal dial pad that you can use to make phone calls as usual.
If you prefer the feel of a more traditional analog phone, you can also get an IP phone, or a VoIP-enabled desk phone. (We have some recommendations in our guide to the best small-business phone systems.) IP phones are just like a traditional phone system, but they use VoIP instead of landlines.
You can use any normal smartphone with VoIP (just download your VoIP provider's app). If you want to use a normal landline phone with VoIP, though, you'll need to purchase a VoIP adapter and plug it into your router or modem.
A hosted VoIP phone system and a cloud VoIP phone system provide pretty much the same VoIP service, but are managed and maintained in different places.
A hosted VoIP solution is managed and maintained on- or off-premises by your business for only your business; a cloud VoIP is administered and operated by the service provider as a shared resource between you and other clients. 
Kind of like the difference between owning your own espresso machine and making regular Starbucks runs—everything's fine until the machine breaks down, and then you'll miss that barista who never spells your name right. 
Unlike Starbucks, cloud hosting is generally cheaper and less annoying, making it a smarter choice for smaller businesses that don't want the extra hassle and expense of hosting.
For more information, check out our guide to hosted phone systems.
The average costs of VoIP range between $10/mo. to $25/mo. This cost can vary depending on location, number of phone lines, features and apps.