What Is High-Risk Credit Processing?
High-risk credit processing is when a processing company services businesses whose transactions are determined to be at a high risk of fraud or chargebacks.
Both experience and history have shown that there are certain types of industries and transactions that tend to garner fraudulent or disputed charges. Processing companies are aware of these industries, and most will deny service to higher-risk clients.
Processing providers that accept riskier businesses have programs designed to mitigate the risk of their clients. Which begs the question: What exactly puts businesses at high risk of fraud and chargebacks?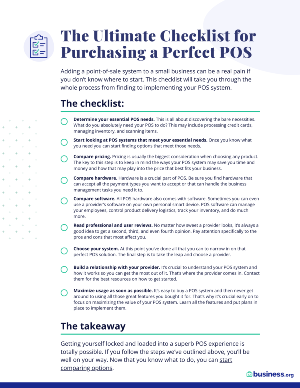 Follow these steps to purchase the perfect POS system
Read our free ultimate checklist for finding the right POS for your business. Don't get saddled with the wrong system. Enter your email and the checklist will arrive promptly.
Key risk factors that processing companies evaluate
A number of details about your company and how it operates can be potential factors in discerning whether you are a high-risk business. The riskier your business, the less likely you are to be approved as a processing partner.
That's why it's crucial for you to understand how you're being evaluated in the first place.
If your business is already processing credit cards and has a history of customers issuing chargebacks, you may be considered high-risk. Chargebacks happen when customers dispute a charge for some reason, like these:
Item not arriving
Item not as expected
Item damaged or defective
No access was given to promised services
When disputes occur, it's the burden of the business to prove the charge was legitimate. That said, processing companies don't like chargebacks. Even if you successfully dispute most of your chargebacks, if the rate at which you get chargebacks is high enough, you may still be branded as high-risk.
Maybe you have little to no credit card transaction history. This won't necessarily hurt your chances of being approved by a processing company, but it will make other factors of your business more important to the decision-making process.
Certain industries are considered riskier for a credit card processing company:
Adult and sex industries
Vape sales
Cannabis sales
Firearm sales
Dating services
Travel services
Pawnshops
Electronics
Magazine sales
Software sales
Furniture sales
Each of these industries has certain factors that increase processing risk. Furniture sales, for example, are mostly transactions in excess of $500. When most of your transactions are high-cost, customers are more likely to try to chargeback the item if they are dissatisfied.
Firearm sales and adult industry transactions, on the other hand, are mostly considered high-risk because of the potential branding implications. Many processing companies simply do not want to be associated with these types of businesses.
Sometimes, though, it's not just the type of business you run that influences your risk factors—it's also who you're selling to.
International transactions
It makes sense to want to sell your wares and services overseas. When more people can buy your stuff, you can potentially make more money. And sometimes the demand for your services is higher in a certain country.
Unfortunately, some countries have much higher rates of fraud and chargebacks per capita. That's why some processing providers service transactions made in only certain countries. Companies like Stripe, on the other hand, have built up infrastructure around the world, allowing them to stay protected from excessive fraud.
High-risk payment processors and merchant accounts
Certain payment processing companies bill themselves as the type to set up a high-risk merchant account for clients. These providers typically charge more expensive processing fees and have more freedom to protect themselves by freezing your accounts should they deem your risk level too high.
Often, these companies also reserve the right to withhold your processing payments from your high-risk merchant account for a period of time so there's sufficient reserve cash in the event of a string of chargebacks.
In addition to companies that brand themselves as high-risk providers are those who have a lenient or nonexistent vetting process. Stripe and Square, for example, do very little to vet their new clients. Anyone can sign up and start taking payments.
That makes these kinds of large payment aggregation processors an attractive prospect for merchants with higher-risk businesses. The biggest drawback to being a high-risk business and using one of these services is that if you start getting excessive chargebacks or fraudulent charges, your accounts may be frozen or terminated unexpectedly.
Companies like Stripe offer a number of integrations that help you stay safe from fraud and chargebacks. There are also third-party security services that can look into your processing practices and help you make changes to avoid fraud.
And there's actually a lot you can do to analyze and understand why you're getting chargebacks. If you start to have problems with chargebacks, take a break from making new sales, evaluate the source of your chargebacks, and make changes to avoid the situations that lead to processing problems.
Do you need to get approved for high-risk merchant processing?
Sometimes. You can sign up and start taking payments right away with payment aggregators like Stripe and Square—no approval necessary. Other high-risk merchant account providers, even those specifically branded as high-risk payment processors, may require you to fill out an application.
It all depends on your desired provider and their specific requirements.
Need help finding a credit card processor? Answer a few quick questions below.
Certain businesses are at a high risk of getting excessive fraudulent charges and chargebacks. These risks can often be mitigated, and there are a number of providers willing to work with these sorts of companies.
The main drawbacks of high-risk merchant processing are the ways processing providers mitigate the risks of taking you on as a client: by holding some of your payments in reserve to pay expected chargeback fees, freezing your accounts in emergencies, and terminating your account if there are too many problems or infractions.
But if you, as a business owner, can find ways to mitigate your processing risks, then using high-risk merchant services may be a viable way for you to accept credit card payments.
Need help finding the right high-risk credit card processing company for your business? Our top processing providers of 2020 may have exactly the services you need.
Disclaimer
At Business.org, our research is meant to offer general product and service recommendations. We don't guarantee that our suggestions will work best for each individual or business, so consider your unique needs when choosing products and services.