USDA Business Loans—Can They Help Your Business?
USDA business loans and grants can be a big boost for rural businesses. We'll tell you all about how they work.
So you've heard the USDA offers competitive business loans—and you want in on that sweet rural funding.
But what even is a USDA loan? The United States Department of Agriculture (USDA) offers loan and grant programs to small businesses as part of its rural development initiative. These loans offer low rates and lengthy terms—and despite what you might think, you don't need to work in agriculture to get them.
This guide will explain all about USDA loans: what they are, why you want them, and how to qualify. We'll also go over some other USDA programs that your business can benefit from.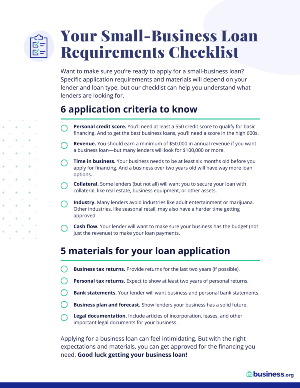 Applying for a small-business loan soon?
Our free checklist can help you understand what lenders are looking for.
Do you qualify for a USDA loan?
Before we get into the specifics of USDA loans, let's get this out of the way: there's a good chance you're not eligible for a USDA rural development loan. Sorry.
We don't mean to be rude or pessimistic. It's just that USDA loans have some pretty specific qualifications, and we don't want to waste your time if you don't qualify.
First, you need a rural business or have a business project in a rural area. As far as the USDA is concerned, rural means fewer than 50,000 people. So if you're in a bustling metropolis of 51,000 people, this isn't the loan program for you.
Next, your business needs to meet certain qualifications. For example, while the USDA doesn't require businesses to make a specific amount in revenue, you'll need to be making enough that you can reasonably repay your line. Likewise, you'll need a good credit score (a credit score of around 680 is typical) to be eligible. And you'll need a certain amount of tangible balance sheet equity—10% if you have an established business, and 20% if you're opening a new one.
You'll also need collateral, like equipment or real estate. In fact, your loan size will directly correspond to the amount of collateral you have to offer. So if you don't have any business assets to secure your loan, don't expect to get approved for USDA business loans.
Finally, you need time—and lots of it. Funding through USDA business loans moves slowly; a three-month application process is pretty standard. So if you need financing next week (or even next month), you should probably go with a faster funding option.
Don't qualify for the USDA loan program?
You can still get government-backed loans through the U.S. Small Business Administration (SBA). Learn more in our guide to the types of SBA loans.
If you meet all those eligibility requirements, then congrats! You might be a good candidate for a USDA B&I loan.
When people talk about USDA loans, they almost always mean the USDA's Business and Industry Loan Guarantee Program—B&I loans for those on a schedule.
As that program name might indicate, the USDA doesn't directly lend loans to businesses. Instead, the USDA backs loans made through a typical lender; in other words, it guarantees the lender that they'll get paid a majority of the loan balance, even if the borrower defaults. That makes the program appealing to commercial lenders—and that, in turn, translates to better deals for borrowers, like you.
Personal guarantees
While the USDA guarantees the majority of the loan balance, you'll have to supply a personal guarantee for the remainder. That means that if you don't pay off your loan, a lender can go after your personal assets as payment.
So what do you use the loan proceeds for? Whatever your business needs! Obviously equipment and real estate are common uses, but you can use the working capital for most expansion, improvement, and cash flow needs. Heck, you can even use it for debt refinancing. There are a few prohibited uses (like gambling facilities or churches) that you can view on the B&I loan program page.
Large loans available
Low, competitive rates on loans
Lengthy repayment terms
Lengthy application and approval process
Exclusive loan qualifications
Collateral and personal guarantee required
B&I loans usually range from $200,000 to $5 million, with the average B&I loan coming in at $3 million.1 (Technically, there's no loan minimum, and the maximum is $25 million.) As we mentioned above, the amount you qualify for depends on the collateral you have to offer.
The term length of a B&I loan depends on what you're using the loan for. For example, working capital loans have a term of 7 years, while equipment loans have up to 15 years, and real estate loans get 30 years.
USDA B&I repayment term length
| | |
| --- | --- |
| Loan use | Loan term |
| Working capital | 7 yrs. |
| Equipment/machinery | Up to 15 yrs. |
| Real estate | 30 yrs. |
Now, let's get to the fun part: loan rates. Because these loans come backed by the government, you'll get access to lower rates than you'd find elsewhere. The rate will depend on your individual qualifications and needs, but usually, USDA loan rates correspond pretty closely to the current SBA loan rates (under 10%, in most cases).
As a heads-up, USDA loans do come with two fees: a guarantee fee and an annual renewal fee. The guarantee fee is 3% of the loan principal (the loan amount), while the rate for the annual renewal fee gets announced on a yearly basis. This year, it's 0.5%. (Your personal annual renewal fee rate will stay the same for the life of your loan.) And there may be other loan fees—like origination fees—added by the financial institutions that do the actual lending.
Fully amortizing loans
B&I loans are fully amortizing, which means that you'll pay off the entire loan (including interest) by the end of the loan term. Assuming you make your scheduled payments, of course.
If you're ready to get started, you just need to contact a USDA-eligible lender. If you don't already have a bank or credit union in mind, you can contact your state's program via the USDA website, and they can point you in the right direction.
For more information on getting your B&I loan, check out our guide to getting a USDA business loan.
More USDA loans and grants for small businesses
B&I lending isn't the only thing the USDA offers small businesses. It has other grant and lending programs that might be worth looking at. But be warned: these have some niche uses.
Renewable Energy Systems & Energy Efficiency Improvement Guaranteed Loans & Grants
Maybe you're a rural small-business owner with an interest in saving the planet. Then let us introduce you to the USDA's Renewable Energy Systems & Energy Efficiency Improvement Guaranteed Loans & Grants. These loans and grants help your business acquire a renewable energy system (like solar- or wind-powered generators) or make energy efficiency improvements (like getting better windows or insulation).
Loan terms for this program range from 7 to 30 years, depending on how you'll use the loan, and loan amounts range from $5,000 to $25 million. If you prefer the free money of a grant, you can get a rural energy grant for between $1,500 and $500,000.
Value Added Producer Grant (VAPG)
Are you a rancher or farmer? Are you all about that agriculture? Then you might be interested in the USDA's Value Added Producer Grant. You can get up to $250,000 for "expenses related to producing and marketing a value-added agricultural product." Applications are accepted for a limited time each year, so watch the program page for updates.
Loan terms for this program range from 7 to 30 years, depending on how you'll use the loan, and loan amounts range from $5,000 to $25 million. If you prefer the free money of a grant, you can get a rural energy grant for between $1,500 and $500,000.
Other USDA programs you should know about
Your business can apply directly for the loan and grants above. Unfortunately, the programs below aren't available to small businesses—but that doesn't mean your business can't benefit from them.
The Intermediary Relending Program (IRP) loans fund organizations that in turn can lend that money to rural small businesses. Small-business owners can't apply directly, but you can look for local organizations that received financing through IRP.
Rural Business Development Grants (RBDG) go to organizations and communities that help rural small businesses expand—whether that's by providing business training, improving transportation in the area, or giving technical support. While you can't get the grant yourself, you might be able to benefit from the programs the grant funds.
The Rural Business Investment Program (RBIP) gives venture capitalists a Rural Business Investment Company license so they can invest in rural communities. So if you're okay giving up business equity, you might be able to get financing from RBIP-licensed venture capital firms.
Rural utility organizations can get a Rural Economic Development Loan and Grant (REDLG), which they can use to create a revolving loan fund for local businesses. These are interest-free loans, so definitely see if someone in your area is participating in this program.
The Rural Microentrepreneur Assistance Program (RMAP) goes to nonprofits and colleges, who can use the funds to provide microloans of up to $50,000 to rural small businesses. Again, you can't get these microloans directly from the USDA. But if an organization in your area participates in RMAP, it's a great way to get small, low-cost loans.
Socially-Disadvantaged Group Grants (SDGG) go to rural organizations that provide specific kinds of technical assistance (like leadership training, feasibility studies, or business planning) to socially disadvantaged groups. In USDA-speak, that translates to people who've experienced prejudice because of their race or ethnicity.
Want more options? Fund your business with a personal loan.
At the end of the day, USDA business loans and grants are pretty niche. Between the rural requirements and the financial requirements, B&I loans really aren't suitable for most businesses.
But if you do qualify for them, you should take advantage of them—USDA business loans offer a low-cost source of financing for your rural business. What's not to like about that?
Don't think USDA loans are right for your business? Check out our list of the best small-business loans for some easier-to-get alternatives.
What counts as a rural business?
The USDA defines rural as areas with a population of 50,000 or fewer. But you don't necessarily need to be headquartered in a rural area to qualify for USDA programs; your primary location can be in an urban area, as long as you're doing a project in a rural area (or have a location in one).
How do I calculate my tangible balance equity for a B&I loan?
The USDA's program resources page has a calculator you can use. Lucky you!
What states get the most B&I loans?
The answer might surprise you. Missouri businesses took out the most B&I loans in 2017, with Florida and Oregon coming in second and third place, respectively.2
Disclaimer
At Business.org, our research is meant to offer general product and service recommendations. We don't guarantee that our suggestions will work best for each individual or business, so consider your unique needs when choosing products and services.