How to Get USDA Business Loans: Working Capital for Rural Businesses
If you have a rural small business, you may be able to get an affordable USDA Business and Industry (B&I) loan.
If you've got a business in a rural community, a USDA loan (a loan backed by the US Department of Agriculture but extended by a business lender) can offer a great way to get working capital. Eligible businesses get low interest rates and long loan terms. Good deal, right?
Well, USDA business loan applications work a little differently than other business financing applications. You've got to check your eligibility, find a participating lender, and submit all the right documents―a confusing process, if you don't know what you're getting into.
In this guide, we'll break down the USDA loan application process step-by-step and help you prepare to get your USDA business loan.
What are USDA business loans?
In this article, we're talking specifically about B&I loans, or loans backed by the USDA's Business and Industry Loan Guarantee Program. If you need a primer, our guide to USDA business loans can help.
How to get a USDA business loan in 5 steps
1. Check your business's eligibility
If you think you want to get a USDA loan, then you should start your loan process by making sure you're eligible to get one.
B&I program qualifications
First, you'll want to see if your business meets the B&I loan program qualifications.
Quite a few types of businesses and organizations can qualify. If you have a for-profit or nonprofit business, you potentially qualify. So do Tribes, cooperatives, and public bodies.
Location matters, though. The project you need money for must be located in a rural area, which the USDA defines as a city or town that has a population of 50,000 or less. Keep in mind that your business doesn't necessarily need to be headquartered in a rural area―again, it's about the project you're getting money for.
(If you're not sure if you're in an eligible rural area, the USDA website lets you check an address's eligibility.)
And speaking of projects, the USDA business program does have some restrictions. You can't, for example, get a USDA-guaranteed loan for a golf course, church, racetrack, or fraternal organization. (A USDA loan specialist, which we'll talk about in step two, can explain all the restrictions.)
While the USDA's program qualifications matter, the USDA doesn't actually extend business loans―a lender does. That means that you'll have to meet a lender's borrower qualifications too. 
So you'll want to make sure you can meet typical business loan requirements. For USDA business loans, this might mean the following:
A personal credit score in the high 600s
Revenue over $100,000
A business over two years old
Collateral for your loan
The specifics will come down to the lender you choose. But when it comes to government-backed loans, eligible businesses have usually been around for a while and have healthy finances. (USDA loans are harder to get than most alternative business loans.)
If that describes your business, then you're ready to move to the next step.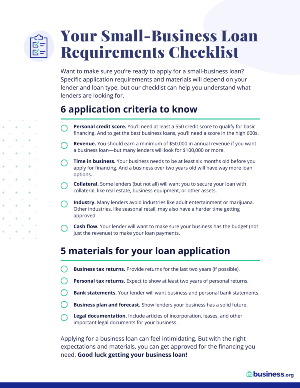 Applying for a small-business loan soon?
Our free checklist can help you understand what lenders are looking for.
2. Talk to a B&I specialist
While you might be rarin' to go apply for your B&I loan, you should talk to a B&I loan program specialist first. In fact, the USDA's website strongly recommends you do so before filling out a single form.
It's best to speak with someone at your local USDA office. You can use the B&I program page to find contact information for your local office.
Your local loan specialist can answer all your questions about the USDA loan program, help you make sure you qualify as a rural business, and let you know whether or not loan proceeds can be used for your intended use.
Plus, a USDA loan specialist can help you find a participating lender.
3. Choose a participating lender
Once you've spoken with a loan specialist, you're ready to find a lender.
Now, you don't have to choose a local lender (though that may make paperwork easier). You just need to choose a lender that participates in the USDA loan program―or at least that's what we recommend. Because sure, you could try to convince a lender to participate, but that will drag out your loan application process and leave with you a loan officer that may not know the ins and outs of USDA loans.
As we said, your local USDA loan specialist can probably point you toward some good lenders. (If you're on the East Coast, we know TD Bank does USDA Business loans.)
And as we discussed back in step one, you will have to meet your lender's borrower qualifications. So as you're shopping for lenders, make sure you ask about their credit, revenue, and other requirements.
4. Submit your loan application
Whatever lender you choose should help you get your USDA loan application together. In fact, you'll probably have a dedicated loan officer who can guide you through the application process.
As with any business loan application, expect to need lots of documentation. For example, you'll probably want to have financial documents (like a cash flow statement, balance sheet, and tax returns) ready to go. But again, your loan officer will ask for the specific things they need.
When you've got everything together, you're ready to submit your business loan application.
While we know you'll want an answer right away, you'll probably have to be patient. Remember, both your lender and the USDA loan program have to approve your application. The approval process has been known to take months.
But with any luck, your wait will be rewarded with working capital for your rural business.
5. Get and repay your loan
After you're approved, you can get and use your loan proceeds as planned. (Congrats!) There is one thing to keep in mind though.
USDA business loans do require a personal guarantee. That makes you personally liable for repaying your USDA loan. If you default on the loan, your lender can go after your personal assets. Since you don't want that to happen, make sure you repay your loan.
Of course, repaying your loan on schedule can actually benefit your business. It can improve your credit score, which in turn will allow you to qualify for more loans (and better interest rates) in the future.
Put simply, make those payments, and enjoy using your USDA-guaranteed loan.
USDA business costs and terms
Want to know what to expect from your USDA loan? We've got you covered.
Your lender will set the interest rate on your business loan, though the USDA does set some limits. Typically speaking, you can expect an interest rate somewhere between 5% or 9%. (That's much lower that you'd get from most online lenders.)
Your specific interest rate will depend on several factors:
Your personal credit score
How long you've been in business
Your business's annual revenue
The value of your collateral
Note that you can get either a fixed variable rate―which stays the same through the life of your loan―or a variable interest rate―which can change over the life of your loan. A fixed rate can be a good way to lock in a low rate, while a variable rate can allow you to take advantage of lower rates in the future (but it can also mean you get surprised with a higher rate).   
Interest aside, you may also end up paying loan fees. USDA business loans come with an initial 3% guarantee fee and an annual 0.5% guarantee retention fee (calculated using your outstanding loan balance). Plus, you might end up with lender fees like an origination fee and appraisal fee.
The loan term on your USDA business loan will depend on how you plan to use the loan proceeds. Working capital loans have shorter loan terms, while commercial real estate loans get longer loan terms.
| | |
| --- | --- |
| Loan purpose | Term length |
| Real estate | 30 years |
| Working capital | 7 years |
| Machinery and equipment | Up to 15 years |
The good news? USDA loans use a fully amortizing loan schedule. That means that your monthly payment will stay the same throughout your loan term. More importantly, it means that you'll have paid off your loan in full by the end of the term―so you won't get stuck with a large balloon payment.
And speaking of loan schedules, we should mention that most lenders will charge a prepayment penalty if you repay your loan early. That doesn't mean you should never choose early repayment―it could save you a lot on interest―but you should probably do the math before you get slapped with a large fee. 
The USDA's guaranteed loan program provides a great deal on financing for rural small businesses. But given all the rules of the B&I loan program, applying for funding can be a long, confusing process.
The steps above should make things easier. Yes, it will still take a while. But if you know how to check your eligibility, where to go for answers, and what to look for in a lender, you'll have a simpler time applying for and getting your USDA business loan.
Good luck on your application!
USDA loans are just one type of government-backed loans. Learn about your other options with our guide to government small-business loans.
Disclaimer
At Business.org, our research is meant to offer general product and service recommendations. We don't guarantee that our suggestions will work best for each individual or business, so consider your unique needs when choosing products and services.