9 Tips For Female Business Owners Looking for Funding
Finding funding to take your woman-owned small business to the next level can be challenging. That's why we spoke to women business owners who had successfully funded their businesses. Here are their top tips to help you get started.
Don't talk about how much you need, but talk about what that money will help you do. More sales, more resources, more great stuff. Focus on the positive and the impact the funding will make on your business. Everyone wants to be part of a success story, so don't start off with 'woe is me' or you won't get very far!
-Jackie Fast, Founder of Sandbox Studios
2. Build a female network
A female entrepreneur will need to build strong relationships to be trusted enough to receive loans from small-business lenders. Various business development centers and mentorship programs are great for building relationships within the community, which is pertinent for establishing yourself and instilling trust within financial institutions.
-Ashley H. at MomLovesHome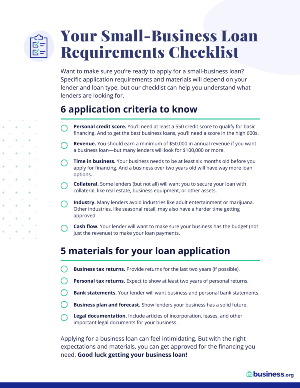 Applying for a small-business loan soon?
Our free checklist can help you understand what lenders are looking for.
Some banks have programs specifically supporting small to medium-sized enterprises. Find the ones that are active in your local community and be ready to share your business plan. Explain how you plan to repay the loan, including the risks you foresee and how you are mitigating them. The more prepared you are, the more confident the bank will be in granting the loan.
-Rowena Murakami, Co-founder of Tiny Kitchen Divas
Want more options? Fund your business with a personal loan.
4. Look for lenders that previously assisted women
In the era of a male-dominated society, you need all the support you can get as a woman. There are companies out there that do not hold back providing women the services they need. Many financial institutions have a track record of assisting women entrepreneurs launch their businesses. There are plenty of such organizations, so conducting thorough research can work your way and help you get the fund you're looking for.
-Elizabeth Hicks, Co-founder of ParentingNerd
5. Look for women-specific programs
Some programs are restricted only to women to minimize the competition that women face when applying for a loan. These programs are a great way to support female-led businesses and women entrepreneurs. Kabbage Funding is an example of a minority loan that is specifically tailored to supporting women.
-Janet Patterson, VP of Marketing Communications for Highway Title Loans
6. Prioritize private funding
New entrepreneurs should prioritize private funding if they have access to it. This could be someone close to you looking to invest their money into something with a higher potential return. Private capital allows you to reduce or limit fees common from traditional lenders. When you eliminate unnecessary lending fees, it gives you more capital to invest in your business!
-Jess Shipwash, Co-founder of Shipwash Properties LLC
7. Demonstrate sufficient cash flow
If you're going to give them a good record of how and why you're going to be able to pay back the loan with interest, the bank is never going to reject your loan request. Be sure to demonstrate a detailed financial projection when you're explaining the need for the loan.
-Ann Young, CEO of Fix The Photo
8. Don't be afraid to forecast numbers that feel unattainable right now
Females tend towards more conservative numbers as we like to substantiate any claims, but sometimes that is mistaken as a lack of ambition by VCs. So know that they already divide the forecasts by half anyway, so add in some ambitious targets.
-Andrea Reynolds, CEO of Swoop
Bookkeeping, updated and accurate is key. Have accurate financials

ready at your fingertips to answer

application's financial questions and/or

requests.

Insurance is essential. Most lenders want to know that you have business insurance in place to protect your business.

Go for it. Don't count yourself out before applying. When I asked business owners why they don't apply for loans, almost all said they assumed they wouldn't qualify. Right now, it's better to assume you do. Accept the support available in abundance for you and your business. -Simone Craig at SLC Global LLC
If a prepaid debit card isn't right for your business, consider getting a business credit card. These resources can help you find the best for your business:
Disclaimer
At Business.org, our research is meant to offer general product and service recommendations. We don't guarantee that our suggestions will work best for each individual or business, so consider your unique needs when choosing products and services.