How to Find Private Lenders in 5 Steps: Get Funding for Your Investment Property
So you want to find a private lender. We get it. Conventional lenders like banks don't work well for every business financing need―especially when it comes to flipping or rehabbing real estate. Fortunately, that's just what private lenders fund best.
But actually finding a private lender and getting them to fund your investment property can be a long and confusing process, especially if you're used to just walking into a bank and asking for money. Don't worry, though―we're here to break it down for you.
In this guide, we'll give you a quick refresher on how private lenders work, and then we'll give you five simple steps for finding one of your own.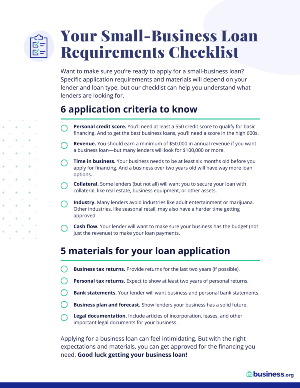 Applying for a small-business loan soon?
Our free checklist can help you understand what lenders are looking for.
We'll tell you exactly how to find a private lender in just a minute. But first, let's take a moment to go over the basics of private lending. (You can skip ahead if you don't need the refresher.)
What is a private lender?
At the most basic level, a private lender is anyone who gives you money that's not a traditional financial institution (a.k.a. banks and credit unions).
That can include individuals or companies. So your private lender could be any of the following:
Family
Friends
Acquaintances
Accredited investors
Other private lending companies
Basically, it can be anyone with an interest in real estate investing.
As you can see, the definition of a private lender includes a pretty large spread. Some private investors loan money as a one-time favor, while others do it as their full-time business. There's a big difference between a family member loaning you $5,000 and a private lending company lending you $500,000. These big differences can make it hard to talk about private lenders as a group, since the different types vary so widely.
With that being said, you'll need to figure out what kinds of private lenders you're interested in. Do you want to ask family and friends for financial help? Or do you want to keep things strictly business and stick to private lending companies?
Either way, keep in mind that private lenders usually stick to real estate transactions―especially those that involve flipping a property.
So if you plan to purchase a property, do some renovations, and then sell it for a profit, private lenders might be just the thing for you. But if you're just trying to fund a marketing campaign for your small business, you'll probably want to stick to working capital loans.
What is the difference between a private lender and a bank?
You might be wondering why you wouldn't just fund your real estate deals with money from a bank or credit union.
Well, one big reason is the type of project you're trying to fund. Most banks and credit unions don't like funding rehab loans or other financing for flippers. Generally, to get a conventional mortgage (for commercial real estate or otherwise), the property you're funding needs to be in good condition. Fortunately, private lenders often have no problem funding flippers.
Plus, private lenders offer some other advantages. They often have lower borrower requirements than a traditional lender would (especially if you're borrowing from friends and family). Things like bad credit would disqualify you from most traditional commercial real estate loans. With private lenders, it might not matter.
Do private money lenders check credit?
Private lenders might check your credit score, but it depends on your type of private lender. A hard money lender or other private lending company will almost certainly run a credit check, but your Aunt Esther or Dave from college probably won't.
Likewise, private lenders may offer more flexibility when it comes to rates and terms. You might be able to negotiate better conditions. Again, this is more true when you borrow from friends and family than from hard money lenders.
Of course, private lenders aren't without their downsides—like shorter repayment terms. Traditional lenders will often give you up to 30 years to repay a commercial real estate loan. Private lenders, though, usually want you to repay your loan within a year or two. In other words, most private loans have more in common with short-term loans than commercial mortgages.
And while you may be able to negotiate rates and terms with some private lenders, there's still a good chance you'll end up with higher interest rates than you'd find at a bank. Commercial real estate loan rates on traditional loans are often very, very low. Rates on rehab loans from private lenders? Not so much.
Faster and simpler application and approval processes (if any)
More flexible terms
Options for flipping and rehab
Shorter repayment terms
Higher interest costs
But even with those downsides, private lenders often provide a great solution for your rehab, flipping, or other niche commercial real estate needs. So how do you actually find one?
How do you find a private lender?
Finding a private lender can take time―often longer than finding a traditional lender. So if you think you'll want a private lender in the future, it's best to get started now.
Here's how.
1. Understand how private lending works
As we said above, there are many different kinds of private lenders, ranging from your Great Aunt Sally to companies that specialize in hard money loans. Before you get too much further in the process, you need to know what kind of private lender you're going after.
The process will look very different if you're trying to get money from friends and family than if you're trying to get funding from accredited investors. It will affect how you look for lenders, how you pitch them, and how you repay them. So make sure you know what kinds of private lenders you're interested in.
You should also make sure you're comfortable with all the pros and cons of private lending. Are you okay paying higher rates? Do you have a plan to repay your private loan in just a couple of years? What happens if something goes awry with your project?
As we've said, private lending can be great. But you need to have a firm understanding of what you're getting into before you start looking for a lender.
Once you know what type of private lender you want, you can start looking for your lender.
In many cases, this will be the longest part of the process. It can take a long time to find someone willing to lend to you, especially if you haven't proven yourself with previous projects.
Fortunately, there are a few ways you can go about your search.
Networking is a tried-and-true way of finding private lenders. It can help you find accredited investors, individuals, and lending companies.
If you aren't already, start looking for places you can grow your network. Are there real estate seminars you can attend? Is there a club or association for real estate developers in your area? What about real estate events?
And you don't have to limit your search to real estate communities. If you're willing to go with private individuals, your networking opportunities are virtually limitless.
Of course, networking will look different if you're primarily interested in family, friends, and acquaintances. In that case, you can post about your upcoming project on Facebook or casually mention it at the neighborhood BBQ. (We trust you to use good judgment here.)
If you'd rather expedite your search, you can use the internet to find a private lender.
This can be as simple as doing a Google search for private lenders in your area. You can also use dedicated lending sites (like Private Lender Link) to search for private lenders.
Keep in mind, though, that lenders you find through these searches will likely get many, many more pitches than lenders you find organically. Your bid for funding will likely be much more competitive if you go this route.
For a slightly different tactic, you can use the internet to look up recent real estate transactions in your area. In most places, these are public record. You might look in neighborhoods that you know have a lot of flipping going on and see what lenders have been funding those purchases. This may take a little more time, but it can help you find private lenders that are actively funding in your area. Plus, it can give you concrete examples of what kinds of projects those lenders prefer to fund.
Maybe, though, you'd rather have private lenders come to you. In that case, you might need to conduct some kind of marketing campaign for your project.
For a simple marketing campaign, start posting about it on social media from Facebook to Instagram to LinkedIn. You'll probably want to include specific details about what kind of funding you're looking for, what your project is, and why you're a good investment.
Or you can take it old-school. Send out mailers. Get a billboard. Yes, these tactics will be more expensive, but they can help you stand out from other would-be borrowers. We've read many stories of business owners who got funding from these kinds of direct marketing campaigns.
3. Prepare a compelling pitch
Once you've found some private lenders, it's time to come up with the best possible sales pitch for yourself and your project.
Again, the specific form this takes may depend on your type of lender. Your brother probably doesn't want a 50-slide presentation with a specific timeline and projections (but who knows? Maybe he does). On the other hand, an accredited investor will probably want exactly that. So tailor your pitch to your specific lender.
Regardless of what your pitch looks like, you'll probably want to include some universal elements:
What your project is
Why you need funding
How much funding you need
What makes you a sound investment
What relevant past experience you have
Note that if you go with a private lending company, it's possible you'll just have to fill out a (pretty ordinary and traditional) loan application―no pitch necessary. As we said before, so much depends on what kind of private lender you go with.
If you have to fill out such an application, make sure you've got all the necessary documents. Most lenders will ask for things like bank statements, profit and loss statements, and tax returns. You can save a lot of time by having these ready before you need them.
Breaking up the total cost
If you can't find one private lender to give you all the money you need, consider trying to find several private lenders willing to loan you smaller amounts.
4. Choose your desired lender
If all goes well with your pitch, you'll have yourself a private money lender. (Congrats!) You may even have several potential lenders to choose from.
But you shouldn't necessarily go with the first person who offers to lend you money. Yes, it's good that they like you―but it's just as important that you like them.
So take some time to ask your lender questions. What will their funding process be? What sorts of expectations do they have? Will you need to check in?
As you can guess, the answers to these questions will probably depend on what type of private lender you have. There's a good chance your cousin Beth will want regular updates on your flipping progress, while a lending company might be fine with a more hands-off approach.
In these conversations, make sure you cover the most important aspects of your private loan:
Principal (loan amount)
Interest rates
Payment amount
Frequency of payments
Fees (like prepayment penalties)
Loan repayment term
Hopefully, their answers will satisfy you, and you'll be able to move ahead. But if anything seems fishy or wrong to you, don't be afraid to look for a different lender instead. With big financial transactions, you can't afford to choose a bad private lender.
Once you've found a lender who likes you and who you like in return, you can go ahead and get your funding.
Regardless of what type of private money lender you go with, we urge you to draw up legal documents for your deal. Lending companies and hard money lenders will probably have such documents as part of their usual processes, but you may have to create them if you're going with family and friends. It's worth investing in an attorney to keep things on the up-and-up. It will keep you safe―and your lender too.
As with any type of business financing, use your funds wisely. Make sure you keep up with your payments. Watch out for any fees.
With any luck, your real estate project will go well, and you'll have no problems repaying your lender. Everyone goes home happy.
And if all goes well, you may be able to get more funding from your lender for future projects―simplifying things next time.
Private lender alternatives
As you can see, finding a private money lender can be a long and grueling process. If you need things to move a little faster, you might want to consider some alternatives.
Online lenders, also called alternative lenders, can be a great source of financing. Few online lenders offer true real estate loans, but many offer flexible working capital loans (or lines of credit) that you may be able to use for your project.
Most alternative lenders have very fast application and approval processes, so you can get your money quickly (within a day or two, in many cases). They also have relatively low borrower requirements, making many online lenders ideal for bad credit. But their maximum amounts are often small, and the interest and fees can get high.
Peer-to-peer (P2P) lenders have a lot in common with private lenders. These are individuals who invest their money in businesses via business loans. But many peer-to-peer lenders operate through companies that anonymize the process and pool many investors' funds together. As a result, they end up looking a lot like online lenders.
Peer-to-peer lending can get you lower rates than you'd get from alternative lenders, and it still offers a relatively quick approval and funding process (several days to a week, often). But the borrower requirements are often higher with P2P lending, so it may not work well if you have low credit.
Finding private money lenders can be a challenge, but it's also very doable. There are many ways you can start your search, from traditional networking to your own marketing campaign. Then, armed with a strong pitch, you can find the right real estate investor for your company.
As we've said, it may take some time. So start your search now.
Good luck getting the money you need―and the investment property to go with it!
A private loan may have different rates and terms than a conventional loan, but you still need to understand the costs. Use our commercial loan calculator to figure out how much your private loan will cost you.
Disclaimer
At Business.org, our research is meant to offer general product and service recommendations. We don't guarantee that our suggestions will work best for each individual or business, so consider your unique needs when choosing products and services.