These 7 Small Businesses Took SBA Loans. Here's Their Honest Advice.
Loans from the Small Business Administration (SBA) are a go-to option for businesses at every growth stage. 
But, as is common with many federal government operations, the application process is full of nuance and paperwork. This can make it daunting for smaller entities with fewer resources—which precisely describes many loan seekers.
To help navigate this complex process, Business.org surveyed over a dozen small-business owners that have taken out SBA loans.
Here are five insider tips to get Uncle Sam to back your entrepreneurial dreams
Lean on local SBA resources
Be patient and prepare for IRS forms
"When small businesses were forced to shut down, we took an Economic Injury Disaster Loan. We sell live insects to zoos and pet stores. When they were forced to shut down, we were concerned that we were going to lose two-thirds of our business. So, we took the loan to help support payroll and other expenses.
The process was fairly easy: we had to submit a loan application to the SBA, as well as a 4506-T IRS form. The process took about a month, but I believe it was accelerated due to the pandemic."
—Jeff Neal, owner, The Cricket Depot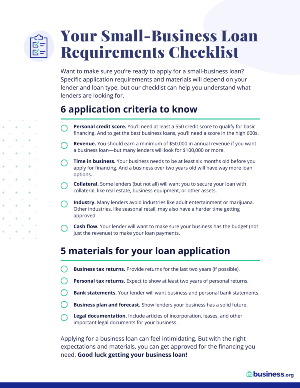 Applying for a small-business loan soon?
Our free checklist can help you understand what lenders are looking for.
Get collateral squared away ahead of time
"The SBA loan process is fairly straightforward and not too difficult to complete. But what I didn't like was how at the very end, the representative I was working with told me I needed a life insurance policy for collateral assignment. This should have been discussed at the very beginning, and this caused me to 'scramble' to secure a policy in time. Any applicants should be prepared to secure life insurance coverage as it'll most certainly be needed."
—Matt L. Schmidt, advisor, Diabetes Life Insurance Solutions
Consider special loans for disasters and other unique circumstances
"The Small Business Administration (SBA) provides catastrophe loans in the event of natural or economic calamities, such as the coronavirus pandemic. These loans are for businesses that can demonstrate that they have been harmed by a calamity.
Disaster loans of up to $2 million are offered with repayment terms of up to 30 years. They can be used for working capital, day-to-day operational costs, and property replacement. Unless you're looking for coronavirus assistance, your business must be located in an SBA-declared disaster area to qualify for a disaster loan."
—Jason Feldman, attorney and founder, Immigrate Me
Embrace smaller amounts of funding
"Small companies and charity child care facilities with low working cash needs may benefit from microloans. A microloan can be utilized for operating capital, inventory purchases, and furniture or equipment purchases. These loans are managed by nonprofit organizations that have been approved by the Small Business Administration.
Microloans are not guaranteed by the SBA, unlike other types of loans. Microloans of up to $50,000 are available with six-year repayment terms. A minimum credit score of 640 is required to qualify."
—Gerrid Smith, chief marketing officer, Joy Organics
Time is on your side when repaying SBA loans
"We received an EIDL loan at the beginning of the pandemic and were able to use those funds to get a better office and new computers!
The process was fairly simple. We filled out the forms with all of our business/revenue data and, after about four weeks, were eventually approved and the money just showed up in our bank account. Then about six months later, we were contacted by a loan officer to make sure they had all of our tax info on file.
I would recommend a loan from them because it's essentially free money, with no interest or payments for the first year. Plus, you have 30 years to pay it back at a 3% interest rate. If you're looking for capital to grow, that is a good route."
—Sal Rosenblatt, president, Shout Me Out Marketing
Need help getting a loan?
Disclaimer
At Business.org, our research is meant to offer general product and service recommendations. We don't guarantee that our suggestions will work best for each individual or business, so consider your unique needs when choosing products and services.