4 Steps to Effective Supplier Relationship Management
Supplier relationship management (SRM) is all about keeping track of and planning constructive interactions with the third-party vendors that supply your business with goods and materials. As a business owner, supplier relationship management is one of the core components of your business. But you may be wondering why it's so important. Having a solid supplier relationship ensures a strong supply chain and is key to maintaining a successful business.
Here we break down what you need to know about effective supplier relationship management and offer steps you can take to build the relationship.
What is supplier relationship management?
Think about it this way: your business needs goods to sell, and to get those goods, you need a supplier. To make sure that you keep receiving those goods, having a good relationship with your vendor is essential. A strong relationship ensures on-time delivery on their end and on-time payment on your end. 
Constructive relationships are an important part of supply chain management (SCM), allowing you to continue receiving goods and providing for your customers. A successful supplier relationship keeps everyone happy and ensures your business can sell the products you're known for and to ultimately thrive.
Good SRM requires commercial, technical, and interpersonal skills—a combination that can be tough to come by and may require vendor management software or a dedicated team. If your business is growing exponentially, that is something to consider so that your supplier relationships don't get in the way of your business growth.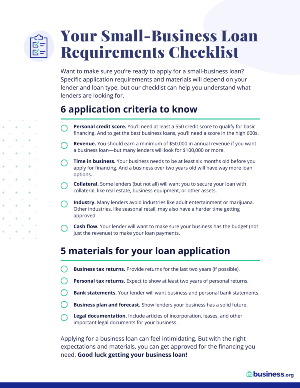 Applying for a small-business loan soon?
Our free checklist can help you understand what lenders are looking for.
What are the steps to better supplier relationships?
There are four primary things that will help you foster better supplier relationships. Basically, you are looking to:
Purchase, receive, and pay for goods on time
Collaborate on any special items
Measure and analyze if the supplier is doing the best work for your business
Continue this beneficial relationship
 Let's break these down a bit more.
Purchasing, paying, and receiving goods
Purchasing goods and paying for them is a big part of any business relationship. But, in this case, you and your suppliers are both the customer and the vendor. You, as the customer, want to receive the goods on time, and they, as the customer, want to be paid on time. By ensuring that you both are holding up your end of the contract, you can ensure that there are no disputes or product delays.
A great relationship requires effective communication and positive collaboration between you and your suppliers. Effective communication helps your vendors get goods to you on time, ensuring your business doesn't face shortages, and allowing the entire supply chain process to run smoothly and efficiently. Positive collaboration means taking care of existing suppliers and potential suppliers so that you can focus on the procurement process and selling goods.
Focusing on your supplier management, you will use supplier data and supplier information to ensure that product procurement is reasonable and cost-effective. You can track data from your key suppliers to see how they're sourcing goods and make sure that it's up to your standards. Supplier management is a key part of making sure your collaboration is worthwhile.
Using a tool like a supplier scorecard can help you assess the performance of your supplier based on item quality, delivery, and responsiveness to see if they are doing the best work for you. Supplier scorecards are a great way to keep track of vendor management and performance.
You should also consider supply chain logistics. By ordering goods before you need them, you give the supplier lead time to make or procure the product and send it to you. This helps remove variables and optimize the supply chain. Working in collaboration with the supplier ensures you're both on the same page.
Continuing the relationship: the two-way street
The best supplier-business relationships are two-way streets. You are both benefiting from the relationship, but if one of you has a problem it is important to address it early and take decisive action.
Overall, the best way to maintain a good supplier relationship is through open communication and constant evaluation of your relationship.
If you find that your supplier relationship is beneficial and working well, the next step is to figure out how to maintain that relationship throughout your business's ups and downs.
How do you maintain an effective supplier relationship management strategy?
The best way to maintain an effective supplier relationship management strategy is to show your supplier that you are also a good customer. Just like you're on top of supplier management, they are on top of vendor management to make sure they are getting the best return on their investment. Paying bills on time and giving as much lead time as possible in honest product projections proves that you are a great customer and a great partner to work alongside.
Looking at your overall business strategy, you may see that you are working with a lot of suppliers. Reducing this number can make it easier for your business because your team won't be stretched tracking suppliers and shipments, allowing you to focus on the essentials. By reducing the number of suppliers you work with, you are enhancing the relationships you already have and planning for the future.
Of course, if a supplier is difficult to work with, then it is in your best interest to immediately cut ties and focus on better supplier relationships. You may discover this during your regular vendor management performance reviews or from your procurement team who have been dealing with the vendor directly. No matter what, you want to be sure that your supplier collaboration is mutually beneficial.
A difficult supplier could be unreliable or late with deliveries, have higher costs, have poor sourcing or supplier quality, and may be unwilling to communicate. These are all things you should consider when looking at your supplier strategy each month. Always do what's best for your business and maintain the relationships that work as a two-way street.
Like we talked about above, open communication is one of the most important strategies to use in maintaining effective supplier relationships. Communication is a basic—and supremely important—courtesy to follow with any relationship your business has.
With suppliers, you should feel open to inviting them to strategy meetings and on office tours. Making them feel like they are a part of the team will help you both do your jobs better. Sharing information allows suppliers to get ahead of the ball and have products ready before you really need them.
Just like everything else, communication is a two-way street. You should be able to visit your suppliers' offices and know the ins and outs of their business, too. If they are having any supply chain difficulties, they should be open about it and work with you on finding alternatives.
At the end of the day, being honest and upfront with your suppliers about your needs will help them perform better and will keep you both happy.
Need to finance your business dreams? Get a personal loan now.
Supplier Relationship Management FAQ
How does SRM affect the rest of your business with customers and employees?
Great relationships with your suppliers and a strong supply chain aren't all that's needed. There are three core principles that can align to make your business run smoothly:
Supplier Relationship Management (SRM)

Customer Relationship Management (CRM)

Employee Relationship Management (ERM)
These three cores feed into each other: 
Successful supplier relationship management can make it easier for you to source products for your customers. 
Great supply and helpful employees attract customers. 
 A strong inventory and loyal customers will retain employees in your business.
 Combining all three can create a complete business workflow encompassing everything. It allows you to plan for the future of your business without sacrificing any of the elements that make your business unique.
What are some strategies to enhance the effectiveness of supplier relationships?
When looking at ways to enhance supplier relationships, you want to focus on finding common ground with your suppliers and emphasizing the importance of the relationship to your business. Enhancing your relationship and ensuring that the supply chain runs smoothly is a top priority for your business—after all, you can't sell products if you don't have any. So, strategies can include: 
Focusing on the two-way street
Using a supplier scorecard
Being a good customer
Maintaining open communication
We recommend thinking about your relationship with suppliers in this way: you are both customers and should be upfront about your needs.
What are the elements of successful supplier relations?
Successful supplier relations utilize the strategies above and are focused on mutual respect and communication. If you respect the time and energy it takes for a supplier to get their products to you, then they will respect your business needs too. Supplier relations boil down to being conscientious of your customers and suppliers—order early and communicate your needs often.
As you continue to work with suppliers, you want to prioritize your relationship with them and remember it is a two-way street. The relationship relies on you paying bills on time and them sending goods on time.
Effective supplier relationship management can ensure optimal supplier performance that will help you run your small business more efficiently.
Disclaimer
At Business.org, our research is meant to offer general product and service recommendations. We don't guarantee that our suggestions will work best for each individual or business, so consider your unique needs when choosing products and services.