How Much Does It Cost to Start a Dropshipping Business?
Before you launch your dropshipping business, it's important to understand dropshipping costs.
Starting a dropshipping business is like starting any other business—launching it is going to come with some upfront costs. Understanding the common costs associated with starting a dropshipping business can help you make better strategic decisions. And knowing how dropshipping costs compare to traditional startup costs can also help you understand whether or not this business model is right for you.
How to start a dropshipping business
Dropshipping can be a great way to start a business because it's a relatively fast, easy type of business to launch. You don't need a lot of expensive equipment, inventory, or retail floorspace. With dropshipping, your storefront is your website and your inventory is held and managed by your suppliers.
However, there are a few key steps that every dropshipping entrepreneur needs to consider when starting a dropshipping business.
1. Setting up your online store
Your online store can be a website that you create and develop yourself with your own URL or domain name, or you can set up an ecommerce website with Shopify, Squarespace, or other platforms.
Some ecommerce platforms offer a basic free plan (or at least a free trial). But if you want more than just the basics, you'll probably want to pay for a site creation platform. Some platforms might charge a monthly subscription or an annual subscription. There might also be a one-time fee to register your domain for your website.
As a result, creating and running your online store will be one of the major costs of starting your dropshipping business.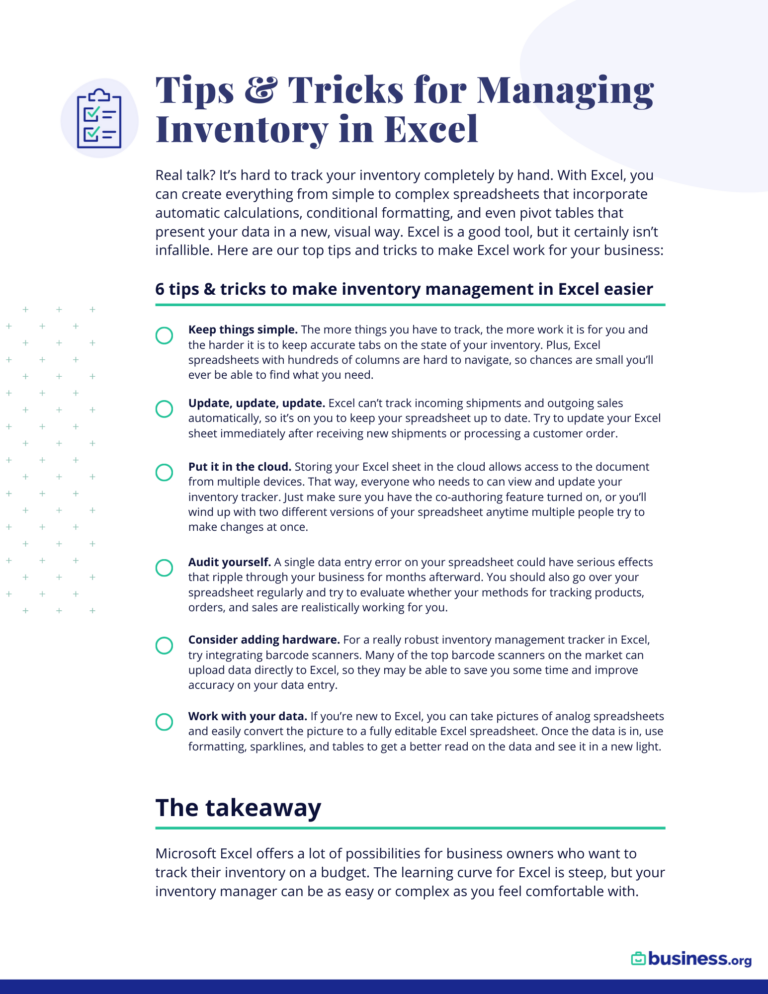 Get your free template
Keep your inventory organized, monitor shipments, and track vendor reliability with our customizable Excel inventory template and our included tips and tricks.
2. Signing up for supplier networks
Along with setting up your ecommerce store, you need a good network of suppliers. These are the wholesalers that will sell you products to list on your site, and then to ship products to your customers.
Getting access to the best dropshipping suppliers costs money: most wholesaler directories charge a monthly, annual, or one-time fee for users to access their lists of suppliers. You can also use platforms like Oberlo (which is owned by Shopify) to find dropshipping suppliers quickly and add products to your ecommerce site. Oberlo and similar platforms also cost a monthly fee. 
3. Forming your LLC or other business entity
One of the other startup costs for your dropshipping business is forming an LLC (Limited Liability Company) or other legal business entity. Creating an LLC will help you establish your dropshipping business as a legal entity separate from your personal identity, which helps keep your business and personal finances separate.
The cost of forming an LLC depends on your state's filing fees, whether you hire a lawyer to help, and whether you or sign up for a business formation service. You can usually form an LLC by yourself, but if you want professional help, that will cost extra.
What are dropshipping startup costs?
When starting a dropshipping business, your startup costs depend on a lot of different factors, such as what kind of website you want to create, which products you want to sell, and how many online features you want to offer your ecommerce customers.
There is no one right amount of money to consider for your dropshipping startup costs. Some entrepreneurs might be able to invest more than others in building an ecommerce website, while some might want to keep costs as low as possible.
But in general, here are some of the dropshipping startup costs you should be prepared to pay.
The cost of creating an ecommerce website
Starting your dropshipping ecommerce site can be done very cheaply if you already have good web development skills, or it can cost thousands of dollars if you want to pay a professional web developer to set up a site for you with lots of customized features.
A middle-of-the-road option (in terms of overall cost) is to set up an online store via Shopify, Squarespace, or another ecommerce platform. But how much can you expect to pay for an ecommerce website? Here are a few starting prices for some of the leading ecommerce platforms:
Squarespace: $26/month (with annual subscription)
Shopify: $29/month for Shopify Basic
Wix: $27/month for the Business Unlimited plan
Even though it costs money upfront, setting up your online store with an ecommerce platform can help you avoid some complexity and get your dropshipping business started faster. You can also choose a lower-cost or higher-priced subscription, depending on which features you want your site to have.
Still, assuming a monthly average subscription fee of about $29 per month, your annual costs will run about $360 per year for a website alone.
The cost of finding dropshipping suppliers
Once you have a website, you need products to sell on it, which means you need to find dropshipping suppliers to work with. Most of the best-rated dropshipping supplier directories and platforms cost either a one-time or an annual fee:
So depending on which supplier directories or platforms you choose, and how many you subscribe to, your supplier access costs might range from $30 to $60 per month. Alternatively, they could cost as much as a one-time fee of $299. The ultimate cost will depend on which supplier directories seem like a good fit for your target market, and for how you choose to run your business.
The cost of forming your LLC or other business entity
The cost of forming your LLC will depend on which state you want your business to be organized in (usually, that's the same state in which you live). The fees for creating an LLC depend on the local laws in each state.
For example, here are the LLC filing fees for the four biggest U.S. states:
To understand the exact rules, processes, and fees involved with forming an LLC or other legal business entity for your dropshipping business, check with your state's Secretary of State office, or with another local business regulatory authority.
Can you start dropshipping for free?
Dropshipping has a reputation for being a fairly cheap business to run, so you might be tempted to ask if you can start dropshipping for free.
And technically, yes—you can start dropshipping for free, depending on the type of dropshipping business you run. However, to make the most of your dropshipping business, you'll likely have to incur some costs. For best results, you can think of dropshipping as having a low-cost business model, but it's not usually a no-cost business.
Here are a few questions to keep in mind if you want to try dropshipping for free.
Can you really build a website by yourself?
You can try to start dropshipping for free with a free trial subscription and a website URL that is not totally your own, but it won't look as professional or trustworthy as a website created through a platform. And unfortunately, if you're trying to build an ecommerce website for free, you're probably going to get what you pay for—which, from your customers' perspective, is usually a less credible, less trustworthy website.
For instance, if your website design looks cheap, your shopping cart features don't work, and your customer experience is clunky, you'll probably find that dropshipping for free is more expensive to you (in terms of lost sales and wasted time) than just spending on a platform membership.
Most website platforms require some kind of monthly or annual subscription fee, especially if you want to choose your own URL.
Can you get good dropshipping suppliers for free?
It's possible to find some dropshipping suppliers via free directories (AliExpress being the main example of a free directory). However, without paying for a wholesale supplier directory membership or a more involved platform, you will have to navigate the process all by yourself. It will likely be faster and easier for you to connect with suppliers and build good working relationships if you are plugged into a platform like Oberlo or Doba, and that requires you to invest some money.
Do you really want to risk doing business without an LLC?
Establishing an LLC can help protect you from some of the worst-case scenarios of being in business. Most importantly, if your business goes bankrupt, having an LLC means creditors can't seize your personal assets to repay your business debts. Having an LLC also makes it easier for you to claim business expense deductions at tax time.
In other words, if you're really serious about dropshipping, you need to form an LLC. You should protect yourself and your business by making your business legit in the eyes of the law. 
So what's the bottom line on free dropshipping? Sure, you can start dropshipping for free, or at least for a very low-cost cash outlay. But if you're really serious about making money from dropshipping, you should consider investing a few hundred dollars (or more) upfront to get yourself set up with the best possible website, a valid network of suppliers, and a legal business entity separate from your personal finances.
The most important startup costs for dropshipping include setting up your ecommerce website or online store, connecting with dropshipping suppliers via a directory or platform, and making your dropshipping business official by forming an LLC or other legal business entity. Depending on what kind of website features you want, how complex your business is, and what state you live in, your total startup costs for your first year might range from $500 to $1,000 or more. 
That amount might seem like a lot upfront, but it's still less than the cost of getting into many other types of businesses. And remember, dropshipping is just like every other business model:  sometimes you've got to spend money to make money.
If you want to learn more about dropshipping before starting your business, check out our article on what dropshipping is.
Startup costs for dropshipping FAQ
What is a budget for dropshipping?
Each dropshipping company's budget will vary based on the owner's preferences and needs. But we can show you a sample budget for dropshipping startup costs during the first year of operations.
For our example, let's assume this dropshipping entrepreneur is based in California and chooses a Shopify and Oberlo platform membership. Their first-year costs will likely include the following:
Online store: Shopify Basic membership at $29/month ($348 over 12 months)
Supplier access via Oberlo membership: $29.90/month ($358.80 over 12 months)
California LLC filing fee: $70
California LLC annual tax: $800
Total first-year costs: $1,576.80
Remember, the total budget for starting your dropshipping business will depend on how you set up your website, which supplier directories or platforms you want to use, and how much it costs to establish an LLC or other business entity in your home state.
Is starting dropshipping worth it?
Dropshipping can be a great business model if you are willing to put in the time, effort, and research to find great products to sell. It can also work if you are passionate about the details of managing an ecommerce website and if you care about building great customer relationships with excellent customer service.
Running a dropshipping business can help you achieve financial freedom as a full-time entrepreneur. Like every business model, dropshipping won't give you overnight success, and it's not 100% guaranteed to succeed. But if you enjoy learning about online sales and are willing to keep working hard while adapting to change, dropshipping can be a worthwhile endeavor as an entrepreneur. 
Can you start dropshipping for $500?
Yes. Depending on where you live, $500 will be enough money to set up an LLC and pay for a few months of subscription fees for ecommerce platforms and supplier directories. 
How much do beginner dropshippers make?
It's hard to find reliable stats and surveys about how much money dropshippers make. According to Shopify, some dropshipping entrepreneurs make $100,000 a year or more, while others might make just a few hundred dollars per month.
So how much will you make as a beginner dropshipper? It's hard to say. If you enjoy the process of learning how to sell products online, can adapt to a fast-changing business landscape, and have a relentless focus on finding the right products for your target audience, then dropshipping could be a successful venture for you. 
At the same time, don't assume that you're going to make lots of money overnight as a beginning dropshipper. It takes time to build traffic to your ecommerce site, find great products, market your business, and navigate the other challenges of running a successful dropshipping business.
Finally, be honest with yourself about your financial goals for starting a dropshipping business. Do you want this to be a side hustle or part-time income while you keep your day job? Or do you have the time and resources to really commit to dropshipping full-time and make it your sole source of income? If the latter, you're going to need to invest more time and money than you would for a simple part-time gig.
Disclaimer
At Business.org, our research is meant to offer general product and service recommendations. We don't guarantee that our suggestions will work best for each individual or business, so consider your unique needs when choosing products and services.