Chase Bank Business Account Review: Why We Caution against the Biggest Bank
---
We explain all the reasons you should avoid Chase Bank's business accounts—and a couple reasons you might go with Chase anyway.
Variety of business bank accounts and other financial services
Widespread availability in 29 states
Long history of sketchy and illegal practices
Mediocre to negative customer reviews
JPMorgan Chase & Co., better known as Chase Bank to its friends and customers, is the largest bank in the United States.1 No wonder you're thinking about doing your business banking with this well-known giant.
But should you? Or should you take your business's business to a different bank?
In this review, we'll tell you all about Chase's business bank accounts, its other financial products for business, and what customers have to say about it.
Oh, and we'll let you know why we strongly recommend you take your business elsewhere.
Ready for the scoop?
Chase is best for businesses in Hawaii. (Maybe. If they have to.)
We want to be completely honest here: we have a hard time saying that Chase is best for anyone or anything.
In part, that's because Chase doesn't really have any standout features. Other banks have cheaper business bank accounts. You can find higher annual percentage yield (APY) on business savings accounts and CDs elsewhere. Its business financing is fine, but not the best. In other words, Chase is just kind of okay.
Then there's that other thing: Chase's long and storied history of, well, super sketchy stuff. Here's a small sampling of things Chase has been sued for in the last decade:
Discriminating against black and Latinx mortgage borrowers2
Charging customers for credit monitoring they didn't get3
Processing transactions out of order so it could profit from overdraft fees4
Improperly foreclosing or overcharging military members on their mortgages5
Conducting illegal business with customers in Iran, Sudan, Cuba, and Liberia6
Since you don't have all day, we'll stop there. But let us stress that there is much, much, much more where those came from. And sure, lots of banks have faced government action (yes, we're talking about you, Wells Fargo and CitiBank!), but few have quite as many as Chase.
Chase fast facts
| | |
| --- | --- |
| Feature | Chase |
| Online banking | ✔ |
| Mobile banking | ✔ |
| In-person banking | ✔ |
| Branch locations | 5,000 |
| ATMs | 16,000 |
| 24/7 support | ✔ |
| Customer service options | Phone, email |
And sure, those scandals may not have specifically affected Chase business banking customers. But with a history like that, we wouldn't be surprised if the next scandal does. (Because given Chase's track record, it's safe to assume more scandals are coming.)
Plus, given that many of Chase's lawsuits are about problems that directly affect the consumer—from fraudulent charges to inflated interest rates—we can't just look the other way. This is your business we're talking about, after all. We don't want to let a bank scam you out of your hard-earned money, no matter how big and old that bank is.
Fortunately, the vast majority of states have better banks to choose from, so you can take your business dollars elsewhere.
Except Hawaii. Sorry, Hawaii.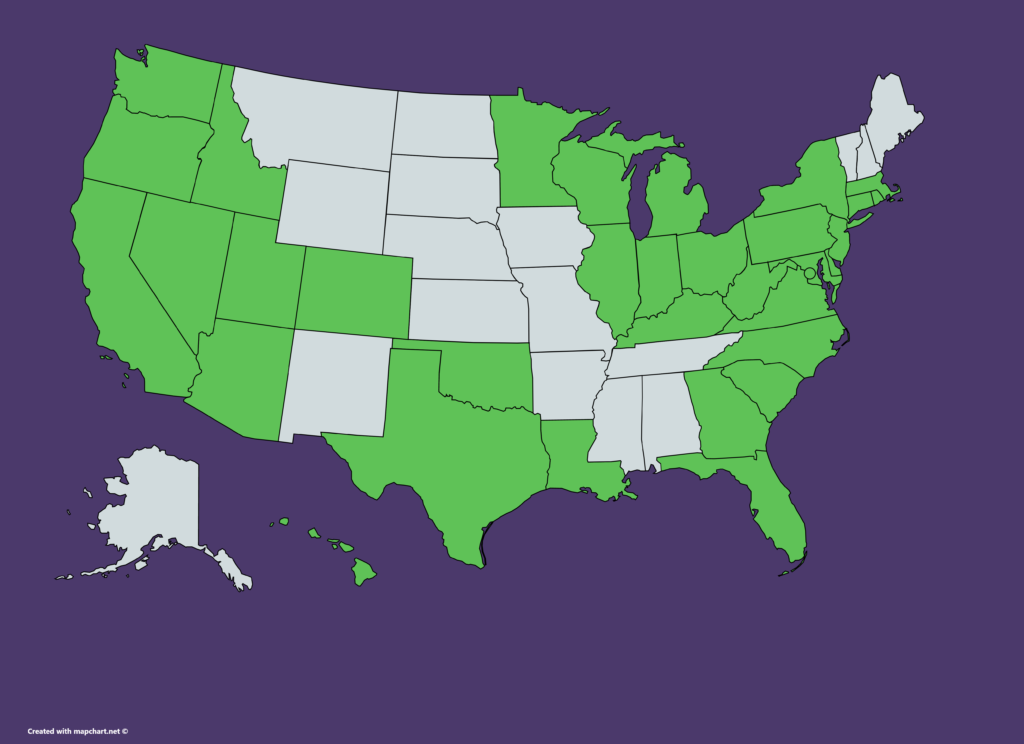 So if you're in Hawaii, we might tentatively agree that if you really need a business bank account pronto and you don't have time to shop around, you could possibly bank at Chase—so long as you watch your money like a hawk.
And even then, we really suggest you go with an online bank for small business instead, or perhaps your local credit union. Maybe go look at Hawaii Community Federal Credit Union, for example?
But if you still think you want to bank with Chase, despite our warnings, then we at least want you to be well-informed about what it has to offer. So let's explore what products and services Chase has for small business.
Chase checking and savings accounts
As you'd expect from a big bank like Chase, you have choices between several different types of business checking and savings accounts. Let's look at your checking choices first.
Checking accounts
Chase has three business checking accounts (plus one interest-bearing checking alternative, if that's your jam).
Chase small-business checking accounts
| | | | |
| --- | --- | --- | --- |
| Feature | Total Business Checking | Performance Business Checking | Platinum Business Checking |
| Min. opening deposit | Unlisted | Unlisted | Unlisted |
| Monthly service fee | $15 | $30 | $95 |
| Monthly fee waivable? | ✔ | ✔ | ✔ |
| APY | N/A | Variable | N/A |
| ATM fees | $0 | $0 | $0 |
| Out-of-network ATM fees | $2.50/transaction | $0 | $0 |
| Free transactions | 100 | 250 | 500 |
| Additional transactions | $0.40 ea. | $0.40 ea. | $0.40 ea. |
| Free cash deposits | Up to $5,000 | Up to $20,000 | Up to $25,000 |
| Cash deposit fee | $2.50 per $1,000 | $2.50 per $1,000 | $2.50 per $1,000 |
| Open an account | Apply Now | Apply Now | Apply Now |
Data effective 10/10/19. At publishing time, rates, fees, and requirements are current but are subject to change. Offers may not be available in all areas.
Chase's Total Business Checking is its cheapest, most basic account. You can waive the monthly fee by keeping a $1,500 minimum balance or by linking it to a Chase Private Client Checking or Chase Sapphire Checking personal checking account. You can also get a $3 discount on the monthly service fee by choosing paperless billing.
If you want more free transactions, higher free cash deposit amounts, and fewer ATM fees, you can go for Performance Business Checking. Just know that if you want to waive the monthly fee, you'll need a daily average of $35,000 across your Chase business accounts.
You can also get an interest-bearing version: Performance Business Checking with Interest. It's pretty much the same account, just with the chance to earn some interest on your money. Unfortunately, we can't say exactly how much interest, since this account has an unlisted variable APY. (But based on the APY Chase lists for its savings accounts, we suspect it's low. Really low.)
Finally, you have Platinum Business Checking. It gives you the most free transactions and cash deposits, but it has one of the highest monthly fees we've seen. And to waive that maintenance fee, you'll need a daily average of $100,000 in your business banking or investment accounts.
These accounts don't have the highest costs we've ever seen, but they're far from the lowest we've seen. We've found cheaper rates and fees at both online banks for business and regional banks (like TD Bank). But Chase does sometimes offer deals for new business customers, like a $200 bonus when you open a checking account.
Is that enough to make up for its mediocre pricing? Up to you.
Chase online banking
Like most banks, Chase has both a website and a mobile app that you can use to access your business bank account online. Though, you'll still need to visit a branch for some things (like depositing cash or opening an account).
Savings accounts
In addition to its checking accounts, Chase also has a handful of savings accounts for you to choose from: two standard savings accounts and certificates of deposit (CDs). (If you want a money market account, you'll need to go elsewhere.)
Chase small-business savings accounts
| | | | |
| --- | --- | --- | --- |
| Feature | Total Savings | Premier Savings | Small-business CDs |
| Min. opening deposit | Unlisted | Unlisted | $1,000 |
| Monthly maintenance fee | $10 | $20 | N/A |
| Monthly fee waivable? | ✔ | ✔ | N/A |
| APY | 0.01% | 0.01%–0.15% | 0.01%–1.75% |
| Term | N/A | N/A | 3–120 mos. |
| Free cash deposits per cycle | Up to $5,000 | Up to $10,000 | N/A |
| Cash deposit fee | $2.50 per $1000 | $2.50 per $1000 | N/A |
| Penalty-free withdrawal | 6/cycle | 6/cycle | ✘ |
| Open an account | Apply Now | Apply Now | Apply Now |
Data effective 10/10/19. At publishing time, rates, fees, and requirements are current but are subject to change. Offers may not be available in all areas.
The Total Savings account has a low monthly maintenance fee, which you can waive by keeping a $1,000 account balance. Another option for waiving the fee? Linking your Total Savings account to a Total Business Checking account. Pretty easy. While it does earn some interest, the APY for Total Savings is quite low.
For a shot at a higher (but still low) APY, you can opt for Premier Savings instead. In this account, the more you save, the higher your APY. And you'll need a healthy account balance to waive the monthly service fee. Waiving the fee requires a $25,000 average balance, or you can link your account to a Performance Business Checking, Analysis Business Checking, or Platinum Business Checking account.
If you want to really get the most out of your savings, though, you'll want to look at Chase's certificates of deposit. While the starting APY is still quite low, the maximum APY is competitive. Just remember, you won't be able to add or withdraw funds for the length of your term—between 3 and 120 months, depending on what term you choose.
Any of this sound tempting? Then let's figure out if you should take the plunge to apply with Chase.
Reasons to bank with Chase
This is where we'd normally tell you about some cool feature that makes Chase stand out from the crowd. But as you may have noticed, we don't have a ton of praise for Chase Bank.
Still, in the interest of fairness, we'll tell you some reasons you might want to bank with Chase, despite our protestations.
For example, as we discussed above, you might live in Hawaii and have limited options. It happens.
Or maybe you already have and like a personal account with Chase. And you might find that Chase is just really convenient, like this business owner did:
"I chose [Chase] because I personally bank at Chase, which makes transfers between the accounts easier. I also received a $300 bonus when I opened my Chase business checking account, which sweetened the deal. There is also a branch very close to my house, which makes it convenient if I ever have to speak in person with a business banker."
We get it—you're a busy business owner. Maybe a nearby location to drop off cash deposits really matters to you. In that case, Chase might work well for your business.
And as Logan Allec noted, Chase often has special offers when you open a business checking account (only $200 as of this writing). So that's another nice incentive for you.
Or maybe you're just really into some of the other products Chase has to offer your business.
Other small-business products and services from Chase
Chase offers more than just banking. It also has a variety of financing (including loans, lines of credit, and business credit cards), plus some other services for business owners.
Small-business financing
Chase is pretty cagey about its financing. If you want to apply—or get more information—you have to visit your local branch. Feels pretty inconvenient in this age of online lenders, doesn't it?
(Other banks we've reviewed have prominent phone numbers and online chat options to answer any questions you have. Chase doesn't.)
Compare Chase's small-business lending
| | | | | |
| --- | --- | --- | --- | --- |
| Loan type | Loan min./max. | Lowest listed rate | Term | Get a loan |
| Business Line of Credit | $10,000/$500,000 | Unlisted | Revolving w/ 5 yr. renewal | Apply Now |
| Commercial Line of Credit | $500,000 and up | Unlisted | 12–24 mos. renewable | Apply Now |
| Business Term Loan | $5,000 and up | Unlisted | 12–84 mos. | Apply Now |
| Equipment financing | $10,000 and up | Unlisted | Up to 7 yrs. | Apply Now |
| Commercial Real Estate Financing | $50,000 and up | Unlisted | 7–10 yrs. | Apply Now |
Data effective 10/10/19. At publishing time, rates, fees, and requirements are current but are subject to change. Offers may not be available in all areas.
Chase doesn't publish its business loan application criteria (again, you have to visit your branch to find out), but if it's anything like other big banks, you'll need a good credit score, at least a couple years in business, and revenue of at least $200,000. In return, you'll probably get lower rates than you could find through an alternative lender.
You can also get trade financing with Chase. But surprise! You'll need to visit a branch to get any details on that.
Small-business credit cards
Aside from its loans and lines of credit, Chase also offers six business credit cards. You can get various types of rewards from these Visa cards, such as cash back and travel points. Plus, all six cards have point or cash bonus offers when you first open the card, though you may need to spend a certain amount to qualify.
As you pick your business credit card, keep in mind that several of these cards do have an annual fee. You may want to do some quick math and make sure you won't end up paying more in annual fees than you'll be earning in rewards.
Merchant services
Need a way to accept credit card payments? Enter Chase's merchant services.
Chase has plenty of terminal options, including mobile credit card readers, standalone payment terminals, and even virtual terminals. You can also build your own point-of-sale (POS) system with its POS tablet and accessories (like a cash drawer and receipt printer).
And if you already have a terminal or POS system you like, you may be able to use Chase's payment processing with your existing solution. A Chase payment specialist can help you figure out how.
Miscellaneous
Finally, Chase has a few more business services that may interest you:
Cash collection services
QuickDeposit desktop check scanner
Bill pay directory
What customers say about Chase
Chase has a pretty poor 1.7 out of 5 on Trustpilot,7 but it fares better on Bank Branch Locator, where it has a 3.1 out of 5.8
Many negative reviews complain about poor customer service, which isn't unusual among the banks we've reviewed. More unusual? Allegations that Chase doesn't honor its offers (like giving you $200 for opening a business checking account) and complaints that Chase mishandles fraud cases. While we can't necessarily verify these stories, they wouldn't surprise us, given Chase's legal record.
So what about the good reviews? While we saw some glowing reviews about Chase's mobile app, most of the good reviews praise its customer service. In fact, when we asked small-business owners about their bank accounts, we got a couple positive reviews of Chase's customer service. Like this one:
"[Chase is] great. The branch is always welcoming and friendly. I always have a short wait to see someone and most of the time they can resolve an issue while I'm in the branch. My only dislike is that the rates are so low that we don't get interest on the cash we have in the account."
One last thing, while we're on the topic of Chase's reputation. When we wrote "Best Banks for Small-Business Checking" back in July, Chase had an F with the Better Business Bureau (BBB) because of government action against it. Sometime in the past three months, that score was upgraded to an A-, presumably because the case has been settled.9
That probably says more about how the BBB scores businesses than it does about how much you should trust Chase, though. (BBB scores often reflect how much a business is willing to pay rather than how good it is—learn more in our guide to the Better Business Bureau.)
The takeaway
Look, we're pretty skeptical of Chase business banking—or more accurately, we're pretty skeptical of Chase as a whole. It's got a history of bad behavior, and we've seen better deals elsewhere.
So while Chase Bank offers plenty to businesses, like bank accounts, financing, and merchant services, we'd rather see you give your cash to a different bank.
But ultimately, you know your needs, you know your business, and you know what you're comfortable with. At this point, the choice is yours. We just hope we helped you make it.
Want an alternative to Chase? Great! Check out our ranking of the best banks for small-business to find one.
Disclaimer
At Business.org, our research is meant to offer general product and service recommendations. We don't guarantee that our suggestions will work best for each individual or business, so consider your unique needs when choosing products and services.
Sources