The 50 Youngest Kid Entrepreneurs in the US
Generation Z-ers don't want jobs—they want to create them. Business.org has compiled the youngest startup wunderkinds in the country.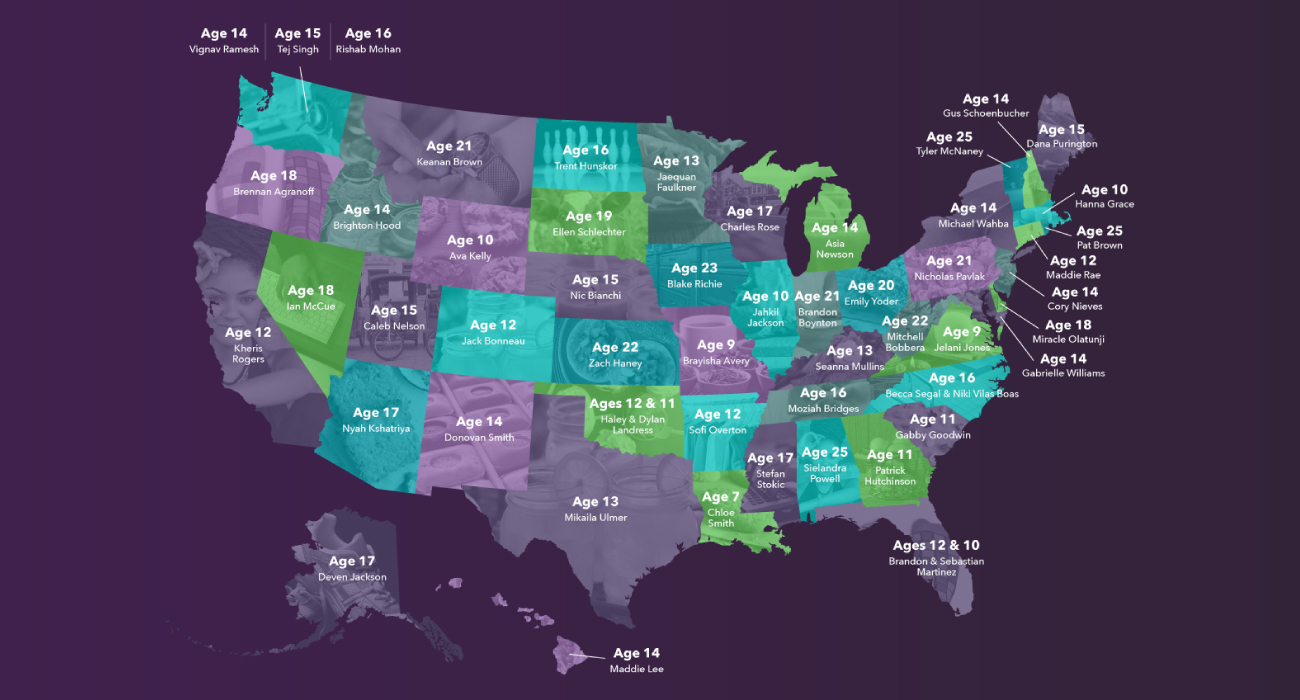 Last Updated: several months ago
Many new grads will be kissing high school goodbye and preparing for higher education this summer. Although college is the traditional trajectory for young adults at this stage, research shows that more and more high school students are actually looking ahead to an entrepreneurial-focused future. In fact, our study below shows that many young business owners are getting started on their entrepreneurial adventures years before they even think about submitting a college application.
If you've ever thought, "I probably should have started a business when I was younger," we have good news . . . and bad news. The good news: you were right. The bad (or maybe inspirational) news: we're going to tell you about 50 young people who've become successful entrepreneurs at around the same age you may have been investing your time and resources in Super Mario Cart.
At least Generation Z (those 23 and younger in 2018) learned a few things from you. For one, 60% of them want nothing to do with the kind of crushing student loan debt that the generations before them are stuck with. They see carving out their own earning paths post–high school as more attractive than attending—and perpetually paying for—college. For another, 36% don't want to be tied to a job at someone else's company for life; they'd rather start a business themselves or freelance on their own terms.
During our research, Business.org also learned a few things while compiling our list of the youngest entrepreneurs in the country:
Unlike previous age groups, Generation Z has grown up with the internet, and they inherently know how to market themselves through social media.
They also grew up through the recession of the 2000s, which has made them wary of the "security" of working for a corporation.
Over 50% of high schoolers say that their parents are encouraging them to gain work experience early.
77% of people aged 14 to 21 are already earning their own money.
42% believe they'll invent something that changes the world.
Shark Tank really loves Gen-Zers.
Also, Generation Z's interests are wide—we found everything from artists to bakers to sock imagineers to hot dog purveyors to electric skateboard innovators and beyond. Now that you're curious, here are the youngest entrepreneurs among the nation's business-savvy youths in each state of the US, listed youngest to oldest.
Young entrepreneurs in each state
Chloe Smith, 7
Chloe's Teacakes
In 2012, DeRidder, Louisiana, resident Chloe Smith wanted a $249 electric scooter; her parents told her earn the money herself. So, she used her great-great-grandmother's recipe to make tea cakes and other baked goods to sell. Chloe made enough to buy the scooter within six weeks, then continued her business.
Raelynn Heath, 8
Raelynn's Materials
Raytown, Missouri, entrepreneur Raelynn Heath, now 8, began making and selling her own jewelry at age 4, and she plans to branch out into other areas of fashion and become a millionaire by 16. Raelynn crafts with new and recycled materials and regularly donates her creations back to the community.
Jelani Jones, 9
Lani Boo Bath
Jelani Jones of Fredericksburg, Virginia, caught the entrepreneurial bug after attending a farmers market class on making bath products. Soon, she was creating her own bath bombs and promoting them on Facebook; now, Jelani serves customers across the country through Etsy.
Jahkil Jackson, 10
The Project I Am
Chicago's Jahkil Jackson created his social program Project I Am at age 8 to help the homeless population of his city. His program distributes Blessed Bags of toiletry essentials to the homeless and those in need; in 2017, Project I Am gave out over 6,000 bags to areas in and outside Chicago.
Hanna Grace, 10
Hanna Grace Beyoutiful
On New Year's Day 2016, Hanna Grace accepted a casual challenge from her father to create her own beauty products—within weeks, she was selling her bath bombs in stores. Now, the 10-year-old runs her own e-commerce website, which donates 20% of its profits to the Juvenile Diabetes Research Fund.
Ava Kelly, 10
Ava's Cookie Jars
In Jackson Hole, Wyoming, Ava Kelly wanted to travel to see a theatrical production of The Lion King; her mom advised her to raise the money herself. Within months, Ava was selling her homemade cookies in signature mason jars. She's since expanded her business vision with the Kids Travel Channel.
Maddie Rae, 12
Maddie Rae's Slime Glue
Fairfield, Connecticut, native Maddie Rae was a slime enthusiast with a problem: local stores were sold out of the glue she fashioned slime from. So she set out to create her own glue specifically for playtime slime-ification. After selling thousands of jars, her SlimeMaking.com is a one-stop shop for all things slime.
Patrick Hutchinson, 11
Patrick's Farm Fresh Eggs
Patrick Hutchinson of Carrollton, Georgia, became fascinated with chickens at age 6 and eventually figured out he could sell the delicious eggs from the chickens he cared for. At 11, he now has his own customer base, LLC, and bank account, and he's the youngest member of the state farm bureau.
Gabby Goodwin, 11
Gabby Bows
Gabby Goodwin of Columbia, South Carolina, like most girls, was tired of hair bows that were either painfully tight or loose and inevitably lost. With help from her mom, she created a double-snap barrette design that's since won praise and awards. Gabby Bows now sell online and in retail outlets.
Haley & Dylan Landress, 12 & 11
Arctic Blast Snow Cone Stand
Haley Landress, 12, and her brother Dylan, 11, had no grand plan when they pooled their money to open their own snow cone stand in Dibble, Oklahoma—they just didn't want to spend the summer remodeling rental units with their dad. Arctic Blast has since invested in branded reusable cups.
Brandon & Sebastian Martinez, 12 & 10
Are You Kidding
Kendall, Florida, brothers Brendon and Sebastian Martinez turned their passion for crazy colorful socks into a business model, designing 30 of their own patterns with markers and crayons. Eventually, they sold 70,000 pairs of custom socks and donated portions of the profits to charity.
Sofi Overton, 12
Wise Pocket Products
Fayetteville, Arkansas, local Sofi Overton initially set out to solve the problem of where to keep her phone in stockings and leggings, but she soon realized she could help out kids who also needed to store EpiPens and inhalers. Sofi says Wise Pocket Products will eventually donate one item to charity for every item sold.
Kheris Rogers, 12
Flexin' in My Complexion
In 2017, Los Angeles's Kheris Rogers became the youngest designer to ever present a line at New York Fashion Week at 11. Since then, her line—which she started after being teased as "too dark-skinned" by schoolmates—has blown up, being featured everywhere from Huffington Post to CBS News.
Jack Bonneau, 12
Jack's Stands & Marketplaces
Some kids get the idea to start one lemonade stand; Broomfield, Colorado, resident Jack Bonneau thought franchising many stands to other kids was a better idea—so did Shark Tank in 2016. Since then, Jack has put thousands to work in his stands, and he educates young people on the value of entrepreneurship.
Seanna Mullins, 13
Healing Hearts
In Somerset, Kentucky, Seanna Mullins and her mom hand-sew and sell Healing Hearts therapy dolls with personalized messages addressing depression, anxiety, pain, and grief—a gift she wishes she'd received when her own father passed away. Seanna's idea won a local investor's prize of $1,000.
Jaequan Faulkner, 13
Jaequan's Old-Fashioned Dogs
Jaequan Faulkner of Minneapolis, Minnesota, received some unexpected national publicity in the summer of 2018 when his Old-Fashioned Dogs hot dog stand was reported for operating without a license. Local officials were so impressed with Jaequan's work ethic, they covered his permit fee.
Mikaila Ulmer, 13
Me & the Bees Lemonade
Mikaila Ulmer went from selling lemonade made from her grandmother's decades-old recipe in front of her Austin home at age 4 to shipping 360,000 bottles of Me & the Bees lemonade to 500 stores at 13. Mikaila received accolades along the way from Shark Tank, Time, and even President Barack Obama.
Brighton Hood, 14
The Change Bands
Nampa, Idaho, teen Brighton Hood fashions bracelets, pendants, and rings from coins, hence the name Change Bands. The aspiring silversmith, who finds materials at antique stores and coin shops, sells his custom items at craft fairs and through Etsy, and he donates 5% of his earnings to charities.
Maddie Lee, 14
E Nani Hawaii
Maddie Lee began trading and selling her colorful, handmade jewelry at her Honolulu school playground, eventually finding a wider clientele on Instagram. The attention bolstered her confidence enough to approach local stores, which now sell her creations for as much as $120 apiece.
Gabrielle Williams, 14
Glorious Pastries by Gabrielle
Accokeek, Maryland, native Gabrielle Williams had to prove her commitment to baking to her mother before gaining full-time access to the household kitchen. After whipping up an impressive chocolate-espresso frosting, Gabrielle was literally in business. Now, Gabrielle sells 22 varieties of sweet concoctions.
Asia Newson, 14
Super Business Girl
Asia Newson got her start in Detroit at age 5, reselling candles while also learning how to make them from her father. Today, she produces her own custom candles and trains other young people in entrepreneurship. Asia has also appeared on Ellen, on NPR, and as a keynote speaker at TedXDetroit.
Gus Schoenbucher, 14
Gus's Eats & Treats
New Durham, New Hampshire, teen Gus Schoenbucher began his food-service business in an unusual location: a boat on Merrymeeting Lake. He's still on the lake, just with a bigger boat and menu, selling hot dogs, ice cream, chips, soda, and—thanks to social media attention—Krispy Kreme donuts.
Cory Nieves, 14
Mr. Cory's Cookies
Cory Nieves started selling cookies in his Englewood, New Jersey, neighborhood at age 6 with the goal of buying his mom a car. A few years later, he was successful enough to appear on Ellen (who handed his mom the keys to a new car) and count Aetna, Viacom, and Williams-Sonoma as cookie clients.
Donovan Smith, 14
Donovan Discovers
Albuquerque's Donovan Smith learned how make soap in order to donate it to homeless shelters, as he and his Navy veteran mother were once homeless themselves. Word reached Returning the Favor TV host Mike Rowe, who surprised Donovan by building him a soap store in downtown Albuquerque.
Michael Wahba, 14
Hover-1 Cruze
New York skateboarder Michael Wahba didn't like the commercial electric boards that were on the market, so he made his own, with a game-changing twist: a foot sensor in place of a remote control. Now, Michael's Hover-1 Cruze board sells online through Best Buy, Walmart, and other outlets.
Vignav Ramesh, Tej Singh & Rishab Mohan; 14, 15 & 16
Zigantic
In Clyde Hill, Washington, STEM students and coders Vignav Ramesh, Tej Singh, and Rishab Mohan created Zigantic, a validation platform to connect high-school hopefuls with influencers and game developers to ultimately lead to better-quality games.
Dana Purington, 15
Dana's Dogz
Gardiner, Maine, teenager Dana Purington works Monday through Saturday (his parents told him he has to take Sundays off) running his Dana's Dogz cart and keeping the menu simple: five bucks for two hot dogs, a bag of chips, and a soda and $1.75 for just a dog. He expects to pay off the cart by summer's end.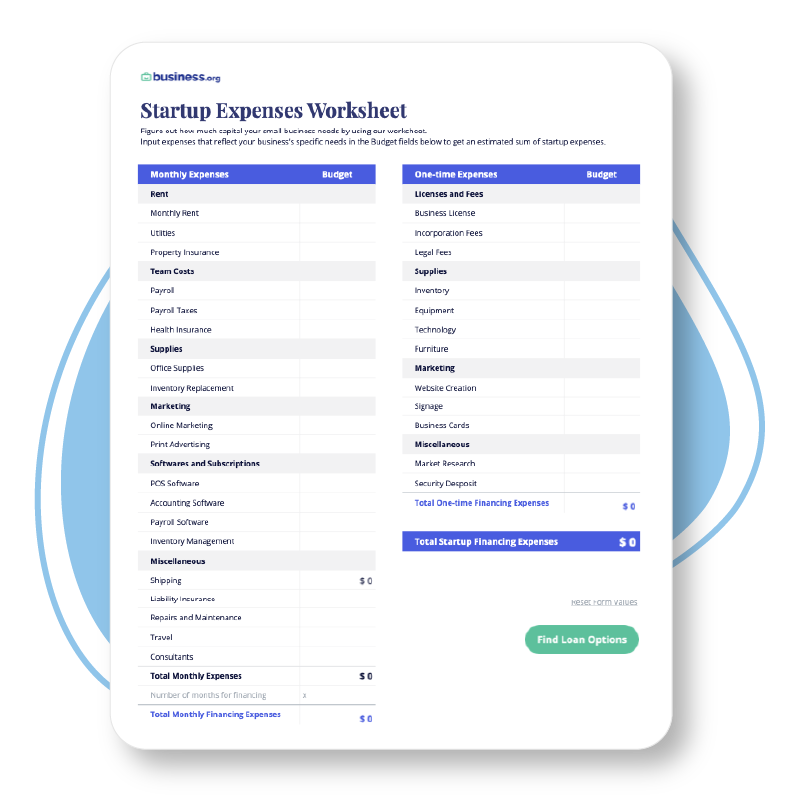 Do you know how much it'll cost to start your business?
Try our free startup costs worksheet to calculate expenses and estimate how much capital you need to launch.
Nic Bianchi, 15
Bianchi Candle Co.
Omaha, Nebraska, local Nic Bianchi was gifted with a candle-making kit on his 12th birthday. Three years later, he's a commercial candlemaker with a full line of all-natural scented soy candles that he sells in several local shops (including the Omaha Scheels) and online at BianchiCandleCo.com.
Caleb Nelson, 15
Romeo's Rickshaws
In 2017, Cedar City, Utah, resident Caleb Nelson, in an Elizabethan shirt and all, launched his Romeo's Rickshaws pedicab business to coincide with the town's tourist magnet: the Utah Shakespearean Festival. Caleb doesn't charge a flat rate for rides, working on tips alone, and the ad spaces on the sides paid for the pedicabs.
Becca Segal & Niki Vilas Boas, 16
Wotter
Cary, North Carolina, competitive swimmers Becca Segal and Niki Vilas Boas launched Wotter in late 2017 with a Kickstarter campaign to produce women's swim parkas: slimmed-down versions of bulky unisex coats worn between swim events. Having met their goal, parkas began being delivered fall 2018.
Trent Hunskor, 16
Lam's Lanes
Lam's Lanes bowling alley has been a fixture in Newburg, North Dakota, since the '70s, but it was closed down until 16-year-old Trent Hunskor, with a little help from his parents, revived the town's lone family entertainment spot in 2017. Trent handles shoe distribution and lane maintenance after school.
Moziah Bridges, 16
Mo's Bows
Another Shark Tank veteran at 15, Memphis's Moziah Bridges has been a sharp-dressed man since the age of 9, when his grandmother first taught him how to sew bow ties. Bow business is booming: in 2017, Moziah signed a seven-figure deal to design and create bow ties for every team in the NBA.
Deven Jackson, 17
League
A lot of teenagers dream of opening their own sneaker store. Raising money by throwing concerts, Deven Jackson made it happen in an Anchorage mall. Deven's League shop specializes in vintage streetwear and collectible kicks, including some that can't be found online, for fanatical sneakerheads.
Nyah Kshatriya, 17
Keto Cracker
When Phoenix, Arizona, teen Nyah Kshatriya's mother was craving a crunchy snack that could work with her ketogenic diet, she went to work in the kitchen and eventually came up with the zero-carb Keto Cracker. Positive feedback from Instagram followers led to an e-commerce site and two initial flavors.
Stefan Stokic, 17
Slik
Jackson, Mississippi local Stefan Stokic, along with 14-year-old Canadian partner Saroush Ghodsi, developed Slik, a viable competitor to lead-generation giant Salesforce. They also became the youngest founders ever to grab the attention of Silicon Valley startup incubator Y Combinator in 2017.
Charles Rose, 17
Action Asphalt Maintenance
After a couple of summers working for an asphalt company, Wausau, Wisconsin, teen Charles Rose bought his own sealcoat unit and began repairing driveways independently. Now 17, he runs Action Asphalt Maintenance LLC and has covered over 100 driveways and parking lots in the Wausau area.
Miracle Olatunji, 18
OpportuniMe
As a high school senior, Delaware's Miracle Olatunji couldn't find internships or enrichment programs for young people like her. So she set out to create her own database, OpportuniMe, with the motto "Seize the best opportunities that exist. Create opportunities that don't exist." OpportuniMe launched in fall 2018.
Ian McCue, 18
Spark Skill
While still in high school, University of Nevada economics major Ian McCue launched Spark Skill, a technology education summer coding camp for students in grades 4 through 12. Ian has also co-authored a book with Shark Tank's Shaan Patel and Mark Cuban: How Any Kid Can Start a Business.
Brennan Agranoff, 18
HoopSwagg
Bored of looking at plain gym socks during high school basketball games, 13-year-old Brennan Agranoff came up with the idea of custom-printed socks. After five years and an initial investment from his parents, he's selling over $1 million in color-splashed socks annually though his online store HoopSwagg.
Ellen Schlecter, 19
Calving Book App
Orient, South Dakota, resident Ellen Schlecter was tasked by her rancher family to come up with a digital alternative to a calving book, a paper record of livestock stats. She knew little about coding but managed to create the Calving Book app, which has now been downloaded over 7,000 times.
Emily Yoder, 21
Earth Energy Sustainable Treats
Emily Yoder in Canton, Ohio, set out to make a healthier version of "health" snack bars, first selling her vegan and gluten-free Earth Energy Sustainable Treats at area farmers markets. Now, her five-item line of power bars and cookies sell online and at several Ohio outlets—as well as those same area farmers markets.
Brandon Boynton, 21
Most Beastly Studios
Pendleton, Indiana, native Brandon Boynton exacted (peaceful) revenge upon the kids who bullied him in high school by launching his own software startup, Most Beastly Studios, and developing BullyBox, an anonymous abuse-reporting app. The app has since been used by over 100,000 students worldwide.
Nicholas Pavlak, 21
Home Grown Flavor Company
Nicholas Pavlak of Lemont, Pennsylvania, dropped out of Penn State to start an organic produce farm, only to learn he couldn't quite afford it. Recalibrating, he drew upon his experience as a bartender to apply the sustainability model to crafting mixology ingredients with Home Grown Flavor Company.
Zach Haney, 22
Carnival Guy/Haney Events
In Topeka, Kansas, Zach Haney launched his party and event company Carnival Guy at 16 and published his first book, The Teen CEO, at 19. At 20, Zach ran for Kansas's senate; at 21, he became a certified business coach. But his most ambitious undertaking may have been his 2018 summer event Topeka Taco Topia.
Keanan Brown, 22
Eloi Marketing Corporation
Kallispell, Montana, resident Keanan Brown got his entrepreneurial start at 15, creating his own line of ski apparel, but he soon discovered his real talent: marketing. Since then, his Eloi Marketing Corporation has grown exponentially, creating branding and imaging for over 20,000 products nationwide.
Mitchell Bobbera, 22
Main Street Metals
Gilbert, West Virginia, occupant Mitchell Bobbera began his metalworking career welding old horseshoes into sculpture. He later moved on to more advanced techniques and designs, and then moved his business into a former gas station. He now creates custom metal artwork for customers across the US.
Blake Richie, 23
Blake Richie Designs
New Providence, Iowa, resident Blake Richie crafts sleek cabinetry and performs upscale remodels of living spaces and businesses—big-city aesthetics in a small town. In February 2018, Blake was featured in the Des Moines Register as a young entrepreneur helping New Providence's economy thrive.
Sielandra Powell, 25
Beyond Bold
Part of Birmingham's emerging fashion scene, Sielandra Powell creates truly one-of-a-kind items, hand-painting designs on apparel and never arriving at the same results twice. Sielandra's Instagram account has nearly 4,000 followers, and her goal is to get Beyond Bold into urban markets.
Pat Brown, 25
Rent Sons
Pat Brown of Little Compton, Rhode Island, calls his crew of odd-job handyman employees "sons" and his customers "neighbors," and his Rent Sons has a simple motto: "Any job, one hourly rate." Those jobs include landscaping, painting, moving, cleaning, and even wedding and party assistance.
Tyler McNaney, 25
Filabot
Barre, Vermont, native Tyler McNaney made the Forbes 30 Under 30 list for 2018 with Filabot, a machine that extrudes discarded plastic to create the filament used in 3D printers. Dedicated to sustainable practices, Filabot has been put into use by Dupont, MIT, Google, and NASA.
This list highlights just a single member of Generation Z from each state in the US—imagine how many more have become entrepreneurs. If you have a young person in your household (or you are one) who's interested in starting their own business, check out resources like BizKids, TeenBusiness, and EntrepreneurKid for inspiration. The next great business mogul may have only recently been born.
Check out similar posts like the 50 Youngest Entrepreneurs in Each State, Best Charities to Donate To, Best Cities for Women to Start a Business, Best States for New Grads, Highest Tech Salaries, Most Innovative States, Small Business Statistics ad Trends, or Kids Dream Job Survey.