Best States for New Grads to Start Their Career in 2020
Where's the best place to work during the pandemic?
If you're a bit confused about starting your career or trying to switch gears during the pandemic, you're not alone: 28% of finishing college graduates are rethinking their career path because of COVID-19.1
Unemployment rates rose the most for people under the age of 24 (up to 23.2%).2 For those in the 25 to 34 age range, unemployment was 13.4%. In other words, a lot of recent grads and degree-holders need to find work, and it's easier if you know which states are better for the workforce during the pandemic, as well as which states are looking forward to the future.
To help start your new career during a pandemic, we've mapped out the best (and worst) places for new graduates (or those looking to change jobs) to work.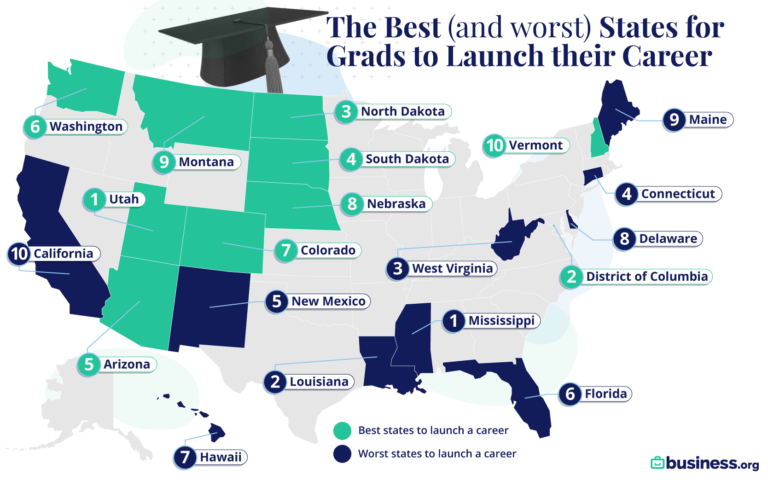 State highlights for recent grads:
Utah stays busy as a bee: New grads can get jazzed up to live and work in Utah, a state known for more than just its booming industry. (Who likes to ski?) The Beehive State has the highest employment growth projection of 5.5 for 2019–2021 and the third lowest unemployment rate in 2018.
Too much spent on rent: For folks looking for labor among everglade greens and suntanned beaches, Florida sounds perfect—but is the (orange) juice worth the squeeze? You can expect one-third of your money to go to rent in the Sunshine State, which has the worst rent-to-income percentage of 33.3%. North Dakota had the best median rent as a percentage of income at 24.6%. The nation's average is about 29%.
Over half the jobs in DC require degrees: The District of Columbia has by far the highest percentage (52%) of jobs requiring a bachelor's degree or higher, followed by Massachusetts at 35%. The lowest percentage (18%) came from Nevada, so it's a bigger gamble to find a job that matches (and pays for) your educational experience.
Unemployment in North Dakota: The Sioux State's unemployment rate was 1.9 in 2018, over five times lower than the highest unemployment rate of 10.3 in Mississippi. The national average unemployment rate was 5.5 in 2018.
COVID-19 continues to impact Connecticut: The Bay State's unemployment rate rose by 1.9 from April 2020 to July 2020, whereas the nation saw an average decrease of roughly 5 in the same period. Nevada saw a 16.1 decline in the unemployment rate during this period, which was the best comeback out of any state.
Are you looking to live somewhere new to start your career? Or will you end up staying put after getting your degree? See where your state lands on the list.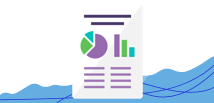 Get Access to Our Research Reports
Provide your email to receive our reports on small-business and industry trends.
Best States for New Grads to Start Their Career in 2020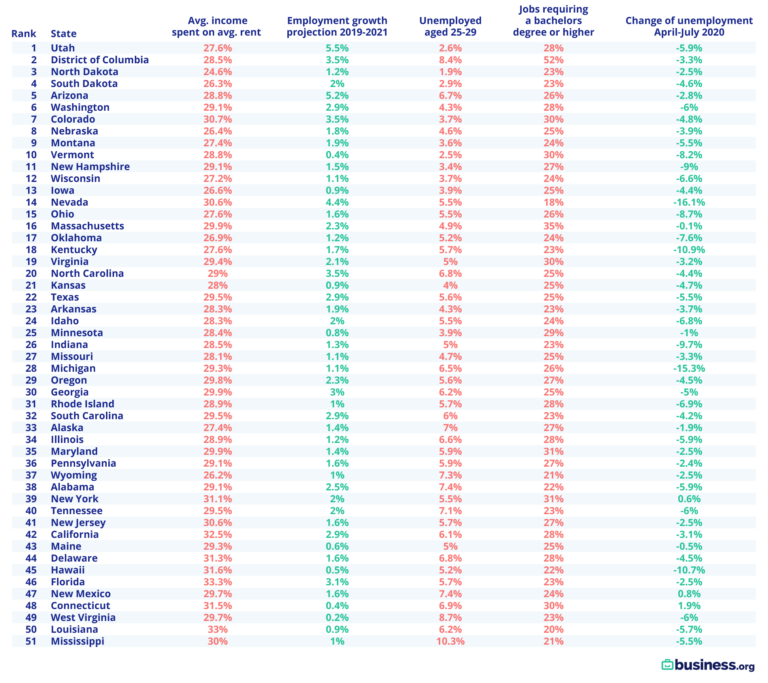 To find the best place for new grads, we focused on the following factors:
Median rent as a percentage of household income3 (25%): Before you have the buying power to get a house, you don't want to work your life away to put a roof over your head. Compared to a state's median income, higher rent means it's harder for young professionals to buy the other things they need and save for the future.
Percentage of jobs requiring a bachelor's degree or higher4,5 (25%): If you've already invested your time, effort, and money into a degree, it's best to go where you'll be paid for it. States with a higher percentage of jobs that require a bachelor's degree or higher mean you'll have more opportunities that will match your education.
Employment growth projection from 2019–2021 in percentage points6 (20%): States emerging with new businesses will need new workers to fill roles. And even if your first gig in a new state doesn't work out, chances are if it has a high growth projection, it will be easier to land a new job.
Unemployment rate in 2018 (age 25–29)7 (20%): A high unemployment rate is not something you want to willingly step to, but it may be unavoidable for specific jobs or dream spots. Although other people being unemployed doesn't necessarily mean you will be too, a better job market is more desirable. A lower unemployment rate in this age range means better employment for new graduates.
Unemployment rate change from April to July 2020 in percentage points8 (10%): We grabbed information about how much the unemployment changed in each state following the pandemic's outbreak and the subsequent shutdowns and employment comebacks. A lower value shows a decline in unemployment during this period.
We normalized each measurement on a 0–1 scale with 1 corresponding to the measurement that would most positively affect the final score. These adjusted measurements were then added together with the weights mentioned above to get a score of 100.
After considering these factors, it should make it easier to narrow down where you want to live and find work.
Where you live affects the direction of your career and life. There's a lot to juggle between working, making rent, and finding stability at a job during a pandemic, but some states make it easier than others. We wish you luck in navigating your fresh start!