6 Top Low-cost Startup Ideas
With so many digital tools at your fingertips, it's never been easier to start a business with low startup costs. If you already have a computer and basic software, you can even get started entirely for free.
Which low-cost startup idea you choose depends on your skills and interests, as well as how much you're able and willing to invest up front. Some startups, such as ecommerce or digital course creation, might cost a bit to get up and running—you've got to purchase the right equipment and online platform. But other ideas cost virtually nothing—perfect for someone looking to try something new.
Here are some of the cheapest businesses to start for you to consider.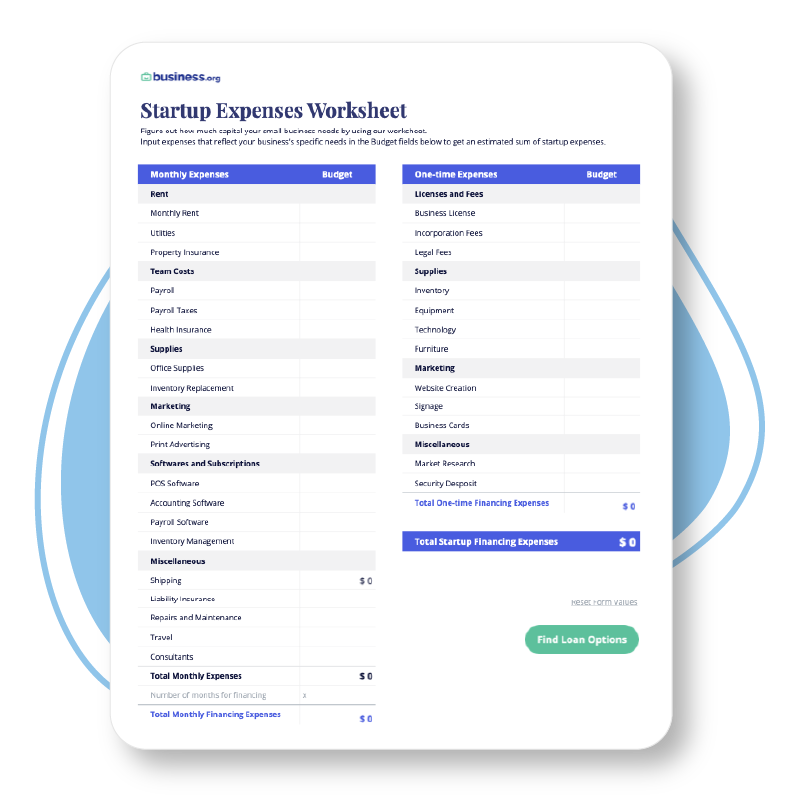 Do you know how much it'll cost to start your business?
Try our free startup costs worksheet to calculate expenses and estimate how much capital you need to launch.
Businesses you can start with $500 or less
Launching an ecommerce gig has become popular, but it can be more complicated than digital-only businesses. Because ecommerce involves selling and shipping physical goods, starting an ecommerce business can cost more than the other options we've listed—you'll need money to buy the inventory you're planning to sell.
One way to get around that is to sell things you already have, like used items on eBay or second-hand clothes on Poshmark. You can use the income from selling your own used items to buy more inventory to sell and expand your business without much cash investment. Once you have goods to sell, you can establish your online storefront on one or multiple sites, such as Amazon, Wix Ecommerce, or Etsy.
But what if you don't want to take on the risk of inventory? In that case, consider dropshipping. This business strategy involves submitting customer orders to a supplier, which in turn processes and ships the order under your brand name. You're relieved of having to store the items yourself, but it isn't all peachy. For one thing, dropshipping has a low bar to entry. This downside means profit margins are tiny as anyone can theoretically offer the same products instantly.
Want to launch your ecommerce empire easily?
2. Event planning services
No initial investment is required to start an event-planning service, since the most important tools for success are a talent for project management and a whole lot of hustle. You'll need basic organizational and communications software, as well as memberships to event planning sites like Bizzabo, socialtables, The Knot, or Zola.
If you're highly organized, detail-oriented, and sociable, you might excel in this role. Look to the site Event Planning Blueprint to learn how to start and grow an event-planning business.
3. Online course creation
E-learning is a hot ticket these days—it's a market poised for rapid expansion. In the US, the e-learning market is anticipated to grow by almost $13 billion by 2024, and to be worth $325 billion in 2025. What does this mean for you? If you've got a skill and the ability to teach, there's a tremendous opportunity to jump into e-learning and create a lucrative business.
And creating an online course is one of the cheapest businesses to start from home, though you'll need to acquire the right video and audio equipment to create professional digital content. You might also need to consider joining a site to host your courses, such as Kajabi, Thinkific, or Udemy.
Need cash for your entrepreneurial dreams? Fund your business with a personal loan.
Businesses you can start with at least $1,000
4. Virtual assistant services
A virtual assistant provides remote administrative, secretarial, and other back-office functions to other businesses. Starting up a virtual assistant business only requires access to a computer with common software like Microsoft Office and Google Workplace.
If you want to offer more specialized services, such as graphic design, bookkeeping, or paralegal services, you'll also need to have appropriate software, and of course this will come with some costs. But if you're an organized self-starter who finds satisfaction in keeping the trains running on time, you're likely a good candidate to start this kind of business.
Memberships are subscription-based businesses, with customers making recurring payments to be part of a program or community based around a specific topic. Membership businesses often include courses and other content, but a membership business is distinct from a course creation business because of its subscription business model.
This is a relatively low overhead business idea. Similar to a course creation business, you'll want to purchase any equipment you need to create high-quality content and sign up for a hosting platform to manage your membership, such as Mighty Networks, MemberPress, or MemberSpace.
Did you know you can start a bookkeeping service even if you are not a certified public accountant? All you need is a solid knowledge of basic accounting concepts and a way with numbers, though bookkeeping experience is a good prerequisite.
As a bookkeeper, you'll do things like maintain your clients' financial records in accounting software, create balance sheets, and process payroll. None of these tasks require special equipment other than a computer, so you'll be able to start this business with little money upfront.
Starting up a new business doesn't have to cost a fortune. As this list shows, there are plenty of startups that you can get off the ground with a small investment, or even no investment at all. The key is to consider cost while finding what interests and motivates you, and in which you have the background and skills to succeed.
Disclaimer
At Business.org, our research is meant to offer general product and service recommendations. We don't guarantee that our suggestions will work best for each individual or business, so consider your unique needs when choosing products and services.