Epos Now is a solid all-around point-of-sale system with great hardware, smart software, and additional features with integrations.
Data as of 12/11/22. Offers and availability may vary by location and are subject to change.
Epos Now is a great POS system for businesses in retail and hospitality—businesses like apparel and electronics shops on the retail side, or restaurants and bars on the hospitality side. The system is not built to handle much else beyond these types of businesses, and it's all the better for it.
With its narrow overall focus, Epos Now goes for depth in its features. It offers smart inventory management, great restaurant tools, and sharp customer service. But even these features just scratch the surface of why business owners may want to give Epos Now a look. 
Epos Now plans and pricing
Data as of 12/11/22. Offers and availability may vary by location and are subject to change.
One of the biggest disappointments in Epos Now's website is how inconsistently it gives pricing information. The site is designed to initiate a sales call which, in our experience, usually leads to the provider designing a "custom" plan with you—we put custom in quotes because these calls can lead to upselling.
Luckily for Epos Now, customers seem to like talking on the phone with its customer service team—at least that's what we gathered from analyzing user reviews online. So it seems to be trying to keep things aboveboard. That said, we'd really like to see some plan transparency on its website. Business owners should know what kind of processing fees, monthly fees, and equipment fees to expect before hopping on a sales call.
That said, what it does list looks promising. The monthly fees and equipment fees both look reasonable. We can only hope the processing fees are similarly reasonable. We'd hope Epos Now would be somewhere at or below 2.4% per transaction.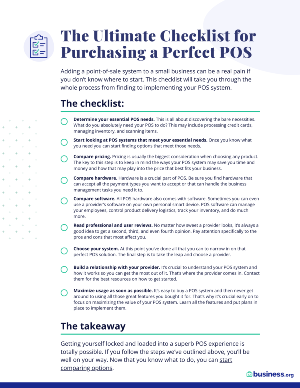 Follow these steps to purchase the perfect POS system
Read our free ultimate checklist for finding the right POS for your business. Don't get saddled with the wrong system. Enter your email and the checklist will arrive promptly.
Epos Now is best for retail and hospitality
Epos Now was designed with two specific markets in mind. If you are in either retail or hospitality, you should give Epos Now a second look. On its website, Epos Now specifically lists certain types of businesses it services:
Apparel store
Convenience store
Electronics store
Gift shop
Vape store
Liquor store
Restaurant
Bar
Cafe
Quick service
Bakery
The POS features Epos Now has designed for these types of businesses are pretty impressive and functional. You can manage detailed inventory tasks, make deliveries from your restaurant, sync your customer shopping profile with their loyalty account, and much more. We'll go into detail on some of these features later.
Data as of 12/11/22. Offers and availability may vary by location and are subject to change.
We'd like Epos Now to put its best foot forward in its competitor comparison, but because it gives sparse pricing information, it's hard to do a real comparison. We can say that, at a feature and functionality level, Epos Now is quite competitive.
So despite not having the full picture on how its pricing works, we can say that, from what we've seen from direct Epos Now's website as well as from customer reviews, there aren't any major complaints online about pricing.
A few reviews online mention that Epos Now is using a processing provider that isn't up to the standard that the rest of the Epos platform provides. Epos doesn't mention which this processor is on its website and none of the reviews mention the processor by name, so verifying this detail is a bit tricky. But, at the very least, it's a complaint we ran into from multiple sources.
Because of this, we caution anyone interested in Epos Now to ask questions about the processor being used—both the name and the fees. We have reached out to them but have yet to get a response.
Multi-site and omnichannel store management
With Epos Now you can not only manage all stores from one place, you can also manage your online and in-person point-of-sale (POS) tasks.
You can launch your online store, track online orders, track in-store sales, and manage stock. Plus, you'll receive info about the performance of all your individual commerce channels, tracking top performing stores, items, and employees.
Tracking the pulse of your business carefully will allow you to decide which locations need the most help and which employees could use additional training resources.
Epos Now has great inventory management tools for both retail and restaurant businesses. With a restaurant, you can track your supplies down to the ingredient level. You can also see a master list of all your inventory in all your locations. This makes it easy to connect customers with your inventory no matter where they shop.
Additionally, you can set low stock alerts and even set up automatic ordering when stock reaches certain levels. This is the kind of inventory tracking system we would expect for the day-to-day business needs of restaurants and retail locations.
Best POS Systems for Small Businesses
Epos Now also offers a bunch of third-party features you can add to your POS system. These features include things like QuickBooks accounting integration, delivery tools, workplace management solutions, and more. The beauty of the work Epos Now has put into creating a lot of integrations is that there's so many ways to expand the functionality of your POS system. That kind of flexibility is hard to find.
These features may not get there own sections, but they very well could:
Takeout and delivery options for restaurants
Mobile sales hardware
Real-time sales tracking
Loyalty program
Abandoned cart notifications
And more
Each of these features adds to the overall experience Epos Now is trying to provide small businesses—an experience of always having a way to make your business more fluid and efficient.
Epos Now is a great POS solution that we recommend giving a call. We wish it would be more transparent with its pricing, but we're happy to see that customers seem to like its services quite a lot. With all the features Epos has to offer small businesses, it's easy to see the kind of value this system could bring to your business.
To see some of our other favorite POS systems, check out our picks for the top POS providers on the market today.
What does Epos stand for?
It stands for electronic point of sale. The modern electronic point-of-sale system replaced the old mechanical cash register.
Who is Epos Now's top competitor?
The closest POS system to Epos Now is probably Shopify. They both offer many similar features, but we'd give the nod to Shopify for being more transparent and having a more full-featured online shopping platform.
Related read: What Is SAP Inventory Management?
We examined Epos Now by looking for essential POS features needed in all modern systems. We also compared its pricing to other top providers on the market. Finally, we examined third-party user and professional reviews to confirm and validate our research.
Disclaimer
At Business.org, our research is meant to offer general product and service recommendations. We don't guarantee that our suggestions will work best for each individual or business, so consider your unique needs when choosing products and services.