How to Design a Website for Your Business in 2023
Modern small business website design is all about creating content that is optimized, accessible, and mobile-friendly.
In 2023, it's easier than ever to build a small-business website. In fact, you can have a website up and running in just a few hours—no coding required. Yet as ecommerce competition increases, it's important to stay up to date on the latest trends and features.
Check out our guide to learn everything you should know about designing a website for your business in 2023.
7 steps to designing a website for your business in 2023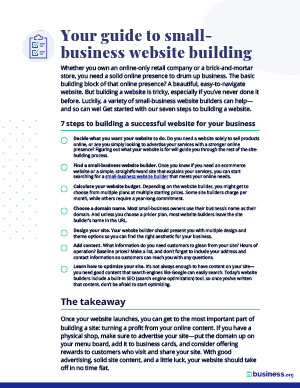 Grow Your Business's Online Presence
Build a beautiful website and start attracting more customers ASAP. Enter your email for a copy of our website building checklist.
Fortunately, just about any small-business owner can design a website in 2023. Here are the steps to find the right website builder, plan your content, and be on your way to making a beautiful, professional website.
1. Choose a website builder
There are many intuitive, affordable website builders for small businesses in 2023. These digital tools make it easy to customize and publish your website quickly and without the need for a designer. Remember to consider pricing, features, and customer service before you decide on the best option for your small business's needs.
2. Register your domain name
An official domain name is a must for small business websites in 2023. Websites with domain names are seen as more professional and trustworthy, and they usually rank better with search engines.
Now you can dive right into the design process. Most builders offer easy-to-use templates, or you can use a drag-and-drop method to create a custom look.
With a basic layout in place, it's time to add pages to enhance the user experience on your website. Most small-business websites include a homepage, bio page, and contact page. You could also include a page for FAQs, a blog, testimonials, and more.
Once your website layout and design is set, you can start creating content. You can write your website copy yourself or hire a copywriter to help you create a website that's cohesive and on-brand.
It's critical to optimize your website in 2023. First, optimize your website for accessibility to visitors of all abilities, including those with hearing loss, vision impairment, or injuries. You should also optimize your website for mobile access, as a growing number of visitors will be navigating your website from a smartphone or tablet. Finally, optimize your site for search engines by using relevant keywords and internal links.
7. Publish, monitor, and update
Finally, all of your hard work has paid off! It's time to hit the publish button—but your work doesn't end here. Be sure to get feedback from your website visitors, monitor website performance, and update your website regularly. A current website will help you stay competitive and relevant to your audience.
Must-have features for your small business website
Small-business owners have a host of add-ons, plug-ins, and other high-tech web elements to choose from in 2023, but some of the most basic features still top the list of must-haves:
Email capture system
Reviews and testimonials
Contact information
Call to action
Visuals
Links to social media profiles
Valuable content
HTTPS
Website trends to try in 2023
While there's no need to get too caught up in website trends that quickly come and go, it is important to keep a pulse on what your competitors are doing.
Here are a few 2023 website trends you should embrace this year:
Intuitive design
Mobile-friendly
Accessible to all abilities
Fast load times
Video content
Minimalistic design
Live chat
It's easy to build a professional website for your small business in 2023. Website builders allow you to create a beautiful website in minutes without the need for web design or web development skills. And while you don't need to adopt every fast-moving web design trend, it's smart to pay attention to the standard for your industry. By monitoring and updating your website to keep up with the times, you'll stay competitive and relevant.
Would you like to learn more about small business website design? Check out Business.org's article on building a website without a website builder.
Small-business website design FAQ
In 2023, it's easy for small business owners to efficiently build a business website from scratch. Here are the steps:
Choose a website builder
Register your domain name
Design a layout
Add pages
Create content
Optimize
Publish, monitor, and update
You can make a free website for your small business by using a free website builder like Weebly. These builders allow you to design and publish a basic website free of charge. If you decide to add features to your website later on, you can do so for a low monthly rate.
The best website builders for small businesses are easy to use, customizable, and create beautiful, professional-looking websites. Here are our favorites for 2023:
Disclaimer
At Business.org, our research is meant to offer general product and service recommendations. We don't guarantee that our suggestions will work best for each individual or business, so consider your unique needs when choosing products and services.