How to Secure a Website
Small-business owners can make their website more secure by installing an SSL certificate, using strong passwords, and installing anti-malware software.
In today's world, a secure website is an essential part of running a successful small business. And though the prospect of securing a website can feel daunting to a new business owner, there are a few simple tactics that will greatly minimize the chances of a cyberattack.
Why is website security important?
Website security is a crucial element of running a successful small business. It minimizes the chances of a cyberattack, which protects a business's reputation and prevents financial losses. Website security also protects customers and website visitors, who may provide sensitive information in order to make a purchase on the website.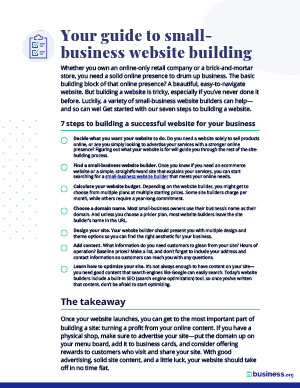 Grow Your Business's Online Presence
Build a beautiful website and start attracting more customers ASAP. Enter your email for a copy of our website building checklist.
While there are a few one-time tasks related to website security, for the most part, the job is an ongoing responsibility. Small-business owners must be ever-vigilant about updating website software, anti-malware, passwords, and user logins.
Let's explore how to secure a website in six steps.
1. Install a SSL certification.
Installing a secure sockets layer (SSL) certificate is one of the easiest, most effective ways to protect a website. This certificate encrypts data (such as login credentials and payment details) so hackers cannot see the information while it's in transit. SSL certifications are so important that Google actually warns visitors not to enter uncertified sites.
2. Create a strong password and multi-factor authentication.
A website is much more likely to be hacked when users have simple, predictable passwords. Small businesses can protect themselves from cyber attacks by creating strong, uncrackable passwords that change at least once per quarter.
3. Install anti-malware software.
Anti-malware software helps to prevent, detect, and eliminate malicious software made by cyber hackers. It's another crucial element of a secure website—and, fortunately, many web hosting providers and website builders include the software in their plans.
4. Update software regularly.
Outdated website software is more vulnerable to cyber attacks, which is why it's important for small businesses to update their software regularly. Many website builders take care of software and security updates automatically, but platforms like WordPress will require manual updates of software and plugins.
5. Monitor website activity.
Website administrators have a duty to protect against hackers and malware by moderating comments, restricting file types, and tracking user behavior. Use penetration testing tools and vulnerability assessments to unveil website weaknesses—before they cause serious damage to your website security.
6. Regularly back up data.
While the steps on this list will certainly help increase security, no website is completely free from the risk of a cyberattack. Hence, it's smart for small businesses to run regular backups as a safety precaution. Backups ensure that a copy of important website data is stored off site (and away from hackers).
What's the difference between HTTPS and SSL?
HyperText Transfer Protocol Secure (HTTPS) is a secure version of HTTP—the system used to transfer data between a website and a web browser. The "S" in HTTPS signifies that the website has a secure sockets layer (SSL) certificate, which encrypts data as it passes through the website.
How to make a smart password
Smart passwords are the first line of defense against cyberattacks. Maintaining strong website passwords will minimize the chances of a website being hacked and prevent data theft.
Follow these tips to create smart passwords for your website.
Combine at least three random and unrelated phrases.
Use a password generator to produce a random sequence of characters.
Never reuse passwords across multiple logins.
Use a long password (more than 10 characters).
Never add personal information to a password (names, birthdates, anniversaries, etc.).
Top anti-malware software for small businesses
The best anti-malware software for small businesses should include email scanning, download protection, spyware scans, and real-time data. While the ideal anti-malware software depends on your budget, software compatibility, and unique business needs, here are a few highly rated anti-malware software providers to consider.
ESET Endpoint Security. ESET is popular for its easy-to-use, multi-layered cybersecurity tools that are designed to protect businesses of all sizes from targeted malware, ransomware, and more.
Bitdefender GravityZone Business Security. Bitdefender is known for its highly rated independent security tests and cloud-based consoles, making it a great option for small businesses.
Trend Micro. If you're looking for an all-in-one solution, Trend Micro is a great option. This company is compatible with a range of devices and has a good detection rate of both scripted and binary threats.
Avast Business Antivirus Pro Plus. Holding the second largest share of the anti-malware market, Avast is a reputable, cloud-based option that offers seamless integration and innovative machine learning.
A secure website will be less vulnerable to cyber attacks, malware, and data breaches that could damage a company's reputation and lead to significant financial losses. Small-business owners can reduce these risks by installing a SSL certificate, using anti-malware software, creating strong passwords, and regularly monitoring and updating website software.
Would you like to learn more about building a secure website? Check out Business.org for the Best Firewalls for Small Businesses 2022 Review
How to secure a website FAQ
How do you make sure a website is secure?
Small-business owners can make sure their website is secure by choosing secure passwords (include numbers, capitalization, and symbols), and by installing proper protection, such as a Secure Sockets Layer certificate, anti-malware software, and updated website software.
How do I make my website secure for free?
There are many ways small-business owners can secure their website without spending a dime. Many website builders offer free SSL certificates, which is one of the best ways to secure a website. Business owners can also boost website security by choosing strong passwords and multi-factor authentication for website login.
How do you set up a secure website?
Here's how to set up a secure website as a small-business owner:
Install a SSL certification.
Create a strong password and multi-factor authentication.
Regularly back up data.
Update software regularly.
Implement a web application firewall.
Monitor website activity.
How much does it cost to secure a website?
The cost to set up and maintain a secure website depends on many factors. The average small-business owner spends about $200 to build a website and $50 a month in maintenance. Many web builders offer free SSL certificates, while others charge about $8 for website security.
Disclaimer
At Business.org, our research is meant to offer general product and service recommendations. We don't guarantee that our suggestions will work best for each individual or business, so consider your unique needs when choosing products and services.