SnapCap Review: An Okay Lender, But We've Seen Better
SnapCap's not the worst lender out there, but hidden rates and fees keep it from being the best.
Let's talk about SnapCap.
This online lender focuses on working capital loans. It boasts about high approval rates and low loan rates. Sounds neat, right? Well it would, if we could find information that backs those claims up. As it is, though, we've got some reservations about SnapCap.
In this review, we'll explain more about those reservations―including why we think SnapCap is a good lender but won't recommend it. We'll also help you decide if SnapCap is the best lender for your business, or if you should apply elsewhere.
SnapCap looks like a fine alternative lender, but is it?
Low minimum credit requirement
Positive customer reviews
Small and larger loan amounts
High typical borrower qualifications
Lack of transparency around rates and fees
Daily or weekly loan payments
When we review business lenders, we like to say what kinds of small-business owners and businesses they'll work for. But in the case of SnapCap, we're not sure it's best for anyone.
Sure, SnapCap is probably a fine choice for your business financing. But it lacks fundamental standout features, like the lowest borrower requirements, fastest funding time, or the best customer reviews.
And even if it did have a standout feature, we don't have all the information we need to recommend SnapCap. For example, it doesn't publish even starting interest rates or fees (more on this in the next section). In other words, we don't know how much it costs. That's a big deal when you're talking about multi-thousand-dollar loans.
So, we'd suggest you take a look at the lenders on our rankings of the best small-business loans instead. They have the standout features SnapCap lacks, and they're less cagey about costs.
But if you want to know more about SnapCap, we understand. Let's talk about what it takes to get a SnapCap loan.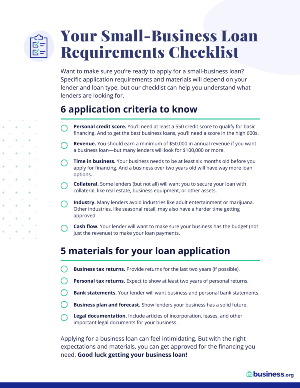 Applying for a small-business loan soon?
Our free checklist can help you understand what lenders are looking for.
SnapCap borrower requirements
| | | |
| --- | --- | --- |
| Factor | Minimum | Typical |
| Time in business | 1 yr. | 5 yrs. |
| Annual revenue | $100,000 | $300,000 |
| Personal credit core | 500 | 650 |
As you can see, these two categories don't quite match up. For example, in theory, SnapCap will accept a bad personal credit score. But in practice, it seems to look for a credit score that falls squarely in the "fair" range.
Even its minimum requirements aren't that low. Yes, the 500 minimum credit score requirement is pretty low. But other lenders accept younger businesses and lower revenue. (Fundbox, for example, requires a minimum 500 credit score, three months in business, and $50,000 in revenue.)
Put simply, SnapCap won't work well for young startups. And we suspect it won't work well if you have bad credit, unless your other qualifications are really solid.
If you decide to apply, you just need to submit some basic information about your business, plus three months of bank statements. SnapCap can then make a same-day decision about your funding, and you can get money within 48 hours.
Don't qualify for SnapCap? Get a personal loan instead.
Is SnapCap legitimate?
Don't worry about getting scammed by SnapCap. It's been around for several years, and―as we'll cover below―it has excellent customer reviews.
But what type of financing are you actually applying for with SnapCap?
Some lenders (definitely not all) offer several types of business financing. SnapCap, though, keeps it simple. They primarily offer a basic unsecured business loan, which is flexible enough for most working capital needs.
They also technically offer a merchant cash advance (MCA) in a few states, but as far as we can tell, that's only in places where it can't legally offer the unsecured loan. Its website provides no further information about these MCAs, so we aren't able to tell you much. We'll simply say that, as a general rule, we don't recommend MCAs because they have very high fees and an inflexible repayment schedule.
So let's talk about that unsecured business loan instead. Unsecured means that you don't need to offer any specific collateral to get a SnapCap business loan. Note that we say specific collateral. We suspect that a SnapCap term loan requires a personal guarantee (which puts your personal assets at stake) or a UCC lien (a blanket loan on your business assets), but we haven't been able to confirm that.
Data effective 5/17/22. At publishing time, pricing is current but subject to change. Offers may not be available in all areas.
We also haven't been able to confirm SnapCap's interest rates or fees. Their website doesn't list them. And while we reached out to SnapCap directly, they have yet to get back to us.
In a 2016 interview, SnapCap's president said that rates started at 6%―a low, competitive interest rate, if acculturate.1 But that was years ago, and other details (like loan sizes) have also changed since then. Other sites list SnapCap's starting rate as a very high 19.99%, though we don't know where they got that number.
We did see some customer reviews that said SnapCap's rates are quite high, but that's a subjective description.
All of which is to say that we can't tell you what kind of rates or fees SnapCap has. Sorry―we tried. But we can make some educated guesses. And knowing what we know, we suspect SnapCap rates are on the higher side. After all, SnapCap loans have short terms between 3 and 36 months. As a rule, short-term business loans have higher interest rates than long-term loans.
SnapCap fees
We don't know how much they cost, but we do know that SnapCap has a few fees. Its website mentions an origination fee, and customer reviews mention prepayment penalties and wire fees.
SnapCap's loan product requires either a daily or weekly repayment schedule (via automated withdrawals). That's a common practice among online lenders that charge higher rates.
Likewise, SnapCap's fast approval process makes us suspect higher interest rates. Business loans with very low rates (like bank loans or peer-to-peer business loans) often have longer approval processes. That's because your (potential) loan has to go through a rigorous underwriting process in order to get that low rate.
Regardless of the actual rates, we wish SnapCap would be more upfront. You, as a borrower, deserve to know what you're applying for.
So sure, SnapCap has a nice range of loan amounts. And its shorter loan terms aren't ideal, but they're not the end of the world either. But without knowing the actual rates, we can't say whether or not SnapCap is a good lender.
Fortunately, you don't have to rely just on us. You can check out SnapCap reviews from actual borrowers.
SnapCap has mostly positive reviews. On Trustpilot, SnapCap has a 4.9 out of 5 (based on over 560 reviews).2
Most of the positive SnapCap reviews follow similar themes. Borrowers like the loan specialists they worked with and praise SnapCap's customer service. They also like how simple the loan application process is (again, you mostly submit bank statements) and how fast the approval process is.
Then there's the small number of negative reviews. As we mentioned above, some focus on high rates and hidden fees, with borrowers grumbling that SnapCap misled them. Other reviewers complain that their application wasn't processed quickly. And a handful of customers say that SnapCap outright ignored them―just went completely silent after extending a loan offer.
As we've said above, the lack of information about rates and fees bothers us. But almost all SnapCap customers have good things to say about this online lender, with 93% of the users ranking them to be an excellent lender.
So while we don't consider SnapCap one of our favorite lenders, there's a good chance you'll have a positive experience with them―at least, if you trust all those SnapCap reviews.
SnapCap is an okay alternative lender, but we don't think you should rush to apply.
We know that SnapCap has plenty of positive reviews. Borrowers seem happy with their working capital loan. And sure, the application and funding process seem easy enough.
But you, as a business owner, should try to get the best possible loan you can. Since we can't confirm SnapCap's rates and fees, we can't tell you that it will be your best financing option. SnapCap doesn't have any features that make it stand out from the competition. Other lenders do most things better.
Long story short, if SnapCap really appeals to you, go ahead and apply. Just look out for those costs. But if you're not sold on SnapCap, we'd urge you to look around for a better, more transparent lender. Because you and your small business deserve the best.
Find a lender with some truly outstanding features (and more transparency) on our rankings of the best small-business loans.
Disclaimer
At Business.org, our research is meant to offer general product and service recommendations. We don't guarantee that our suggestions will work best for each individual or business, so consider your unique needs when choosing products and services.