Payability Review: Working Capital for Ecommerce Sellers
Payability has unique solutions for ecommerce businesses―but read the fine print before you apply.
If you have an ecommerce business, you're probably tired of waiting for marketplace payments to come through―and you may have had trouble getting funding from traditional lenders that don't get your business model.
That's where Payability comes in. It claims to offer the best financing solutions for ecommerce businesses―whether that means getting early payments or getting lump sum financing. It's a good idea, but you need to understand the ins and outs before you commit.
We'll walk you through how Payability works, what kinds of financing (and other products) it offers, and what customers think of it―everything you need to make an informed decision.  
Payability table of contents
Payability is best for ecommerce businesses that need cash flow help
Ecommerce-specific features
Discounts for early repayment
Positive customer reviews
Expensive working capital financing
30-day notice to cancel Instant Access
Lack of support for some ecommerce platforms
Payability caters to ecommerce businesses (so if you don't have one, you should stick with other lenders). More specifically, it offers funding to online marketplace sellers (like Amazon sellers). Both of its financing types have been designed to help with the challenges of online selling.
For example, if you get tired of waiting for payouts from your marketplaces of choice, Payability offers very short-term financing that gives you advances on upcoming payouts. Or if you need extra working capital to boost your inventory, you can get an advance on anticipated sales to help you out.
That said, Payability does have some drawbacks you should consider. Like most working capital financing, it will end up having a higher APR (annual percentage rate) than traditional and alternative term loans. Plus, Payability financing comes with some fine print you definitely need to understand before committing. (But don't worry, we'll walk you through all that in a minute.)
And as of right now, Payability supports businesses selling on only the following platforms:
Amazon
NewEgg
Shopify
Walmart
Note, though, that if you use a different platform, you may still be able to use Payability―you'll just have to talk with a customer service rep to work it out.
Even with those caveats in mind, you might end up liking Payability. After all, it can help with those unique ecommerce challenges you face. 
And as an added bonus, you don't have to have great credit to qualify for a Payability loan.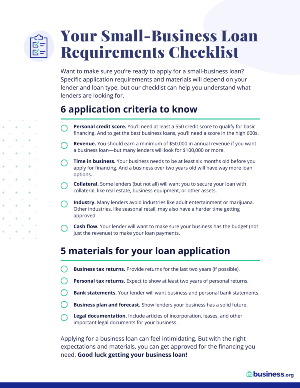 Applying for a small-business loan soon?
Our free checklist can help you understand what lenders are looking for.
Qualifying for Payability financing
| | | | |
| --- | --- | --- | --- |
| Funding type | Min. credit score | Min. revenue | Min. time in business |
| Capital Advance | N/A | $50,000/mo. in ecommerce sales | 9 mos. |
| Accelerated daily payouts | N/A | $10,000/mo. in ecommerce sales | 3 mos. |
Data effective 9/14/22. At publishing time, pricing is current but subject to change. Offers may not be available in all areas.
In fact, Payability doesn't even run a credit check. Mostly, it cares about your sales history. So you may qualify for Payability even if you've been turned down for other loans.
But before you decide to apply, let's talk more about what Payability can offer you.
Payability offers two different financing options for ecommerce businesses. There's Instant Advance, which works like a merchant cash advance, and Instant Access, which works like accounts receivable financing.
| | | | |
| --- | --- | --- | --- |
| Product | Loan size | Lowest listed rate | Repayment term |
| Instant Advance | Up to $250,000 | 0.5%/wk. | N/A |
| Instant Access | Sum of previous day's shipped orders | 2% of gross sales | N/A |
Data effective 9/14/22. At publishing time, pricing is current but subject to change. Offers may not be available in all areas.
In either case, you'll have to give Payability access to your ecommerce marketplace account (like your Amazon Sellers account or Shopify account) to apply. Based on the sales data it sees there, you'll get approved or denied.
That aside, the two types of financing work pretty differently. Let's break them down further.
If you could use a lump sum of cash (maybe to help you buy inventory or create a marketing campaign), you'll prefer Payability Instant Advance.
Like we said, Payability's Instant Advance is essentially a merchant cash advance (MCA). That means that it's not technically a business loan. Instead, Payability is more or less purchasing a percentage of your future sales.
So Payability will give you an advance of between 75% and 150% of your typical monthly sales (up to $250,000). In return, you'll automatically give Payability a percentage of your future sales―between 12% and 15%―until you've paid off that advance.
On the one hand, that can make it so that your Payability payment doesn't hurt you too much on a slower-than-usual month. But it also means that slower sales will drag out your repayment term, so you'll end up paying on your advance long after you'd hoped to pay it off.
Payability instant advances do differ from merchant cash advances in one way, though. Payability charges a weekly fee rather than one flat fee. That lets you save on fees by paying off your advance more quickly (by, say, making payments outside of your automatic repayment).
Getting your money
Your Payability funds will go directly into your Payability account. You can leave the money there to use with a Payability Seller Card (which we'll cover in a minute), or you can transfer it into your business bank account.
If you simply want to improve your daily cash flow, you'll like Payability Instant Access.
With Instant Access, you can get paid daily for your ecommerce sales, rather than waiting for future payouts. That way you don't have to worry about holidays, weekends, or delayed payment schedules interrupting your cash flow.
Instant Access works a lot like invoice financing: You get 80% of your sales value upfront, and then you get the remaining 20% when your marketplace payment actually comes through. (Payability takes 2% in fees, of course.) You'll get money each morning for your previous day's shipped orders.
You do need to know that Instant Access works like a membership, not a one-time thing. Once you sign up, Payability will automatically advance payments each morning. If you want to stop Instant Access, you have to give 30 days' notice (unless you're still in the initial 7-day trial period). In other words, it's a bit of a commitment.
And take note that Instant Access doesn't work with as many ecommerce marketplaces as Instant Advance does. Right now, only sellers using Amazon, Walmart, and Newegg can qualify.
Now that we've covered Payability's financing, let's talk about its other product for ecommerce businesses: the Payability Seller Card.
The Payability Seller Card works like a business debit card, except it's connected to your Payability account rather than your business bank account. You can use your Seller Card to pay for things as long as you have money in your Payability account. 
And since it's a Visa card, you should have no problems using it anywhere you'd use a normal debit card.
As an added bonus, you get 2% cash back whenever you use your Payability Seller Card. So if you can manage to use a debit card to pay for your business expenses, the Payability Seller Visa card can make your Payability financing go further.
Payability customer reviews
Like the sound of Payability financing and the Seller Card? So do quite a few customers. Payability has generally positive reviews, with a 4.6 out of 5 on Trustpilot.1
The positive reviews praise how Payability smooths over cash flow issues, helping business owners get more inventory and grow faster. Some customers also like Payability's customer service, saying it's responsive and helpful.
That said, there are some concerning negative reviews. Now, most of the negative reviews are several years old―only a handful come from the past year. But some reviews say Payability overcharged them on fees. Others report false charges on their Seller Card and say they couldn't get customer service to help. 
We don't think those negative reviews should scare you off entirely. After all, Payability has mostly positive reviews―especially in recent history. But they do show that you need to very carefully read your contract before signing on with Payability, and you should keep a close eye on your account.
Payability's funding platform can help online sellers get the growth capital they need. It offers both lump-sum financing and daily payouts, so you can choose the financing solution that works for you.
Just know that Payability costs more than traditional loan types do. Plus, it has some tricky terms and conditions you need to consider―like the 30-day cancellation period on its daily payouts.
Still, if you can handle those downsides, Payability's funding might be just what your ecommerce business needs to grow. 
Want to compare Payability to other financing options? Take a look at our rankings of the best small-business loans.
How do you cancel a Payability account?
To cancel your Payability account, you just have to send an email to support@payability.com. 
Unless you're still in the 7-day risk-free trial, you need to give Payability at least 30 days' notice before it will cancel your account.
How much does Payability cost?
Different payability products cost different amounts. For Instant Access (daily payments to your account), Payability charges a 2% fee. For Instant Advance (its loan product), expect fees between 0.5% and 1% per week.
How do you transfer money from your Payability account to your bank account?
You can transfer money from your Payability account to your business bank account in a few ways. 
If it's not urgent, you can choose a wire transfer (which works in a few hours) or an ACH transfer (which can take a few days).
For a faster transfer, you can choose Payability's instant transfer option. It charges a 1% fee on the funds you transfer.
Disclaimer
At Business.org, our research is meant to offer general product and service recommendations. We don't guarantee that our suggestions will work best for each individual or business, so consider your unique needs when choosing products and services.
Sources
Trustpilot, "Payability." Accessed September 14, 2022.