Business Charge Cards vs. Credit Cards
Figure out if your business should rely on a charge card or credit card.
Business charge cards and business credit cards seem pretty similar at first glance. They look practically identical, they often give you rewards for spending, and they both let you make purchases and pay them off later.
But charge cards and credit cards actually work differently―which means that one type of card might suit your business better than the other.
This article will walk you through the big differences and help you decide between business charge cards and business credit cards.
Charge cards vs. credit cards
As we already said, charge cards and credit cards have some things in common. The biggest similarity, of course, is that they both let you make a purchase that you don't have to pay for until a later date―pretty convenient.
(For comparison, a debit card requires you to have enough money in your checking account to cover your purchase.)
Business charge cards vs. business credit cards
| | | |
| --- | --- | --- |
| Factor | Charge card | Credit card |
| Required payments | | Minimum payments each month |
| Credit limit | No | Yes |
| Annual fees | | |
| Credit score requirement | | |
| Availability | | |
So how are they different?
The most significant difference comes down to repayment. You have to repay your entire balance―in full―each billing cycle (generally one month) with a charge card. A business credit card, on the other hand, gives you the option to carry a balance from month to month and billing cycle to billing cycle, so long as you make minimum payments.
That means that you need to budget much more carefully when using a charge card than a credit card. Otherwise, you might have trouble paying your full charge card balance at the end of your billing cycle―and that could lead to your account getting closed.
But it also means that credit cards can cost you a lot more. On the other hand, since you pay off your charge card each month, you don't have to worry about racking up lots of interest.
However, if you don't pay your credit card balance in full, you'll quickly start owing interest―and the APR (annual percentage rate) on credit cards can be painfully high.
Of course, you can always choose to pay off your business credit card's outstanding balance in full each month (and we recommend you do so). Only a business charge card requires you to do so, though.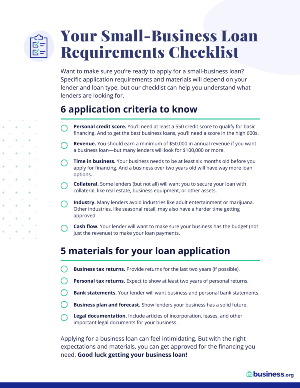 Applying for a small-business loan soon?
Our free checklist can help you understand what lenders are looking for.
Another big difference is how much you can spend.
Business credit cards (just like personal credit cards) come with firm, defined, preset spending limits. So if you have a credit limit of, say, $15,000, you know you can spend up to $15,000 and not a cent more.
Business charge cards, however, don't have those firm credit limits. Of course, that doesn't mean that you can spend however much you want―your card issuer will have a cutoff based on your payment history, credit history, and other factors―but it does mean that you get more wiggle room with your spending.
So why do charge cards companies offer that wiggle room? Just look at the borrower requirements.
Charge cards tend to have much stricter borrower requirements than credit cards do.
We don't want to say that anyone can get a business credit card, but credit cards are relatively easy to qualify for. Even if you have a low personal credit score, you can probably get approved for a secured credit card (a card that requires collateral). And sure, many borrowers will get approved for a low credit card limit (at least at first), but the point is that they often do get approved.
Charge cards don't work that way. Charge card issuers only give charge cards to very qualified applicants―think borrowers with an excellent credit score in the 700s. After all, they want to be sure that you can be trusted to pay off your balance in full each month, even without a firm credit limit.
Put simply, credit cards are quite a bit easier to get than charge cards.
One advantage credit cards have? They usually have much lower annual fees.
In fact, you can find tons of business credit cards with no annual fee. And the ones that do charge a fee often hover around $100 or so (though you can find more expensive outliers).
Charge cards, on the other hand, come with hefty annual fees. For example, the cheapest business charge cards we've seen have a fee around $250, and we've seen fees around $600.
Remember, though, that you won't end up paying interest on your charge card. So despite the higher annual fees, you may end up saving money with a charge card.
Finally, business credit cards are very widely available. Charge cards aren't.
Most banks for business (and many credit unions too) offer at least one credit card, and often more. You can even get business credit cards from certain stores (like Costco or OfficeMax). They're everywhere.
Charge cards are harder to find. For example, in all our business banking reviews, we've found just one bank that offers a business charge card (Small Business Bank). American Express also offers a handful of business charge card options. But frankly, most financial institutions stick to credit cards, so your charge card options are pretty limited.
In other words, you'll have to put some effort into finding a good business charge card. But if you want a business credit card, you'll have more choices than you can shake a stick at.
With all that being said, which is suitable for your business―a charge card or a credit card? Here's our take.
Business charge card: Best for disciplined spending
No firm credit limit
Robust rewards programs
Incentive to budget carefully
High annual fees
Stricter credit requirements
Limited availability
If you're a disciplined spender who's good at keeping to your business's budget, you might prefer a business charge card.
Yes, you'll have to pay a higher upfront cost to get a business charge card. But a charge card will help you stick to the budget you've created, so you'll never have to worry about paying interest.
And having a flexible credit limit on your charge card can help you take care of whatever expenses you have without worrying about maxing out a low credit card limit. That makes it perfect for when your cash flow doesn't quite sync up with your business expenses.
The rewards on charge cards can match or even outdo most credit cards, so you'll get plenty of other benefits from your charge card.
So while a business charge card isn't right for everyone, if you're good with budgeting and have a solid personal credit history, it could be right for you.
Business credit card: Best for flexibility
Widespread availability
Looser credit requirements
Low or no annual fees
Firm credit limit
High APR on carried balances
Ease of taking on debt
After all, credit cards give you more options than charge cards do. You'll have more options to choose from when you first apply, for example. You can choose from cards with no annual fee or a low annual fee.
With so many options, even business owners with less-than-perfect credit can find a credit card company that fits their needs.
And of course, a credit card lets you carry a balance, which means it offers flexibility for those months when you have some unexpected costs. That said, your balance can quickly end up costing you tons in interest―so be careful when you take advantage of your credit card's flexibility.
Still, if you want to pick the perfect card and react to surprises, a credit card gives you unmatched flexibility.
Both business charge cards and business credit cards give you a way to afford purchases now and pay for them later.
But business charge cards require full payment each cycle, which makes them better for businesses that can carefully budget and spend. Business credit cards offer more flexibility, both in the number of choices you have and the time you get to pay off your balance.
So while both types of cards can be good for your business, you should think carefully about your budgeting and spending habits before you decide which to get.
Want revolving credit with a higher limit than a credit card gives you? Learn more about business lines of credit.
Credit card and charge card FAQ
Can a charge card affect my credit score?
Yes, a charge card can affect your credit score. Charge card issuers (like credit card companies) report to credit bureaus. So as you make regular, timely payments, you should see your score improve.
Note that you may not see as much of an effect with a charge card as you would with a credit card. That's because charge cards don't have a credit limit, so they can't affect your overall credit utilization ratio―a big component of your personal credit score.
What is the best business credit card?
There's no one-size-fits-all credit card for businesses. Instead, we suggest you compare interest rates and features to find the credit card that fits your business needs.
What is the best business charge card?
To be honest, you don't have tons of options for business charge cards (business charge cards are even harder to find than personal charge cards), but we think American Express offers the best choices.
American Express offers three business charge cards (the Business Platinum Card, Business Gold Card, and Plum Card). All three earn rewards but come with the high annual fees you should expect from a charge card (ranging from $250 to $595).
That said, if you find a different business charge card that you love, we'd love to hear about it. Let us know in the comments below.
Do charge cards earn rewards?
Yes, charge cards can earn rewards just like credit cards do. You can earn travel rewards, cash back, and more as you spend.
Related read: What Is a Neobank?
Disclaimer
At Business.org, our research is meant to offer general product and service recommendations. We don't guarantee that our suggestions will work best for each individual or business, so consider your unique needs when choosing products and services.