Axos Bank Review: Online Banking for Businesses Big and Small
With everything from basic checking accounts to multi-million dollar loans, Axos can help your business at any size.
Trying to decide if you should trust Axos Bank with your business? We've dug deep into Axos Bank and its banking services, and we're here to help you make your decision.
We'll take you through Axos Bank's business bank accounts (including checking and savings accounts), and we'll explain what makes Axos stand out from other banks for businesses. Plus, we'll give you our take on what kinds of businesses will like Axos Bank―and what kinds of businesses should take their money elsewhere.
Sound good? Let's go to it then.
We're talking about Axos's business banking, but it offers personal banking too. You can get all sorts of personal banking stuff, like a rewards checking account, auto loan, mortgage, personal loan, and more.
Axos Bank is best for scaling businesses that prefer online banking
Most online banks tend to gear their products and services toward smaller businesses. They offer just one or two bank accounts, usually with low fees, which makes them perfect for small businesses that need only basic business banking.
But what about when those businesses outgrow that kind of banking?
Well, there are always traditional banks, which tend to offer many types of bank accounts and many other services. If you prefer online banking, though (because it's available across the nation or because it's often more affordable), you just might find that Axos Bank can meet your business's needs as it grows.
| | |
| --- | --- |
| Feature | Axos Bank |
| Online banking | |
| Mobile banking | |
| In person banking | |
| Branch locations | |
| 24/7 support | |
| Customer service options | |
That's because Axos Bank, unlike most other online banks for business, offers a wide variety of account types. Plus, it offers several of the services you'd expect to find at a traditional financial institution (a bank or credit union)―like merchant services, treasury management, and robust financing.
You don't need a big business to take advantage of Axos Bank, though. It also has very basic checking accounts and savings accounts that just about any business could use.
That means you can start using Axos Bank now, even if your business is still small. And as your business expands, you won't have to go through the hassle of switching banks. Instead, you might simply decide to open a new business bank account or try a new Axos service.
Interest-bearing checking
Solutions for small and large businesses
Unlimited ATM reimbursement
Some high minimum opening deposit requirements
Negative customer reviews
Limited support hours
Now, we do want to point out that Axos Bank isn't the cheapest online bank out there. It requires a large opening deposit on its interest checking account, and it only offers two free monthly wires on its basic checking account.
So if you don't see your business (and its banking needs) growing much, you might want to stick with a different free business checking account―one that doesn't charge fees.
But if you see growth in your future, and you want your bank to grow with you, then Axos Bank could be a perfect fit.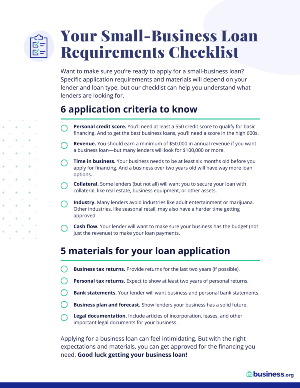 Applying for a small-business loan soon?
Our free checklist can help you understand what lenders are looking for.
Axos Bank checking and savings accounts
Of course, to really see if Axos Bank will work for your business, we need to talk about its business bank account options. Here's what you need to know.
You can choose from one of two checking accounts at Axos Bank. One earns interest on your money but charges higher fees, while the other offers lower fees but no interest.
Both accounts come with unlimited ATM fee reimbursement, so you can withdraw money wherever you are. (You may still pay an ATM fee when you withdraw cash, but Axos Bank will pay you back.) Plus, both accounts get you 50 free checks.
Axos Bank small-business checking accounts
Data effective 1/6/23. At publishing time, rates, fees, and requirements are current but are subject to change. Offers may not be available in all areas.
*Waivable with an average daily balance of $5,000
Basic Business Checking, as you can guess, offers a no-frills checking account for your everyday business banking needs. This account doesn't have any monthly fee, so you never need to worry about maintaining a specific account balance. It also comes with unlimited transactions. The only downside? The fact that this account doesn't earn interest.
If you want to earn interest, you can go with Business Interest Checking instead. This used to be our favorite interest-bearing checking account (before Bluevine came onto the scene), thanks to its higher-than-average interest rates.
And to be clear, it's still a good account―as long as you don't plan on making lots of transactions. This account comes with fewer transactions per month than the basic account does, and additional transactions come with a heftier fee. There's also a monthly maintenance fee, but you can waive that by keeping a $5,000 average account balance.
Axos Bank also offers several options for business savings accounts. So whether you prefer the long-term stability of a certificate of deposit (CD) or the accessibility of a money market account, Axos has a savings account for you.
(If you need a refresher on the differences between a savings account, money market account, and certificate of deposit, we have a guide to interest-bearing business accounts.)
Axos Bank small-business savings accounts
| | | | | | | |
| --- | --- | --- | --- | --- | --- | --- |
| Feature | Business Premium Savings | Nationwide Premium Business Savings | Business Money Market | Business Certificate of Deposit | UFB Savings | UFB Money Market |
| Min. opening deposit | $25,000 | $25,000 | $1,000 | $1,000 | $0 | Unlisted |
| Monthly maintenance fee | $0 | $0 | $10* | N/A | $0 | $10* |
| Monthly fee waivable? | | | | | | |
| Transactions per month | 6 | – | 6 | – | Unlisted | Unlisted |
| Term length | N/A | N/A | N/A | 3–60 mos. | N/A | N/A |
| APY | 0%–0.2% | 2.0%-3.75% | 0.2% | 0.1%–0.2% | 4.55% | 4.55% |
| Open an account | Apply Now | Apply Now | Apply Now | Apply Now | Apply Now | Apply Now |
Data effective 3/1/23. At publishing time, rates, fees, and requirements are current but are subject to change. Offers may not be available in all areas.
*Waivable
$210 reasons to sign up
When you open a Nationwide Business Premium Savings account by June 30, you could earn even more. Use the promo code BPS210 on your application and enjoy a bonus of up to $210. Just fund your account within 60 days and maintain a balance of at least $20,000 for three months.
Nationwide Business Premium Savings doesn't charge monthly fees and accrues the most interest, but it requires a large minimum deposit. Likewise, you'll earn interest only when you keep an account balance of $25,000 or more. If you keep a lot of money in your account, this could be your cheapest option.
But if you don't, other accounts will earn you more interest.
For a money market account option, Axos Bank offers Business Money Market. It has a slightly higher monthly fee than the Business Savings account does, but you can waive your fee by keeping a $5,000 minimum balance in your account.
All the accounts above have variable interest rates, which means that your interest rate can (and will, based on our research) change over time. Sometimes that could work out in your favor. Other times, not so much.
For a fixed interest rate, you can choose a Business Certificate of Deposit. You can't touch the money in your CD for the length of the term (a few months to a few years), but you'll get a fixed rate that won't fluctuate with market changes―potentially a safer option.
Axos Bank also owns UFB Direct, and they recently updated their APY to 4.55% on both their savings and money market account. That's the highest rate they offer out of all their accounts. Plus, there is no minimum opening deposit on their savings account. That's probably why this is one of the most popular online banking options out there.
Axos Bank commercial banking
Now you've seen what Axos Bank has to offer small businesses. But as we said above, Axos Bank doesn't cater just to small businesses―it has plenty of products and services for large businesses too.
For example, commercial businesses get more deposit account options, including analyzed checking (which earns credits based on your account balance) and an Insured Cash Sweep service (which splits your large deposit across accounts at partner banks). Neither of these accounts would make much sense for smaller businesses―but they can be big money-savers for larger businesses.
It's not just deposit accounts, either. Axos Bank offers several more services to its commercial customers:
Merchant services
Treasury management
Business loans and lines of credit
And again, these services really aren't geared toward small businesses. Axos Bank lines of credit, for example, start at $250,000―the maximum size of many of our favorite small-business lines of credit.
That means, though, that your relationship with Axos Bank can grow alongside your business. Because sure, you may not need analyzed checking now―but that doesn't mean you won't in a few years.
Want a signup bonus?
Axos offers a $200 bonus to their businesses that incorporated after June 1, 2020 with the promo code: NEWBIZ200. Not a new business? They still offer a $100 bonus for any account you open with them using the promo code: NEWAXOSBIZ.
The signup bonus mentioned above is a smashing perk for both new and existing customers, especially since it applies to any of their non-UFB account options.
They've also recently added on multiple service perks and rewards, including:
Visa Debit Card Travel Perks for hotels, trip, luggage, and ride sharing
First 4 months free for ADP Payroll Services
First 2 months free for Calero Merchant Services
Cash deposit capability via MoneyPass and AllPoint networks
Axos Bank customer reviews
We've told you a lot of good things about this bank, but now it's time to talk about one of the less-good things: Axos business banking reviews.
Axos Bank doesn't have stellar reviews. It has a 1.4 out of 5 on Trustpilot and 2.8 out of 5 on Bank Branch Locator.1,2
But before we tell you about Axos business banking reviews, we want to provide some context. Those numbers may not be great but keep two things in mind:
Axos Bank doesn't have a ton of reviews to begin with
Most banks have similarly ranked reviews
So yes, we wish Axos Bank reviews were better―but the content of them is what matters most.
We didn't see dozens of complaints about Axos Bank committing fraud or anything, so it really is doing better than lots of traditional banks (see Wells Fargo and Citibank for examples).
At any rate, all the reviews we read were pretty negative. Customers complained about poor customer service, problems with their debit cards (both having trouble using the debit card at various places and having a debit card unexpectedly canceled).
Some complaints were more niche (like irritation at not being able to use Google Pay with Axos Bank or not understanding how compounding periods work).
We do hope Axos Bank improves its customer service and other issues, but we still think you'll have a better time with Axos Bank than with many of the big banks.
Axos Bank offers a nice spread of business bank accounts, some great perks, plus other services for large businesses.
Its accounts aren't as cheap as some other online banks are (it has especially high minimum opening deposits), so smaller businesses may prefer to stick with fee-free banks.
But for businesses that have growing needs, Axos Bank has the ability to scale with those needs. So if you want to keep the same bank now and years from now, it could be the right bank for your scaling business.
Not sure Axos Bank is your best bet? Check out more options on our rankings of the best banks for small business.
Axos Business Banking Reviews FAQ
Axos bank is a legitimate bank—it has received an A+ BBB and has been in business for more than 20 years. Although they are mostly an online bank, they are based in San Diego, California. Axos business banking reviews aren't stellar for their customer service, but they are a full-service bank that offers many different account options.
There are no monthly fees with Axos premium savings and basic checking accounts. Some of their accounts, however, require you to maintain an average daily balance to obtain this option—like the business interest checking and money market accounts. If you do end up not meeting those requirements—it shouldn't be too much of a big deal as the fee is pretty low: between $5 to $10.
Disclaimer
At Business.org, our research is meant to offer general product and service recommendations. We don't guarantee that our suggestions will work best for each individual or business, so consider your unique needs when choosing products and services.