QuickBooks Desktop Review 2023
We carefully researched QuickBooks Desktop's features, plans, prices, software specs, customer service, customer reviews, ease of use and accessibility, and overall reputation to bring you our comprehensive review.
Data as of 12/16/22. Offers and availability may vary by location and are subject to change.
The bottom line: QuickBooks Desktop is a solid accounting software choice for business owners who prefer desktop solutions to cloud-based accounting, especially rural business owners with limited internet access. And if you work in a niche industry like general contracting or the nonprofit sector, QuickBooks Desktop's industry-specific software has more thorough industry reports than nearly any other accounting software.
But QuickBooks Desktop's technical interface works better for accountants and bookkeepers than small-business owners, most of whom have limited financial backgrounds. And QuickBooks Desktop plans cost more than comparable QuickBooks Online plans—which already have higher entry-level prices than competitors like Xero, FreshBooks, and Zoho Books.
To put it bluntly, unless you require desktop-based software or could benefit from in-depth industry-specific reports, we (and Intuit QuickBooks) recommend sticking with QuickBooks Online.
Thorough accounting and bookkeeping features
Simple integration with QuickBooks Payroll
Industry-specific software versions for nonprofits, general contractors, and more
Only one Mac-friendly software version with limited features
Limited integration with non-QuickBooks apps
Expensive additional user fees
Technical interface geared towards accountants
QuickBooks Desktop discounts
Intuit doesn't tend to offer sales or discounts on QuickBooks Desktop Pro Plus or Premier Plus, but you can usually return the software within 60 days for a full refund. QuickBooks Desktop Enterprise users can get 40% for the first full year, bringing the base price to $804 for one user.
Compare QuickBooks Desktop pricing and plans 2023
Data as of 12/16/22. Offers and availability may vary by location and are subject to change.
QuickBooks Desktop's key features
Intuit, which owns QuickBooks, has been in the accounting and bookkeeping software game for decades—basically since the dawn of software. As a result, all of its accounting products are exceptionally user-friendly. They also include all the financial features small-business owners, accountants, and large enterprises need to keep a handle on their finances.
QuickBooks Premier Plus is QuickBooks' desktop solution for midsize businesses. It comes in six industry-specific versions for different types of businesses:
General contractors
Nonprofits
Retail
Manufacturing and wholesale
Professional services
General business
All six software versions have extensive industry-specific reports. For instance, the nonprofit software generates end-of-year donation statements, donor contribution summaries, and tax form 990. The general business and professional services software have fewer industry specifics, but their easily customizable reports can help you craft financial documents unique to your field.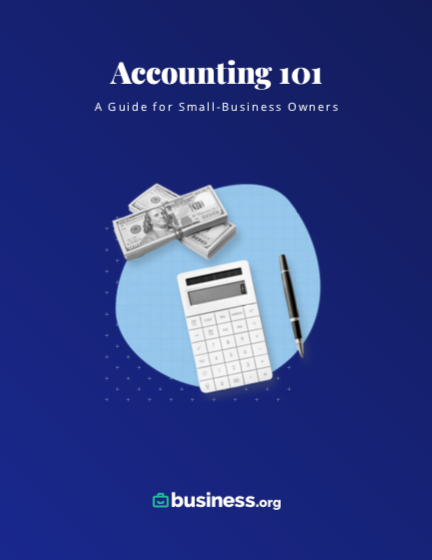 Get business accounting right the first time
Learn all about business accounting with our free ultimate guide.
QuickBooks Desktop Enterprise is a hefty accounting program that takes the QuickBooks Pro and QuickBooks Premier features to the max:
Access for up to 40 simultaneous users (additional fee)
200+ in-depth, customizable industry reports
Data storage capacity for up to 1 million inventory items, customers, and vendors
Microsoft Office Suite integration, plus access to 200+ business apps (additional fee)
Notably, QuickBooks Desktop Enterprise includes cloud access (for an additional fee, obviously). That gives Enterprise some of the flexibility of cloud-based software with the reliability of locally hosted data.
However, Desktop Enterprise's most advanced features require internet access, including its advanced reporting functions. If you want the full QuickBooks Enterprise benefits, then you need a stable, round-the-clock internet connection.
Compare QuickBooks Desktop to top competitors
| | | | | |
| --- | --- | --- | --- | --- |
| Brand name | Starting price | User limit (with basic plan) | Payroll integration | Get started |
| | $749.99/yr. | Up to 3 (addt'l fee per user) | QuickBooks Payroll | See Plans |
| | $30.00/mo. | 1 + accountant access | QuickBooks Payroll | See Plans |
| | $13.00/mo. | Unlimited | Gusto, OnPay, Paychex, and more | See Plans |
| | $15.00/mo. | Unlimited (addt'l fee) | Gusto | See Plans |
| | $0.00/mo.* | Unlimited (addt'l fee per user) | Zoho Payroll (limited availability) | See Plans |
Data as of 12/16/22. Offers and availability may vary by location and are subject to change.
*Free plan available only for businesses with annual revenue below $50K USD
QuickBooks Desktop drawbacks
Every QuickBooks Desktop plan includes just one user in its base price. Additional users cost an annual per-user fee, and the number of users is limited by plan: QuickBooks Premier Plus gives you up to five and Enterprise comes with up to 40.
In contrast, QuickBooks Online builds user limits into each plan. While you can't exceed the set number of users per plan, you don't pay extra for your plan-limited users. (Pro tip: if you want to collaborate, a cloud-based accounting program like QuickBooks Online will almost always be cheaper than a desktop-based program.)
For example, QuickBooks Online Advanced includes access for up to 25 individuals at a flat rate of $200 a month. Whether 10 or 25 people access your QuickBooks Advanced subscription, you'll pay a total of $2,400 for the year (or less, if you take advantage of QuickBooks Online's typical offer of 50% off for the first three months).
Internet-dependent advanced features
One key reason some business owners prefer desktop-based software is to ensure they can access their financial data without an internet connection. For example, business owners in rural areas may depend on data-limited satellite internet that may not work depending on the weather, time of day, or number of local internet users.
However, "desktop software" is a little bit inaccurate for any locally hosted programs, accounting software included. Many Desktop Enterprise features are available only when you're connected to the internet, and online data backups (obviously) require internet access.
Users can add cloud hosting and online data backups to their desktop subscription—for an additional fee, as per the usual with QuickBooks Desktop. But true cloud-based accounting software is cheaper and more flexible, and it typically has fewer user limits, or at least cheaper additional user fees.
Limited customer service hours for Premier Plus users
Only QuickBooks Enterprise users can access 24/7 customer service. Premier Plus customers are limited to weekday customer service from 6 a.m. to 6 p.m. PST. 
QuickBooks Desktop already costs more than comparable QuickBooks Online plans, but the base price you see isn't all you'll end up paying for. If you want to accept customer payments directly from their invoices, you'll need a QuickBooks Payments subscription (which does have a free option if you take payments infrequently). And ecommerce integration requires a paid subscription to Webgility, which starts at $39 per month when billed annually.
Basically, if budget is your top concern, we recommend looking at QuickBooks alternatives before committing to QuickBooks Desktop.
Additional QuickBooks Desktop features
QuickBooks ProAdvisors are QuickBooks-certified accountants trained specifically in how to use QuickBooks accounting software. You can find a QuickBooks ProAdvisor for either QuickBooks Desktop or QuickBooks Online.
QuickBooks accountants can also help you close your books at the end of the year and file your business taxes. And like QuickBooks Online, QuickBooks Desktop syncs with TurboTax tax software (all three products are owned by Intuit). Once you import your desktop accounting data to TurboTax, you can get Intuit tax perks like interactive tax advice and e-filing.
The process for syncing TurboTax with QuickBooks Desktop is more complicated than syncing with QuickBooks Online, though. You'll likely need to get in touch with customer service or read through existing customer service forum questions for help.
QuickBooks Desktop mobile app
Even though it's a desktop-based program, QuickBooks Desktop does include a mobile app. However, the QuickBooks Desktop app doesn't have many features. While the QuickBooks Online app lets you send invoices, scan receipts, track mileage, and much more, the desktop accounting app limits you to scanning receipts and checking basic financial info.
Plus, while QuickBooks Online's app is one of the best reviewed (and most popular) accounting apps, QuickBooks Desktop's reviewers are few and far between—and its reviews are far from glowing. On Google Play, the app has just 3.2 stars out of 5 from fewer than 100 users.1 And on Apple's App Store, fewer than 50 users give us just 1.9 stars total.2
QuickBooks Payroll add-on
As with QuickBooks Online, QuickBooks Desktop users can add a QuickBooks Payroll program to their accounting subscription. At Business.org, we're definitely fans of QuickBooks Payroll, especially the online version—but the desktop version has a lot going for it too.
For instance, QuickBooks' cheapest desktop-based payroll plan, Enhanced Payroll, starts at $50 a month with a $2 fee per person paid per month. While $50 is a higher starting price than you'd pay for comparable online payroll software, the $2 fee per payee is low enough to help counter the high base price.
But QuickBooks Enhanced Payroll doesn't include automatic payroll tax filing. The software can calculate taxes for you, but you (or your accountant) will need to remit the taxes and file end-of-year tax paperwork yourself.
To get automatic payroll tax filing, you need the pricier Assisted Payroll QuickBooks plan. This plan starts at $109 a month plus $2 per payee per month—and again, while the per-payee price is fantastic, you can easily find cheaper online payroll plans that include automatic tax filing. (OnPay, for instance, has a $36 monthly base price and $4 per-payee fee.)
We've been pretty harsh on QuickBooks Desktop's higher cost and extra fees, but honestly? QuickBooks Desktop's fully featured desktop-based accounting program has quite a lot to recommend it. Its extensive accounting features, scalable plan options, and overall accessibility can mean it works just as well for small-business owners who do their own bookkeeping as it does for the accounting departments of global companies.
But generally speaking, QuickBooks Desktop isn't as flexible or easy to access as cloud-based software. Unlike its cloud-based counterpart, the desktop software's mobile app is limited largely to receipt scanning and basic features only. Finally, QuickBooks Desktop's high per-user fee keeps it beyond the budget of most small-business owners who want to collaborate on finances with just one or two trusted business partners or accountants.
Tl;dr: Enterprise-level customers who can handle QuickBooks Desktop's cost should get a lot out of its industry-specific features and extensive user collaboration. But if you're a sole proprietor with solid internet access, our vote is to choose QuickBooks Online or another cloud-based software competitor instead.
Not sure QuickBooks is a good fit for your small business? Read through our list of the best accounting software for nine affordable QuickBooks alternatives for companies like yours.
Is QuickBooks Desktop going away?
For now, QuickBooks Desktop isn't going away. However, Intuit QuickBooks has phased out its single-purchase software option and no longer advertises its Pro or Mac products upfront. Additionally, the Intuit Quickbooks website makes it pretty clear that Intuit wants as many customers as possible to switch to QuickBooks Online.
Honestly, we're not sure what this push means for the future of QuickBooks Desktop. We assume QuickBooks' desktop software will stick around for at least a few more years, but we can't say for sure how long Intuit will continue to offer it.
Can I purchase a one-time QuickBooks Desktop subscription?
No, you can no longer purchase a one-time QuickBooks Desktop prescription. You need to renew your QuickBooks Desktop subscription every year. Note that the subscription will renew automatically at the current software price, which increases each year, and not at the price you initially paid for it.
QuickBooks used to offer a one-time QuickBooks software purchase option with a license that lasted for three years. This single-purchase version of QuickBooks Desktop was phased out in 2021. If you made a one-time QuickBooks Desktop 2021 purchase, you'll continue to receive software and security updates through 2024, but QuickBooks Desktop 2022 and onward will require annual subscriptions.
Can I access QuickBooks Desktop remotely?
Yes, QuickBooks Pro Plus and QuickBooks Premier Plus users can access some QuickBooks Desktop features remotely if they add a third-party hosting service to their QuickBooks Desktop subscription. QuickBooks provides a list of authorized third-party hosting options, and the company also has a few other options if you don't want to pay for a comprehensive third-party hosting service.
Desktop Enterprise customers can choose a version of Enterprise that includes a remote hosting option. Pricing for Enterprise plans with cloud hosting starts at $1,740 for one user per year.
Is QuickBooks Desktop easy to use?
Yes. Like all Intuit products, QuickBooks Desktop is fairly intuitive for most customers. However, QuickBooks Desktop isn't quite as user-friendly as QuickBooks Online, especially for business owners who don't know much about accounting.
While QuickBooks Online walks you through every step of your account setup and has a colorful, icon-based dashboard, QuickBooks Desktop's dashboard is much more technical and less easy on the eyes. Generally, accountants will find QuickBooks Desktop easier to use than first-time business owners with minimal accounting experience.
Is it hard to switch from QuickBooks Desktop to QuickBooks Online?
Nope. Honestly, Intuit seems to prefer for customers to use QuickBooks Online over Desktop, so the company makes switching from Desktop to Online as simple as possible. The QuickBooks site has detailed instructions on how to import your desktop data into QuickBooks Online.
To evaluate QuickBooks Desktop and assign it a star rating, we evaluated the software in four key areas:
Pricing
Features
Ease of use, including third-party integrations, interface accessibility, and offline access
Customer satisfaction, including customer service reputation
We also considered our accounting expert's input and opinion when crafting our ratings and writing our review. To generate our star rating, we weighted each of our five categories equally. Star ratings are reviewed frequently and may change at any time.
Disclaimer
At Business.org, our research is meant to offer general product and service recommendations. We don't guarantee that our suggestions will work best for each individual or business, so consider your unique needs when choosing products and services.