8 Tips to Launch and Run a Home Business
With so many people working from home, we all know some of the best WFH practices—like having a dedicated home office space, setting up boundaries with family and roommates, and following a schedule to stay productive. But, when you're running a business from home, it gets a bit more complicated.
We spoke to more than 50 small-business owners who are growing successful businesses from the comfort of their home office. Here's their top advice for aspiring WFH entrepreneurs.
1. Find a WFH entrepreneurial community
Being an entrepreneur can be very lonely, especially if you are a solopreneur. Find a community of other people who are running similar businesses, at a similar growth point, or who face similar challenges and engage with them several times a week. That might be on 1:1 calls, small group video chats, or in online forums. You'll need a community to ask questions of when you feel stuck and to be a resource to you as you grow your business. Don't try to do everything alone!
Carla Howard, CEO, The Professional Woman's Mentor
Especially if you have spent most of your working life squished into a bustling office, it might be difficult to consider the drawbacks of operating your business from home. However, a severe disadvantage that is frequently ignored is a crippling sensation of isolation. Try to chat with clients or customers over the phone rather than through email if you spend the majority of the workday by yourself. Alternatively, network with like-minded individuals at trade exhibits or industry gatherings. This should broaden your target market for your company and lessen any feelings of loneliness.
Jenny Ly,  Founder, Go Wanderly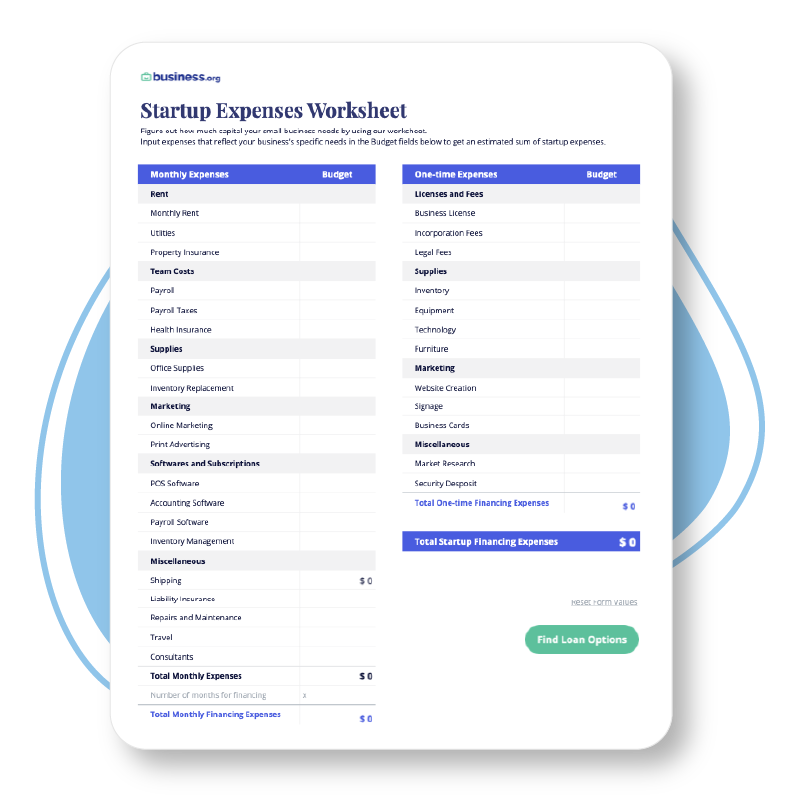 Do you know how much it'll cost to start your business?
Try our free startup costs worksheet to calculate expenses and estimate how much capital you need to launch.
2. Double-check legal requirements
If you're beginning a new business, it's always a good idea to examine the state and municipal regulations. A business license or permit may be required in some states, and if you don't comply, you could be punished. Local zoning restrictions may be necessary depending on the type of business you wish to operate. Find out if any rules could influence your firm after you've chosen a business structure and registered with your state.
Nely Mihaylova, Content Editor, UNAGI Scooters
Even though you're operating from home, register for an EIN. Your company entity will be identified by your Employer Identification Number (EIN), which is a federal tax number. You will require an EIN if you ever want to register your company as an LLC or recruit staff. Applying for an EIN will help you protect your Social Security Number because without one, you'll have to use it to identify your firm. On the IRS website, you can submit a free application and have your EIN right away.
Erik Wright, Owner & CEO, New Horizon Home Buyers
3. Find a reliable remote team
The majority of home businesses begin as one-person operations, but you don't have to be a master of all trades. Jobs may always be outsourced. You may find reasonably priced independent freelancers on websites like Fiverr, Upwork, and PeoplePerHour. You advertise your project on these websites, and contractors then submit bids. You choose the contractor who meets your needs in terms of abilities and price.
Alex Uriarte, Personal Injury Attorney, 1-800 Injured
As your business grows, so will the need to provide resources and tools for your team. At Dekaf Digital, we use Asana for project management, Slack for communication, Harvest for time tracking/reporting, QuickBooks for bookkeeping and invoicing, and HubSpot as our CRM. Many of these tools offer free basic accounts and, as you grow, they can meet the expanded needs of your business and/or team.
Adriana L. Cowdin, CEO and Managing Director, Dekaf Digital
I've been running my business virtually and from home for over a decade. … The best way to run a remote operation is to have the necessary processes and technology in place. For example, making sure that you have an onboarding document readily available for new hires using Notion or Slite. This way, the team member has a reference point when asking questions. Another very important topic is that of communication. We use Slack for most of our daily communication and Zoom for our weekly calls.
Jon Tavarez, Founder, PROhousekeepers
5. Save money during tax season
My top tip is to set up a space in your home to be your office. Not only will this help you focus on work more than just having your computer with you on your couch, but you can officially claim an office space. This can also help you during tax season depending on where you work. This means not only you're saving money not renting an office, you can also use your home office to save in taxes.
Nicky Taveras, Owner, DNTHome Buyers
As a company owner, you likely have a ton of expenses that you write off every tax season. These could include the costs of your products' packaging supplies and shipping, bulk raw materials, digital marketing costs, project management software, billboards and other advertisements, business dinners, and the list goes on. It is paramount to ascertain that all of these expenses' receipts are properly documented each day. This will be vital in the event that your business is audited by the IRS.
Nathan Liao, Founder & CEO, CMA Exam Academy
6. Make your home client-friendly
If you plan to have consumers or professionals in your home, consider placement. Again, this relies on zoning laws. Make your home visitor-friendly. Maintaining it well reflects your competence and credibility. If you run a business from home, you don't have to do everything there. Consider a quiet coffee shop or meeting space when meeting clients.
Dean Lee, Head of Marketing, Sealions
7. Look beyond LinkedIn to network
Facebook Groups are resourceful and can be a great community for startup businesses. Apart from being an avenue to promote your business, it can also be your gateway to cheaper suppliers, free knowledge and hacks that are vital to your business. Oftentimes, Facebook groups have users who post questions that eventually become a thread of facts. The best thing about this , is that it's free and is also very easy to access and manage.
Caitlyn Parish, Chief Digital Officer, Cicinia
8. Make time to work on your business
Working in the business is what drives revenue (this could be emails, services rendered, etc.). But working on the business means moving the needle forward through marketing, continuing education, networking, and other bigger-picture dimensions of entrepreneurship that should not get put on the backburner.
Jenna Volpe, Founder, Whole-istic Living