The Best Ways To Contact Wix Customer Service In 2023 | Business.org
It can be tricky to get answers from Wix customer service. Business.org can help you navigate Wix's system so you can find the best solutions to your problems.
Wix, the free website builder for small business owners and creatives, is our pick for best overall site builder for a ton of reasons. We gave it 5 stars for its affordability, extensive app market, limitless customization options and easy-to-use drag and drop interface.
There is one consistent complaint about Wix, though—its customer service. Although Wix's customer care is extensive and made to save time for users, it's difficult to contact and confusing for beginners to navigate.
Our advice to get the best support for your Wix problems is to forgo the Wix customer service offerings and go straight to their socials. That way, you can talk to an actual human being who can break down your question and direct you to the best resource to solve your problem.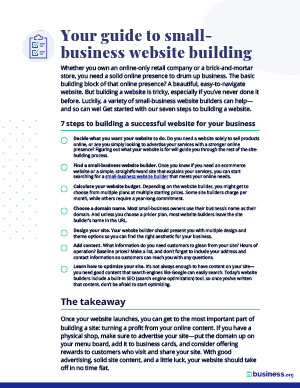 Grow Your Business's Online Presence
Build a beautiful website and start attracting more customers ASAP. Enter your email for a copy of our website building checklist.
The Best Ways to Contact Wix Customer Service in 2023
The good thing about Wix is that they are lovely, and they do try to make this process as simple as possible. Its customer service team really does try to be thorough and helpful even though the system might seem overwhelming with all of the options.  
So first rule: lean into their system. The Wix customer service is primarily made up of a Wix online help center with different categories of potential problems and then a myriad of solutions per problem. If that doesn't work, there are other ways to get a hold of someone and get your problem solved. Here are the options to contact their customer service and get help:
The Wix Help Center is set up to be the first stop for users having problems. Unfortunately, it seems like Wix assumed that they could cut out having a live online customer service representative by providing this very extensive help center. Although the help center is comprehensive, its responses won't be thorough enough for novice website builders. 
For instance, there are over 150 categories for issues you might have. After selecting one category, you will see around 20 articles that might answer your question. These articles include video tutorials, how-to lists, and other frequently requested aids. 
Wix promotes this help center as the quickest way to find an answer to your problem. We disagree. Wix's key demographic is novice website builders, most of whom probably can't pinpoint the question they're trying to find an answer for. 
In our opinion, Wix users shouldn't feel like they are wasting time nor that they are going in circles by clicking on topics that might be adjacent to what they need.If the topic you choose doesn't answer your question, you're largely out of options since Wix doesn't include email or a customer service live chat option.
Submit a ticket or request a callback
If the Help Center busts out, the next option is submitting a ticket for a Wix Customer Care Expert to respond to either through a chatbot or through a callback. The languages offered in these callbacks are shown in this Wix table below. They are also expanding and including Korean with limited hours and will most likely keep expanding their language offerings. 
| | |
| --- | --- |
| Language | Callback Operating Hours |
| English | 24/7 |
| French | Monday-Friday 9AM-6PM GMT+1 (24/7 in select categories) |
| German | 24/7 |
| Hebrew | Sunday-Thursday 8AM-9PM, Friday 8AM-2PM GMT+2 |
| Italian | Monday-Friday 8AM-5PM GMT |
| Japanese | Monday-Friday 8AM-9PM JST |
| Portuguese | 24/7 |
| Russian | Monday-Friday 8AM-5PM GMT |
| Spanish | 24/7 |
This option feels like such an obvious win! The only problem is that it took us over 20 minutes to figure out how to submit a ticket or request a callback. This is not as user-friendly and was built to be a last resort. 
Users have complained that their tickets have been lost and/or they never received a callback. But if you do hear back from someone, you should get a satisfactory answer to your question. 
Wix acknowledges these "hiccups," but it  still touts a near-perfect response rate and offers a solution for users to submit a ticket.
Even though Wix's built-in customer support options are just fine, the best choice in our book is just going straight to Wix's socials. 
Wix is very active on Facebook, Twitter, LinkedIn, and Instagram. Their social media team is very good at their jobs. They respond quickly and are very open to users posting questions, concerns, or tips in their DMs or just tweeting at them. So tweet your question ASAP or slide into their DMs. They will send you to the right person that is an expert in your issue.
In spite of having an overwhelming amount of solution-based content for confused users to dig through, Wix does not have any actual living, breathing people for users to speak with. There is no live chat, no Wix email address, and no Wix phone number. Customers can't talk to an actual person, especially if the person has no idea what they are asking.
Rule of thumb, though: If the company has a strong online presence, they should have a strong social media team that is ready to help you out (and help the company retain customers). If you are confused by the help center and you are not getting a phone call back from the phone support, slide into the Wix DMs. You should get an answer and the info you need to solve your technical problem on your own.
Want some ideas for website building software? Check out our favorite website builders for small businesses.
Disclaimer
At Business.org, our research is meant to offer general product and service recommendations. We don't guarantee that our suggestions will work best for each individual or business, so consider your unique needs when choosing products and services.