Best WYSIWYG Web Builders for Businesses
Get our take on the best WYSIWYG tools on the web—and what you need to know to get started building your business website.
Data as of 12/15/22. Offers and availability may vary by location and are subject to change.
* With annual billing
WYSIWYG website builders take the guesswork out of website building. With a WYSIWYG editor, what you see is what you get—at least most of the time.
Not all WYSIWYG software is created equal. Some are smooth and intuitive, while others are clunky and confusing. Some give you an accurate idea of how elements will look on your finished page—others not so much.
We're here to help you navigate the crowded field of WYSIWYG site editors and find the best solution for your needs. Squarespace, Weebly, WordPress, and Shopify are all great website builders that are upfront with what they offer, but we found that Wix is the best overall WYSIWYG website builder to fit any business needs.
Best WYSIWYG web builders for businesses
:

Best overall WYSIWYG web editor

:

Best WYSIWYG website builder for design

:

Best WYSIWYG website builder for simple sites

:

Best WYSIWYG website builder for customization

:

Best WYSIWYG ecommerce website builder
What does WYSIWYG mean anyway?
WYSIWYG (often pronounced "wizzy-wig") is short for what you see is what you get. Basically, WYSIWYG editors allow you to create a website without having to build your website code from scratch. Instead, the software gives you an editable preview of your page, along with a suite of editing tools. WYSIWYG software is responsive, so anytime you make a change to the elements on your page, your website builder rewrites your site code automatically. That makes it easy to create a customized business site—even if you don't know an HREF from a font color attribute.
Best WYSIWYG web builders at a glance
Data as of 12/15/22. Offers and availability may vary by location and are subject to change.
* With annual billing
º For first year with annual billing.
Wix: Best overall WYSIWYG web editor
Data as of 12/15/22. Offers and availability may vary by location and are subject to change.
In a field crowded with strong contenders, Wix stands out as one of the top WYSIWYG platforms on the market.
Wix is our favorite drag-and-drop website builder because its interface is extremely smooth and intuitive. You don't have to deal with excessive lagging (which can make drag-and-drop functions clunky and frustrating on other platforms), and the service gives you a lot of control over where you place your elements.
Wix is also great when it comes to design. While its responsive website templates aren't quite as sleek as Squarespace's, Wix offers more options—including templates designed specifically for niche businesses. Wix users can also take advantage of the Wix Artificial Design Intelligence (ADI), which can auto-generate your website design based on your answers to a series of questions about your business. That saves you time and helps you get a gorgeous custom site without having to shell out the extra cash for a professional web designer.
Wix does have some downsides, though. Compared to other options on our list, Wix offers lackluster storage options (topping out at just 50GB)—not ideal if you need to upload large photo galleries or want to provide downloadable content. It also doesn't offer 24/7 chat, email, or phone support, so it may not be the best option if you're a night owl who likes to work on their website in the wee small hours of the morning.
That being said, we think most business owners will be happy with Wix's user-friendly website-building interface and top-notch web design software—especially considering how inexpensive Wix plans can be.
Easy drag-and-drop interface
Limitless customization options
Extensive app market
Some negative customer reviews
No 24/7 support
For a basic site, plans start at just $16 per month, while ecommerce plans start at $27 per month. That's not bad when you remember that all plans include web hosting for your site, social media integration, and a host of other convenient tools.
Squarespace: Best WYSIWYG website builder for design
Data as of 12/15/22. Offers and availability may vary by location and are subject to change.
* With annual plan
If your end goal is to produce the best-looking website possible, you can't go wrong with Squarespace.
Website design is Squarespace's bread and butter. The platform features a large selection of responsive pre-made templates for most types of businesses—all you have to do is drag and drop the right elements (or "blocks," as Squarespace calls them) onto your page. Squarespace's content blocks also feature modern-looking layouts with plenty of white space, which virtually guarantees you'll get a sleek, professional-looking website, even if you don't have experience as a web designer.
Squarespace also offers lots of customization tools. The software lets you change background colors, transparency levels, line spacing, fonts (including font size and color)—pretty much everything you can think of. And while it is possible to customize all that within the usual WYSIWYG format, an HTML editor is available if you do want to make changes at the code level.
Here's the catch, though: Squarespace has a bit of a learning curve. Once you get used to the platform interface, it's pretty easy to find the tools you need. But when you first get started, Squarespace is difficult to navigate, and its menu system is a bit more complicated than it needs to be. And while we're on the subject of Squarespace's negatives, we also found that the platform's search engine optimization (SEO) features were a bit lackluster compared to other options like Wix or WordPress—which could make it harder for customers to find your site on search engines like Google.
Easy-to-use platform
Beautiful designs for sites
Great functionality to support your store and blog
Bit of a learning curve
So-so search engine optimization
Functionality sometimes hidden by tabs and sidebar
Still, Squarespace was one of our favorite website building platforms to product test, largely because it produced the best-looking version of our test site. And with the platform's included web hosting and low $16-per-month starting price ($23 per month for ecommerce functionality), we think it's a top contender for businesses looking to create a professional website.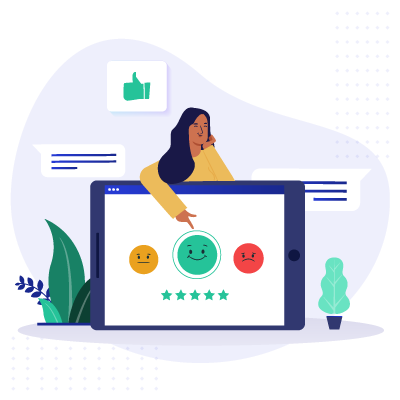 Expert Advice, Straight to Your Inbox
Gain confidence in your business future with our weekly simple solutions newsletter.
Weebly: Best WYSIWYG website builder for simple sites
Data as of 12/15/22. Offers and availability may vary by location and are subject to change.
* With annual billing
Some businesses don't need much more than a home page and an about page. So if you're in the market for an easy-to-use website builder that can produce simple, attractive web pages, we think you'll like Weebly's WYSIWYG editor.
In our testing, Weebly was one of the easiest website builders to use. Website creators don't have to work hard to find the tools they need because each menu and tool is clearly labeled and easy to find. While the software's drag-and-drop functionality wasn't quite on the same level as Wix and Squarespace, we appreciated that the platform keeps its interface simple without oversimplifying and making things harder to find.
In terms of design and customization, Weebly is just so-so. The platform offers a decent number of website templates, and they're all responsive—so they'll look good regardless of whether your users view your site on their computers or their mobile devices. But the platform doesn't offer many design elements, and customization tools for those elements are pretty basic. You can read our Weebly review for more details, but we raged pretty hard over the cookie-cutter blog system that wouldn't let us remove the old-school, Xanga-style sidebar.
On the flip side, though, Weebly offers way more customization options for ecommerce stores than any other platform we tested. You can drag and drop ecommerce page elements wherever you need them, which gives you the flexibility to create a website to rival even big-box stores in terms of user experience.
Easy-to-use dashboard
Professional-looking templates
Good ecommerce support
Extra costs for most ecommerce options
Amateur-looking blogs (without extra apps)
Fewer customer service options
Still, we probably wouldn't recommend Weebly for ecommerce businesses due to cost. While Weebly hosting plans start cheap at $10 a month, most serious online stores would need to upgrade to the Performance plan ($26 per month) to get many of the basic ecommerce features that other platforms offer for half the cost.
But if blogging and online sales don't feature heavily in your business plan, Weebly is a decent, user-friendly website builder that can help you create a professional website in no time flat.
WordPress.com: Best WYSIWYG website builder for customization
Data as of 12/15/22. Offers and availability may vary by location and are subject to change.
* With annual billing
Heads-up: We're talking WordPress.com
There actually is a difference between WordPress.com and WordPress.org. WordPress.com includes web hosting as part of your website builder plan, which (we think) simplifies the process of setting up your website to get you back to running your business faster. So be advised! We're talking about WordPress.com—not WordPress.org.
WordPress.com is the perfect WYSIWYG website builder for business owners who want control over every minute detail of their website. But be warned: WordPress's WYSIWYG editor isn't quite as easy to use as other platforms.
WordPress is the only software on our list that doesn't include a drag-and-drop editor. Instead, you stack text boxes, forms, and other content elements into a layout that loosely resembles what your page will look like. Alternatively, you can toggle from the WYSIWYG editor to an HTML editor—though either way, you'll have to navigate to a separate page preview tab in your browser to see how your changes will actually look on the finished page.
Fortunately, there's a way to change that. WordPress is an open-source software platform, which allows web developers to create their own third-party plugins, premade templates, and widgets. As long as you have a Business plan or higher ($25 per month), you can add any themes and plugins you want, taking your website creation to a whole new level. There are even plugins that can transform your WordPress interface into a drag-and-drop builder for a better WYSIWYG experience.
Obviously, there are pros and cons to WordPress's infinite customization options. On the one hand, you can get anything and everything you need to run your website the way you want. You can get custom responsive site templates, and there's a plugin for virtually every need—whether you want high-end visual elements or upgraded site security.
The downside is WordPress sites can get complicated fast. If you're not familiar with CSS or HTML coding, it may be difficult to install and customize your plugins, which limits the effectiveness of these tools. It can also get expensive since many developers make a business out of selling their plugins and themes—sometimes for exorbitant prices.
Near-infinite customizability
Thousands of available plugins and themes
Great reputation and user reviews
Steep learning curve
Plugins and full SEO features limited to top-tier plans
Extensive customization required for best results
In the end, WordPress.com is a good platform for business owners who have some coding experience and want a completely customizable site. And prices are fairly low for basic website hosting ($4 a month for an entry-level blogging site).
But because the platform is harder to use, and you can't download plugins without spending $25 per month on a Business plan, we think you'll probably get better value (and save yourself a lot of time and stress) with another provider.
Shopify: Best WYSIWYG ecommerce website builder
Data as of 12/15/22. Offers and availability may vary by location and are subject to change.
We'll be straight with you: Shopify is not the best WYSIWYG website editor on the market by a long shot. But it is the best WYSIWYG editor for ecommerce stores.
Shopify's platform is not nearly as intuitive as Wix, Squarespace, or Weebly. The menus were difficult to navigate, design elements weren't clearly labeled, and its web design software was a mess, especially on pages we had to make from scratch. And yes, we had to make pages from scratch because Shopify's already basic drag-and-drop editor is available only on pages included in your template. And since none of the Shopify templates we found included an about page (something that was a standard template feature on all the other platforms we tried), we were left up a creek without a paddle.
Here's the thing, though: Shopify wasn't designed for blogging. It wasn't made for restaurants that just need a home page and a menu page. Shopify is an ecommerce platform first and foremost. In fact, it's one of the top ecommerce platforms on the market, thanks largely to its excellent ecommerce support, tools, and features.
Shopify users can add an unlimited number of product pages to their stores, and the platform provides excellent SEO options so your products show up in search engine results. You can also extend the reach of your store and integrate with all the marketplaces where your products are sold—everywhere from Amazon and eBay to social media stores on Instagram and Facebook. And while Shopify templates aren't quite as comprehensive as Wix's or Squarespace's, they are mobile-responsive so customers can shop your store on any device.
Easy-to-use product management
Inventory tracking and POS integrations
Resources for new businesses
Confusing dashboard
Poor design and limited options on free templates
Extra transaction fees if you don't use Shopify Payments
Hosting and building your website on Shopify will cost you, though. Shopify plans start at $29 a month (already at the high end compared to other options on our list) and can get as high as $299 per month. You also have to pay credit card transaction fees, plus additional fees if you use any payment gateway other than Shopify Payments (Shopify's in-house payment gateway).
On the plus side, if your online store is working in tandem with your brick-and-mortar business, pop-up store, or mobile business (food truck, anyone?), using Shopify Payments could actually be the best choice. Shopify also offers on-site point-of-sale (POS) systems that sync with your online store. That way, you can track all your in-person and online sales in one place—and enjoy a simpler (and potentially cheaper) inventory management solution in the process.
In general, we think Wix is the best WYSIWYG website builder for businesses, but Squarespace is a close second. Both offer web hosting, excellent design, relatively intuitive interfaces, and tons of customization tools.
However, Weebly is likely the best pick for simple websites (without intense blogging or ecommerce needs), and we definitely like WordPress's customization options (even though they're more complex than the average builder). And while Shopify certainly isn't our favorite WYSIWYG editor, it's one of the best ecommerce platforms on the market—making it an obvious choice for businesses with online stores.
Ready to get started? Check out our walkthrough on how to create a website to make sure you don't miss a step. You'll thank us later.
FAQs about WYSIWYG website builders
Short answer: drag-and-drop editors are just a specific type of WYSIWYG editor.
In the dark ages of the internet, the only way to build a website was to write all the code in HTML, then launch the site and see how it looked. Then WYSIWYG software came along and changed the game by allowing users to use templates and actually see how their website looked as they went. But not all WYSIWYG editors use the drag-and-drop format.
Is WYSIWYG web builder any good?
Yes! Our top WYSIWYG web builder—Wix—is our top overall website builder choice for every business. We think it's so good that we gave it five stars. Plus, Squarespace, Weebly, and WordPress are all in our list of best website builders for businesses. We love WYSIWYG web builders because they allow you to build a website without knowing how to code. They make it easy to get your business online.
What is the most professional website builder?
Wix is the most professional—and the best—website builder out there. We love how easy it is to use and the extensive customization options available. Honestly, it's the best and meets all the needs of business owners we've talked to because it is easy to use, builds beautiful websites, and is fully customizable.
Yes! Wix is a WYSIWYG website builder, and we consider it to be the best one on the market today. It's relatively inexpensive, easy to use, and builds beautiful websites.
Do professionals use website builders?
Yes! Many professionals build their websites using website builders. However, most use additional apps, plug-ins, or customization tools to make their website stand out.
What are the best free WYSIWYG website builders?
If you're on a budget, you may be happy to learn that many of the website builders we've recommended above offer a free version of their software. All the listed options below include responsive web design, limited customization tools, and free web hosting. But you may lose key features, like premium design elements, ecommerce features, and the ability to add a custom domain.
Wix
Weebly
WordPress.com
WordPress.org
Shopify
We only considered options that deliver basic features every business needs (like SSL security and custom domain options). We also ruled out website builders that don't offer responsive websites (that automatically reformat your web pages to look good on mobile devices). From there, we analyzed each website builder's WYSIWYG capabilities, user interface, and drag-and-drop functionality (where applicable) to find the services that truly make website creation a breeze. Our star rankings were based on all of these considerations plus basic features, pricing, customer support, and ecommerce functionality. Each brand was ranked out of five stars to determine our best overall WYSIWYG website builder.
Disclaimer
At Business.org, our research is meant to offer general product and service recommendations. We don't guarantee that our suggestions will work best for each individual or business, so consider your unique needs when choosing products and services.