As Namecheap keeps growing, we wanted to find out if it really is a worthwhile company for domain registration, web hosting, and beyond. Read ahead to see what we found.
Data as of 2/16/23. Offers and availability may vary by location and are subject to change.
Namecheap is an American company based in Phoenix, Arizona. It was founded in 2000. The company has remained at the forefront of web innovation since its founding. In fact, Namecheap started accepting Bitcoin as a payment method as early as 2013, way before cryptocurrency became a hot topic of conversation for us plebeians.
Namecheap's main weak point is that its customer service is all online—you can't get any help over the phone. For novices, we sometimes need to be able to explain something with our voices in real time, especially when it comes to issues with domains and prices.
The bottom line: Namecheap gets 4.5 stars because, even though we would prefer customer service by the phone and less expensive extensions, it's still the best and most reliable domain registrar in the biz.
Impressively low prices
Abundant educational resources
Plenty of add-on services
Limited customer service options
Renewal price increase
Negative reviews for hosting
Namecheap plans and pricing
Domain prices vary depending on the kind of top level domain (TLD)—or the last three letters in a URL address—you need to perfectly describe the purpose of your website. For assistance and information on picking your TLD, Namecheap offers 24/7 online help via live chat, email and reference guides full of all the information you could need to figure out which TLD is right for your site.
Data as of 2/16/23. Offers and availability may vary by location and are subject to change.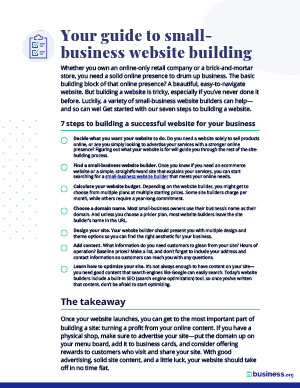 Grow Your Business's Online Presence
Build a beautiful website and start attracting more customers ASAP. Enter your email for a copy of our website building checklist.
Namecheap is easy to use and makes it easy to transfer domains with over 7 million domains for sale. Each plan includes a free SSL certificate, domain privacy protection, unmetered bandwidth, free website builder, free supersonic CDN, and a 30-day money-back guarantee.
Namecheap's mission is to make the internet accessible to everyone everywhere. Its mission includes democratizing internet property, making its pricing reasonable for anyone at any socioeconomic level.
One additional perk is that Namecheap also offers a free domain if you bundle the domain with web hosting through Namecheap.
Limited customer service options
The logistics behind building a website and internet branding can be confusing for newbies. Domains are even more confusing. This is why easy-to-reach customer service is critical.
Namecheap offers only two ways to reach customer service: by submitting a ticket or using a live chat. You cannot call anyone on the phone.
If you need help, you can click on Help Center, which brings you to several helpful articles, trainings and videos. This is great for self-starters, but the option to call customer service to even point users in the right direction is critical.
Namecheap additional features and considerations
Namecheap focuses on being trustworthy and ethical in all its business dealings. This starts with accreditation.
Accreditation from an internationally recognized organization helps create a little bit of order on the web. That's why we appreciate Namecheap's accreditation with ICANN, the Internet Corporation for Assigned Names and Numbers. Basically, ICANN helps prove that your website is recognized and your domain is unique.
And when it comes to ethical practices, Namecheap impresses. Specifically, the company has spoken out against the Stop Internet Piracy Act (SOPA), a measure Namecheap executives say is limiting internet users' freedom.
Namecheap has a vision for a democratized and free internet with strong trust and safety protocols. This vision empowers users to feel confident in which sites they are using and inputting their credit card information.
Namecheap offers competitive pricing in its domains and is all about educating users in making the best decisions for their companies. We love that Namecheap is always offering new promos and is user friendly, especially for beginners.
We'd recommend Namecheap if you're looking for a straightforward, affordable registrar. Just don't expect superb customer service, and expect a large increase in price when you go to renew your domain after the first year.
Want some ideas for your business website domain? Check out our favorite website domain registrars.
Is Namecheap trustworthy?
Yes, Namecheap is trustworthy. It has been around for over 20 years and is recognized by ICANN and other accreditation agencies. It is an American company based in Phoenix, Arizona.
Is Namecheap better than GoDaddy?
Namecheap is easy to use, competitive in cost, and has mission statements that we can stand behind. There are some drawbacks, including weak customer service, and there are limitations when it comes to domain options. So is GoDaddy better than Namecheap? It really depends on your specific needs.
We looked at cost, customer service, number of domains available, and how much security and how many free add-ons Namecheap offers to determine its solid 4.5-star rating. If Namecheap increases its domain offerings and includes a phone line for customer service, then it would be an easy 5 stars.
Disclaimer
At Business.org, our research is meant to offer general product and service recommendations. We don't guarantee that our suggestions will work best for each individual or business, so consider your unique needs when choosing products and services.