Google Domains Review 2023
We searched the internet high and low to figure out where Google stands against other domain registers. Read ahead to understand why we love Google Domains and think it ranks as a top option.
Data as of 12/19/22. Offers and availability may vary by location and are subject to change.
Google is familiar to all of us because, well, Google is Google—and it basically owns the internet. In keeping with its quest to rule the world, it continues to expand its offerings. In 2014, Google started offering domains for monthly fees. Today, there are over 300 top-levl domain (TLD) endings available that include hundreds of free plugins and features. These domains can be transferred to any site for free as Google does not offer web hosting.
Privacy protection
Easy to use interface
Includes email forwarding
No web hosting capabilities
Not available worldwide
Limited customer support
Google Domains plans and pricing
Data as of 12/19/22. Offers and availability may vary by location and are subject to change.
*Starting price per year
One of our favorite things about Google Domains is that there are no additional fees for renewing domains nor for transferring a domain to an outside web hosting site. It's all straightforward. You pay a basic monthly cost per TLD, and each TLD is worth a different price. But you can rest assured that once you settle on a TLD, you will only have to pay that price throughout.
Additionally, Google Domains offers a five day window in which you can get your money back after first registering a domain. This way, if you feel like you made a mistake, Google Domains gives you a little bit of space to think about it before you settle into a monthly plan.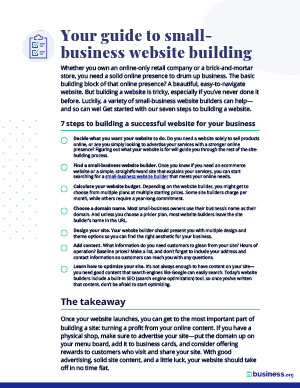 Grow Your Business's Online Presence
Build a beautiful website and start attracting more customers ASAP. Enter your email for a copy of our website building checklist.
One of Google's biggest offers is how it focuses on privacy and security. Google touts that all its products follow three principles: security, privacy, and ease of use. Google infuses these guiding principles into how they sell domains.
Privacy protection
With each domain, Google offers 2-step verification and privacy protection. This includes keeping users personal contact info private on the WHOIS and RDAP databases. All domain registrars are required to share contact information to these databases, but Google is able to keep the information private—preventing spammers from messaging you. Google offers this privacy protection in their domains at no extra charge.
Additionally, Google Domains includes one-click DNSSEC, meaning that your domain is automatically protected from DNS threats like DNS spoofing and cache poison attacks. If you don't know what those are, that is okay! The point is that Google offers free protections against dangerous scammers and bugs that might affect how well your site works.
Ease of use
Google prides itself as being so intuitive for the user. The name "Google" is used interchangeably with "look up/research." It determines the norm for how we even think about the internet.
The perk of using "the big guy" on campus or the "quarterback of the internet" is that you get all the perks already built in. Users can expect to have an automatic domain verification already integrated in your site. You don't need to verify with TXT records when you integrate your site with other Google products and programs like Google Search, Google App Engine, and Google Workspace.
With the added easy integrations, Google Domains has the easiest methods in connecting your domain to Shopify, Squarespace, Weebly, WIX, Wordpress, etc. There are no roundabout instructions. It's simple and needs just a couple of clicks to verify that you want to transfer your domain to that specific website.
Lastly, Google Domains includes automatic Cloud DNS support making your website run fast and smooth without any hiccups if you start busting with high traffic.
Email forwarding
If you are building a website for your small business, you know that email is critical. And the idea of being able to forward emails from alternative addresses to your primary address sounds like a dream for someone with multiple business ideas or business departments. For example, you might have a marketer, a salesperson and a customer service person. You can forward the emails from each of those addresses to a primary one to keep everything clean and organized.
Usually email forwarding costs extra, but Google Domains offers it at no extra cost. So you can have an email address for your sales gal, Linda@mybusiness.com, that feeds straight into info@mybusiness.com.
Compare Google Domains vs. competitors
Data as of 12/19/22. Offers and availability may vary by location and are subject to change.
Google Domains is awesome, we know that, but there are also some issues from not offering discounts, web hosting and limited customer service availability.
Google Domains does not offer web hosting. You have to go outside Google Domains to find the website host and builder that fits your needs and then transfer the domain to that site. It's not a huge deal, but it can get confusing having to deal with multiple logins and passwords. Also, when we compare this disconnect with other domain registrars, they mostly offer web hosting but do not require you to use it. And in the end, having the option is nice.
Almost every other domain registrar offers financial perks in the form of discounts for the first month or so and even the first year free if you use their web hosting service. Google Domains offers none of these. Of course, this makes pricing uncomplicated but also makes pricing unattractive as many of their prices are a bit higher than the standard monthly fees for other domain registrars.
Also, some of the more obscure domain endings might be even pricier on Google Domains versus other registrars like GoDaddy. Do your research, especially if you are not going to get a first time buyer discount from Google and if you want a particularly bizarre domain ending.
Yes, Google Domains offers 24/7 customer service, but that does not necessarily mean it is high quality. Google has a reputation of being poor in customer service and it carries over in Google Domains. It's awfully tricky to get a hold of anyone alive to answer confusing questions about domains.
Google Domains availability is limited. If you live outside one of the 24 countries it supports, you are out of luck.
On their FAQ page, they list the countries they offer Google Domains in: Australia, Austria, Belgium, Brazil, Canada, France, Germany, India, Indonesia, Italy, Japan, Mexico, Netherlands, Spain, Thailand, United Kingdom, United States, Vietnam, South Africa, Switzerland, Philippines, Poland, Malaysia, New Zealand, Singapore, and Sweden.
Google Domains multi-domain registration
Multi-domain registration
This is a wonderful option for people really looking to expand their brand. You can register your brand name with multiple domain extensions. That means you could have mybusiness.com, mybusiness.org, mybusiness.net, mybusiness.fun, whatever pleases you. It is a simple way of protecting your brand from other people wanting to use your brand name and confuse possible customers.
For its privacy protection, ease of use, and easily integrated products and features, Google Domains is a great option for business owners looking to secure their brand and who haven't settled on a webhoster.
Want some ideas for your business website domain? Check out our favorite website domain registrars.
No, Google domains are not free, but the pricing is very transparent and does not change month to month.
Google Domains and GoDaddy are comparable. There are perks to each. If you are looking for a domain registrar that also offers web hosting, then Google Domains is not going to work for you. You are going to want to go for GoDaddy. If you want something with easy integrations with other Google apps and products, go for Google Domains.
What does Google Domains do?
Google Domains is a registrar that lets you buy a domain name and extension at a monthly price.
Are Google domains any good?
Absolutely, Google domains are great. When you buy a domain with Google, you automatically get top tier privacy protection, simple integrations, and over 300 domain extension options.
Disclaimer
At Business.org, our research is meant to offer general product and service recommendations. We don't guarantee that our suggestions will work best for each individual or business, so consider your unique needs when choosing products and services.