TSYS Merchant Services Review
TSYS has put together a processing system that can do almost anything. Its package emphasizes security, flexibility, and support. Unfortunately, it doesn't quite have a strong price point to match its solid offering.
Last Updated: several months ago
We revised and updated our TSYS review with the latest pricing and plan information for 2022.
Updated: several months ago
We revised and updated our TSYS review with the latest pricing and plan information for 2021.
TSYS has been around since 1959. Since then, it's become one of the biggest processing companies on the market.
TSYS has put together a smartly designed package for small businesses, offering numerous point-of-sale integrations as well as a ton of options for accepting payments.
Despite all this good, TSYS suffers from some of the same problems as other older companies—specifically, numerous fees that undercut what could be a good pricing structure for businesses.
Let's get into the details.
TSYS is best for businesses with steady processing needs
TSYS requires most businesses to sign a three-year contract. In addition, that contract comes with a $250–$1,000 cancellation fee, depending on when you cancel your contract and your monthly volume.
But cancellation fees aren't really a problem if you plan on sticking with a processing company for the duration of the contract. So TSYS processing could be a great fit for most businesses with steady processing needs looking for a stable, long-term solution (like restaurants, medical clinics, and retail stores).
Also, with consistent sales volume comes an increased risk of fraud and security issues, so businesses that need to keep the processing rolling without security interruptions will appreciate TSYS's strong security package.
Smaller businesses with sporadic processing needs should avoid TSYS, however, as the chance you'll need to cancel is substantially higher and there are better-priced offerings out there for you.
| | | | |
| --- | --- | --- | --- |
| Pricing types | Cancellation fee | Hidden fees | See options |
| Flat-rate pricing | $250.00–$1,000.00 | Yes | Get Started |
| Interchange-plus pricing | $250.00–$1,000.00 | Yes | Get Started |
Data effective 11/16/21. At publishing time, details are current but subject to change. Offers may not be available in all areas.
TSYS doesn't have a lot of pricing information online because its pricing structure is determined by salespeople over the phone. That said, it's possible to negotiate a good deal for yourself.
For example, you could ask to have no cancellation fee. Some user reviews online claim to have gotten this cancellation fee waived.
Additionally, you can ask for a pricing type that works with your business—reviewers have noted that TSYS offers both interchange-plus pricing and flat-rate pricing.
What's the difference between interchange-plus and flat-rate pricing?
Interchange-plus pricing is generally cheaper but more complicated because it's based on the hundreds of interchange rates assessed by credit card companies when a transaction is made. Flat-rate pricing, on the other hand, is usually a little more expensive but much simpler to understand when your processing statements come in.
Unfortunately, almost every single user review we found complains about hidden fees. Many say they were given a competitive processing rate only to have their supposed savings swallowed up by various fees.
This doesn't mean that TSYS doesn't have a reasonable price point: it just means you're most likely not going to save money on processing by switching over. And frankly, it can be really frustrating to get hit with unexpected fees when your business is planning on a certain amount of cash flow from card processing.
Compare TSYS to top competitors
| | | | | |
| --- | --- | --- | --- | --- |
| | TSYS | Square | Payment Depot | National Processing |
| Processing fees | Pricing not disclosed | 2.6% + $0.10 | Interchange + $0.07 | Interchange + 0.15% + 7¢ |
| Monthly fees | Pricing not disclosed | $0.00 | $99.00 | $10.00 |
| Free mobile reader | No | Yes | No | Yes |
| Inventory management | Yes | Yes | Yes | Yes |
| Accounting integrations | No | Yes | Yes | Yes |
| Employee management | Yes | Yes | Yes | Yes |
| Get started | See Plans | See Plans | See Plans | See Plans |
Data as of 11/16/21. Offers and availability may vary by location and are subject to change.
Solid security features
Payment acceptance flexibility
24/7 support
Numerous POS integrations
Hidden fees
Hefty cancellation fee
Nontransparent pricing
TSYS has some really strong pros going for it. For example, it offers a program that essentially takes care of any data breach your company may experience. You'll be audited, and any fees or fines related to the PCI or card issuers will be taken care of.
Additionally, TSYS gives you lots of flexibility on where and how you can process cards:
With a terminal
With a wireless terminal or mobile card reader
With the computer portal
Over a dedicated phone line that doesn't require you to have any hardware or software
Online using a secure payment gateway
The sky is really the limit here. And if you have any service troubles along the way, you can count on TSYS to provide 24/7 support. Not only can its reps help you solve any outages or answer your questions about the system, but they can also help you integrate your new or existing point-of-sale system into TSYS processing.
We've mostly covered the cons in our pricing section, so we'll keep it brief. Hidden fees, cancellation fees, and haggling over price are a real pain for most business owners.
It would be so easy for TSYS to convert its pricing model into something more transparent and small-business-friendly like so many other processing companies have done. Honestly, it's time for older companies like TSYS to get with the program and stop grubbing at pennies.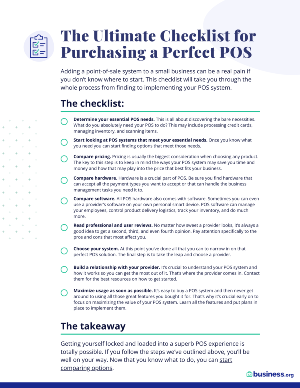 Follow these steps to purchase the perfect POS system
Read our free ultimate checklist for finding the right POS for your business. Don't get saddled with the wrong system. Enter your email and the checklist will arrive promptly.
We've touched on a number of the great features offered by TSYS already, but there's still more to be said. TSYS has so many features, big and little, that are useful to small businesses.
TSYS says it's easy to integrate its mobile payment processor with any point-of-sale setup. So if you have existing point-of-sale hardware or software, be sure to ask them about integrating.
Additionally, if you're looking to get a good point-of-sale system while you shop around for a credit card processor, be sure to ask a TSYS representative about which point-of-sale systems integrate best with the TSYS processing software.
Bringing point-of-sale features to your processing can make each swipe of a customer's credit card more valuable to your business and to your customers.
When customers are looking for an item in your store, it can be a pain if your employees are constantly having to run to your inventory storage to check availability. Why not just give them a mobile point-of-sale system that gives them immediate access to your inventory numbers?
While your employees are at it, they can easily collect customer emails with mobile point-of-sale features, making for a much more seamless buying experience for customers. If this feature sounds great to you, be sure to ask about it.
This feature is mostly self-explanatory, but access to support cannot be overemphasized, especially if your business does a lot of processing outside of normal business hours. When you have a problem, outage, or question, you want answers and solutions fast so you can get back to making money.
TSYS has three online payment tools so you can accept payments in the way that best suits your business:
WebPASS. Use it as a simple virtual payment acceptance solution.
MultiPASS. Integrate TSYS processing into your POS system.
TSYS Hosted Payment. Add a TSYS payment processor to your website, allowing you to keep the vibe of your brand while using a powerful payment processor.
With the flexibility of these solutions, you'll be taking online payments in no time.
Analytics are crucial for making data-driven decisions for your business, and with online reporting, you'll have access to that data whenever you need it—whether that's at home thinking about your business or in a meeting with an important client. You'll never be without your data.
Total payment acceptance flexibility
Most providers offer two to three ways to accept payments, but TSYS really goes above and beyond:
In-store terminals. Perfect for general processing needs in a static location.
Mobile terminals. Connect a terminal to your phone and take payments from anywhere.
Wireless terminals. These are basically your standard in-store terminals, but they connect to Wi-Fi so you can bring them anywhere—a farmers market, for example.
Online payment portal. With this, you can key in credit card purchases and make ACH transfers from your laptop or desktop computer. You can also connect a mobile reader to your computer.
Online payment options. This includes WebPASS, MultiPASS, and TSYS Hosted Payment.
DIALPAY transaction. Call a toll-free number from a phone specified by TSYS and enter a customer's credit card information over a call, saving you the trouble of getting any extra hardware if that's what you prefer.
With all these different payment options, you can process a credit card however you want whenever you want.
TSYS is a fully-featured processing company that comes with a big headache on pricing. That said, we can recommend you check it out, but be sure you read the contract before signing and be prepared to negotiate a lower price.
Outside of its dated pricing practices, there are not a lot of companies with as much on offer as TSYS. If you want great payment acceptance flexibility, secure payments, and access to 24/7 support, TSYS is a great option.
We do, however, recommend that only businesses with regular processing volume give TSYS serious consideration, as its long-term contract and exorbitant cancellation fees are not a good fit for sporadic processing needs. So long as you plan to stick with them to the end of the contract, though, TSYS is worth your consideration.
There are processing companies out there with more modern pricing practices that will not only give you the features you want but may also save you money in the process. Be sure to check out our recommendations for the cheapest processors in 2023.
We took a detailed look at TSYS, analyzing its features, pricing structure, and reliability. We compared it to other top brands in the processing sphere looking for specific features that set it apart from its competitors. We also consulted hundreds of user reviews and expert opinions. 
Disclaimer
At Business.org, our research is meant to offer general product and service recommendations. We don't guarantee that our suggestions will work best for each individual or business, so consider your unique needs when choosing products and services.