Square vs Stax (Fattmerchant)
Square and Stax are both top-tier services. Square is a one-stop-shop for all things point-of-sale and processing, while Stax focuses on saving businesses money on processing costs.
Data as of 06/23/21 . Offers and availability may vary by location and are subject to change.
Square is an industry giant for a reason. It not only got the ball rolling for the modern small business processing revolution, but it has continued to innovate and add useful features to its service without compromising its flat-rate pricing structure.
Stax (formerly Fattmerchant), on the other hand, is a business that has decided to build its own niche in the modern processing landscape. It offers smart features in a smaller, more contained package that focuses mainly on helping businesses save on processing fees.
Because of this focus, Stax isn't some easy contender that Square can brush away. Both services have something to offer. The one you choose will depend on your current business's state and anticipated future needs.
Square vs. Stax Table of contents
:

Square

:

Stax

:

Square

:

Square narrow victory

:

Square
Pricing and feature comparison
| | | |
| --- | --- | --- |
| Brand | Square | |
| Monthly fee | $0.00-60.00/mo. | $99.00-199.00/mo. |
| Standard processing fee | 2.6% + $0.10 | Interchange only (1.81% average) |
| Online store builder | | |
| Custom shopping cart creator | | |
| Surcharge capabilities | | |
| Inventory tools | | (Yes via API) |
| Social media tools | | |
| Loyalty programs | | |
| Quickbooks integration | | |
| Learn more | View Plans | View Plans |
Data as of 8/3/21. Offers and availability may vary by location and are subject to change.
When you stack up the features of both services together, it seems like a clear winner emerges in Square. The point-of-sale (POS) extras offered with Square are simply astounding. You can manage your socials, build a website, and design a custom loyalty program for your customers.
But, here's the thing, not all businesses need those extras. Some businesses just need a gateway for accepting payments that has a limited but intelligent number of extras. That's where Stax shines. You will save a lot of money on processing costs with Stax if you process enough to make up for the $99 you're paying them every month.
It takes about $10,000 in monthly credit card volume (assuming a $10 average transaction cost) for Stax to start saving you money over Square. At $10,000 per month, you'll be spending $126.00 per month on total processing costs with Square and $117.10 on total processing costs with Stax
Best for starting businesses: Square
One particular use case in which Square has a clear upper hand over Stax is if you're starting a new business or if you have a younger small business.
Square is such a good company for new businesses because it has no upfront costs. You don't even need to purchase hardware, as Square will send you a free mobile reader.
Setting up your Square account is free as well, so you can start adding items to your system and get everything perfect for launch day without ever spending a dime. This is a huge deal for business owners who run into unexpected delays before they launch their business. Instead of paying a hefty sum for months you're not processing any transactions, you can just leave your account dormant. Square only takes its cut when you process.
Stax, on the other hand, will charge you a monthly fee as soon as you want access to its processing platform. Its lowest monthly fee is $99 per month, so if you're uncertain about how much in sales you'll be earning month to month or if you have significant seasonal fluctuations, Stax may end up costing you more than Square—and with fewer features.
Speaking of features, Square is designed with small businesses in mind. It has tools to help you build your first store, get your social media off the ground, and build a customer loyalty program.
The Stax system solution feels more designed for businesses that already have a website, are already managing a lot of their business using other tools, and are just looking to save on processing.
Square wants to be your small-business one-stop-shop. That's why we recommend Square if you're just starting out.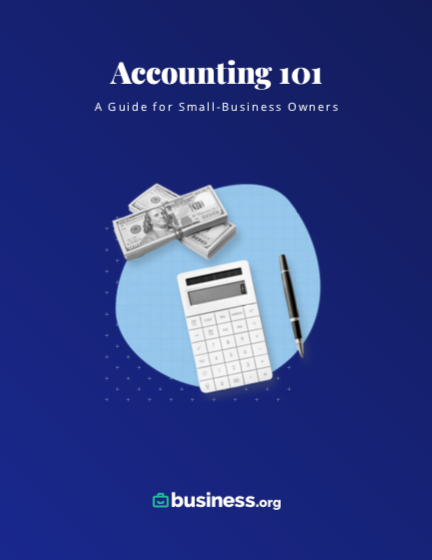 Get business accounting right the first time
Learn all about business accounting with our free ultimate guide.
Best for high-volume processing: Stax
As mentioned above, Stax is designed for businesses that already have their businesses up and running and are looking to save money on processing. It's not a system that comes with lots of fancy bells and whistles, but you may not need those extras.
Stax excels in saving your business money on processing fees. You have to be processing at least $10,000 per month to start seeing the benefits, but once you get there, every dollar more you make is more money in your bank account and less money to your processor.
Also, despite having fewer features and business automation tools than Square, Stax doesn't totally slouch on extras. It has automatic accounting synchronization with QuickBooks so you can easily track your expenses. It also makes it easy to add a surcharge to purchases made using credit cards with high merchant fees.
Additionally, if you or someone on your team has programming smarts, Stax offers an API (application programming interface) that allows you to connect your data to an inventory management suite or other business applications.
So, if you're processing more than $10,000 per month consistently and don't mind programming access to a few extra tools, Stax can really be a top contender as your processing provider. It's not quite as turn-key as Square in regard to its extra features, but it can provide you with ways to incorporate POS extras into your system.
Best for ecommerce: Square
With Square, you can build an ecommerce store, create payment links to send in emails or over text, and add payments to your own website. It's a system designed to help you bring processing to your customers no matter what stage your business is in.
Stax, on the other hand, assumes that you already have a website and that you or someone on your team has some programming knowhow. Its API allows you to build a custom shopping cart experience for your website. While the ability to personalize your shopping cart is nice, we would have liked to see a few more ecommerce tools for businesses in earlier stages of establishing an online presence.
In contrast, Square has taken into account the unique situations of many businesses and has built a suite of ecommerce tools with significantly more functionality.
Best inventory management tools: Square narrow victory
We're giving the nod to Square here, because it actually have their own inventory management system. That system, however, is far from the best inventory management software on the market. While it's good for simpler business tasks, it's nowhere near as feature-rich as it needs to be for businesses that rely heavily on inventory processes like grocery stores.
Stax is a little worse off than Square in this department. It doesn't offer any kind of inventory management. But, it does offer an API that allows you to sync data between Stax and a third-party inventory manager. This is great if you already have an inventory management system in place. This feature, however, is not unique to Stax.
Square also has an API that can be used to connect with third-party inventory management systems. So the battle between Stax and Square is tied on this point. We gave the narrow win to Square in the category overall, however, because it offers a simple inventory solution that will work for many businesses.
Square simply takes the cake when it comes to all the extra functionalities it has available. Stax is a simpler product. It's just here to save you money on processing and to automate some of the headaches surrounding transactions.
This is a big area in which Square shines. Let's take a look at the many tools you can use on the Square platform:
Online store builder
Invoicing system
Social media manager
Marketing tools
Appointment manager
Customer texting and email
Loyalty programs
Gift cards
Payroll services
Employee benefits
Developer API
Of all the features listed above, Stax has only the developer API. So, if you'd like your processor to have the functionalities listed above—even if you like the pricing of Stax—Square may be your best choice.
Best POS Systems for Small Businesses
In the war between Square and Stax, Square wins most battles. The only battle Stax wins is the one for saving you money on transaction costs. This win, however, should not be understated. More money in your pocket is a good thing and can allow you to invest in software services that fill in the POS gaps left by Stax's simple processing features.
That said, Square is a great option for so many kinds of businesses that it's hard to ignore. We highly recommend giving Square a look and only recommend you give Stax a look if you're processing more than $10,000 per month in transactions with relative stability.
For more high-quality processing and POS options available on the market, check out our top ranked POS systems.
As an overall package, Square is tough to beat. But there are plenty of competitors out there denting Square's armor in specific and interesting ways. For example, Stax and Payment Depot are both trying to offer businesses cheaper processing rates than Square despite not quite having as many features.
Clover is working on better POS hardware than Square with interesting features like an app marketplace. Clover and others have found ways to grab chunks of Square's market share by specializing. So, if you really like one particular POS feature, it can be good to look for a POS solution that offers the best version of that feature without compromising on all the other features you like.
The simplest answer is that many people don't end up using all the features they pay for. Luckily, Square is cheap enough that you don't have to use too many features to get good value from the service. But, if you aren't using many of Square's features and are mostly using them for processing, there are cheaper processing solutions out there.
We did a deep dive on both Square and Stax, looking for essential features, customer satisfaction, and specific use cases. In this process we examined customer and professional reviews looking for common complaints and benefits. We then took a look at the broad small business space to see which product best suited the needs of the largest number of businesses.
Disclaimer
At Business.org, our research is meant to offer general product and service recommendations. We don't guarantee that our suggestions will work best for each individual or business, so consider your unique needs when choosing products and services.