Elavon Merchant Services Review 2021
Elavon processes more than 5.5 billion transactions every year,1 accepting payments in 121 currencies,2 making it one of the largest payment processors in the world. But despite its size and history, it doesn't quite have small-business processing dialed in.
Last Updated: several months ago
We revised and updated our Elavon review with the latest pricing and plan information for 2021.
Updated: several months ago
Elavon is the name of a subsidiary company owned by U.S. Bancorp. Elavon was formerly named NOVA Information Systems, but in April 2008, NOVA was renamed Elavon.
Elavon has an interesting suite of features and functionalities for businesses that need payment processing. It has a little bit of everything: point-of-sale options, a line of terminals, 24/7 customer service, and international payment compliance.
Yet, despite its features, Elavon struggles to stand out among the competition as a viable option for small businesses. The model it's put together doesn't really make sense for the modern small business.
Elavon has a middling price point. It costs about the same as Square but doesn't even come close to what Square offers in terms of helping small businesses seamlessly integrate payment processing into their business.
Also, Elavon has a bit of a pricing transparency issue. What we know of Elavon's pricing comes straight from their website:
2.6% + 10¢ per swipe, dip, or tap transaction
3.5% + 15¢ per keyed transaction
$10+ a month for equipment rental
While this pricing model seems pretty straightforward, we're cautious about using it to represent the actual cost of processing with Elavon. This is because a number of online user reviews from sites like TrustPilot and Better Business Bureau speak of hidden fees built into Elavon's business model.
Possible hidden fees mentioned by online reviewers
Fees mentioned by users online include the following:
Minimum processing volume fee
Card association fee
PCI compliance fee
Miscellaneous payment fee
Unfortunately, Elavon does not have its processing contract publicly available, so we cannot confirm the existence of these fees or how much they cost. Because of this, it's crucial that you thoroughly read and understand Elavon's contract before signing with them as your merchant services provider.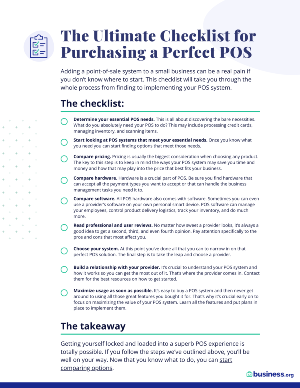 Follow these steps to purchase the perfect POS system
Read our free ultimate checklist for finding the right POS for your business. Don't get saddled with the wrong system. Enter your email and the checklist will arrive promptly.
Is Elavon right for my small business?
Elavon works best for those businesses that take advantage of all it has to offer. If you're making in-store sales, using point-of-sale features, building an online store, and selling your wares across the globe, then Elavon is a great option for you.
Yes, it may be a pain to work with due to the possibility of hidden fees, but when all its features come together, there's actually a unique merchant service on offer here.
That said, it's time to talk about why Elavon may not be for you.
Why Elavon may not work for your business
Elavon was not designed for small businesses. Its services are tailored to businesses with consistent transaction volume that are large enough to be opening up physical stores in foreign countries. Because Elavon was designed with multinational corporations in mind, it's really not a good fit for businesses looking for their first processing company.
Also, its price point isn't really all that competitive for businesses that have consistent processing needs. Companies like Payment Depot and Stax offer much more competitive rates for growing businesses. So unless you really need international compliance, Elavon may not be for you.
Even if you do need international compliance, it may be easier just to set up a Stripe account and run all your international charges through it. Really, Elavon is only useful if you want all those features in the same place.
That's why it's hard to recommend Elavon to most small businesses. It just doesn't have a good small-business offering dialed in yet.
Elavon is a tricky processor to recommend. It doesn't have a great price point, but it has a unique set of features. So its service really only makes sense if you're taking advantage of all those features.
If you're not, then Elavon is probably not for you. There are cheaper, more transparent, and more small-business-focused merchant service providers on the market today that offer essential features at a fraction of the price and with less headache.
To learn more about the best and most affordable processing providers on the market today, check out our picks for the cheapest processing providers of 2021.
Disclaimer
At Business.org, our research is meant to offer general product and service recommendations. We don't guarantee that our suggestions will work best for each individual or business, so consider your unique needs when choosing products and services.