SBA Express Loan Requirements & How they Work
Need an SBA loan in a pinch? We demystify the SBA Express loan requirements to get you funded quickly.
As one of the Small Business Administration's most popular and commonly used loan programs, the SBA Express Loan program offers a 36-hour loan approval turnaround.
If you're approved, you can use the funds as working capital, to refinance existing debt, or to expand your business.
Just as with other SBA loan programs, you'll work with a private lender and the SBA will guaranty your loan. In other words, the SBA makes sure your business is a smart investment and promises to repay part of your loan if you default. This makes you a lower risk to lenders so they'll be more inclined to finance your small business.
Let's explore how SBA Express Loans work and whether or not you may qualify for one.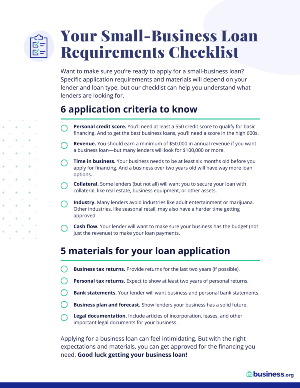 Applying for a small-business loan soon?
Our free checklist can help you understand what lenders are looking for.
What is an SBA Express Loan?
SBA Express Loans are similar to other SBA 7(a) loans: they're partially guaranteed by the SBA, and they're for small-business owners who can't get traditional financing from other lenders on reasonable terms.
They have a faster turnaround time than other SBA loans, but they also have lower principal amounts and higher interest rates.
Learn more
To find your best lending options, explore the best business loans for small businesses before applying for an SBA Express Loan.
You can use the funds from an Express Loan for a variety of purposes, including business expansion, renovation, or new construction, as well as purchasing real estate, like land or buildings.
If you're just starting a business, an Express Loan can help you purchase equipment, fixtures, and inventory. You can also use the funds as short-term working capital or a seasonal line of credit.
SBA 504 loans are better for real estate
We recommend looking into an SBA 504 Loan if you own and occupy real estate. This loan product is better suited to entrepreneurs looking to invest in their local communities, such as through real estate.
If you want to refinance debt, an Express Loan can help, but there are some conditions. Your creditors must be adequately secured, and you must have a compelling reason to need to pay off the debt.
1. SBA Express (standard)
A standard SBA Express Loan can be up to $500,000 with a 50% SBA guaranty. You can use the money for working capital, as a line of credit, or to purchase commercial real estate properties.
SBA Express loans either have fixed-rate financing or variable interest rates, depending on the terms you settle on with your lender.
The less you borrow, the higher your interest rate, but it can't go above 6.5% over the prime rate (the base interest rate that banks determine for corporate loans).
Your lender may require collateral for loans over $25,000. Most SBA Express Loans can be approved within 36 hours.
The length of your term will depend on the amount you borrow and what you're doing with the money. A real estate purchase will give you the longest term loan of twenty-five years. Short-term loans are up to seven years for a line of credit and five to 10 years for working capital.
SBA Export Express Loans can get you up to $500,000 and are intended to help your small business start or expand the export of your products. These loans have a higher SBA safety net, with a 90% guaranty for loans under $350,000 and a 75% guaranty for loans greater than $350,000.
Like the SBA Express Loans, you can use your Export Express Loan for working capital, as a line of credit, or to purchase commercial real estate properties.
Terms and interest rates for Export Express Loans are also similar to those of SBA Express Loans. The more you borrow, the longer your term and the lower your interest rate, with no rates over 6.5% above the prime rate.
Export Express Loans typically have a slightly faster approval rate than standard SBA loans, with a 24-hour turnaround.
SBA Express Loan requirements
SBA express loan requirements will differ depending on whether you're applying for a loan for a new business or for an existing business.
If you're a new entrepreneur, you'll need the following items:
 A detailed business plan, including financial projections for the first year and projected expenses
 A resume showing your experience and credentials
 An itemized plan of how the money will be used
 A financial statement showing how much money you have (including all personal fixed assets and liabilities) and how much you need
 Tax returns
 A good credit score (usually over 680)
 Proof that your business is profitable with positive revenue trends
 Proof that your business will bring in at least ten percent more money annually than it spends to manage debt (principal and interest payments) each year
If you've been in business for a few years, you'll need the following items:
 An up-to-date record of all your financials from the last three years, including a profits and loss statement
 A projection for the next twelve months, with detailed information about how you'll use the funds
 Personal financial statements for you and any business partners who own 20% or more of the business
 Good credit score (usually over 680)
 Proof that your business is profitable with positive revenue trends
 Proof that your business brings in at least ten percent more money annually than it spends to manage debt (principal and interest payments) each year
Compare SBA 7(a) Loans vs. SBA Express Loans
| | | |
| --- | --- | --- |
| Criteria | SBA 7(a) Loan | SBA Express Loan |
| Maximum Loan Amount | | |
| Financing Term | 5-30 years | 5-25 years |
| Interest Rates | Up to 2.75% over the prime rate | 4.5-6.5% over the prime rate |
| Review Period | 2-3 weeks | 24-36 hours |
| Average Time from Application to Closing | 1-3 months | 1-3 months |
| Guaranty Fees | None on loans less than $125,000 and 2%-3.75% for loans over $125,000 | None on loans less than $125,000 and 2%–3% for loans over $125,000 |
| Apply on Lendio's Marketplace | Apply Now | Apply Now |
SBA Express Loan timing and approval factors
Despite the word "express" in the title, SBA Express Loans might take more time than you'd expect from application to closing.
The majority of the paperwork for your loan will be handled by the bank, not the SBA, and most lenders require you to come into the bank to meet with representatives in person.
Typically, these lenders won't even begin to review your application until they have all the documents they need, so be sure to go in fully prepared, if possible.
Much of the timing of your loan will depend on the lender you use and how efficient they are.
They'll make sure you've fulfilled their requirements, and then they'll send your application on to the Small Business Administration for their stamp of approval, which should take between 24 and 36 hours for an SBA Express Loan (that's the "express" part).
The bank will then have to finish their approval process and determine the terms and conditions for your loan, which could take a few months. Because of the detailed requirements of applying for SBA loans, it's a good idea to find a lender through the SBA preferred lender list.
FYI
After a private lender has approved your loan, it will generally take between 24 and 36 hours for the SBA to approve your SBA Express Loan.
Keep in mind that applying for an SBA Express Loan isn't a guarantee that you'll be approved, and a rejection of your application may not have anything to do with your eligibility.
Lenders will look at other factors when choosing whether or not to approve your loan, like the type of business you have and the other types of businesses they're currently lending to.
For example, if you rent beach bikes to summer tourists, but your prospective lender has experienced a history of seasonal businesses defaulting on their loans in the past, they may be reluctant to finance another business in that industry.
Lenders may also try to protect themselves against economic downturns in certain industries by varying the types of industries they lend to. While you're waiting for approval, it's wise to use the time to research other lending institutions and financing options, just in case.
Heads up
Whenever you're considering applying for a loan, make sure to be aware of common loan requirements.
Is an SBA Express Loan right for me?
If you need less than $500,000 and you can't get a loan with reasonable terms through traditional lenders, an SBA Express Loan might be a good option for you—and the shorter review period doesn't hurt either.
As long as you have good credit, a debt service coverage ratio (DSCR, or the cash flow you have to pay off debt) of 1.1 or higher, and a profitable business (or you can demonstrate it likely will be), you have a good chance of being approved for an SBA Express Loan.
Consider the different SBA Loan options as you assess which one is right for your business.
Know your stuff
The SBA offers loan guaranty programs for a variety of special interest groups and minorities, including veterans, women, and victims of a disaster.
Want more options? Fund your business with a personal loan.
With billions of dollars available to small-business owners and a faster-than-usual approval process, an SBA Express Loan is worth a look for any small-business owner looking to grow their business, pay off debt, or get some help with seasonal expenses.
Prepare for the process by getting your documents organized and plugging any personal or professional financial leaks. An investment of time and patience in the loan approval process can produce big dividends in the form of a sizeable loan.
Disclaimer
At Business.org, our research is meant to offer general product and service recommendations. We don't guarantee that our suggestions will work best for each individual or business, so consider your unique needs when choosing products and services.