Direct Lenders vs. Lending Marketplace vs. P2P Lenders
After hundreds of hours digging into lending companies of all kinds, we can tell you what makes each type of lender great―or not so great.
Direct lenders vs. marketplace lenders vs. P2P lenders
:

Direct lending

:

Marketplace lending

:

Marketplace lending

:

Direct lending
Shopping for a business loan used to mean showing up at the bank and applying. These days, though, you have all sorts of choices: direct lenders (including traditional lenders and banks), marketplace lenders, and peer-to-peer lenders. But how do you know which type of lender works best for your business loan (or personal loan)?
We've spent years analyzing dozens of lenders of all stripes, so we have a pretty good idea of what different types of lenders do best. Direct lenders offer the fastest funding times, while lending marketplaces can help you find great deals. (You won't find many P2P business lenders anymore.)
Let's dig deeper into the different kinds of business lending companies.
Direct lenders vs. marketplace lenders vs. P2P lenders at a glance
Before we start looking at what type of lender does what best, let's make sure we're all on the same page. So for now, let's talk about how these different kinds of lenders work.
Direct lending availability
You can think of direct lenders as the most basic kind of lender. With a direct lender, everything happens with the same loan company:
You submit your loan application.
Your loan application gets approved.
The lender funds your new loan.
You make payments to the lender.
So each step, from application to repayment, happens with one lender. That's why it's called direct lending―because you're interacting directly with the lender.
Bank lending falls under the direct lending umbrella. But we also include lots of online lenders (aka alternative lenders) too, like BlueVine or Fundbox. They don't always fully meet the definition (most online lenders actually have a bank fund your loan), but online lenders more closely resemble direct lenders than lending marketplaces or P2P lenders.
So to keep things simple, just think of direct lending as including banks, credit unions, and online lenders.
Lending marketplaces don't actually do any lending―or even approving, for that matter. Instead, they match you with direct lenders. Basically, you submit a loan application, your lending marketplace compares your application to different lender requirements, and then presents potential matches to you. (Lendio and Fundera by Nerdwallet both work this way.)
But ultimately, you get approved and funded by a specific lender―not your lending marketplace. If it helps, you can think of lending marketplaces as loan matchmakers.
Finally, you've got P2P lenders, or peer-to-peer lenders. These work a lot like a direct lender, since you apply to, get approved by, and make payments to the same lending company. But instead of having your lender fund the loan, P2P lenders have individual and company investors back your loan.
P2P lenders had a big moment in the 2010s, but most of the big names stopped P2P lending in the past few years. LendingClub, for example, stopped allowing individuals to invest in loans and now lets only institutional investors back loans. And Funding Circle moved to a lending marketplace model.
Now that we've got those definitions down, let's look at what these different kinds of lenders do best.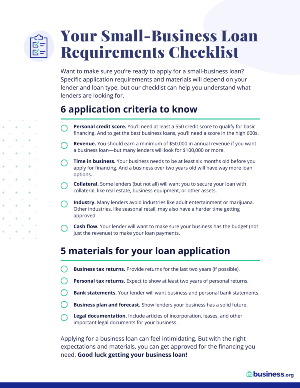 Applying for a small-business loan soon?
Our free checklist can help you understand what lenders are looking for.
Best for speed: Direct lending
The biggest difference between the types of lenders really comes down to speed.
Because direct lenders handle every aspect of the loan themselves, they can move very quickly. You can find online lenders that offer same-day funding, and even slower banks often offer funding in just a few days.
(This does depend on the type of loan you want. A business line of credit, for instance, will get funded much, much faster than a commercial real estate loan.)
Lending marketplaces take a little longer. After all, you need to wait on loan matchmaking. And after that, you have to pick a lender and finalize your application. So at minimum, you should expect marketplace lending to take 72 hours. And depending on the lender and type of loan you get, it may take several days more. (Or weeks, in the case of real estate loans.)
Likewise, P2P lenders usually take longer than direct lenders. They have to get investors for your loan, unlike a bank.
So if you're looking to get a loan as soon as you can, a direct lender offers the fastest funding times.
But what if you're concerned about qualifying for a business loan? In that case, a marketplace lender will be your best bet.
As you likely know, lenders look at several different factors when considering your loan application, including your business revenue, business age, and personal credit score.
Direct lenders tend to have strict borrower requirements. Banks, for example, look for very specific credit scores and revenue amounts. Online lenders usually have lower business loan requirements (meaning they'll accept a lower credit score or younger business), but they still have hard minimums.
Likewise, P2P lenders often have lower borrower requirements than banks do. Those requirements are pretty firm, though. So if you submit a loan application to a direct lender or P2P lender without meeting its specific borrower requirements, expect to get rejected.
But with a loan marketplace, you may get another chance. Because marketplaces partner with so many lenders that offer different kinds of loans, getting rejected for one loan doesn't mean getting rejected for all financing. Instead, your marketplace may try to match you with another lender or a different kind of financing (like invoice financing instead of a term loan).
In other words, if you want your best shot at qualifying for business financing, a lending marketplace offers the most flexibility with borrower requirements.
Best for finding deals: Marketplace lending
Marketplaces offer one other big advantage: they let you shop around for great deals.
Lending marketplaces partner with dozens of lenders, meaning your one loan application goes to lots of lenders. This lets you get lots of loan offers without much effort on your part. And since you usually get to compare at least a couple loan offers, you can feel pretty sure you're not getting ripped off by a lender hoping you won't know any better.
When you apply with a direct lender or P2P lender, though, you don't get multiple P2P loan offers. You'll have to do all your comparison shopping manually―submitting application after application―or not at all.
So if you want to shop around for solid loan offers, marketplace lending gives you the easiest way to find a good deal. 
Lowest interest rates: Direct lending
While marketplaces can help you find good deals, we do want to point out that you can often get the very best interest rates from a direct lender.
That's because the lowest interest rates come from lenders like banks―and some banks don't partner with lending marketplaces or only offer certain types of financing through those marketplaces.
You probably won't get matched with your local bank or credit union, for example, on a lending marketplace.
That's not to say that lending marketplaces can't get you very low interest rates. They can, and so can some P2P lenders. But since a lending marketplace will only match you with lenders in their partner network, you may be missing out on some of the lowest rates available from non-partner lenders.
Put simply, if you really want a rock-bottom interest rate (and you feel sure you can qualify for one), you may find a lower interest rate by applying directly with direct lenders like banks or credit unions.
Different kinds of lenders can help your business in different ways.
Direct lenders (like banks, credit unions, and some online lenders) can get you the fastest funding and potentially the lowest interest rates. Marketplace lenders can help you qualify for various types of financing (even if your first choice doesn't work out) and help you compare loan deals. And while we don't really see business P2P lenders anymore, P2P lending can still be a viable choice for personal loans.
Ready to find a great lender? Check out our list of the best small-business loans for top lending marketplaces and direct lenders.
We've compared dozens of lending companies, including direct lenders and lending marketplaces. (We used to compare P2P lenders too, but most of them have switched models.) We analyzed factors like interest rates, borrower requirements, funding times, and more between these different kinds of lenders to find those most significant differences between lending models.
What is a marketplace lender?
Is Gusto better than ADP?
A marketplace lender isn't really a lender―it's actually a company that partners with lenders. So when you submit a loan application to a lending marketplace, the marketplace doesn't make any lending decisions itself. Instead, it tries to match you with appropriate lenders that will then fund your loan.
Is marketplace lending the same as peer-to-peer lending?
No, marketplace lending is not the same as peer-to-peer lending. With marketplace lending, your marketplace matches you with a partner lender that fulfills your loan. With peer-to-peer lending, the P2P lending company finds individual and institutional investors to back your loan.
How is marketplace lending different from traditional lending?
With traditional lending, you simply apply to, get approved by, and get your loan from one single lending company (usually a bank).
Marketplace lending basically shops around to different lending companies for you. So you'll initially apply with the marketplace, but then you'll get loan offers from different lenders. After picking your favorite, you'll get your loan from and make payments to your lender of choice (and not the marketplace).
Why is peer-to-peer lending better than the bank?
Peer-to-peer lending can be better than banks because P2P lenders often have lower credit score, revenue, and business age requirements than banks. That means people that can't get bank loans can still get financing through P2P lending companies.
Disclaimer
At Business.org, our research is meant to offer general product and service recommendations. We don't guarantee that our suggestions will work best for each individual or business, so consider your unique needs when choosing products and services.