Bluevine vs. NBKC Banking 2023
We compare Bluevine and NBKC Bank's banking options, costs, perks, and more to help you find the right bank account.
Data as of 12/15/22. Offers and availability may vary by location and are subject to change.
So you're ready to open a business bank account, but you're not sure if you want to do that with Bluevine or NBKC. That's fair. These two banks have plenty in common, like free business checking accounts and mostly online banking.
But they've also got some big differences in terms of banking options and perks―and those differences can make or break your banking experience. 
So let's take a deeper look at how Bluevine and NBKC differ and find the right bank for your business.
Bluevine vs. NBKC Table of Contents
:

Tie

:

Bluevine

:

NBKC

:

Bluevine
Compare Bluevine vs. NBKC
Data as of 12/15/22. Offers and availability may vary by location and are subject to change.
Of course, unless you live in the Kansas City area where those NBKC branches are, Bluevine and NBKC still look pretty similar.
If you want to do a deeper dive on either Bluevine or NBKC, feel free to check out our Bluevine banking review or our NBKC Bank review.
But for now, let's dig into the important factors that will help you decide between these two banks.
Generally speaking, online banks have fewer and lower account fees than traditional banks do. And sure enough, both Bluevine and NBKC offer free small-business checking accounts.
Of course, "free" can mean different things from bank to bank. (Some online banks still charge NSF fees, or non-sufficient funds fees, for example.) But Bluevine and NBKC keep things really affordable.
Bluevine vs. NBKC account fees
Data as of 12/15/22. Offers and availability may vary by location and are subject to change.
Neither bank charges any monthly fee on their checking account―which means you don't need to worry about meeting some minimum balance requirement to waive your monthly fee. You just get a checking account with no monthly fee.
Likewise, Bluevine and NBKC don't give you a free transaction limit. All your monthly transactions are free, whether you have 1 or 1,000. And unlimited transactions are just the beginning. 
Neither bank charges an ATM fee, as long as you stick to their MoneyPass ATM networks―which shouldn't be too hard since they have more than 37,000.  As an added bonus, Bluevine and NBKC also don't charge NSF fees, or non-sufficient funds fees. So if your daily balance happens to drop a little too low for a certain transaction, you won't get slapped with charges. Nice, right?
Debit card
Bluevine and NBKC both give you a free debit card for your business account (though you may have to pay a replacement fee if you lose it).
In fact, the only real fee you have to worry about is the outgoing wire transfer fee. Both Bluevine's and NBKC's are competitively priced (we've seen banks charge $30). 
So if you're looking for an affordable business bank account, either Bluevine or NBKC will work just fine.
Best Checking Account: Bluevine
While a checking account from Bluevine or NBKC will cost the same, Bluevine has the better business checking account overall.
Why? Interest. Bluevine checking earns it, while NBKC business checking doesn't.
In fact, your Bluevine business checking account will earn 2.0% interest on your account balance (up to $250,000). There's no minimum balance to start earning, either.
And yes, we know that 2.0% will hardly make or break your business. But if you can get more money by simply keeping money in a bank account, wouldn't you like to?
Besides, Bluevine business checking has other nice perks, like the two free checkbooks Bluevine throws in with your account. Plus, Bluevine makes it really easy to deposit cash into your online banking account―just visit a Green Dot location. (You may be able to make a cash deposit at NBKC via a MoneyPass ATM, but we've found Green Dot locations are more likely to be in most neighborhoods.)
Put simply, if you just need a free business checking account, Bluevine is the way to go.
But if you need any other kind of business account―or a personal bank account―then you need to look at NBKC.
Best Other Banking Services: NBKC
Bluevine offers only business checking accounts―no savings, no personal accounts, or any other banking.
NBKC, on the other hand, offers a full spectrum of banking services. For business banking, NBKC also offers a business savings account (including a money market savings account and certificates of deposit options).
NBKC also offers business credit cards. With its four different credit card options, you can choose from cash rewards, points rewards, or simply a lower APR (annual percentage rate).
You can get other business banking services from NBKC, too, like these:
Cash management
Collections
Disbursement
Fraud management
And NBKC offers a full suite of personal banking products too:
Personal checking account
Personal savings accounts
Personal credit cards
Personal loans
So if you want full-service banking for your business (or yourself), NBKC has way more to offer than Bluevine. Well―unless we're talking business loans.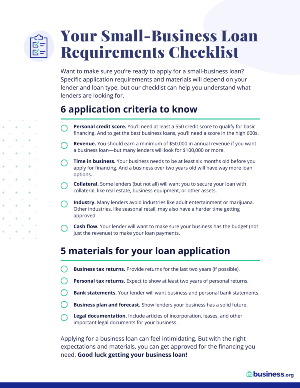 Applying for a small-business loan soon?
Our free checklist can help you understand what lenders are looking for.
Best Business Financing: Bluevine
Both NBKC and Bluevine offer small-business loans.
To its credit, NBKC offers a nice variety of business loan options. It has term loans, equipment loans, lines of credit, real estate loans, and even SBA business loans. But to get funding from NBKC, your business has to operate somewhere around Kansas City. That's pretty limiting. Plus, NBKC requires you to have a good credit score and two years in business.
Bluevine, however, offers business lines of credit and invoice factoring to businesses all across the nation. (You can learn more about these offerings in our Bluevine review.) And unlike NBKC, Bluevine works with younger businesses and business owners with less-than-perfect credit (especially for invoice factoring).
Note that you don't need to use Bluevine as your business bank to use it as a lender (or vice versa).
Still, if you're interested in either Bluevine or NBKC for their funding products, we think Bluevine offers the better option―if only because it's more widely available.
Bluevine and NBKC both come with lots of advantages, like online banking capabilities and few account fees.
That said, Bluevine offers a better online business checking account due to its interest-earning power, ease of cash deposits, and free checkbooks.
But if you need more banking than just a checking account, NBKC is the better bank for you. It has all the banking services you could need, from business savings accounts to personal bank accounts.
Put simply, the best bank for your business depends on your needs and priorities―but we hope our comparison has helped you make your decision.
While Bluevine and NBKC are both great online banking options, they're not your only choices. See more great online banks on our rankings of the best online banks for small business.
Is Bluevine a good bank?
Yes, Bluevine can be a good bank for many businesses. In fact, it's one of our favorite banks for small-business checking.
Just keep in mind that Bluevine offers only checking accounts. If you need a savings account or other business banking services, you'll want to go with a different bank.
What bank is best for small-business checking?
Bluevine is our favorite bank for small-business checking. That's because it has few account fees (and no monthly maintenance fee), earns interest, and gives you helpful freebies like free checkbooks.
What bank is best for LLCs?
Most banks can work well for LLCs, so we recommend our overall favorite bank for small business―Small Business Bank. It offers affordable checking and high-yield savings accounts.
What bank backs Bluevine?
Bluevine works with two different banks. Coastal Community Bank backs Bluevine checking accounts, while Celtic Bank backs Bluevine lines of credit.
To get our rankings for Bluevine and NBKC, we looked at a number of factors, including bank account options, account fees, other banking services, customer reviews, and more. We scored these factors and then used the resulting overall scores to inform our reviews and recommendations for Bluevine and NBKC.
Disclaimer
At Business.org, our research is meant to offer general product and service recommendations. We don't guarantee that our suggestions will work best for each individual or business, so consider your unique needs when choosing products and services.