Quicken's desktop-based personal finance software can help you set a budget, track expenses, and even pay bills (depending on the plan). It's also one of the pricier money management tools on the market, so if cost-effectiveness is key for you, look elsewhere.
Data effective 12/22/21. At publishing time, pricing and features are current but are subject to change. Offers may not be available in all areas.
Bottom line: As far as desktop-based personal finance software goes, Intuit's Quicken is pricey—and for good reason. You'd be hard pressed to find a more comprehensive money management tool, including Intuit's other personal finance tools like Mint. But in a market of mostly free personal finance apps, Quicken's subscription-based pricing is a hard sell.
Business.org's Quicken review can help you decide if you want to spend money on financial management tools or stick with a free alternative.
Compare Quicken plans and pricing 2022
| | | | |
| --- | --- | --- | --- |
| Plan name | Starting price (one-year subscription) | Key features | Learn More |
| Starter | $35.99 | Month-to-month budgeting, expense categorization, bill tracking | See Plan |
| Deluxe | $51.99 | Starter features + 12-month budgeting, interest tracking, investment portfolio | See Plan |
| Premier | $77.99 | Deluxe features + bill pay | See Plan |
| Home and Business (Windows only) | $103.99 | Premier features + tax tracking, invoice creation, rent and lease management | See Plan |
Data effective 12/22/21. At publishing time, pricing and features are current but are subject to change. Offers may not be available in all areas.
Quicken is best for comprehensive budgeting
Most money management apps excel at just one aspect of budgeting. For instance, Mint categorizes your purchases by expense type and recommends a monthly budget. Personal Capital helps you build an investment portfolio, and bank and budgeting apps like Simple automate bill pay.
But Quicken? Depending on the plan you pick, Quicken does it all.
Every Quicken plan shows all of your bank accounts in one spot and, like the Intuit-owned Mint, automatically categorizes expenses for you. Its bill-specific dashboard lets you save bills or download them as PDFs so the software can easily categorize and track bill payments. And unlike most personal finance apps, Quicken includes over-the-phone customer service.
Quicken's pricier plans offer even more features, including debt and loan interest tracking, tax help, and bill pay.
Quicken plans and pricing
Why can Quicken do everything while other budgeting tools focus on expense tracking or investing or bill pay? For one, Quicken costs an annual fee. For another, it isn't just an app or website. Instead, like Intuit's old QuickBooks Desktop, Quicken is a downloadable desktop software that syncs with Quicken's mobile budgeting app and website. It isn't just cloud-based or desktop-based: it's both.
Quicken's Starter plan offers income and expense tracking, spending trend reports, and budget recommendations. Honestly, it's pretty similar to Mint, but it has better support and a more comprehensive dashboard. And as a paid plan, Starter skips the pesky targeted ads that slow Mint's interface.
Quicken Starter also includes a helpful bill tracking center. For now, you can't pay bills directly from Quicken unless you choose the Premier plan. But you can sync your bills to Quicken's dashboard so you can see which payments are due when and plan them into your monthly budgets.
Heads-up: Bill pay
Want to pay bills with Quicken without paying for Premier? You can add bill pay to any Quicken plan for an additional $9.95 per month.
Quicken Deluxe expands your budgeting options. You can set annual budgets instead of just month-to-month budgets and track your taxes, retirement savings, and investments. More detailed tracking and reports give you a better look at your net worth, as do features like these:
Principal and interest tracking
Schedule D tax form generation (to report capital losses and gains from property sales or trades)
Stock market tracking to capitalize on investment opportunities
Windows users can also access a few more features that Mac users can't, at least for now. For instance, Quicken Deluxe 2020 for Windows uses Zillow to track your home's value and offers a more in-depth investment portfolio analysis.
Windows users can also access a few more features that Mac users can't, at least for now. For instance, Quicken Deluxe 2020 for Windows uses Zillow to track your home's value and offers a more in-depth investment portfolio analysis.
Premier bundles the same perks and features as Deluxe with two key add-ons: bill payment directly from your Quicken dashboard and enhanced customer service, which gives you priority access to Quicken's customer support team.
Home and Business (Windows only)
All of Quicken's plans track personal finances, but Quicken Home and Business adds on business features that are geared toward sole proprietors and small-business owners. This plan lets you separate your personal and business finances (which you should always do for tax and legal liability reasons). Along with all of Premier's personal finance features, the plan gets you these business-specific tools:
Invoice creation and customization (including payment links so customers can pay via invoice)
Business profit and loss tracking
Business tax help, including tax deduction tracking and tax form generation
Heads-up: Credit score report
If you use Quicken for Windows, you can run a free credit score report once a quarter with any plan. Unfortunately, if you use Quicken for Mac, you can't run this report. However, Mint offers this same feature with the bonus of rechecking your credit score for free as often as you want.
The plan is more than Quicken for business, though. It also adds property management features, including these:
Rent tracking, including overdue rents
Security deposit tracking
Rental document organization and storage
Compare Intuit Quicken competitors in 2022
| | | | | |
| --- | --- | --- | --- | --- |
| Brand | Starting price | Mobile app available | Personal advisors available | Get Started |
| | $35.99/annually | Yes, Android and iOS | No | View Plans |
| | $0.00 | Yes, Android and iOS | Yes | View Plans |
| | $14.99/mo. | Yes, Android and iOS | No | View Plans |
Data effective 12/22/21. At publishing time, pricing and features are current but are subject to change. Offers may not be available in all areas.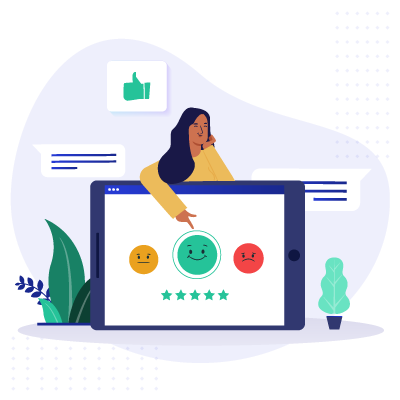 Expert Advice, Straight to Your Inbox
Gain confidence in your business future with our weekly simple solutions newsletter.
Comprehensive budgeting features, including bill tracking and payment
Mobile app for on-the-go budgeting
Accessible customer service
Annual subscription fee
Poor Android app reviews
Limited features for Mac users
Quicken's biggest perk is its sheer amount of features. As good as apps like YNAB and Personal Capital are, they can't offer as much as desktop-based software. Quicken's bill payment is a particularly crucial feature: few budgeting apps provide bill payment, and some that used to (notably Mint) don't anymore.
And if you're worried about being tied to your desktop to budget, don't be. Quicken's mobile app lets you calculate expenses and track your budget on the go. Along with checking your accounts and budget in real time, you can manually enter transactions (for instance, if you buy something with cash) even when you're offline.
Finally, Quicken is one of the few personal finance tools with thorough customer service. Each plan includes over-the-phone tech support, which is rare among money management apps: after all, it's hard to provide good customer service when your product is free.
Quicken's primary downside is its cost. Free apps like Mint offer similar services at the low cost of zero dollars.
Price check: Quicken Starter vs. YNAB (You Need a Budget)
YNAB rivals Mint and Quicken for personal finance popularity, and its main perk is that it teaches you how to budget instead of automating your budgeting experience. At $34.99 a year, Quicken's Starter plan is cheaper than YNAB's annual $84 fee. However, Quicken lacks YNAB's online tutorials for hands-on budgeting help. If you want to learn how to budget instead of just automating expenses, go with YNAB. If you want a sturdier Mint, try Quicken.
Plus, Quicken's app is a fairly recent development, and per its user reviews, the app works better for iOS users than Android users. On Apple's App Store, the app has 4.6 stars out of 5 from 7K users.1 In contrast, the 3.5K users on Google Play give it 3.2 stars out of 5, citing frequent crashes, bugs, and inaccurate bank account information (yikes).2
On the other hand, Windows users have a leg up on iOS users in terms of desktop software. Quicken's Windows version offers more than its Mac version, most importantly its Home and Business plan. You also have to buy the Quicken version specific to your operating system—the Mac and Windows versions are incompatible, so while you can run the program on multiple computers, you can't run it on different types of computers.
If you aren't sold on cloud-based budgeting apps and don't mind spending a little to get a lot, Quicken's locally installed software is an excellent fit. And if you aren't quite sold on Quicken itself, get behind the wheel for a test drive—Quicken comes with a 30-day money-back guarantee.
Looking for a more affordable personal finance app? Head over to our review of the year's best money management apps for individuals.
What is Quicken software for?
Quicken is a personal finance management tool. It helps individuals and families create budgets, track expenses, and set financial goals. Some of its plans also let users track their investments and retirement plans. One plan, Home and Business, lets users separate their personal and business finances, track rental properties, and send invoices.
Quicken was developed by Intuit, the same company that owns TurboTax and QuickBooks. However, once Intuit acquired the budgeting app Mint, it sidelined Quicken. In 2016, Intuit sold Quicken to H.I.G. Capital.
No. Quicken costs an annual subscription fee. The cheapest Quicken plan, Starter, costs $35.99 a year.
Do you have to purchase Quicken every year?
Yes. After your initial Quicken purchase, you'll pay an annual renewal fee.
Quicken Online was a free, cloud-based version of a Quicken plan offered by Intuit in the 2000s. When Intuit bought Mint, the company phased out Quicken Online. Although you can now use Quicken on the web instead of just on your desktop, there isn't an official product called Quicken Online.
We carefully analyzed Quicken's ease of use, value for the money, mobile app quality, data privacy practices, and learning curve, among other factors.
Disclaimer
At Business.org, our research is meant to offer general product and service recommendations. We don't guarantee that our suggestions will work best for each individual or business, so consider your unique needs when choosing products and services.