The Best Business Budget Templates for Small Businesses
A business budget template is an easy way to kickstart the budgeting process for your small business, helping to ensure long-term growth and success.
Every small-business owner should have a business budget that helps track finances and helps ensure the growth and success of their business. A simple business budget template can streamline the process of budgeting, increase efficiency, and give you greater control over your money.
In this post, we'll explain how to create a business budget template, what to include in your template, and where to find the best budget templates online.
How to create a business budget template
Let's start off by saying that downloading a pre-made budget template online is probably your best bet. However, you can also use a basic budget tool to create your own customized template.
Creating a business budget starts with setting up a spreadsheet with rows and columns that houses data relating to business expenses and supply costs. Then you follow these steps:
1. Choose a budgeting tool.
There are many ways small-business owners can track a business budget, such as by using Excel, Google Sheets, a budgeting app, or financial software, like QuickBooks. Once you've chosen a tool, you can download a free blank template online and start customizing.
2. Add your business information.
Before you start filling in budget amounts, make sure you add business information to the top of the template, including your company name, the month, and the budgeting period. This will help you track changes in your budget over time.
3. Create budget categories across the columns.
Now it's time to list your budget categories. These categories should include fixed costs, related operating expenses, employee pay, inventory costs, etc. Don't forget to add a category for total expenses at the bottom of the spreadsheet.
With your categories set up, it's time to enter the values in each cell. Enter the budget goal amount in one column, and then create a section for actual totals in the next column. From there, you'll be able to compare the differences between those values and track your net profits.
Now you can use your template to track and monitor your business expenses over time. You can use the budget to identify expenses that are cutting into your profits and take steps to minimize overspending.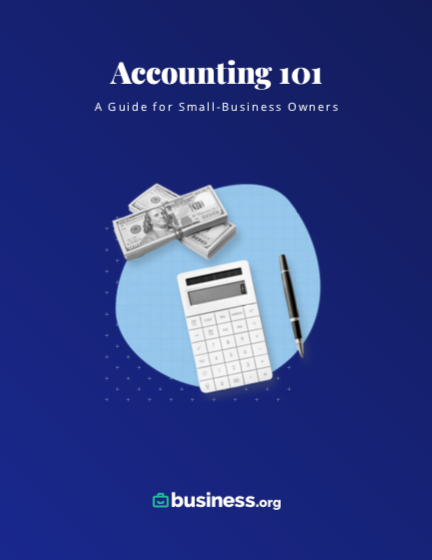 Get business accounting right the first time
Learn all about business accounting with our free ultimate guide.
What should your business budget template include?
Your business budget should be customized to meet the needs of your particular business. However, there are a few main categories that every small business budget should include.
Here are some basic budget components to get you started:
Estimated revenue
Fixed costs
Variable expenses
One-time expenses
Total cash flow
Profits
Budget summary
Free business budget templates
This free budgeting template is compatible with Excel and will help you see how your budget is going over the course of a year. Fill in projected revenue and expenses to see monthly budget comparisons.
Gusto's budget template is designed for new business owners looking to get a better handle on their operating costs. You can download the template to Google Drive. After that, follow its listed instructions to customize the template to your needs.
This expense budget template will help you evaluate your actual expenses and compare them against your planned budget. Charts and graphs help highlight trends and changes across each month. It's an ideal template for small and medium businesses.
Head to PDFconverter.com to choose from a host of budgeting templates for any type of business. You'll find basic, simple templates for first-time budgeters as well as more detailed templates for financial professionals.
Compare our top picks for business accounting software
| | | | | | |
| --- | --- | --- | --- | --- | --- |
| Brand | Starting cost | Free trial | User limit | Accounting app (iOS and Android) | Get started |
| | $0.00/mo.* | 14 days | Unlimited ($2.50/user/mo.) | Yes | See Plans |
| | $1.50/mo.** | 30 days** | Unlimited ($10.00/user/mo.) | Yes | See Plans |
| | Free for life | N/A | Unlimited | No | See Plans |
| | $3.25/mo.‡ | 30 days | Unlimited | Yes | See Plans |
| | $15.00/mo.† | 30 days* | Up to 25 | Yes | See Plans |
Data as of 3/9/23. Offers and availability may vary by location and are subject to change.
*Only available for businesses with an annual revenue beneath $50K USD
**Current offer: 90% off for 3 mos. or 30-day free trial
†Current offer: 50% off for three months or 30-day free trial
‡Current offer: 75% off for 3 mos. Available for new customers only
A business budget template streamlines the process of creating a budget spreadsheet. You can find many free templates online that can be customized in Excel, Google Sheets, or small business financial software. Alternatively, you can opt to create your own budget template from scratch. No matter which option you choose, your budget template is the first step to gaining greater control over your business finances.
Would you like to learn more about business budgeting? Check out Business.org for the Best Billing and Invoicing Software for Small Businesses 2022.
Business budget templates FAQ
Many online resources offer free business budget templates that are compatible with Excel, including Capterra, PDFConverter.com, and Microsoft Office. Once you download the template, you'll be able to open it in Excel and start filling in the fields.
A business budget template is a great way to kickstart your business budget. With it, you'll want to take a look at your revenue, fixed costs, and variable expenses to determine budget categories and amounts. Don't forget to set aside funds for unexpected expenses, too.
You can create a budget spreadsheet from scratch in Excel or Google Sheets, or you can download a compatible template to get you started. Once you've chosen or designed your template, enter your budget amounts and fill in expenses as they come up throughout the month. At the end of the month, check your results and adjust your budget as needed.
Every business budget should include categories for estimated revenue, fixed costs, variable costs, one-time expenses, unexpected expenses, and profits.
Disclaimer
At Business.org, our research is meant to offer general product and service recommendations. We don't guarantee that our suggestions will work best for each individual or business, so consider your unique needs when choosing products and services.