Most Successful Small-Business Ideas for New Entrepreneurs
If you're ready to start a small business but stuck on what kind of business to start, let us nudge you toward the right idea—and the next one, and the one after that.
---
What's more intimidating than becoming a small-business owner? Near the top of the list would be reading, and then being prompted to actualize, the millionth internet article about "Becoming a Small Business Owner." Also, swimming with sharks.
Fortunately, educational franchises like Shark Week and Sharknado exist to keep you out of the ocean, and how-to pieces like this can at least spark ideas about getting into business for yourself. As they say, the millionth-plus-one time is the charm.
You don't have to think in terms of "This idea is going to make me a billionaire just in time for my next high school reunion!" You can start smaller, more in the realm of "This idea will lead me the next one, and the one after that." A solid, lucrative business idea meets three basic criteria:
Low (or free) startup costs: How much money will you have to lay out to begin? Would it be as cheap as creating your own website? Do you have a few hours a week to spare away from your "real" job? Maybe you already possess a potential money-making tool, like a house, a car, or even a lawnmower.
Immediate profitability: There are few motivators for new business owners like instant gratification—if you can start profiting even a little from a business today, you'll likely stick with it tomorrow. There's nothing wrong with long-term business ideas that may pay off months or years down the road, but a win right now is key.
Full-time income potential: Could you survive, perhaps even thrive, on the profits generated by your business idea(s)? Thinking even bigger, could your business possibly blow up into the six- to seven-figure brackets promised by "Get Rich!" bloggers? Maybe focus on quitting the drive-thru window first.
Business.org has a few suggestions in two areas of business to get your ideation rolling.
New economy businesses
People of all skill levels are launching new economy—also known as the "freelance economy" or "gig economy"—businesses at a steadily growing rate and becoming independent contractors by taking advantage of technology and modern convenience culture. Opting out of a traditional nine-to-five job doesn't mean you can throw discipline to the wind—quite the opposite. You're in charge of you, and thus your workload and income. Some of the more popular new economy businesses include the following examples.
Uber or Lyft driver
If you're over 21 and have a driver's license, insurance, and a car (a recent model with four doors), you can be a rideshare transporter for Uber or Lyft. The requirements, which vary by city and region, are a little more involved than that, but not by much. After signing up, passing the screening process, and downloading the app, you could be on the street and making money, whether as a part-time or full-time job. To maximize time driving, some time-savvy road warriors carry passengers for both Uber and Lyft.
Amazon Flex courier
You're probably already spending more money than you'd care to admit through your Amazon account—why not make some back from Big Bezos? A recent innovation in Amazon's plan to rule the world are Flex couriers, deputized delivery drivers who pick up packages, AmazonFresh grocery orders, and Amazon Restaurants meals from Amazon delivery stations and transport them to customers, bypassing traditional commercial systems. Flex courier eligibility requires an Amazon account (of course), a Flex app, a background check, and a vehicle (in some regions, a bicycle will do).
Airbnb host
"Entire apartments and homes, private rooms, treehouses, and castles are just a few of the properties hosts have shared," according to short-term housing rental giant Airbnb.

Airbnb
With this literally home-based business, you can establish a profit margin of $2,000 to $4,000 a month by renting out living areas to traveling guests looking for a more unique (and cheaper) stay than a hotel.
After listing your space with Airbnb, the site walks you through the basics, allows you to set rules for guests, and begins making connections. Payments are made through PayPal, direct deposit, or the platform of your choice.

BigCommerce
Best for Building an Online Store
If you're a creative type who dabbles in art, photography, clothing, or anything else that has shoppers swooning at the farmers market, you may want to consider setting up an online e-commerce shop.
Essentials for a successful online shop include a catchy name (the shorter the better), high-quality product photos (remember that customers are buying on sight alone), careful product curation (niche sections like "For New Brides," "Children's Clothing," "Doggos Only," etc.), and modest initial expectations (stay-at-home moms probably aren't going to be selling Lululemon numbers right away).
Traditional businesses
Even in an increasingly digital age, some legacy hands-on businesses aren't going away anytime soon—or ever, barring complete absorption into the VR matrix. But who wants to buy a virtual taco from a virtual food truck? These are just a few ideas for traditional, service-based business opportunities with minimal startup costs that could become full-time careers.
Lawn care specialist
Your lawnmower and other yard tools are probably gathering dust in your garage for most of the month—why not make some green with them by taking care of someone else's greens? If you're not averse to physical labor, working in the great outdoors, and fighting off teenagers for turf, you could build a landscaping empire of clients in your neighborhood and beyond.
Tutor/instructor
If you have an area of expertise and like working with children and young adults—or even older adults—you could build a home-based business as a tutor. Your own level of education will mostly determine the type of tutoring you can offer and the curriculums you can set, as well as your potential certification; more part-time business opportunities are available to tutors with NTA (National Tutoring Association) certification. On the more creative side, giving music, art, or crafting lessons are easy and profitable ways to utilize your skills as an instructor.
Freelance writer/designer
Elsewhere in the creative realm, demand for freelance writers and graphic designers is constant in the age of feeding the digital content beast. Writing gigs can include long-form articles, short ad copy, social media quips, corporate business-to-business content, and countless other variations. The field is just as wide for graphic designers, as startups and established businesses are always looking for more visual punch to stand out in the marketplace. Create an impeccable portfolio of previous work, and start perusing sites like Upwork.com and Freelancer.com.
What the experts say
Believe it or not, we aren't multi-millionaire entrepreneurs here at Business.org (yet)—but we know how to Google those who are. One of the best ways to become a business leader of tomorrow is to listen to the business leaders of today, so we rounded up some thoughts from three of the best coaches around (sorry, Forbes—Kylie Jenner didn't make the cut).
Mark Cuban
Businessman, investor, NBA owner, Shark Tank star, and author of How to Win at the Sport of Business, Mark Cuban self-educated himself about technology early in the game. "Every night, I would take home a different software manual and read them," Cuban wrote on his blog years ago. "A guy with a little computer background could compete with far more experienced guys just because I put in the time to learn all I could."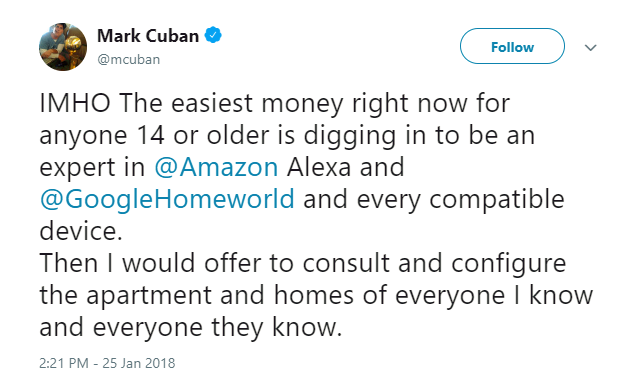 Source: Twitter.com
Cuban's still forward-thinking about tech, and he dropped this business idea for free on Twitter in January 2018: "IMHO the easiest money right now for anyone 14 or older is digging in to be an expert in Amazon Alexa and Google Home and every compatible device. Then I would offer to consult and configure the apartment and homes of everyone I know and everyone they know."
Tim Ferriss
Entrepreneur and author of The 4-Hour Workweek Tim Ferriss is a fan of another businessperson's book, Elaine Pofeldt's The Million-Dollar, One-Person Business—which, to the average working Joe accustomed to the safety net of working for someone else's company, might sound like a horror novel.
Ferriss sees it differently: "The founders of million-dollar, one-person businesses and partnerships are everyday people who have grown very smart about the time they spend working," he wrote in 2017.
He elaborates:
"Solo businesses and partnerships that hit the million-dollar range typically fall into six categories:
E-commerce.
Manufacturing.
Informational content creation.
Professional services and creative businesses, such as marketing firms, public speaking businesses, and consultancies.
Personal services firms offering expertise, such as fitness coaching.
Real estate."
Ramit Sethi
Ramit Sethi, business coach and creator of the site IWillTeachYouToBeRich.com,  has a uniquely direct method of determining a business idea's viability with a "demand matrix" broken into four quadrants: High End (high price, few customers), Mass Market (low price, many customers), Golden Goose (high price, many customers), and Labor of Love (low price, few customers).
"This is a very simple way of taking your ideas and figuring out what is worth your time," Sethi writes. "Plotting your ideas on this matrix help[s] you to not fall in love with your first idea, something we call 'idea one-itis.' But most importantly, it helps you start to contextualize your ideas by how they will play in the real world. Not how you hope they will work out or not by what you're the most excited about—but by what has the best chance of working."
Final idea: Don't stop at one idea
As Sethi implies, your first business idea might not be the best—or you could luck out with an awesome initial stab at it, who knows? Keep the concepts coming because, despite the old trope "There are no bad ideas," there are definitely bad ideas. There's also the F-word: failure. Not everything will work out right away, or maybe not at all—another highly motivating reason to have more ideas in the chamber.
"The most successful people I know have the most failures," Sethi concludes. "Because they take the most chances."