How to Get a Business License: What You Need to Know
Getting a business license is an essential first step to legally owning and operating a business in your state.
Business licensing requirements (and costs) vary from state to state and county to county. But no matter where you live and work, you'll definitely need some sort of business license before you can open your doors and start making money.
But what is a business license exactly? A business license refers to any document issued by your state, local, or federal government that grants you legal permission to operate your small business. Below, we'll walk you through what business licenses are, who needs a business license, and how exactly you can get the right license for your business.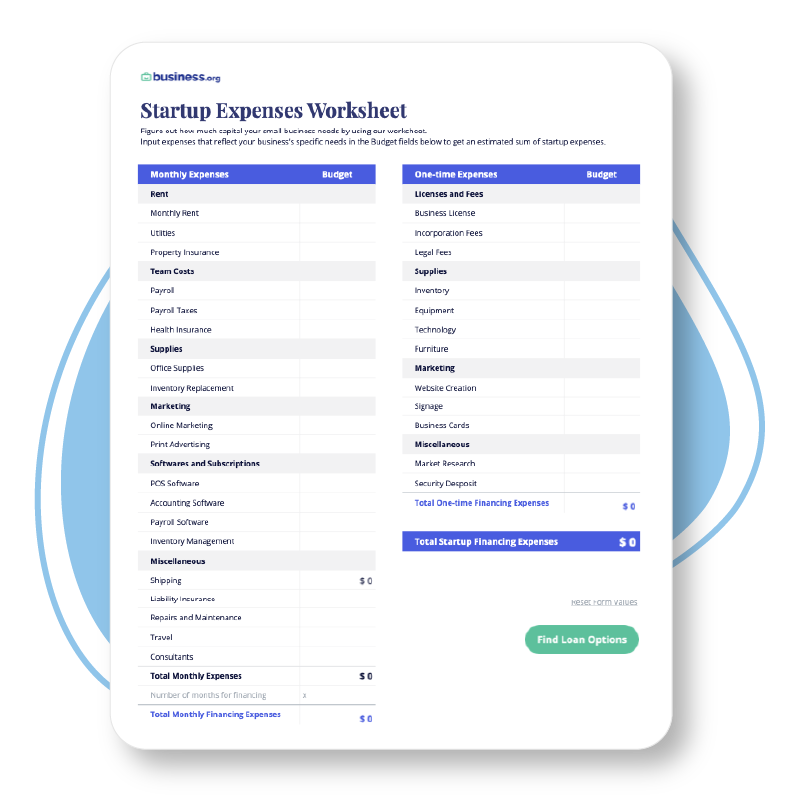 Do you know how much it'll cost to start your business?
Try our free startup costs worksheet to calculate expenses and estimate how much capital you need to launch.
What is a business license?
A business license is a government-issued document that lets you operate a business in your area. Generally speaking, business licenses exist to protect consumers from scams and unsafe services. A business license is a form of public safety—it certifies that your small business meets your industry's basic legal safety standards. Getting a business license goes hand in hand with other licenses.
For instance, a restaurant owner must show that she's following health department regulations that protect consumers from food poisoning. Real estate brokers need a license to prove they've met the qualifications required to become a realtor. And hotels need a business license—among other ones—to show that they operate according to the state's health and safety codes.
Heads up: Business licenses aren't just for big corporations. All types of businesses need licenses. Whether you're a sole proprietor, member of a limited liability corporation (LLC), or part of a partnership, odds are you'll need at least one license to operate.
What are the types of business licenses?
There are several types of business licenses, including seller's permits and general business operating licenses. But the right one for your business depends on what industry you're in and where your business operates.
Note that you might need more than one license. For example, some businesses need separate federal, state and county or city business licenses. Others need a state license only.
Still other businesses operate in fields that require certification of your credentials by industry-specific boards. (You can't practice law without passing the bar, cut hair without a cosmetology license, or see patients without a medical license.)
General business operating licenses
Most cities and counties require all new businesses to apply for a business operating license, which is a general permit certifying your business's legal right to operate in the state. A handful of states also require businesses to get general operating licenses at the state level. This is the broadest, most basic business license.
If you sell goods or services to customers—whether online, in person, or both—you'll need a seller's permit to charge and collect sales taxes. Typically, you'll get a seller's or sales tax permit from the state you live in, even if you sell goods all over the country (or world). Check with your state's department of revenue for the specific process.
Industry-specific licenses
Businesses in certain industries need additional licenses, including daycare centers, legal firms, medical offices, and bookkeeping and accounting services. Typically, you'll obtain these licenses directly from your state's industry-specific licensing board. Attorneys, for example, need to be certified through the state bar.
Certain businesses require additional federal licensing to operate legally. If you own a private flight school, for instance, you need a license or permit from the Federal Aviation Administration before you can open. If you want to start a commercial fishing business, you need to register with the fisheries service in the National Oceanic and Atmospheric Administration. 
Not sure if you'll need a federal business license? Check out the U.S. Small Business Administration's list of every industry that needs a federal license and which federal agency issues each permit.
Which states require business licenses?
All states require businesses to get licensed at some level, but whether or not your business needs a city, county, and/or state license has to do with where you live and what your business does.
For example, in Washington, D.C., every business needs a municipal business license to operate.
Idaho doesn't have a state licensing board, which doesn't mean your business shouldn't be licensed—it simply means you'll need to get a license for your business with your city or county government. (You are required to register your business with the state though.)
North Carolina business owners don't need a general state license either, but they might need one of the state's 700-plus occupational permits, licenses, and certifications. A local business license may be required.
How can you find out which business licenses you need?
At every level, you can usually learn which business licenses you need and where to get them by visiting a city, county, or state website.
For states, start with the secretary of state or department of revenue. It's a little murkier at the city and county level but look for planning, economic development or even a business licensing center like in Denver.
Of course, you don't have to waste time scouring each webpage. It's 2023—just Google "how to get a business license in [your state/county/city]." The right page will pop up. Be wary of fake pages though; watch for pages with a .gov ending so you can trust they are coming from your state or local government. You want to get the right info and pay your money to the right entity.
If you get stuck, contact your local chamber of commerce, visit city hall, or get in touch with the county directly. On the (very slight) chance you still can't find anything, you can also contact a business lawyer to get the details on which licenses your business needs to be compliant.
How to get a business license
You'll generally take four basic steps to getting a business license—though again, these steps will vary based on your state and industry:
Name your business and decide on a business structure. If you're self-employed, the Internal Revenue Service will likely categorize your business entity as a sole proprietorship. You can also set up a partnership, LLC, or corporation (either an S-Corp or, more commonly, a C-Corp). This step usually takes place at the state level through the secretary of state.
Apply for an employer identification number (EIN). This federal number is your business' taxpayer ID. You can apply for one online via the IRS website.
Research which licenses you need. Start by searching your state's secretary of state site. If you don't see what you need, look for guidance from other state offices, your local chamber of commerce, and county, city, or regional SBA office.
Submit the correct business license application. Follow the instructions given by your state's licensing body. Most businesses can apply for and secure licenses online, though some states (like New York State) have special licensing requirements. You may follow a similar process to apply for federal and industry licenses.
Once you secure your business license, you need to renew it. Businesses in some states or industries must renew every year, while other businesses need to renew their licenses once every five years. 
Future update could include these examples below this point. 
How much does a business license cost?
The cost of a business license varies from state to state and between different types of licenses. Depending on where you live, the cost could vary depending on your city or county too. You might spend as little as $50 for a state business license in Alaska or $500 for a corporation in Nevada.
Other specialty business licenses may run you a few hundred or into the thousands—if you need several specific licenses, like a liquor license or seller's permit.
Do you need a business bank account? Here's our top picks.
Data effective 1/10/23. At publishing time, rates, fees, and requirements are current but are subject to change. Offers may not be available in all areas.
Getting the right business license for your business might feel intimidating, but here's the good news. Small businesses are good for the economy, so states should have every incentive to get you licensed ASAP. Your state's licensing division should guide you through the process and get you to where you can open your doors and start earning revenue now.
Yes, you need a business license to sell online. While online platforms like Etsy don't necessarily require you to get a license to sell with them, your state almost certainly requires you to get one. You might also need a city or county business license or federal license, depending on what you sell.
No, you cannot run a business without a business license—not legally, at least. If the state finds out you've been running a business without a license, your business could be shut down and you may face fines. It's not worth the risk to either yourself or your customers.
Disclaimer
At Business.org, our research is meant to offer general product and service recommendations. We don't guarantee that our suggestions will work best for each individual or business, so consider your unique needs when choosing products and services.