LLC Business Loans and How to Apply
Securing funding for your small business as an LLC might be simpler than you think.
If you've established an LLC and find yourself in need of funding, there are several options available to you. LLC owners can receive small business loans from the federal government, traditional banks, and online lenders. In this piece we'll take a look at what defines an LLC, what type of loans are available, and what you'll need to apply.
LLC business loan table of contents
A limited liability company (LLC) is one of the simplest and most common business structures for small-business owners and entrepreneurs. An LLC designates the business as a separate legal entity, meaning that the owner or owners (also known as members) can't be held personally responsible for business debts or liabilities.
Although an LLC can be made up of one person, it's not the same as a sole proprietorship because of this limited liability. An LLC can also have an unlimited number of members, though regulations vary from state to state. Almost all businesses can be established as LLCs.
It does cost more to file to establish an LLC, but if you're starting a business, creating an LLC is a fairly simple way to keep your finances separate, gain tax advantages, and qualify for small business loans. Make sure to check what your state's regulations are before filing.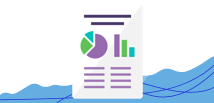 Don't Make a Mistake That Costs You Your Funding
Apply confidently for a loan with our free guide. Enter your email below and we'll send it to you shortly.
The process varies from state to state, but typically, you'll need a few things on hand to create an LLC.
An official company name—Be sure to include some form of "LLC" or "Limited Company" in your business name.
A physical address—This can be your home address or an office location where you primarily do your business and can receive mail
Statement of purpose—This gives the state an idea of what to expect from your company. If you file as a clothing retailer and end up selling baked goods, you might have some complications.
Registration fee—Depending on where you live, this cost could be anywhere from $50 to $150, as well as a smaller annual fee to keep your business registered.
With this information, most states allow you to file an LLC in person or online. In fact, it might only take you a few minutes to become an officially registered company and become eligible for small business loans.
What types of loans are available to LLCs?
An LLC is a small business, which makes it technically eligible for small business loans and funding. Whether you go the traditional route or find other ways of securing capital, there are several options available to you as the owner of an LLC.
Banks and credit unions offer loans to LLCs, but they can be a little harder to secure. If you have good credit and a good relationship with your bank, we recommend starting here. Bank term loans have lower interest rates, and offer more security to borrowers.
Small business loans from the Small Business Association (SBA)
Small business loans from the federal government can be a great route to take—especially if you don't need the funds right away (as waiting for approval and funding can take months). SBA loans also have low interest rates and longer repayment terms, but they typically require collateral.
Online lending is becoming a more popular option for LLCs because requirements are not as strict and there is typically a higher chance of acceptance. Some of the best small business loans for 2022 include Lendio (starting at 4.25% interest), and BlueVine—which has a 530 credit score minimum.
Best Small-Business Loans
Like other small businesses, an LLC can receive a business line of credit from either a traditional bank or an online lender. Rather than receiving a lump sum of cash, this option provides a spending limit, giving you more flexibility for borrowing and repayment. Interest rates can be high, but you only pay interest on the money you withdraw.
If your LLC deals with other businesses, another way to receive loan capital is through invoice factoring. This process involves selling your unpaid invoices to a factoring company, then paying them back with interest. The factoring company will collect unpaid invoices from your customers.
What do you need to apply for an LLC loan?
In order to apply for an LLC loan, there are a few things you'll need.
       1. Official LLC documents
Have your official LLC registration, company name, and tax identification number ready when applying for LLC loans.
       2. Credit score
If your LLC doesn't have a business credit score yet, bring your personal credit score to loan applications. Most loans require a score of 600 or higher.
       3. Transaction history
You're more likely to get approved for an LLC loan if you can prove that your business is established and has a steady stream of revenue. Bring a history of purchases and invoices that reflect your company's financial health. 
You may also need to provide collateral or have a cosigner present, depending on the type of loan and the amount needed.
Whether you have an established LLC or are just starting out, there are many attainable ways to receive funding through small business loans. Take a look at your financial history, credit score, and documentation, and consider applying for an LLC loan through your local bank, the SBA, or any number of online lenders. Just be sure to take into account interest rates, borrowing and repayment term lengths, state regulations, and the credibility of the institution you're borrowing from.
Want to learn more about small business loans for LLC's? Check out these related articles on Business.org.
Want more options? Fund your business with a personal loan.
Can I get a loan with my LLC?
Yes—LLCs are legal entities and thus qualify for a variety of small business loans. Depending on your credit score and how well-established your business is, you may be able to secure a large amount of capital.
Will banks lend to an LLC?
Banks offer small business loans to LLCs that have good credit, proof of revenue, and low risk factors. Talk to the bank or credit union you currently do business with to see if you qualify for an LLC loan.
Is it harder to get a loan as an LLC?
It may be harder to get a loan as an LLC if you don't have an established financial history or if you have a poor credit score. But as long as you are officially registered as an LLC, there are small business loan options available to you.
What is an LLC business loan?
An LLC business loan is a small business loan extended to a limited liability company. LLC owners can receive loans from banks, the federal government, online lenders, and invoice factoring companies.
Disclaimer
At Business.org, our research is meant to offer general product and service recommendations. We don't guarantee that our suggestions will work best for each individual or business, so consider your unique needs when choosing products and services.