Challah Back Girls: Healing the World, One Dough at a Time
Sara Loffman was never the baker in her family. Two of her three siblings, Hannah and Eliana, were the "token bakers," Sara told Business.org over a recent Zoom call. During the COVID-19 pandemic, all four siblings were under one roof in New Jersey with their parents and dog, when Hannah started baking challah again.
Over two years later, that small baking operation has grown into a certified small business that ships challahs across the country and partners with major organizations like The Black Mamas Matter Alliance, Jewish Queer Youth (JQY), Center for Health + Justice Transformation, and FairPlay, among many others.
To learn how the Loffman family grew their DIY baking operation into the nationally known Challah Back Girls™, Business.org spoke to Sara Loffman, co-founder and CEO, about social justice, starting a business during the pandemic, and baking lots of challahs.
It was April 2020 and yeast was in short supply. The Loffmans were baking challah, posting about it on social media, and donating bread to ER doctors. Eventually, friends, family, and people in their community started reaching out to buy the bread. "We didn't feel right just taking money from people," Sara said. "We had no idea how long this is going to go on for [and] we were all in our full-time gigs also."
And then George Floyd was murdered in May 2020. "We started to really have the space and time internally in our home with the news on to have discussions with ourselves, as a white Jewish family, and what that meant or what that didn't mean for us," Loffman told Business.org. The family talked about how they "could contribute or just learn to step back and learn who we are in the world, and what our place is in this regard and anti-racist work."
The family learned more about antiracist organizations on social media and thought about how they could do good for the community. "We started to look up organizations that we could donate the proceeds to," Loffman said. The idea was to learn about new organizations each week and send out a few challahs to customers.
Looking back on it Loffman noted, "We kind of took the conversation to give back and 'challah back' and that's how it began."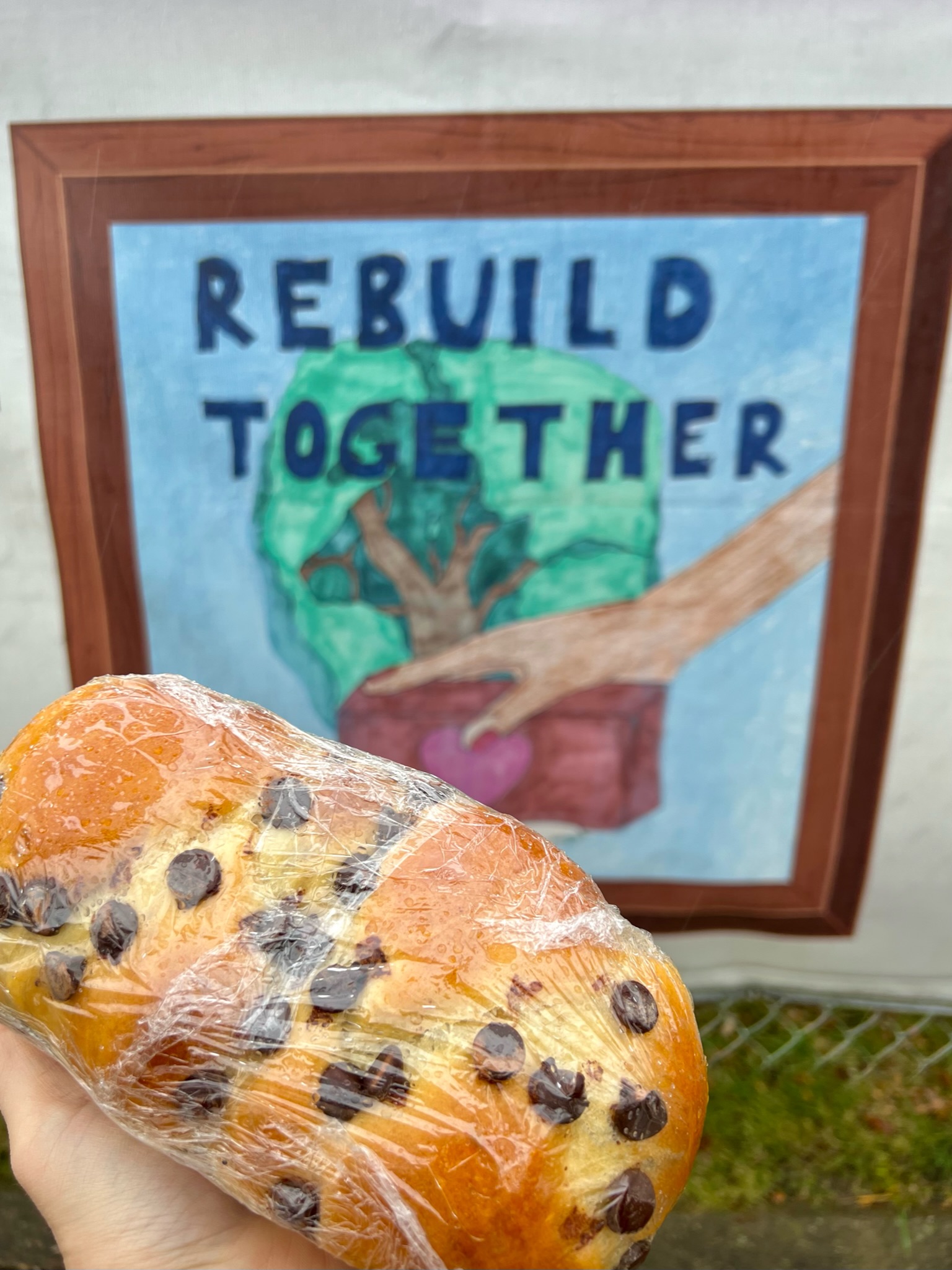 As the Loffman family began to figure out how to give back to their community, Sara noted that they were talking "about tzedakah and repairing the world and doing good in my community a lot. It's a big part of who our family is, and because people were asking for the challah, we wanted to make it into some kind of tzedakah—a good deed project."
The business grew in June 2020 thanks to Zach Banner, formerly of the Pittsburgh Steelers, and his B3 Foundation. Banner was getting ready for the football season and speaking out on antisemitism as a person of color. "We were like, 'He's a football player, he's never going to answer,'" Loffman recalled.
But the siblings wrote Banner and wanted to partner with him to amplify the work Banner was doing to help youth in diverse communities. They heard back, partnered with the B3 Foundation, and sent Banner his first ever loaf of challah.
Since then, more organizations have come forward as partners, and the Challah Back Girls™ partnership is now a coveted collaboration. "Choosing organizations means speaking to different communities, literally across the country," Loffman said. They're finding groups that "bring the best out of people and communities and showcase the important work that organizations are doing to advance social and racial equity in different parts of the country."
Loffman noted that Challah Back Girls™ doesn't just throw money at organizations—they engage in meaningful partnerships. The bakers will send out information on organizations with weekly shipments and even create special challah loaves—like rainbow challah for Pride Month with JQY—that speak to each organization's "individuality and their specific work," Loffman noted.
Quickly responding to tragedy
When Business.org spoke with Loffman, it was a little over a week after the July 4 Highland Park shooting in Chicago. Challah Back Girls™ was donating challahs to people impacted by the shooting.
In times of tragedy, there is a need for things that are warm and light. Challah fills that role and is a unifier—bringing together all people for a meal and conversation. For Loffman, sending bread to those impacted by the massacre in Highland Park was a continuation of Challah Back Girls™'s mission to be a good deed project.
"[The challah] is kind of a symbol [saying], 'We're thinking of you' and we stand in solidarity with those communities that have been impacted," Loffman said.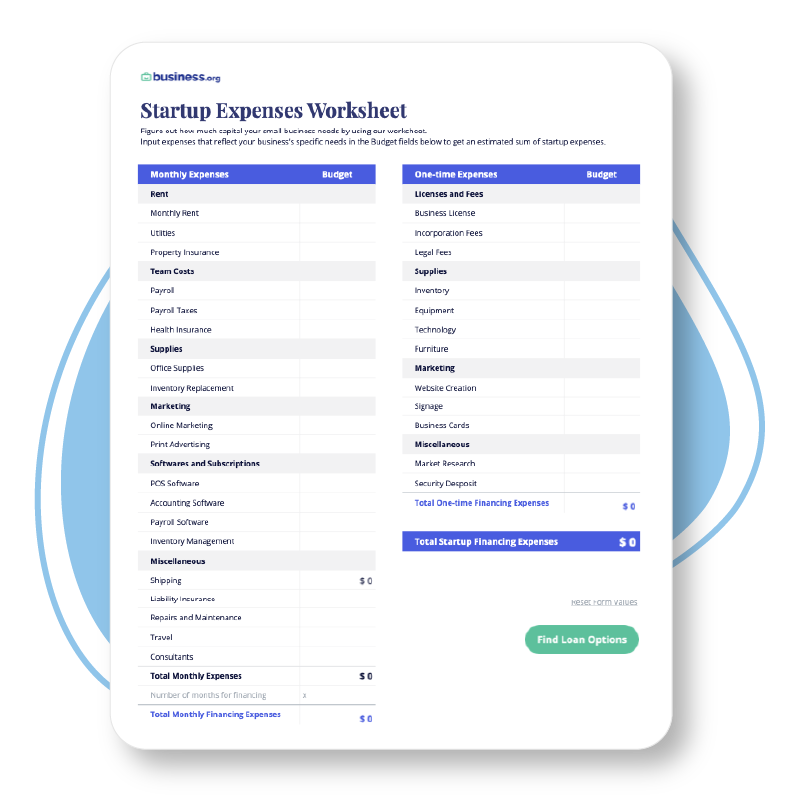 Do you know how much it'll cost to start your business?
Try our free startup costs worksheet to calculate expenses and estimate how much capital you need to launch.
"They were my first roommates," Loffman, the oldest sibling, remarked. "And I've known each of them their whole lives, and so it's very special to continue evolving together and growing together, especially in a professional space and when it has to do with something that you started together to literally make the world a better place."
When the siblings started their baking journey, they would have four mixers going in their home kitchen. One sibling would make dough while another would braid challahs in between Zoom school sessions. Then one sibling would package and schedule UPS while the other would work on organizational outreach.
"It can be a lot of cooks in the kitchen—pun intended for sure," Sara said, "but then you kind of take a step back, like we did every four months, to reassess."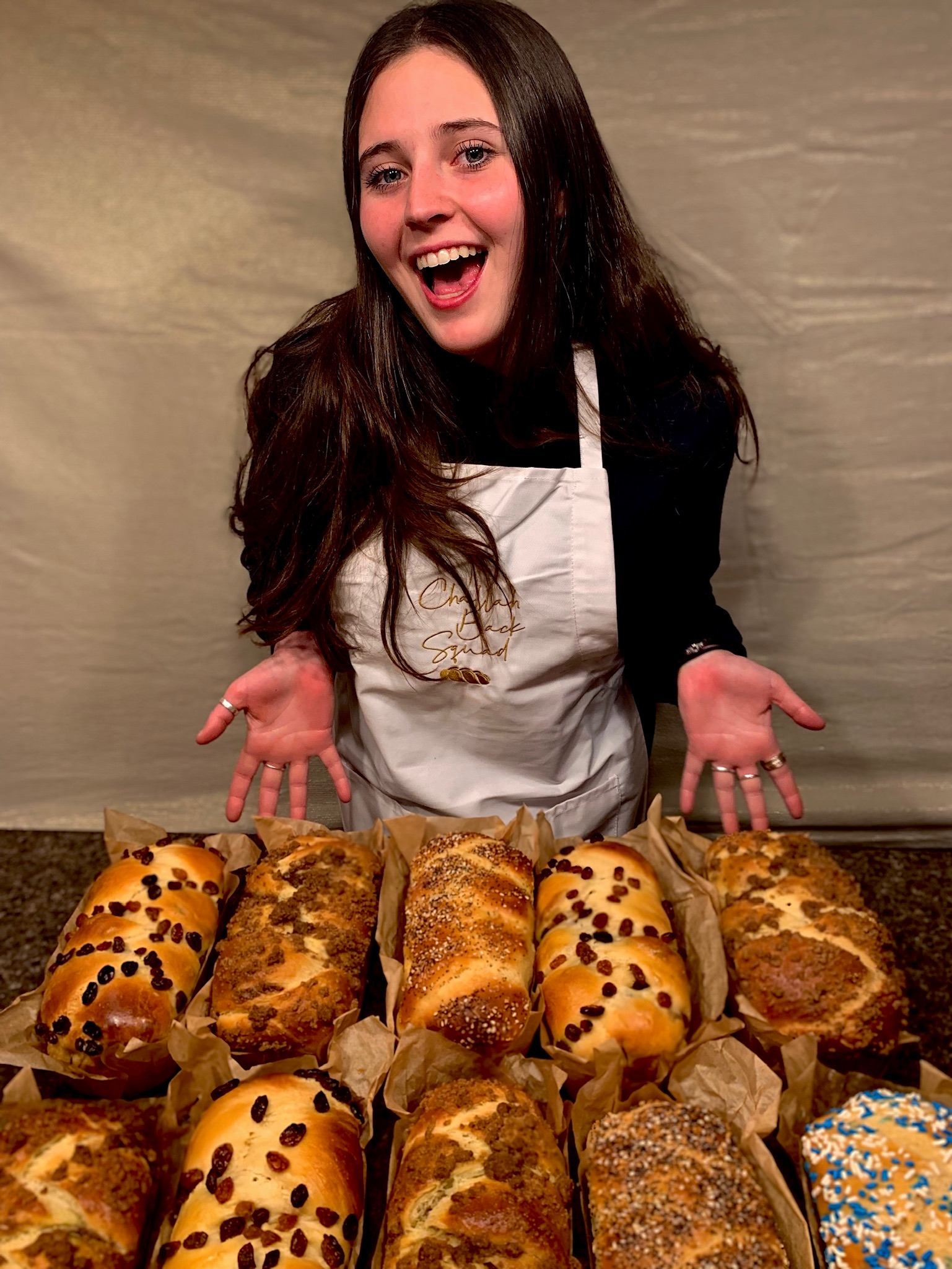 Loffman emphasized communication when working with family but also remaining professional. "My siblings are my friends, too, so it's kind of like we fight and also this challah needs to get to Colorado," she said, laughing.
Starting a business is "not the easiest thing in the world," Loffman told Business.org. "But most things that are easy aren't so worth it because it won't be the most gratifying for yourself or for the greater community. So starting a business, especially with family members, is honestly the most authentic way to learn your strengths and weaknesses in a really fun way."
What's next for Challah Back Girls™?
Nowadays the Challah Back Girls™ are out of their home kitchen and have partnered with a local bakery. "We still like to experiment our kitchen with different flavors and stuff, but all the orders are baked and shipped from this facility," Loffman told Business.org.
Loffman noted that after "baking everything out of our home kitchen" for almost two years, things are different. But Challah Back Girls™ remains committed to its core pillars: advocacy and education, challah, and DEI work.
All of Loffman's plans for Challah Back Girls™—a podcast, a larger event space, and so on—emphasize the connection that the organization has offered for the last two years. From connecting people with social justice organizations to helping family members stay connected through challah each week, Challah Back Girls™ has grown to be an influential brand lifting others up.
And they're just getting started.
To order your very own Challah Back Girls™ challah, check out their online shop.