How Your Small Business Can Spur the Economy and Help Your Community
You may have heard the term "equitable economic recovery" since the COVID-19 pandemic and economic crisis began, but this idea isn't exactly about getting back to a pre-pandemic normal. An equitable economic recovery is essentially when we use hard times to create a new, equitable, and better way forward for all individuals, communities, and businesses by providing career and education opportunities.1 This extends to industries that were hard hit before the pandemic too.
Small-business owners are a key part of this process because they are leaders in their community, with the ability to provide individuals from all backgrounds with career opportunities (and a liveable wage). From there, communities can be transformed and rebuilt.
Communities need a path forward
This kind of recovery is exactly what groups like the national nonprofit Jobs for the Future (JFF) are aiming for: to improve the workforce and education systems so everyone can experience equitable economic advancement.
"When all people throughout a community can access good jobs, quality education and training opportunities, and a decent standard of living, they all contribute to the growth of a healthy business ecosystem and an inclusive regional economy," stated a JFF report from November 2020.2
I spoke with Taylor Maag, associate director for workforce development policy at JFF, about what an equitable economic recovery means and how we can take steps toward a better future.
"We need systems that are more innovative, and that can dismantle inequitable and old structures that we've had for years," she told me. "And that's something we're really thinking about so our systems can better serve workers and learners, but also the businesses and the regional economy."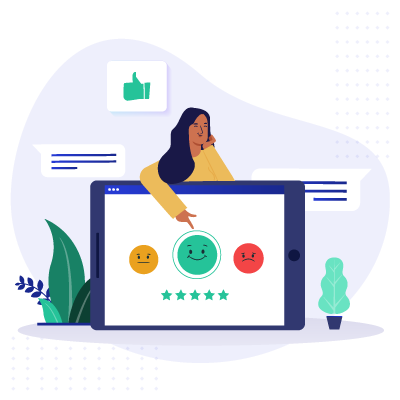 Expert Advice, Straight to Your Inbox
Gain confidence in your business future with our weekly simple solutions newsletter.
Small businesses can lead the way
Small businesses are a large part of this process—they are the backbones of communities, and many were hit hard by the COVID-19 pandemic.
"Small and medium-sized enterprises are actually really great when you look at equity because they're really representative of the communities they serve and really employ individuals in that community," Maag told me. "They are critical to closing equity gaps in employment and wages we've seen."
But these business owners need help getting back on their feet and hiring employees. And if businesses all over the country are facing difficulties, what are the best paths for change?
In our conversation, Maag focused on three key points: funding, education, and investment. All three are connected—funding leads to education, which advances investment—but it all leads back to communities.
Wondering about the 'how'?
In our conversation, Maag spoke about specific regional educational programs for workers in the state. These programs help business owners to find a skilled workforce without having to pay to train every worker. These programs also allow businesses to get back on their feet and hire more from the local community.
Employees face a lack of opportunities
Finding ways to revitalize regional economies  is essential to equitable economic recovery, and it was a big part of my conversation with Maag. She reflected on her time visiting eastern Kentucky and noted the work being done in the region already, including the regional SOAR initiative and Bit Source —a company created by two ex-miners in eastern Kentucky to "grow a high-tech community" in the region.3
Bit Source is a fantastic example of a business creating new jobs and training to help the community.
"It was basically created with the intent to reskill dislocated coal miners, or those associated with the coal industry, into tech and coding," Maag told me. And the company proves that education and skill training are key in developing communities and creating opportunities.
"We knew that a coal miner is just a tech worker that gets dirty," Rusty Justice, founder of Bit Source, said in an interview with Google.4 Homing in on the untapped tech potential of coal miners helped Bit Source grow and highlighted the need for new opportunities. "We thought we might get 50 applicants," Justice said. "We received 950 applications for just 10 positions."3
Investing in regional training solutions
Unfortunately, that imbalanced applicant-to-opportunity ratio created a problem. Only 1.05% of applicants for the first round of positions at Bit Source were accepted—that's lower than the Harvard acceptance rate in 2021.5 So more small businesses need to be in the area to engage that skilled workforce. One small business isn't going to change a region, but it can begin the rebuilding process.
Payton May, partner and chief operations officer at Bit Source, told me that other businesses can help. "Look around and see how others make a living, think about your workforce's skill set, thinking styles, aptitudes, more broadly and open minded," he said. "If you think something might work—figure out a way to make a small bet and see if it does."
But where do those opportunities come from? So far, regional programs like SOAR have the best track record for training new employees and building the regional workforce. Business owners don't have to create their own educational opportunities. They can partner with state-run organizations—like SOAR in Kentucky, FastForward in Virginia, and Career Connect in Washington.
Bit Source also proves that talent is available everywhere and training programs can help encourage other business owners to move to the region. Community education programs can help businesses grow by training workers with government funding. "Education is important to keep individuals up to date with the latest technologies, frameworks for thought, and to help people retool if necessary," May said.
Want to read more?
If you're interested in learning more about SOAR and eastern Kentucky, check out the other part of my conversation with Maag in which we discuss regional and national organizations that are helping communities and businesses.
Regional economies need investment from businesses
In our conversation, Maag noted how government programs like SOAR, Career Connect, and FastForward were all working to bring economic and skill investments to their regions. In fact, the idea of investing in regional economies is key to an equitable economic recovery and rebuilding communities.
"Revitalizing regional economies is really about investment in job creation and quality job creation so there are actually people who get those jobs," Maag said. "I think the other piece here is empowering the community to play a role in the economic recovery piece. I think sometimes what you see is people coming in and telling communities how best to run or what's needed, but it's not reflective of the culture and the history and what the people believe in."
Often, employers don't look at regions to develop; they look for areas that already have infrastructure and a workforce to employ. Reflecting on the loss of industry and business across the country, Maag noted, "If you're in a desirable place where employers know they can get the talent they need quickly, I think new ones come in and there's a turnover." Other regions are not so lucky.
One exception is the tech company Intel, which is investing over $20 billion in the creation of two semiconductor factories in Licking County, Ohio.6 A press release about the initial phase of the investment stated that it will likely create over 10,000 jobs in the area and will be the "largest single private-sector investment" in the state's history.6 Plus, it allows Intel to build a reliable, local supply chain in the US for semiconductor manufacturing. (Semiconductors, also known as 'chips,' are used in many electronic devices, including computers, phones, and cars.)
The project is part of a larger opportunity for the region.7 Intel will invest in and partner with Ohio universities and community colleges to "develop and attract a pipeline of skilled talent from within the region," which echoes JFF's recommendations for community revitalization.7,8
Intel's investment proves that talent is everywhere. Ohio was once a large manufacturing hub, but jobs have dropped by 34% in the last two decades.9 Now they are poised to return.
Best Small-Business Loans
Rebuilding a community is a group effort—especially when that community is as diverse as the US. There is not a one-size-fits-all model, and that's okay.
As we think about what the future of work holds, we need to consider equity, sustainability, education, industry, and workforce development.
"I really see it as an ecosystem to reach success because it's really not just one person or one entity's responsibility," Maag said, "but if they all have their roles and work together, I think we could see some real growth and substantial change, hopefully."
There is an opportunity now to move forward together toward a new and better system that considers how we exist in the world.10 It is possible to revitalize our economy and, in the process, bring it back stronger than before with an emphasis on community.
Want to learn more about how to revitalize our economy through community organizations and partnerships? Check out more of my conversation with Taylor Maag to learn how.
1 Jobs for the Future, "JFF's Vision for an Equitable Economic Recovery," June 8, 2020. Accessed February 28, 2022.
2 Jobs for the Future, "How to Achieve an Equitable Economic Recovery for America," November 2020. Accessed February 28, 2022.
3 Bit Source, "About Us." Accessed February 28, 2022.
4 Grow with Google, "Bit Source: Appalachian Ingenuity." Accessed February 28, 2022.
5 Vivi E. Lu and Dekyi T. Tsotsong, Harvard Crimson, "Harvard College Accepts Record-Low 3.43% of Applicants to Class of 2025," April 7, 2021. Accessed March 1, 2022.
6 Intel Newsroom, "Intel Announces Next US Site with Landmark Investment in Ohio," January 21, 2022. Accessed March 2, 2022.
7 Intel in Ohio, "Innovating and Investing in Ohio." Accessed March 2, 2022.
8 Jobs for the Future, "Recommendations for a Fully Funded and Transformed Workforce Development System," March 2021. Accessed March 1, 2022.
9 Alana Samuels, TIME Magazine, "Exclusive: Intel Reveals Plans for Massive New Ohio Factory, Fighting the Chip Shortage Stateside," January 20, 2022. Accessed March 2, 2022.
10 Craig A. Talmage, Beth Allgood, Brien K. Ashdown, et al; International Journal of Community Well-Being, "Tethering Natural Capital and Cultural Capital for a More Sustainable Post-COVID-19 World," January 7, 2022. Accessed March 2, 2022.