How LTL Freight Shipping Can Level Up Your Shipping Game
Less-than-truckload (LTL) shipping is an efficient, affordable way to ship freight that isn't large enough for an entire trailer.
As your business expands and you start to ship more products, visiting the post office to mail goods becomes less efficient. Instead of shipping one-off packages, you can save money by shipping in bulk via truck. But many small-business owners don't ship enough freight to fill an entire semi-truck—which is where less-than-truckload (LTL) freight shipping comes in handy.
This shipping method allows business owners whose merchandise fills only a fraction of a semi-trailer truck to partner with other business owners who only ship small amounts of freight. Combined, freight from multiple businesses can fill an entire truck—but you pay for just your fraction of truck shipping instead of shouldering the full cost. 
To learn the ins and outs of LTL freight, Business.org spoke with the team at uShip, a platform that connects business owners with trucks that have extra space for small freight. We used our research to create this beginner's guide to LTL freight shipping, including what it is, how much it costs, and how marketplaces like uShip can help you save even more.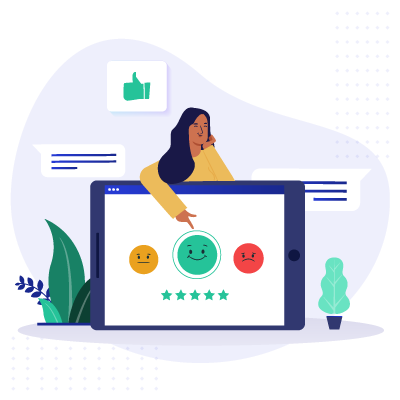 Expert Advice, Straight to Your Inbox
Gain confidence in your business future with our weekly simple solutions newsletter.
What is LTL freight shipping?
Does your business move too much freight to reasonably ship through the US Postal Service or a company like UPS, but not enough freight to fill an entire semi-truck? Then you need LTL freight shipping. 
LTL shipping, or less-than-truckload shipping is a surface transportation system that consolidates cargo from multiple businesses into one truckload. Your cargo doesn't fill a full truck? No worries—an LTL shipper will find other businesses in the same situation. Taken together, your cargo fills a full truck—and since you're sharing the truck space, you pay for your fraction of the space only.
What can I ship with an LTL freight shipper?
If it's wrapped securely and a forklift can pick it up, it can probably ship via LTL freight. This includes furniture, building materials, appliances, and large bundles of general merchandise.
LTL companies like uShip will carefully walk users through which goods are eligible for shipping. According to Sam Ely, a commercial freight operations manager at uShip, this hands-on, customer-centric approach to shipping makes uShip ideal for businesses that want to use LTL shipping long-term.
"We designed the uShip LTL product specifically with small- and medium-sized business (SMB) shippers in mind," Ely explained to Business.org. "If a business is looking for an easy self-service option to book and manage their freight—but with a safety net of world-class operations running behind the scenes—uShip competes with any other offering in the market."
Is LTL freight shipping expensive?
Sure, LTL freight shipping isn't as cheap as a postage stamp. However, it's a much more cost-effective method for shipping bulky items and large volumes of freight. Most importantly, it costs much less than buying out an entire tractor-trailer or sending bulk items via conventional services like FedEx.
So how can you make sure you get the best rate? An LTL freight shipping marketplace like uShip provides you with quotes from multiple LTL trucking providers. This competitive environment lowers costs and confirms you're getting the best deal, which is why we prefer this approach over legacy shippers like UPS, FedEx, and others.
uShip also saves you money with its complimentary invoice auditing services. This feature proactively alerts you to any charges a shipper tacks on after the initial agreed-upon price. If the extra charges seem fishy, the company investigates further on your behalf and assists you with disputing the discrepancy.
Bottom line, LTL freight shipping can get expensive—and any form of freight shipping is likely to start in the hundreds of dollars, so make sure to budget accordingly. But a marketplace approach like uShip makes it easy to find the best deal on one convenient website.
Do I really need to use LTL freight shipping?
If you're shipping something big or heavy that would need a dolly or forklift to move, then yes, you should definitely use LTL. That's because ground transportation is still the cheapest, fastest way to ship both large items and small items combined into one large pallet load. 
For example, maybe a client ordered 200 blank T-shirts and 100 sweatshirts from your clothing business. In this case, you can wrap their order up as one single pallet load and send it via freight. And since one pallet of apparel definitely won't fill up an entire truck, an LTL shipper will fill the rest of the truck with pallets from other business owners in your same situation. You get all the benefits of surface transportation at a fraction of the cost. 
Let's take a look at a more specific example. Say we're shipping a wrapped pallet of merchandise with these measurements:
Weight: 95 pounds

Dimensions: 42 inches long, 32 inches wide, 34 inches tall (42" x 32" x 34")
Let's also say our package originates in Saint David, Arizona (ZIP code 85630) and should end up in Pittsburgh, Pennsylvania (ZIP code 15202). That's a distance of 2,100 miles. 
We used these dimensions and shipping route to request a quote from UPS, FedEX, and DHL. Alas, our pallet wasn't eligible for cheaper shipping such as UPS Ground or FedEx Ground. Meanwhile, the United States Postal Service (USPS) doesn't handle packages over 70 pounds, nor does it offer freight delivery.1 Instead, UPS, FedEx, and DHL all referred us to their LTL freight services—and believe us when we say those services were far from cost-effective. 
Only FedEx provided us with an upfront, hassle-free quote—which, for our 95-pound package, started at a minimum of  $2,300. The other services required us to create a jargon-laded enterprise account before giving us a quote. In our opinion, this confusing atmosphere is hardly ideal for a growing business that's never dealt with the complexities of freight shipping and needs a more straightforward experience.
When we pulled a quote from uShip, we were able to quickly find a highly rated trucking company asking only $770.2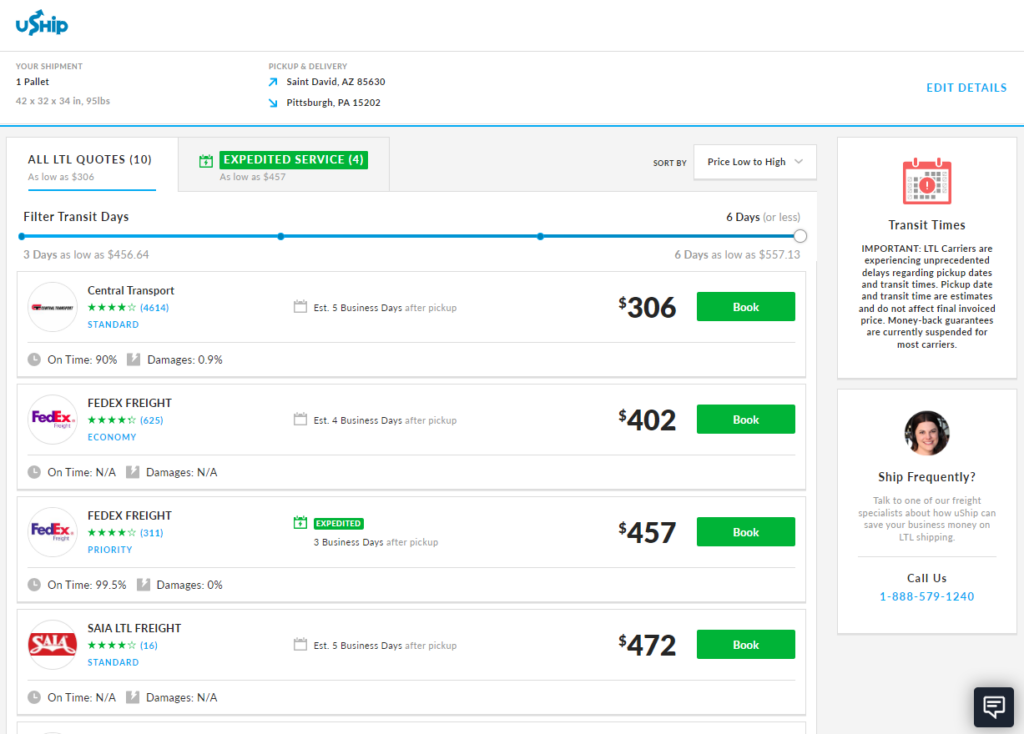 A sample of pricing on uShip.
In this example, uShip was the lowest price by a long shot. Plus, uShip didn't require us to have any special technical knowledge or to create a complex account to access the marketplace and get a quote. Regardless of your industry experience or background, uShip makes for a beginner-friendly experience.
Is LTL freight shipping difficult?
LTL freight shipping can be difficult if you try to manually source trucks yourself. Usually, that process requires wading through multiple companies in your area, examining their user reviews, insurance coverage, license, Better Business Bureau (BBB) history . . . you get the picture. 
Once you do find a worthy candidate, you'll need a strong grasp of industry knowledge to even get started. Every trucking company has procedures you have to go through to place an order. And not every LTL shipper will ship to or from your geographic area. These complexities make LTL freight shipping far more demanding than simply printing out a shipping label and dropping off your package at the nearest UPS store.
What's the simplest way to start LTL freight shipping?
If you're feeling discouraged by LTL shipping's seemingly high barrier to entry, don't be—you can dodge the time-consuming search with a marketplace company like uShip. 
For one thing, uShip's simple interface only requires you to enter basic details of your shipment upfront. The site then outsources this information to a wide range of trucking companies (called "carriers") that respond with customized price quotes. Finally, you can use uShip's site to view each company's customer reviews, delivery timeframes, CWT estimates, and more to choose your ideal provider.
What does CWT mean?
In the world of LTL freight, a hundredweight—abbreviated as CWT—is a unit of weight equal to 100 pounds (by North American metrics). Freight companies usually charge per CWT, so you'll see this acronym frequently on sites like uShip. A shipment weighing 400 pounds is four hundredweights, so if that's the weight of your load, you can expect to pay four times the company's listed CWT.
Once you've contracted with one of uShip's vetted and insured carriers, you can track your load's journey from start to finish from uShip's website. LTL freight typically changes hands multiple times, moving from truck to truck and between temporary storage facilities, so uShip's tracking system gives some much-needed peace of mind while your product is in transit.
What if I need help during a shipment?
Good customer service is particularly crucial to LTL freight shipping, given the high costs and liability involved. That's why you'll want to analyze a company's support reviews carefully. Sites like Trustpilot are a great source of real ratings to help navigate this realm.
But beyond solid customer service, you'll want to nail down a few other goodies to give you peace of mind. Here are a few other supportive must-haves:
Door-to-door shipment tracking
Damage insurance
Payment dispute resolution service
Educational articles to welcome LTL freight beginners
For one instance, uShip includes all of the above. For example, their phone support specialists can help locate your package at any time. Plus, if the trucking provider charges a different amount at delivery, uShip will carefully help to resolve the dispute so you're not left out in the cold.
If your business is growing rapidly, you need an efficient way to send and receive bulk shipments without breaking the bank. That's why we recommend LTL freight shipping. 
Thankfully, uShip's marketplace makes it easy for any small business owner to adapt to LTL freight shipping like a champ. With companies like uShip, it's both convenient and affordable for business owners to make the switch from traditional per-package services to affordable bulk deliveries.