Why 1 in 4 Small Businesses Choose RingCentral
We asked small-business owners which Voice over Internet Protocol (VoIP) system they prefer, and we were surprised when 27% responded with the same answer: RingCentral. While other VoIP systems were mentioned, no other company received a similar level of praise. So, we decided to share what some small-business owners had to say about why RingCentral is their go-to VoIP solution. We hope their real-world insights can help you decide if RingCentral is right for your business.
We've tested RingCentral MVP several times as part of our business VoIP solutions roundup, and it's always fared well, earning our choice designation for the last five years. This time is no different, except that the company has added several new features to this already well-rounded unified communications as a service (UCaaS) contender. These include artificial intelligence (AI) features, new collaboration capabilities, a new administration portal, an updated mobile experience, and a long list of available app integrations so you can customize the platform to best fit your needs.
Aside from those capabilities, an important detail that helps make RingCentral attractive to small businesses is that it's got a strong set of administration tools, as well as service-level agreements (SLAs) to ensure your phone services are reliable. All this and a reasonable price once again make RingCentral my top VoIP pick for small businesses.
-Olivia Tan, Co-founder of CocoFax
All of the basic features you'd expect from a VoIP provider are available with RingCentral. It also includes a toll-free or local phone number, a monthly minimum of
100 toll-free minutes, and a voicemail-to-text service (voicemail transcription).
Integrating your RingCentral phone system with third-party services like Google Workspace, Dropbox, Salesforce, Zendesk, and others is also simple. RingCentral also has mobile apps for iOS and Android. I use this because it is simple to set up and use, so you can be started with your phone service in minutes. The service is very scalable, which means you may expand your plan as your company expands.
-Becky Ronalds, Owner of Ranking Mom
Best Business VoIP Providers
We use RingCentral for our VoIP service provider because it is an established business that has great phone connection with little to no dropped calls. I also love how you can be logged into one username and accept calls to multiple phone numbers at the same time. 
-Justin Carpenter, CEO of Modern Maids
We are a two-person business that uses RingCentral as our VoIP provider for a variety of reasons. The first being RingCentral is reliable on Wi-Fi and data, which is important to us for taking calls from anywhere. RingCentral also allows us to record phone calls, and there is a working app for mobile and desktop, which was hard to find with other providers. RingCentral serves as one place for calls and texts removing the need to integrate with other software. In summary, RingCentral has provided us with a complete VoIP solution for all of our client interfacing needs. 
-Andrew Kolodgie, CEO of The House Guys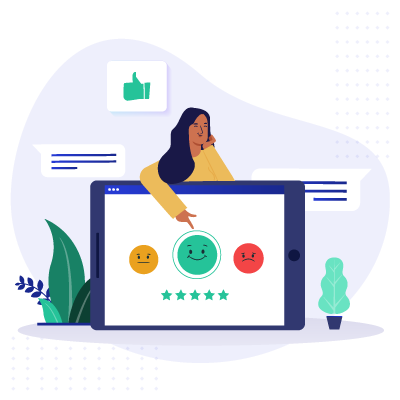 Expert Advice, Straight to Your Inbox
Gain confidence in your business future with our weekly simple solutions newsletter.
I've used VoIP for a number of years now for my small business, and the benefits are truly amazing! The provider I use is RingCentral as I believe it has the best service around. As a small-business owner, I use VoIP for a number of reasons. But the main ones are affordability, mobility, ease of use, and scalability. The low cost of VoIP is a huge selling point, and RingCentral balances this low cost with an easy user experience. I love the ability to use my existing internet connection for work calls—this truly saves me a hefty phone bill! 
-Jesse Thé, President and CEO of Tauria
Want to learn more about VoIP systems? These resources can help you find the best VoIP software for your business:
Disclaimer: These results are based on a small sample of business owners surveyed by Business.org.