The 5 Best Employee Training and Development LMS Systems
---
An overwhelming 87% of millennials say professional development is an important aspect of their career path.1 Providing your employees with a clear direction on how to advance their careers is a win-win for both you and your staff.
Last Updated: More than 6 months
Since we first wrote this article, a few of our favorite LMS systems have updated their pricing. Most importantly, TalentLMS updated their pricing by quite a bit. While they offer a free plan and their Starter plan stayed the same at $29.99 a month, its three other paid plans went up drastically.
While in-house training still improves career development, small and midsize businesses should consider investing in a learning management system (LMS) platform to improve employee skills and performance—but which system is right for you? Whether you're in human resources, upper management, or any other department, take a look at our reviews below. We break down five of the best employee development programs in the game.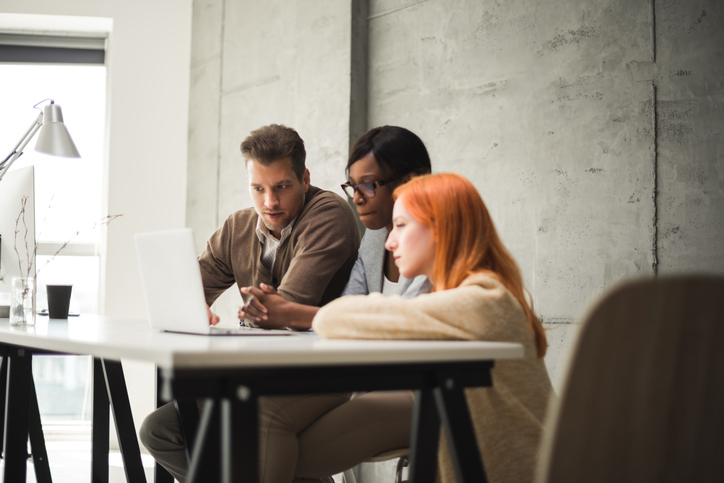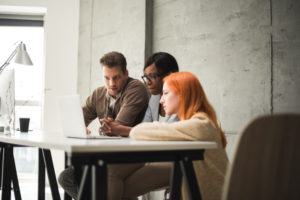 Simplilearn: Best overall
Simplilearn
If you're in need of powerful features and a highly specialized catalog of certifications, Simplilearn should be your go-to option.
With Simplilearn, users can choose between a variety of learning options, including live online learning with instructors, in-person classroom instruction, and self-study. The platform's blend of interactive, self-paced, and applied learning makes it easier for employees to achieve their career goals. As another unique feature, Simplilearn offers CloudLabs, a virtual space where learners can test projects.
Pricing differs depending on what specific course you choose, and there are plenty of different courses for a wide variety of industries.
Flexible learning options
Simple interface
Certificates recognized by accrediting organizations
Expensive classes
Restricted catalog depth
Limited money-back guarantee
ExpertRating: Best for online certifications
ExpertRating makes it easier for individuals to get certified in their specific expertise. In fact, each year, more than three million individuals across the globe obtain an ExpertRating certification. .
ExpertRating
In addition to testing and online certifications for individuals, ExpertRating offers employee skill testing, pre-employment testing, and in-depth reporting options for businesses so you know you're getting the most out of your employee training and development plan.
With ExpertRating, developers can seamlessly integrate over 800 skill tests into their company's website, portal, or software. If your team needs assistance with integration programming, ExpertRating's engineering team can send you sample codes to get the ball rolling.
While a test session starts at $10, ExpertRating also offers a pay-as-you-go pricing plan along with volume discounts. The more you buy, the more you'll save in the long run.
Robust API
Cost-effective courses
Comprehensive reporting
Complaints on discrepancies
Confusing interface
TalentLMS: Best for low budgets
If your business is looking for an affordable yet functional learning management software, consider TalentLMS. It offers a free plan for companies who have fewer than five users and under 10 courses in their library. When you're ready to scale your business and expand your web-based training, upgrade to its Starter ($29 per month), Basic ($129 per month), Plus ($249 per month), or Premium plans ($4,299 per month).
TalentLMS offers courses in a wide range of industries, including automotive, supply chain, defense, real estate, hospitality, and manufacturing—just to name a few. And managers have the option of uploading videos, virtual presentations, and documents to provide employees with a personalized and full-branded learning experience.
In addition to its affordable pricing and video integration, TalentLMS provides a comprehensive reporting feature that records the completion percentage of a training course.
Free lower package
Easy and intuitive interface
Strong customer support
Few customizations
Limited social learning features
Skillsoft: Most user-friendly
As a cutting-edge e-learning management platform, Skillsoft aims to improve the performance of employees through rich content libraries. In fact, Skillsoft offers 120,000 pieces of content, including more than 65,000 videos, 7,000 courses, and 46,000 book options, so employees will never run out of learning material. Whether you're seeking business, digital, IT, or compliance learning solutions, Skillsoft covers everything LMS-related to help your business improve by offering professional development to your employees. Plus, users have access to a wealth of demos, webinars, case studies, and white papers.
In terms of pricing, Skillsoft offers the option to pay for extra modules, including reporting, hosting, and instructor-led training. And you can request a demo or sign up for a 14-day trial to determine if Skillsoft is right for your specific business needs.
Fun Fact:
According to Skillsoft, 86% of end users apply what they learn in six weeks or less.2
100% cloud-based operation
14-day free trial
Simple interface
Inflexible corporate LMS
Somewhat pricey options
Litmos: Best for Salesforce users
Litmos LMS is unique because it's the only employee development system that offers a partner version with Salesforce. Beyond Salesforce, Litmos LMS supports a variety of third-party integrations with DropBox, Google, Shopify, WebEx, and HR systems. In addition to its convenient integrations, Litmos offers more than 2,500 online courses for sales and service training as well as security and external compliance training.
Managers can create detailed and custom reports by pulling data from courses, users, modules, activities, and more. And those customized reports, which can be viewed as a list or a chart, can be exported or emailed on a regular basis.
Litmos LMS pricing varies by the number of users, making it easier for businesses to scale.
Third-party integrations
Affordable costs
Accommodation for larger companies
14-day free trial
Complaints of poor latency
No user roles
Honorable mentions
If you're looking for an employee development system tailored to medium and enterprise-level companies, consider the following options.
Lynda
Lynda, created by LinkedIn, offers a content library with more than 6,000 expert-led online learning courses. Users will also have access to LinkedIn's premium career features, which include InMail credits and salary and job insights.
Lynda is a subscription-based LMS platform with reasonable and affordable pricing. If you're not sold on Lynda, opt for its generous one-month free trial.
Degreed
Degreed offers job and skill development options for both individuals and businesses. Not only does Degreed offer relevant learning materials for a range of industries, it also provides managers with a comprehensive view of employee learning and development. Plus, its enterprise learning platform seamlessly integrates with existing proprietary content.
Degreed has a point system based on the resources' quality, difficulty, duration, and modality. For example, a one-page article is worth less than a 200-page e-book. This benchmarks your team's productivity and growth.
Unfortunately, pricing information isn't listed on the website. But after digging a bit more, we found that Degreed is a subscription service that's priced per user per month.
360training
With over 6,000 online courses, 360training claims to be a one-stop shop for all things career development. Its industry solutions include HR and compliance, food and beverage, industrial skills, power and utilities, and environmental health and safety. With 360training, your employees can refine their critical-thinking skills and decision-making skills to advance their career development.
Because 360training offers a wide range of courses, it's impossible to provide you with a single price quote. However, based on our research, course pricing ranges from free to over $100. Keep in mind that pricing will vary depending on the depth, length, and complexity of the course.
Everything you need to know about learning management software
Best Employee Development Systems
Have you recently decided you need to utilize a learning management software? Start here to learn the basics.
Benefits of learning management software
A learning management system (LMS) helps companies create and manage educational courses, lessons, and other training materials to help employees improve and develop in their career. By using an LMS, businesses can also reduce distractions in the workplace, stay up to date with compliance regulations, and track employee training and performance.
Important learning management system features
When researching learning management software, it's important to look for must-have features, including the following:
A modern interface
Unlimited scalability
Mobile-friendliness
Third-party integrations
Multi-tenancy
Strong reporting tools
Ways LMS systems complement employee development plans
Managers, business owners, or team leaders should create a solid employee development plan to re-energize the company while facilitating greater employee engagement. But how do you develop an effective employee training program?
First, make long-term goals more manageable by breaking them into smaller steps. Second, track the employee's progress and outline areas of improvement. In some cases, extra training might be necessary to improve performance. Finally, although feedback doesn't have to be constant, it's important to schedule regular check-ins to evaluate progress.
A learning management software not only benefits the business owners, but it also offers a number of employee benefits, including increased satisfaction, better morale, higher salaries, and increased job performance.
Developmental goals employees should shoot for
To have a successful workplace, employees should set several short- and long-term goals, such as these:
Managing time better
Building and improving relationships with coworkers
Increasing knowledge of their specific industry
Improving listening skills
Development goals should be SMART: specific, measurable, achievable, relevant, and time-based.
Advantage of software over less-structured methods for career development
The number one advantage of an LMS is that it can save businesses time and money. Even small companies with a limited budget can still enjoy the benefits that an LMS has to offer. In addition, a quality LMS leads to highly skilled and well-trained employees, which results in higher productivity rates, improved customer satisfaction, and increased revenue.
The most important aspect to any employee development program is the implementation of the behavior change sought in the training. Every employee development program should be objective-based, behavior-focused, fun, and measurable. Also, identifying the root cause of the problem you seek to solve is usually the most challenging step. Often, business leaders see a problem with sales or service and think more training is the solution. They expect the activity of training to create improved performance. Unfortunately, it's never that easy.
The most important aspect of an employee development program is the relevance to job applications. Employee development programs should be reversed-engineered with exceptional job performance as the goal. When subject matter in a curricula is aligned with day-to-day tasks, the training program can naturally engage participants with hands-on learning. Hands-on learning leads to greater retention of how to do their job and causes the participants to want to understand the why behind the how.
The most important aspect of any employee training program is remembering that your employees are human! When you're designing a training program, remember that to truly change behavior, you have to empower your employees, help them practice the behaviors you want to see, and focus on making the training a part of the overall company culture you want to create.
Learning and development programs are one of the best investments employers can make to improve employee retention. These programs are a win-win for both the employer and the employee—employees benefit because they are upleveling their skill set, which improves performance and leads to increased engagement and satisfaction in their role, increasing retention.
Individual plans are more dynamic in nature than a corporate university or group trainings. Generally, for all of them, request and give feedback often and in real time along the way—upon completion of each module, class, or individual goal met. If something isn't working or goals are at risk, review and take action or make changes where possible.
As an organization, we have taken steps to make our employees' development an important part of our culture. Every employee receives an onboarding plan that consists of training and development tasks that help them to be successful as they ramp up in their new role. This has proven to be extremely effective in recruiting and retaining key talent and even enticing former employees to return. We have seen higher retention levels for those groups that received an effective new hire onboarding and training program.
The takeaway
Overall, the popular and robust Simplilearn learning management software is the best choice for most small businesses. But depending on your business's needs, one of our other favorite LMS platforms may work for you.
Looking for more tools to help your employees succeed at work? Hop over to our article on the best workforce management software for small businesses.
Disclaimers
At Business.org, our research is meant to offer general product and service recommendations. We don't guarantee that our suggestions will work best for each individual or business, so consider your unique needs when choosing products and services.
Sources
1. Gallup, "What Millennials Want from Work and Life"
2. Skillsoft, "Home Page"