The Best Cities and Towns for Working Women
---
We wanted to know what cities and towns work hardest for working women.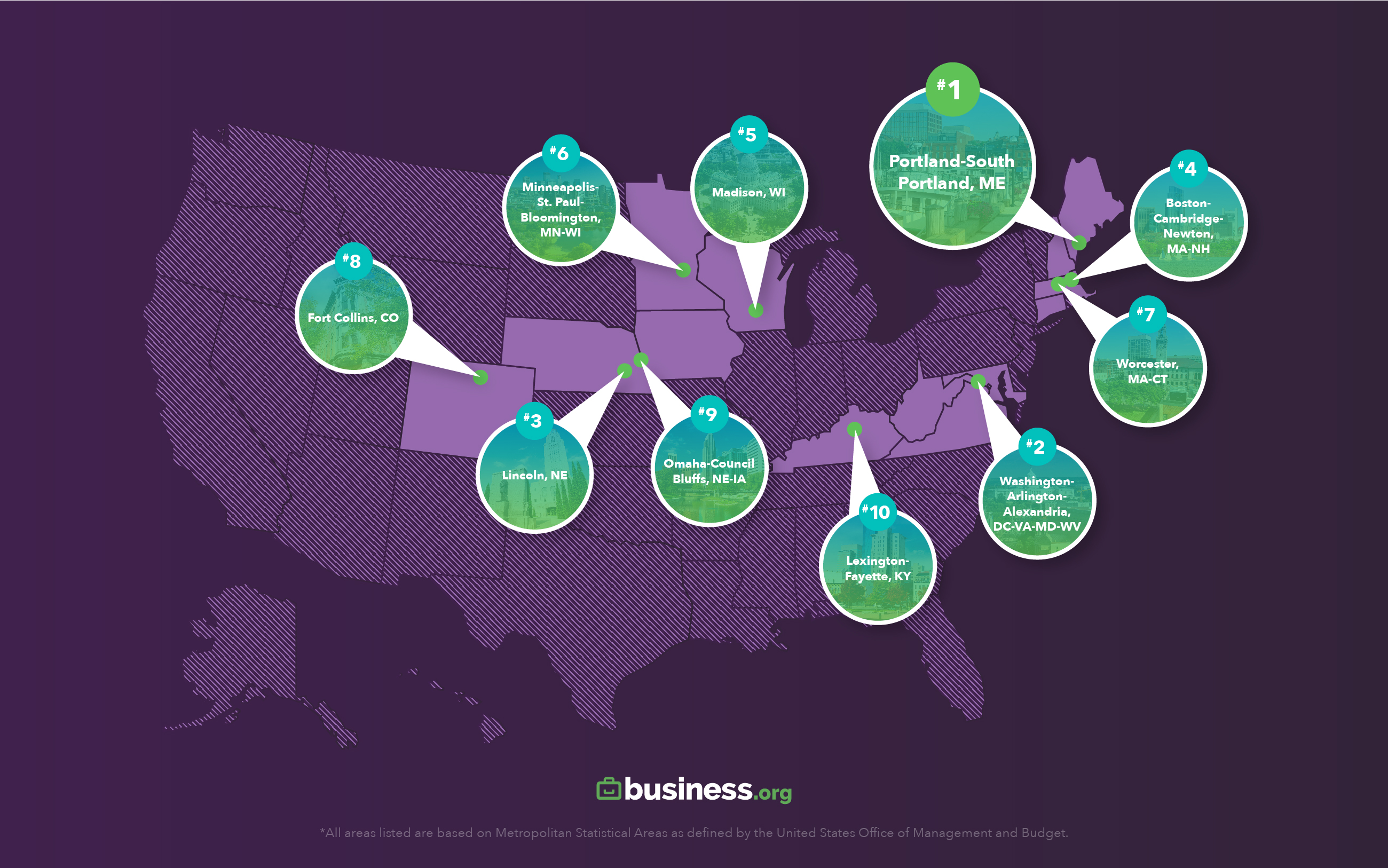 Mary Tyler Moore had Minneapolis. Murphy Brown had Washington, DC. Ally McBeal had Boston. Carrie Bradshaw had New York City. Meredith Grey had Seattle. Pam Beesly had Scranton.
But what about real working women today? Where are the best places for them to live and work?
March is Women's History Month, which got us thinking about hard-working women throughout history and today. In honor of those women, we decided to find the best cities and towns for working women.
What makes a city or town great for working women?
To get our rankings, we collected data on a bunch of US cities and towns, then looked at these factors:
The number of degreed women: We specifically looked at the number of women aged 25 to 34 who hold a bachelor's degree or above in a given city. These women would be relatively recently graduated, so the cities they end up in could give us a big clue as to what cities attract newly working women. The more degreed women, the better.
Unemployment data for women: Of course, the nicest city in the world wouldn't be right for working women if it had high unemployment rates. So we looked at the unemployment data in each city for women aged 16 and up. A lower unemployment rate boosted a city in our rankings.
Women's wages: Next, we looked at how much women make in each city. We want women to get fairly compensated for their work, so we analyzed women's salaries in each city as a percentage of men's salaries in the same area. (Nationally, men still earn more than women, even in the same role.1) Less disparity meant a higher ranking.
Sexual harassment claims: Finally, we factored in the number of sexual harassment claims in each metro area. Unfortunately, almost half of women report that they've experienced harassment at work.2 A truly great city for working women would be one where they can feel safe, so fewer claims translated to a better rank.
We weighted each of these factors equally to get a score for each city and town.
Cities vs. towns
Love that small-town life? Thrive in the big city? We made two lists: one for cities and one for towns, so you can find the perfect place, no matter your preference. For our purposes, a town has a population under 250,0000 people; anything larger is a city.
The top 10 cities and towns for women
Now that you know how we came up with the list, let's get down to business. Where exactly should working women live and work? Drum roll, please.
Top 10 cities for working women
| | |
| --- | --- |
| Rank | City |
| 1 | Portland-South Portland, ME Metro Area |
| 2 | Washington-Arlington-Alexandria, DC-VA-MD-WV Metro Area |
| 3 | Lincoln, NE Metro Area |
| 4 | Boston-Cambridge-Newton, MA-NH Metro Area |
| 5 | Madison, WI Metro Area |
| 6 | Minneapolis-St. Paul-Bloomington, MN-WI Metro Area |
| 7 | Worcester, MA-CT Metro Area |
| 8 | Fort Collins, CO Metro Area |
| 9 | Omaha-Council Bluffs, NE-IA Metro Area |
| 10 | Lexington-Fayette, KY Metro Area |
As we expected, several East Coast cities made our list of the best cities for working women. More surprising, however, was the strong Midwest representation: Wisconsin and Nebraska both made multiple appearances on our city list.
On the other hand, the West Coast didn't merit even a single entry on our city list; in fact, Fort Collins, CO, is the most western city. Given that California tends to dominate most of our studies (see: Best Cities for Entrepreneurs and a million others), we expected the same here. San Fransisco came closest (in position 18), but its high sexual harassment rate kept it out of the top 10. When it comes to working women, West Coast is not best coast.
Top 10 towns for working women
| | |
| --- | --- |
| Rank | Town |
| 1 | Burlington-South Burlington, VT Metro Area |
| 2 | Missoula, MT Metro Area |
| 3 | Lewiston-Auburn, ME Metro Area |
| 4 | Fargo, ND-MN Metro Area |
| 5 | Rochester, MN Metro Area |
| 6 | Grand Forks, ND-MN Metro Area |
| 7 | Bangor, ME Metro Area |
| 8 | Iowa City, IA Metro Area |
| 9 | Sioux Falls, SD Metro Area |
| 10 | Ames, IA Metro Area |
That Midwest representation continued on our best towns list with appearances from Minnesota, North Dakota, Iowa, and South Dakota. The West Coast still failed to make the cut, with Missoula, MT, as the western-most town—another surprise, given the town's former reputation as the "rape capital" of the United States.3 Looks like Missoula has come a long way since then.
Overall, though, working women might want to consider a move to New England. Maine definitely came out on top in our rankings: Portland, ME, is the number one best city, and Lewiston-Auburn and Bangor both ranked in our top 10 best towns. Likewise, Massachusetts had two entries on the best cities list. Vermont, New Hampshire, and Connecticut also made appearances.
A woman's work is never done
Almost 57% of US women work, and those women represent 47% of the workforce.4 Those numbers will continue to increase in coming years. In order to attract many of the best and brightest workers, cities and towns across the nation will need to become better for women—whether that's by making things safer, improving pay equity, or simply creating more jobs.
Fortunately, the women-friendly cities and towns on our lists have a head start. So if you're a woman who works hard for the money, you know where to go.
Are you a working woman who's lived in one of these cities and towns? Or do you have a different area you recommend for women? Tell us about it in the comments below!
Our methodology
All data is based on the 2017 American Community Survey.5 Data is based on bachelor degree percentages for women aged 25–34 (by Metropolitan Statistical Area), unemployment data for women 16 and up (by Metropolitan Statistical Area), women's wages as a percentage of men's (by Metropolitan Statistical Area), and sexual harassment claims (by state). All sections were equally weighted.
Town and city classification was determined based on population. Populations under 250,000 people were considered towns, while 250,000 and up were considered cities.
Sources