BluePay offers secure payment processing with custom rates that may save you money—as long as you don't have to cancel your contract early.
Last Updated: several months ago
BluePay was consolidated with Clover by First Data, its parent company. All previous BluePay customers are now managed by Clover. Bluepay also no longer has a website. The website redirects to Clover.
BluePay is owned by First Data, and if you read our review of First Data's payment processing system, you know we weren't thrilled with its offerings. Unfortunately, a lot of the problems that impaired First Data's processing are present in BluePay.
If you're on the hunt to compare the rates of every processing company, BluePay is still worth a look because it could offer you a good deal. Plus, it provides a few nifty security features and e-commerce tools that make online transactions safe and easy.
We don't mind the notion of custom rates, but BluePay discloses almost nothing about how its rates work. Its website just states that "on average, we help our merchants reduce processing costs by 15–30%."1 Unfortunately, we can't verify this claim.
Brands like Helcium, on the other hand, show exactly how processing rates decrease as sales volume increases. Helcium offers custom rates, but it's very transparent about what you'll be paying. BluePay only vaguely hints at how its rates work.
BluePay determines your custom rates by a few factors:
How you accept cards
Types of cards processed
Monthly transaction volume
Average ticket size
BluePay will retrieve this information from you over the phone in addition to requesting a statement from your current provider (if you have one) to review your existing program. From there, BluePay will quote you a rate and try to get you to sign up.
This means the only way to get your rate is in the middle of a sales call, which may be a deterrent for those who don't like sales-pressure situations.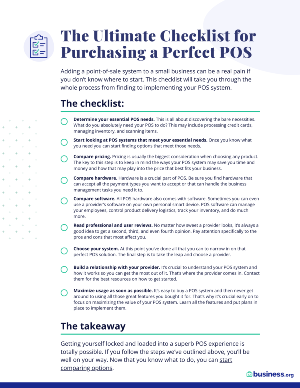 Follow these steps to purchase the perfect POS system
Read our free ultimate checklist for finding the right POS for your business. Don't get saddled with the wrong system. Enter your email and the checklist will arrive promptly.
BluePay benefits and features
BluePay customers have access to all the necessary processing features needed to run a modern business. You'll be able to accept credit cards, debit cards, and ACH payments with ease and security. Credit transactions can be swiped, dipped, tapped, or keyed, allowing for both in-store and over-the-phone processing.
In addition to these basic features, BluePay offers a number of extras that make its offerings a little more attractive than a bare-bones processing solution.
Avoid pesky chargebacks and payment disputes with BluePay's new suite of fraud tools:
On-hold functionality. Puts suspect orders on hold for manual review.
Velocity filter. Prevents criminals from spamming your processor with card numbers by automatically declining rapid transactions or multiple transactions from the same IP address in a short period of time.
Country filter. Blocks transactions from countries you deem high risk.
These tools can save you the time and headaches that often accompany excessive chargeback disputes.
Mobile payments with Clover
First Data owns both Clover and BluePay, giving BluePay access to Clover Go—a mobile card reader. Clover offers a suite of point-of-sale terminals, but Clover Go is the only terminal mentioned on the website.
Mobile payments make it easy to seamlessly process transactions from your phone or mobile device. This kind of flexibility means your salespeople can take payments at trade shows and your sales floor employees can complete transactions without directing customers to a register line.
These benefits can greatly increase your sales conversion rates.
BluePay offers three really useful e-commerce tools for small businesses:
Hosted payment form. This form allows you to take payments using a predesigned form from your own website. There's little to no coding involved in getting it integrated into your site, and it allows you to take PCI-compliant payments through BluePay's payment portal.
Shopping cart integration. This tool makes it easy for you to add a shopping cart feature to your website, allowing visitors to add multiple items to a cart that are bundled and totaled for a simple, easy transaction.
BluePay API. This application programming interface (API) allows someone with more programming experience to customize your online payment process. You'll need a programmer or web development skills to use an API, but it's the most custom way to take payments.
These e-commerce tools make it easy to start accepting compliant payments online in exchange for your goods and services.
BluePay and false advertising
The Better Business Bureau (BBB) reported an incident where BluePay was falsely identifying itself as a BBB-accredited institution. According to the BBB's website, BluePay is being penalized for "unauthorized use of BBB name or trademarks."2
Because of BluePay's actions in falsely displaying a BBB accreditation, BluePay has been given an F grade by the Better Business Bureau.
Contract fees and user complaints
BluePay has a $249 cancellation fee in its contract. Because of this hefty cancellation fee, you can't really try out BluePay to see if it works for you. You'll have to get into a contract and stick with BluePay or else pay the fee to cancel. Most users say that the contract is for three years, so be prepared to process with BluePay for a while should you choose them as your processing provider.
Additionally, some users complain about extra fees that were either poorly described or downplayed in the sales process. This includes a higher transaction rate for certain credit cards. Users claim that many cards do not qualify for the low rate they were quoted, so they ended up paying more in processing costs despite being promised savings.
Users also complain about funds being randomly withheld. We dug into the contracts and found that BluePay does indeed reserve the right to withhold funds in a reserve account at any time and for any reason.3 These types of withholdings are usually the result of excessive chargebacks and are used to take care of expected fees.
Is BluePay right for your business?
The simple answer is probably not. There are a lot of other great credit card processing companies that have more transparent business practices. That said, if you can get a good rate from BluePay and are OK with a long contract, you might find a little golden nugget in BluePay. The simple fact of the matter is despite some shady business practices, BluePay does offer most essential credit card processing features.
Businesses that like using BluePay say it's an easy-to-use platform with solid rates. If you get quoted a solid rate, BluePay may be the right choice for you.
BluePay is a simple and capable payment processing solution. It has everything you need to start accepting cards in store, on the go, and online. And you may be able to get a decent price with them.
Though we can't recommend BluePay fully because of the negative user reviews and the low score from the Better Business Bureau, we can say that it's at least worth getting a rate from them if you're on the hunt for the best processing price.
We recently hunted down the best processing solutions in the business. Compare rates and features to find that perfect processing solution for your small business.
Disclaimer
At Business.org, our research is meant to offer general product and service recommendations. We don't guarantee that our suggestions will work best for each individual or business, so consider your unique needs when choosing products and services.