Upstart Personal Loans for Business Review 2023
While we don't recommend personal loans for most businesses, Upstart has great reviews and fast funding times.
Data effective 12/16/22. At publishing time, pricing is current but subject to change. Offers may not be available in all areas.
The Upstart lending platform offers personal loans for all sorts of uses―including for building your business. But is an Upstart personal loan a good fit for your business needs? And how does Upstart compare to other personal lenders and business lenders?
In this article, we'll help you answer those questions. We'll explain how Upstart personal loans work, what the Upstart loan application process looks like, and how Upstart stacks up against other loan options out there.
Let's see if Upstart has what your business needs.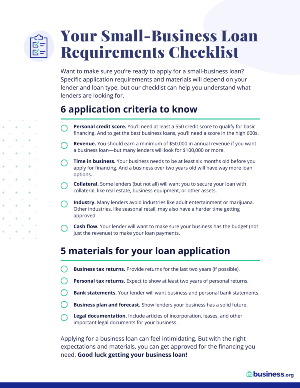 Applying for a small-business loan soon?
Our free checklist can help you understand what lenders are looking for.
Upstart is best for simple personal loans from a fast, well-liked lender
Before we get any further, you should know that Upstart offers just one loan product. So while you may want an Upstart personal loan for your business, you're getting the same lending product someone else uses for debt consolidation or medical loans.
In other words, you need to be okay with a simple (but flexible) loan for your business. Upstart doesn't have the kinds of specialty loans you'd find from a business lender (like commercial real estate loans, equipment loans, and so on).
If that works for your business's needs, though, you might like Upstart. Its main selling points?
First, it has better customer reviews than many other personal lenders (at least ones that let you use loan proceeds for business expenses).
And second, it's got fast funding times that let you get money as soon as the next business day.
Beyond that, Upstart isn't particularly special. It doesn't have the lowest rates or borrower requirements, nor the largest loan sizes.
But if a basic personal loan from a lender with great customer reviews sounds like just what you're looking for, great! In that case, let's dive deeper into Upstart's loan offerings.
As we said, Upstart has just one product: a personal loan.
Fortunately, Upstart is one of the few personal loan providers that lets you use that loan for business reasons (in addition to home improvement, debt consolidation, and other reasons).
And honestly, Upstart's loan has pretty decent rates when compared to many online business lenders.
| | | | | |
| --- | --- | --- | --- | --- |
| Product | Min./max. loan size | Min./max. interest rate | Repayment terms | Learn more |
| Personal loan | $1,000/$50,000 | 6.5%/35.99% | 3 or 5 yrs. | Apply Now |
Data effective 12/16/22. At publishing time, pricing is current but subject to change. Offers may not be available in all areas.
The interest rate on Upstart personal loans starts well below 10%. So while we've seen other personal lenders (like LightStream) with lower interest rates, Upstart stays pretty competitive.
That said, you should know that the typical APR (annual percentage rate) on Upstart loans is well above 10%―a much higher 24.34%, in fact. (But still, plenty of online business lenders have similar or higher APRs.) Of course, that APR number does include both your interest rate and loan fees.
The big fee you need to know about? An origination fee. While Upstart doesn't publish its origination fee rates, it does say that a typical fee on a $10,000 loan would be $638―or a little over 6%. But in better news, Upstart doesn't charge any prepayment penalty if you decide to pay your loan off early.
We've mentioned some of the pros and cons of Upstart personal loans, but let's look a little closer.
Excellent customer reviews
Competitive APR
Fast funding times
Personal loans only
Low maximum loan size
No effect on business credit score
As we've told you, Upstart has excellent customer reviews―better than most other personal lenders (that let you use their loans for business, at least) and many other business lenders. Upstart earns a 4.9 out of 5 on Trustpilot (from more than 39,000 reviews).1 Upstart borrowers report the lending platform is very fast, very easy, and has decent interest rates.
And we mostly agree. Like we told you, Upstart does have pretty competitive interest rates and APR. Plus, as we mentioned earlier, Upstart has next-day funding, so you can get money in your bank account very quickly.
But the one pro we haven't mentioned? Upstart's pretty moderate borrower qualifications. Unlike business loans that have strict revenue requirements and time in business requirements, Upstart mostly cares about your personal credit score (you need a 580 to apply) and that you have a source of income.
That makes Upstart much easier to qualify for than many other lenders. You don't need good credit or an old business or tons of annual revenue. Yes, a better credit history will qualify you for better rates and larger loan amounts―but Upstart won't count you out just because you've got a lower credit score or a younger business. (If you have truly bad credit, though, you may be better off with one of our favorite business loans for bad credit.)
Of course, Upstart isn't all peaches and cream. There are some cons to consider.
Most of Upstart's cons have to do with using a personal loan―its only product―for business. As we explain in our comparison of business loans vs. personal loans, personal loans have a couple big downsides for your business.
First, personal loans―including Upstart loans―have lower maximum loan amounts than many business loans do. Upstart loans max out at $50,000. That may be enough for you to buy inventory or simply have more cash flow. But for many business needs, like some equipment purchases or business expansions, that loan size is simply too small.
Second, an Upstart personal loan won't help your business credit history at all. Sure, a personal loan builds your personal credit score, and that's great. But to get the best business loans, you also need a good business credit score―and an Upstart loan won't help with that. Many business loans, on the other hand, do help your business credit history.
You may decide those cons don't matter too much. And if that's the case, you'll need to know how Upstart's loan application process works.
Upstart's lending process
If you decide to apply for an Upstart loan, you'll start by doing a rate check on its website. This is basically a pre-qualification. So you'll give Upstart some basic details about yourself and why you want a loan, and then Upstart will do a soft credit check. (Note that a soft check should not affect your credit score or credit history at all.)
With any luck, Upstart will then extend a loan offer. This loan offer should show you things like your interest rate and loan term, so you can make an informed decision.
If you accept the loan offer, you'll have to submit a more detailed loan application. At this point, Upstart will do a hard credit inquiry (which can affect your personal credit score) and then finalize everything.
Upstart partners
Upstart partners with a number of banks to offer its loans. For legal reasons, those banks have to send you formal rejection notices if your loan doesn't go through them―so don't be surprised if you get loan rejections from banks you've never heard of.
You can complete all this within just a few hours (or less―Upstart offers instant approval to many borrowers). And if you get everything finalized before 5 pm, Upstart should be able to get money in your bank account the next day. (Okay, technically the next business day.)
Keep in mind your loan has to go into a personal bank account, even if you're using it for business reasons.
Once you get your loan proceeds, you'll have the length of your loan term (three or five years) to repay your loan. Make sure you keep up with your monthly payments. Over time, your Upstart loan may help improve your personal credit score―but only if you pay it back on time.
Considering a personal business loan? Compare lenders below.
We don't usually recommend using personal loans for business. But if you've decided to go that route anyway, Upstart is a solid online lender. It has very fast funding times, competitive loan rates, and excellent customer reviews.
Just make sure you understand the downsides of using a personal loan for business, such as low maximum loan sizes and the inability to build business credit.
If you can handle those cons, though, then Upstart may very well be a good personal loan provider for your business.
Not sure Upstart is the best personal lender for you? See other great online lenders on our rankings of the best personal loans for business.
Yes, you can trust Upstart. On Trustpilot, Upstart gets excellent reviews (4.9 out of 5), with many thousands of satisfied Upstart borrowers.1
Upstart doesn't publish any stats about its loan approval rates. But you're more likely to get approved if you meet its minimum credit score requirement (a 580 FICO score) and you have a source of steady income.
How long does Upstart's application review take?
Upstart's application review can take as little as a few minutes, since it offers instant approval to most borrowers. In some cases, you'll have to submit more documentation, and that will make the loan application review take longer.
Disclaimer
At Business.org, our research is meant to offer general product and service recommendations. We don't guarantee that our suggestions will work best for each individual or business, so consider your unique needs when choosing products and services.
Sources
Trustpilot, "Upstart." Accessed December 16, 2022.