National Funding Review 2023
With few standout features and several concerning details, we hesitate to recommend National Funding.
Data as of 1/3/23. Offers and availability may vary by location and are subject to change.
National Funding isn't the biggest or most well known of the business lenders out there. But if you've come across this online lender and wondered if it might be right for you, then we've got answers.
National Funding does have some appeal. It's got a couple types of financing (business loans and equipment financing), fairly flexible borrower requirements, and pretty good customer reviews. But its high rates, secrecy about basic loan details, and bad repayment schedule keep us from widely recommending National Funding.
Need more info to decide? Then let's get into it.
Positive customer reviews
Flexible borrower requirements
Multiple funding types
High interest rates
Lack of transparency
Daily repayment schedule
National Funding products and pricing
National Funding offers two different types of financing. (At least, we think so. It's hard to tell, for reasons we'll discuss in a minute.) You can get working capital term loans and equipment financing.
National Funding financing details
Data as of 1/3/23. Offers and availability may vary by location and are subject to change.
Note that National Funding's website is pretty sparse on the details for these products. We tried reaching out to National Funding directly for more information, but it never responded. With that said, here are the few details we do know.
National Funding's working capital loans come in a nice range of loan amounts, from a small $5,000 to half a million dollars. They have pretty short repayment terms, though. You get between four months and two years to repay your National Funding loan, which makes these short-term loans.
If you need equipment financing, National Funding offers both loans and leasing options. It lets you use your loan funds on both new and used equipment. The repayment terms on these loans are longer than on its working capital loans: you can get up to five years to pay off your equipment financing.
(We believe National Funding used to offer merchant cash advances, but it no longer lists those as an option.)
What National Funding doesn't offer
For some reason, lots of people seem to want to get a personal loan, debt consolidation loan, invoice factoring, or an SBA loan from National Funding. It doesn't have any of those. It just has the working capital loans and equipment leasing/loans we discussed.
Now, at this point, you might be wondering what kind of interest rate you can expect to get, or how hefty of an origination fee you should expect. Well, we wish we could tell you.
Unfortunately, National Funding doesn't list any interest rates, factor rates, or fees for any of these products on its website. We've seen reports of rates starting at 15% (quite high), but we've been unable to confirm that ourselves―despite reaching out to National Funding directly.
We do know that National Funding requires an automated daily repayment schedule, which we dislike. Such frequent payments lock up a lot of your cash flow when compared to monthly or even weekly loan payments.
National Funding features
Here at Business.org, we know that different businesses have different needs. So yes, we definitely have our favorite lenders (as seen on our rankings of the best small-business loans). But we know that those lenders won't work for everyone, which is why we always try to point out what makes even our less-liked lenders great for certain businesses.
We'll be honest, though: after lots of research and lots of thought, we have a hard time saying that National Funding has any real standout features.
For example, National Funding has positive customer reviews. (It gets a 4.8 out of 5 on Trustpilot.1) Business owners like National Funding's customer service and easy application process. That's good! But plenty of other lenders get similar or better reviews.
Likewise, National Funding has fairly low business loan requirements for its equipment financing. It accepts fair credit scores and businesses as young as six months. But again, we've seen other business lenders with the same or lower borrower requirements.
And yes, we like that National Funding has more than one kind of financing. But―you guessed it―other lenders have even more. 
To be clear, we're not saying National Lending is the worst lender out there. It has pretty good customer reviews, after all. It's just that there are so many better options for business loans that we don't know why National Lending should be any business owner's first choice for funding.
National Funding vs. competitor lenders
| | | | | |
| --- | --- | --- | --- | --- |
| Lender | Min./max. loan size | Lowest listed rate | Funding options | Get a loan |
| | $5,000/$500,000 | Unlisted | Working capital loan & equipment financing | Apply Now |
| | $6,000/$250,000 | 6.2% interest | Lines of credit | Apply Now |
| | Up to $150,000 | 4.66% draw rate | Lines of credit | Apply Now |
| | $500/$5 million | 4.25% interest | Term loans, lines of credit, & more | Apply Now |
| | $5,000/$250,000 | - | Term loans, lines of credit, & more | Apply Now |
Data as of 1/3/23. Offers and availability may vary by location and are subject to change.
As you can see, the biggest difference between National Funding and other lenders is, quite simply, that they offer pricing information. While National Funding hides any details about interest rates and fees, other lenders publish at least starting rates―even the expensive ones.
You'll see the same trend when it comes to borrower requirements. While National Funding keeps mum on many details (as we'll discuss in the next section), many other online lenders list very specific credit score, revenue, and time in business requirements for their various types of financing.
Still, National Funding does offer larger loans (up to $500,000) than some popular online lenders. So that's nice.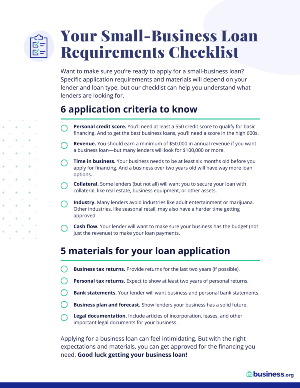 Applying for a small-business loan soon?
Our free checklist can help you understand what lenders are looking for.
National Funding drawbacks
You've likely noticed some of the downsides to National Funding already, but let's explore them a bit further.
They all boil down to National Funding's lack of transparency―and that includes no transparency around loan options, loan costs, and its discount program.
As we've mentioned a few times now, National Funding doesn't reveal much on its website. We think that's a problem.
Take its types of funding, for example. For a company that wants you to borrow money, National Funding makes it surprisingly hard to figure out what types of financing it even offers. Between its top header and footer, National Funding lists all these types of loans:
Small-business loans
Equipment financing and leasing
Working capital loans
Business loans for bad credit
Unsecured business loans
It's hard to tell which of these are actual, different products National Funding offers and which are just articles for SEO reasons. After a lot of reading and comparing, we're pretty confident it only has the two products we discussed in the previous section (working capital loans and equipment financing).
Trying to get details on those products is even worse. As we said, National Funding doesn't list any interest rates or fees. Likewise, it doesn't include any borrower requirements for its working capital loans, and it doesn't list revenue requirements for equipment financing.
So why does this concern us so much?
Well, put simply, it means National Funding is wasting your time. National Funding wants you to apply for financing without knowing if you'll actually qualify. And it wants you to apply without giving you any idea about the kind of costs associated with those loans. That's ridiculous.
Sure, all lenders get a little cagey about exact rates and fees. After all, your APR (annual percentage rate) usually depends a lot on your qualifications, like your credit score and revenue. But most lenders at least list some kind of starting point, unlike National Funding.
Can you imagine buying a television and not having any idea how much it will cost until you check out―not even a ballpark number? Of course not. Then why should National Funding expect you to give up your time and personal information for something that's a much, much bigger commitment and expense than a television?
We suspect, of course, that National Funding hides its rates because they're high. That's not a good excuse, though.
And it's all the more troubling because we've also seen customer reviews complaining about hidden origination fees that they weren't told about. (And for sure, National Funding's website doesn't mention its fees at all.)
We definitely think lenders should disclose their fees upfront. You can't also trust them to do that, though, so we suggest you familiarize yourself with common business loan fees―and then ask about those fees when you apply.
We also saw disgruntled reviewers complaining about National Funding's deceptive discount program. See, National Funding offers borrowers a discount when they repay their loans early. If you repay your working capital loan within the first 100 days after borrowing, you get a 7% discount on your remaining balance. Neat, right?
Well, evidently, National Funding calculates the 100 days for that discount differently than it calculates payment days. According to customers, its regular payment schedule only includes business days, while its discount schedule includes weekends and holidays―but no one told these reviewers that.
So they paid off their loan before their 100th daily payment, only to find out that it didn't qualify for a discount at that point.
That's very frustrating. Because National Funding hides so much information, it makes a perk into a problem. And that really underscores all our issues with National Funding.
National Funding offers two different financing options to meet your business's cash flow needs. But this small-business lender is awfully tight-lipped about its rates, fees, and borrower requirements.
That's why, despite generally positive customer reviews, we don't feel comfortable recommending National Funding ourselves. Yes, there's a good chance you'll like National Funding. But we simply don't have enough information to promise that.
So if you choose to borrow with National Funding, make sure you get all the facts before agreeing to anything. And if you want to tell us about your National Funding experience, we'd love to hear from you.
Ready to here about a lender we actually recommend? Lendio is our favorite loan provider for most businesses. Check out our Lendio review to learn why.
Yes, National Funding is a legitimate lender. If you're nervous, rest assured that it earns a 4.8 out of 5 on Trustpilot, from more than 1,500 reviews.
No, National Funding shouldn't perform a hard credit pull―just a soft one. 
What is National Funding's interest rate?
National Funding doesn't list its interest rates, but we've seen business owners report rates start around 15%.
What credit score is needed for National Funding?
National Funding requires at least a fair credit score to apply for equipment financing. It doesn't list a minimum credit score for its working capital loans.
Disclaimer
At Business.org, our research is meant to offer general product and service recommendations. We don't guarantee that our suggestions will work best for each individual or business, so consider your unique needs when choosing products and services.