How to Properly Write a Business Loan Request
Boost your chances of getting your loan application approved with a well-crafted business loan request letter.
Have to submit a business loan request letter as part of your loan application? Not sure how to get started?
We don't blame you. These kinds of letters aren't as common as they used to be. While online lenders don't usually ask for small-business loan requests, some traditional banks and credit unions still do. And if you apply for an SBA business loan (a loan backed by the US Small Business Administration), you'll need a small-business loan request as part of your loan application package.
No matter which lender you're applying with, this guide will help you write a strong business loan request letter―and to get the business loan you need.
How to write a business loan request letter
1. Start with the easy stuff
Writing a loan request can feel overwhelming. After all, it's not an everyday part of being a small-business owner. What do you say when applying for a bank loan? How do you write a business proposal for your loan application? What's your lender even looking for in a business loan request letter?
That's why we suggest starting your request writing process with the easy bits: formatting.
You'll want to begin your business loan request with some pretty standardized formatting that includes your contact information, the date, your lender's contact information, a subject line, and a greeting.
Typically, you'll want to format the beginning of your small-business loan request roughly like this:
First and last name
Business's name
Business's phone number
Business's address (this one is optional)
Date
Lender name (or loan agent's name and title, if you have one)
Contact information for your lender or loan agent
Subject line
Greeting
Obviously you can simply plug in the relevant information for most of this. Easy peasy, right?
You'll really only have to come up with your own subject line and greeting. But don't overthink it. Something like this will work just fine for your subject line:
Re: [Your business's name] business loan request for [loan amount]
Likewise, keep your greeting simple. "Dear [lender]" or "Dear [loan agent]" will do quite nicely.
Got all that? Then you're ready to get into the actual loan request.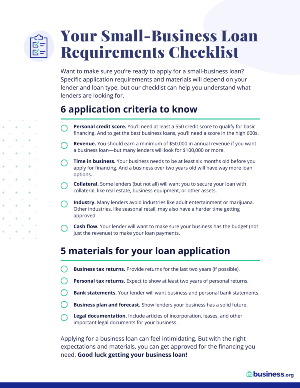 Applying for a small-business loan soon?
Our free checklist can help you understand what lenders are looking for.
Before you dive into the meat of your loan request, you should give a brief summary of your letter. Just write a short paragraph that says why you're writing and what you want.
So you'll probably want to include the following details:
Business name
Business industry
Desired loan amount
What you'll use the loan for
No need to get fancy with this. You're trying to condense the most important information into one or two sentences.
For example, your summary might look something like this:
I'm writing to request a [loan amount] loan for my small business in the [industry name] industry, [business name]. With this loan, [business name] would [describe your intended business loan use].
As you can see, you don't need much detail here. You're just giving the reader a quick overview of what's to come.
And now that you've given them that preview, it's time to get more in depth.
Remember, your lender isn't here to grade your writing. Try to use good spelling, grammar, and punctuation―but don't stress about crafting beautiful sentences.
3. Add information about your business
Your next section should add more detail about your business. You'll want to include information like this:
Business's legal name (if different than name used)
Business's legal structure (LLC, partnership, S corp, sole proprietorship, etc.)
Business's purpose
Business's age (or date it began operating)
Annual revenue
Annual profit (if applicable)
Number of employees
Now, keep in mind that you're not trying to give your reader an encyclopedic history of your business. Instead, you're trying to show that you have a well-established business―one that's solid enough to deserve a business loan. So focus on relevant details that show your business's maturity.
You can keep this section as short as a few sentences or as long as a few (brief) paragraphs. Just make sure you leave plenty of room for the next two sections.
4. Explain your financing needs
After discussing your business, it's time to explain why you need a bank loan.
That means you'll want to offer some details about how you plan to use your business financing. For example, you can talk about the employees you plan to hire, the building you want to expand, or whatever else you intend to do with your term loan.
Take note, though, that you also need to explain why your loan request makes sense. Because your lender doesn't really care that you want a loan―it cares whether or not it makes sense to lend to you. You need to convince your lender that you have a good plan for your loan―one that will make it easy to repay the money you borrow.
Try to answer questions like these as you write this section:
Why should your lender want to approve your loan application?
What happens to your business if you get your small-business loan?
What kind of growth will your business loan allow for?
Dig into your business plan and projections to find some good stats. Explain how hiring those additional employees will increase your revenue by a certain percentage or dollar amount. Break down how opening that add-on to your restaurant will allow you to seat a number of additional customers, and how much revenue you expect that to bring in.
The more specific you can get, the better. Because again, you're trying to convince your lender that you're borrowing as part of a thoughtful business plan―not just because you want some cash.
And take your time with this part. In most cases, this section and the next one will form the meat of your business loan request letter. 
Loan request letter length
As a rule, you should keep your business loan request letter to one page.
5. Discuss your repayment plan
By this point, your lender should understand what your business does and why a loan would help it grow. Now you need to prove to your lender that you can repay your small-business loan.
This doesn't mean you have to show precise calculations breaking down your desired interest rate and monthly payment. (After all, your bank probably hasn't even committed to a specific interest rate yet.)
Instead, talk about things like your business's past finances, other existing debts, and any projections can you offer.
So if you have a profitable business, point that out, and discuss how that will free up cash flow to repay your loan. Offer summaries of profit-and-loss statements that show your business has been growing. Tell your lender how you'll pay off that existing loan within a few months, so they don't need to worry about it interfering with repayment of your new term loan.
Put simply, this is your chance to convince your lender of your creditworthiness. Especially if you have a slightly low credit score or some other concern, you want to use this section to show that you will absolutely repay your loan.
Finally, you can add a few finishing touches.
Usually you should close with a short paragraph or two that refers the reader to any attached documents (like financial statements) and asks them to review your loan application.
You may also want to include a sentence expressing willingness to answer any questions―or just saying you're looking forward to hearing back.
Then end things with your signature, list any enclosed documents, and you're done!
Well, sort of.
At this point, we strongly recommend you print off your business loan request letter and read it―out loud, if possible. This will help you catch any errors. Because no, your lender isn't a writing teacher, but you still want to make a good impression.
Plus, if you make typos on something like your business name or desired loan amount, that inaccuracy could lead to confusion from your lender―slowing down your loan approval process.
Once you've proofread your loan request letter, you're ready to submit it to your lender. With any luck, your thoughtful letter will help convince your lender to give you that loan you want.
Loan proposal letter template
So how do all those steps look when you put them together? Something like this:
            First and last name
            Business's name
            Business's phone number
            Business's address (this one is optional)
            Date
            Lender name (or loan agent's name and title, if you have one)
            Contact information for your lender or loan agent
            Subject line
            Greeting
This first paragraph should summarize the rest of your letter. Keep it to just a couple sentences.
The next one to three paragraphs add more detail about your business. Include facts about its age, revenue, profit, employees, and other relevant information.
Then explain why you need financing and how you'll use it to grow your business. This section can be a little longer (but remember your whole letter  should fit on one page).
Next, talk about how your business will repay your loan. You may want to mention how financial documents show your business's financial health, for example.
Finally, close with a short paragraph or two that list any enclosed documents and invite the lender to consider your loan application.
Signature
Printed name
List of enclosed financial documents
That's not so hard, is it? With this basic business loan request letter template, you can easily write your own personalized business loan proposal.
So there you have it―that's how to properly write a business loan request.
Get your formatting right, include a short summary, talk about your business, explain your loan needs, prove you can repay your loan, and close things off. (And don't forget to proofread.)
We believe in you. You can write this thing.
And good luck getting your loan application approved!
Don't just tell your lender you can repay your business loan―make sure you can with our business loan calculator.
Disclaimer
At Business.org, our research is meant to offer general product and service recommendations. We don't guarantee that our suggestions will work best for each individual or business, so consider your unique needs when choosing products and services.